Urethral Reconstruction Combined with Modified Urethrostomy in a Cat after Prepubic Urethrostomy
Abstract
Background: In cats, urethral obstruction is generally caused by various reasons, including feline idiopathic cystitis, urethral crystals, urethral trauma, mucous plug, congenital or acquired anatomical deformity, and urolithiasis, especially in male cats. Depending on the severity and duration of clinical signs, immediate management including conservative or surgical therapy for restoration of urethral patency is required. Repetitive urethral obstruction due to intraluminal plugs, obstruction that cannot be resolved by medical management, and urethral strictures, trauma, or neoplasia should be managed by surgery. When the penile or pelvic urethra is ruptured or not long enough to mobilize the pelvic urethra to the perineal skin by repetitive perineal urethrostomy, prepubic urethrostomy is indicated. Potential complications of prepubic urethrostomy include urinary incontinence, peristomal dermatitis. In such cases, management of the peristomal site or placement of an artificial urethral sphincter have been reported previously. However, to date, urethral reconstruction using pre-existing penis has not been reported after prepubic urethral stricture following prepubic urethrostomy. The objective of this report is to describe surgical procedure of the urethral reconstruction combined with modified perineal urethrostomy in a cat with prepubic urethral stricture after prepubic urethrosotmy.
Case: A 3-year-old castrated Scottish straight cat presented with dysuria after prepubic urethrostomy. The owner reported that the patient was diagnosed with urethral rupture, had undergone prepubic urethrostomy 2 months prior to presentation, and had persistent dysuria despite repetitive surgical revision of the prepubic urethral stoma at a local hospital. On physical examination, the preputial orifice and the penis appeared grossly normal. On ultrasonography, pericystic and periurethral fat had an edematous, striated appearance with alternating hyperechoic and anechoic regions. A small amount of free fluid was visible around the urethra. Abdominal radiography revealed a mildly distended bladder and loss of serosal detail around the area of the urinary bladder neck, consistent with inflammation and free fluid observed on ultrasonography. The retrograde urethrogram showed no leakage in either sites of the prepubic urethral orifice or the penis. Hence, complete urethral reconstruction with modified perineal urethrostomy was performed. The patient had normal urination at the 15-month follow-up.
Discussion: Prepubic urethrostomy is beneficial for the patients whose penile or pelvic urethra is ruptured or not long enough to mobilize the pelvic urethra to the perineal. Complications of prepubic urethrostomy include skin necrosis around the stoma; urinary incontinence; stricture of the urethral stoma due to several reasons such as surgical-site irritation; poor mucosa–skin apposition; failure to provide tension-free stoma; and failure to expose wider pelvic urethra. In these cases, surgical management of the level of prepubic urethral stoma has been recommended by previous studies. However, no studies have been reported urethral reconstruction using pre-existing penile urethra in a patient with prepubic urethral stricture so far. To the author's knowledge, this case is the first report describing urethral reconstruction in a cat with urethral stricture after prepubic urethrostomy.
Keywords: cat, modified urethrostomy, prepubic urethrostomy, urethral reconstruction.
Downloads
Download data is not yet available.
References
Baines S.J., Rennie S. & White R.S. 2007. Prepubic urethrostomy: A long-term study in 16 cats. Veterinary Surgery. 30(2):107-113.
Bass M., Howard J., Gerber B. & Messmer M. 2005. Retrospective study of indications for and outcome of perineal urethrostomy in cats. Journal of Small Animal Practice 46(5):227–231.
Blake J. 1968. Perineal urethrostomy in cats. Journal of the American Veterinary Medical Association. 152(10):1499–1506.
Carbone M.G. 1963. Perineal urethrostomy to relieve urethral obstruction in the male cat. Journal of the American Veterinary Medical Association. 143:34–39.
Christensen N. 1964. Preputial urethrostomy in the male cat. Journal of the American Veterinary Medical Association 145:903–908.
Eayrs M.K. & Moore A.L. 2020. Management of incontinence following pre-pubic urethrostomy in a cat using an artificial urethral sphincter. Journal of Small Animal Practice. 62(7):604-607
Gerber B., Eichenberger S. & Reusch C.E. 2008. Guarded long-term prognosis in male cats with urethral obstruction. Journal of Feline Medical and Surgery. 10(1):16–23.
Jordan C.J., Kulendra E., Perry K.L. & Halfacree Z.J. 2012. Management of peristomal tissue necrosis following prepubic urethrostomy in a cat. Veterinary Comparative Orthopedics and Traumatology. 25(5):433-437.
Phillips H. & Holt D.E. 2006. Surgical revision of the urethral stoma following perineal urethrostomy in 11 cats: (1998-2004). Journal of the American Animal Hospital Association. 42(3):218-222.
Scarberry K., Bonomo J. & Gómez R.G. 2018. Delayed Posterior Urethroplasty Following Pelvic Fracture Urethral Injury: Do We Have to Wait 3 Months? Urology. 116:193-197.
Segev G., Livne H., Ranen E. & Lavy E. 2011. Urethral obstruction in cats: Predisposing factors, clinical, clinicopathological characteristics and prognosis. Journal of Feline Medicine and Surgery. 13(2):101–108.
Smith C. & Schiller A. 1978. Perineal urethrostomy in the cats: a retrospective study of complications. Journal of the American Animal Hospital Association. 14:225–228.
Tuņ H.M., Tefekli A.H., Kaplancan T. & Esen T. 2000. Delayed repair of post-traumatic posterior urethral distraction injuries: Long-term results. Urology. 55(6):837–841.
Wilson G. & Harrison J. 1971. Perineal urethrostomy in cats. Journal of the American Veterinary Medical Association 159(12):1789–1793.
Yeh L.S. & Chin S.C. 2000. Modified perineal urethrostomy using preputial mucosa in cats. Journal of the American Veterinary Medical Association. 216(7):1092–1095.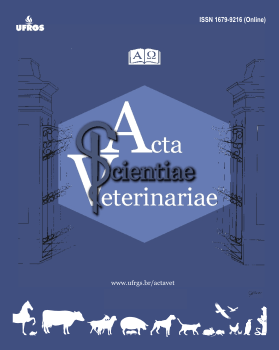 Additional Files
How to Cite
Kim, K., Kim, J., & Kim, H.-Y. (2022). Urethral Reconstruction Combined with Modified Urethrostomy in a Cat after Prepubic Urethrostomy. Acta Scientiae Veterinariae, 50. https://doi.org/10.22456/1679-9216.121824
License
Copyright (c) 2022 Kihoon Kim, Jaehwan Kim, Hwi-Yool Kim
This work is licensed under a Creative Commons Attribution 4.0 International License.
This journal provides open access to all of its content on the principle that making research freely available to the public supports a greater global exchange of knowledge. Such access is associated with increased readership and increased citation of an author's work. For more information on this approach, see the Public Knowledge Project and Directory of Open Access Journals.
We define open access journals as journals that use a funding model that does not charge readers or their institutions for access. From the BOAI definition of "open access" we take the right of users to "read, download, copy, distribute, print, search, or link to the full texts of these articles" as mandatory for a journal to be included in the directory.
La Red y Portal Iberoamericano de Revistas Científicas de Veterinaria de Libre Acceso reúne a las principales publicaciones científicas editadas en España, Portugal, Latino América y otros países del ámbito latino