Extrarenal Pelvis in a Cat - Diagnosis by Scintigraphy
Abstract
Background: In people, extrarenal pelvis is a normal anatomical variant, characterized by the protusion of the pelvis out of the renal hilum, which can be associated with other anomalies, or predispose to stasis or infection. While other diagnostic imaging methods provide anatomical and morphological information about the kidney, scintigraphy allows to determine the renal function and has greater sensitivity in the detection of functional alterations. The aim of this work is to report the case of an asymptomatic cat diagnosed with extrarenal pelvis detected by scintigraphy, which presented alterations in laboratory and renal imaging tests, and absence of associated obstructive process.
Case: A 7-year-old mixed-breed female cat was evaluated for a routine health assessment at the Veterinary Teaching Hospital of the Federal University of Rio Grande do Sul (HCV-UFRGS). When performing the imaging and laboratory tests, renal alterations compatible with chronic kidney disease were found in the abdominal ultrasonography examination and in serum creatinine levels. Therefore, it was decided to perform scintigraphy evaluation to better assess renal function. Dynamic renal scintigraphy with 99mTcDTPA revealed an evident concentration of the radiotracer in the left kidney with effective elimination only after the diuretic stimulus. The right kidney exhibited less concentration of the radiotracer but showed effective elimination before the diuretic stimulus. Image analysis suggested the presence of an extrarenal pelvis on the left side. The relative renal uptake was 68% for the left kidney and 32% for the right kidney. The glomerular filtration rate was 1.65 mL/min/kg. Static renal scintigraphy with 99mTcDMSA revealed irregularity in the distribution of the radiotracer in both kidneys, showing less activity in the caudal pole of the left kidney. The right kidney was apparently reduced and with less activity, especially in the medial portion. The relative renal uptake was 65% for the left kidney and 35% for right kidney, while the absolute renal uptake of the left kidney was 33% and that of the right kidney was 17%. The alteration described in the left kidney, in correlation with dynamic renal scintigraphy, suggested an aspect of lower activity in the caudal pole due to the presence of activity in the extrarenal pelvis. The left kidney was classified as presenting normal renal function and there was moderate to severe deficit of renal function on the right side.
Discussion: Chronic kidney disease may be present before clinical signs and biochemical abnormalities are identified. In this report, the animal was referred for a routine evaluation and showed no clinical signs nor alterations on physical examination. However, as renal morphological alterations were seen on ultrasonography and the cat presented mild azotemia, it was decided to perform two renal scintigraphy exams. Despite the radiotracer elimination from the left kidney was seen only after the diuretic stimulus, dynamic renal scintigraphy did not show any obstructive process. This delay on elimination was probably a result of the anatomical variant called extrarenal pelvis. In the static renal scintigraphy, it was possible to evaluate morphological changes in the kidneys and suggest less activity in the caudal pole of the left kidney, due to the presence of activity in the extrarenal pelvis, apparently causing the mentioned defect. The correct diagnosis of morphological changes is essential and for this purpose the best combination of imaging tests is necessary. Renal scintigraphy was fundamental, in this case, for the diagnosis of extrarenal pelvis in one of the kidneys, an abnormality not reported in the feline species within the literature researched by the authors. In addition, renal scintigraphy helped to guide the clinical management of the patient described in this report.
Keywords: renal scintigraphy, chronic kidney disease, ultrasonography, nuclear medicine.
Título: Pelve extrarrenal em uma gata - diagnóstico por cintilografia.
Descritores: cintilografia renal, doença renal crônica, ultrassonografia, medicina nuclear.
Downloads
Download data is not yet available.
References
Adams L.G., Polzin D.J., Osborne C.A. & O'Brien T.D. 1993. Effects of dietary protein and calorie restriction in clinically normal cats and in cats with surgically induced chronic renal failure. American Journal of Veterinary Research. 54(10): 1653-1662.
Baral R.M., Freeman K.P. & Flatland B. 2021. Comparison of serum and plasma SDMA measured with point-of-care and reference laboratory analysers: implications for interpretation of SDMA in cats. Journal of Feline Medicine and Surgery. 23(10): 906-920.
Chakrabarti S., Syme H.M. & Elliott J. 2012. Clinicopathological variables predicting progression of azotemia in cats with chronic kidney disease. Journal of Veterinary Internal Medicine. 26(2): 275-281.
Conroy M., Brodbelt D.C., O'Neill D., Chang Y. & Elliott J. 2019. Chronic kidney disease in cats attending primary care practice in the UK: a VetCompassTM study. Veterinary Record. 184(17): 526.
Cordella A., Pey P., Dondi F., Dunn M., Caramazza C., Cipone M. & Diana A. 2020. The ultrasonographic medullary "rim sign" versus medullary "band sign" in cats and their association with renal disease. Journal of Veterinary Internal Medicine. 34(5): 1932-1939.
Daniel G.B., Mitchell S.K., Mawby D., Sackman J.E. & Schmidt D. 1999. Renal Nuclear Medicine: A Review. Veterinary Radiology & Ultrasound. 40(6): 572-587.
D'Anjou M.A., Bédard A. & Dunn M.E. 2011. Clinical significance of renal pelvic dilatation on ultrasound in dogs and cats. Veterinary Radiology and Ultrasound. 52(1): 88-94.
Flatland B., Baral R.M. & Freeman K.P. 2020. Current and emerging concepts in biological and analytical variation applied in clinical practice. Journal of Veterinary Internal Medicine. 34(6): 2691-2700.
Griffin S. 2020. Feline Abdominal Ultrasonography: What's normal? What's Abnormal? The kidneys and perinephric space. Journal of Feline Medicine and Surgery. 22(5): 409-427.
Hall J.A., Yerramilli M., Obare E., Yerramilli M., Yu S. & Jewell D.E. 2014. Comparison of serum concentrations of symmetric dimethylarginine and creatinine as kidney function biomarkers in healthy geriatric cats fed reduced protein foods enriched with fish oil, L-carnitine, and medium-chain triglycerides. The Veterinary Journal. 202(3): 588-596.
Hamper B., Bartges J., Kirk C., Witzel A.L., Murphy M. & Raditic D. 2016. As Necessidades Nutricionais Únicas do Gato - Um Carnívoro Estrito. In: Little S.E. (Ed). O Gato - Medicina Interna. Rio de Janeiro: Roca, pp.228-234.
Hokamp J.A. & Nabity M.B. 2016. Renal biomarkers in domestic species. Veterinary Clinical Pathology. 45(1): 28-56.
IRIS. International Renal Interest Society. 2019. IRIS Staging of CKD (modified 2019). Disponível em: <http://www.iris-kidney.com/pdf/IRIS_Staging_of_CKD_modified_2019.pdf>.
Jarretta G.B., Bombonato P.P. & Martin B.W. 2010. Estudo do tempo de excreção renal pela cintilografia em felinos domésticos. Brazilian Journal of Veterinary Research and Animal Science. 47(1): 13-22.
Keramida G., James J.M., Prescott M.C. & Peters A.M. 2015. Pitfalls and Limitations of Radionuclide Renal Imaging in Adults. Seminars in Nuclear Medicine. 45(5): 428-439.
King J.N., Tasker S., Gunn-Moore D.A. & Strehlau G. 2007. Prognostic Factors in Cats with Chronic Kidney Disease. Journal of Veterinary Internal Medicine. 21(5): 906-916.
Koratala A. & Bhattacharya D. 2017. Extrarenal pelvis mimicking hydronephrosis: a case for caution. Clinical Case Reports. 5(10): 1720-1721.
Kyles A.E., Hardie E.M., Wooden B.G., Adin C.A., Stone E.A., Gregory C.R., Mathews K.G., Cowgill L.D., Vaden S., Nyland T.G. & Ling G.V. 2005. Clinical, clinicopathologic, radiographic, and ultrasonographic abnormalities in cats with ureteral calculi: 163 cases (1984-2002). Journal of the American Veterinary Medical Association. 226(6): 932-936.
Lamb C.R., Dirrig H. & Cortellini S. 2018. Comparison of ultrasonographic findings in cats with and without azotaemia. Journal of Feline Medicine and Surgery. 20(10): 948-954.
Lefebvre H.P. 2011. Renal function testing. In: Bartges J. & Polzin D. (Eds). Nephrology and Urology of Small Animals. Ames: Willey-Blackwell, pp.91-96.
Maranhão C.P.M., Miranda C.M.N.R., Santos C.J.J., Farias L.P.G. & Padilha I.G. 2013. Congenital upper urinary tract abnormalities: new images of the same diseases. Radiologia Brasileira. 46(1): 43-50.
O'Neill D.G., Church D.B., McGreevy P.D., Thomson P.C. & Brodbelt D.C. 2015. Longevity and mortality of cats attending primary care veterinary practices in England. Journal of Feline Medicine and Surgery. 17(2): 125-133.
Relford R., Robertson J. & Clements C. 2016. Symmetric Dimethylarginine: Improving the diagnosis and staging of chronic kidney disease in small animals. Veterinary Clinics of North America: Small Animal Practice. 46(6): 941-960.
Reynolds B.S. & Lefebvre H.P. 2013. Feline CKD: Pathophysiology and risk factors – what do we know? Journal of Feline Medicine and Surgery. 15(S1): 3-14.
Rishniw M. & Bicalho R. 2015. Factores affecting urine specific gravity in apparently healthy cats presenting to first opinion practice for routine evaluation. Journal of Feline Medicine and Surgery. 17(4): 329-337.
Shetty A. & Adams M. 2014. Extrarenal pelvis. Reference article, Radiopaedia.org. Disponível em: < https://radiopaedia.org/articles/extrarenal-pelvis?lang=us>.
Sparkes A.H., Caney S., Chalhoub S., Elliott J., Finch N., Gajanayake I., Langston C., Lefebvre H.P., White J. & Quimby J. 2016. ISFM Consensus Guidelines on the Diagnosis and Management of Feline Chronic Kidney Disease. Journal of Feline Medicine and Surgery. 18(3): 219-239.
Syme H.M., Markwell P.J., Pfeiffer D. & Elliott J. 2006. Survival of cats with naturally occurring chronic renal failure is related to severity of proteinuria. Journal of Veterinary Internal Medicine. 20(3): 528-535.
Szlosek D., Robertson J., Quimby J., Mack R., Ogeer J., Clements C., McCrann D. J. & Coyne M.J. 2020. A retrospective evaluation of the relationship between symmetric dimethylarginine, creatinine and body weight in hyperthyroid cats. PLoS One. 15(1): e0227964.
Tyson R. & Daniel G.B. 2014. Renal scintigraphy in veterinary medicine. Seminars in Nuclear Medicine. 44(1): 35-46.
Vandermeulen E., Ham H.R., Dobbeleir A.A., Sadeleer C.D., Piepsz A., Waelbers T., Vermeire S.T., Slegers G. & Peremans K.Y. 2011. (99m)Tc – DMSA absolute and relative renal uptake in cats: procedure and normal values. Journal of Feline Medicine and Surgery. 13(6): 387-392.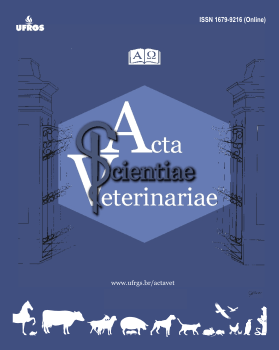 Additional Files
How to Cite
Brose, M. de M., Schaefer, G. da C., Becerra, J. R. H., Mello, F. P. da S., Dalto, A. G. C., Berdichevski, E. H., Costa, F. V. A. da, & Ferreira, M. P. (2022). Extrarenal Pelvis in a Cat - Diagnosis by Scintigraphy. Acta Scientiae Veterinariae, 50. https://doi.org/10.22456/1679-9216.121798
License
Copyright (c) 2022 Mariana de Mattos Brose, Gabriela da Cruz Schaefer, José Ricardo Herrera Becerra, Fabíola Peixoto da Silva Mello, André Gustavo Cabrera Dalto, Eduardo Herz Berdichevski, Fernanda Vieira Amorim da Costa, Márcio Poletto Ferreira
This work is licensed under a Creative Commons Attribution 4.0 International License.
This journal provides open access to all of its content on the principle that making research freely available to the public supports a greater global exchange of knowledge. Such access is associated with increased readership and increased citation of an author's work. For more information on this approach, see the Public Knowledge Project and Directory of Open Access Journals.
We define open access journals as journals that use a funding model that does not charge readers or their institutions for access. From the BOAI definition of "open access" we take the right of users to "read, download, copy, distribute, print, search, or link to the full texts of these articles" as mandatory for a journal to be included in the directory.
La Red y Portal Iberoamericano de Revistas Científicas de Veterinaria de Libre Acceso reúne a las principales publicaciones científicas editadas en España, Portugal, Latino América y otros países del ámbito latino