Biliary Peritonitis in a Dog after Perforation of the Gallbladder during Laparoscopic Cholecystectomy
Abstract
Background: Iatrogenic gallbladder perforation during laparoscopic cholecystectomy (LC) is a common complication and occurs in at least one third of human patients undergoing LC. This is attributed to the fragility of the gallbladder wall associated with mucocele and cholecystitis, in addition to the need for repetitive gripping and traction of the gallbladder during its manipulation with laparoscopic instruments. As complications from this event are rare in human patients, conversion to laparotomy is not routinely indicated and the adverse consequences of bile spillage are minimized by abundant irrigation of the peritoneal cavity and adequate antimicrobial therapy. On the other hand, there is little information regarding the outcome of laparoscopic management of this complication in laparoscopic cholecystectomies in dogs, particularly since most surgeons indicate conversion in these cases. Thus, we describe a case of biliary peritonitis that developed in a dog after laparoscopic management of iatrogenic perforation of the gallbladder during a laparoscopic cholecystectomy, in a case of gallbladder mucocele. To the best of our knowledge, there are no reports of biliary peritonitis following laparoscopic management of iatrogenic gallbladder perforation during LC in dogs.
Case: A 14-year-old Poodle was referred for clinical evaluation with selective appetite, recurrent episodes of hyporexia, and abdominal discomfort. Ultrasound findings characterized chronic liver disease and gallbladder mucocele. The patient was referred for laparoscopic cholecystectomy, during which the gallbladder was iatrogenically perforated, with extravasation of a large volume of bile content. This complication was managed by copious abdominal irrigation via laparoscopic access and antimicrobial therapy. On the second postoperative day, the patient started to present apathy, hyporexia, emesis, and jaundice. The patient remained hospitalized in the intensive care unit for stabilization and monitoring through hematological examinations and serial abdominal ultrasound. Due to progressive worsening of the clinical picture, an exploratory laparotomy was performed ten days after the initial surgical procedure. This examination showed multiple adhesions and the presence of bile residues adhered to numerous points on the peritoneal surface. Despite the intensive treatment instituted, death occurred 10 h after the second surgical procedure.
Discussion: The high risk of gallbladder perforation during laparoscopic cholecystectomies correlates with the dissection step or repetitive grasping and traction of the gallbladder with laparoscopic instruments. Conversion is not routinely indicated and laparoscopic management is considered effective in humans. However, in this case, the presence of a large volume of extravasated semisolid bile content and its adherence to the mesothelial surface made it impossible to remove it in its entirety despite the abundant irrigation of the abdominal cavity, resulting in a picture of biliary peritonitis in the postoperative period. In view of the reported negative outcome, the authors encourage the adoption of measures that minimize the risk of gallbladder perforation when performing LC in dogs. These include the use of atraumatic instruments or aspiration of bile content before surgical manipulation. Cases in which such a complication is recorded should be carefully monitored to enable early diagnosis and treatment of biliary peritonitis. Furthermore, conversion should be considered when there is extravasation of large volumes of bile, particularly in the presence of gallbladder mucocele, until future studies establish the safety and effectiveness of laparoscopic management of this complication.
Keywords: gallbladder mucocele, minimally invasive surgery, laparoscopic cholecystectomy, dogs.
Downloads
Download data is not yet available.
References
Altuntas Y.E., Oncel M., Haksal M., Kement M., Gundogdu E., Aksakal N. & Gezen F.C. 2018. Gallbladder perforation during elective laparoscopic cholecystectomy: Incidence, risk factors, and outcomes. Northern Clinics of Istanbul. 5(1): 47.
Amsellem P.M., Seim III H.B., MacPhail C.M., Bright R.M., Twedt D.C., Wrigley R.H. & Monnet E. 2006. Long-term survival and risk factors associated with biliary surgery in dogs: 34 cases (1994–2004). Journal of the American Veterinary Medical Association. 229(9): 1451-1457.
Aytac B. & Cakar S. 2003. The outcome of gallbladder perforation during laparoscopic cholecystectomy. Acta Chirurgica Belgica. 103(4): 388-391.
Barrat C., Champault A., Matthyssens L. & Champault G. 2004. Iatrogenic perforation of the gallbladder during laparoscopic cholecystectomy does not influence the prognosis. Prospective study. Annales de Chirurgie. 129(1): 25-29.
Besso J.G., Wrigley R.H., Gliatto J.M. & Webster C.R.L. 2000. Ultrasonographic appearance and clinical findings in 14 dogs with gallbladder mucocele. Veterinary Radiology & Ultrasound. 41(3): 261-271.
Calik A., Topaloglu S., Topcu S., Turkyilmaz S., Kucuktulu U. & Piskin B. 2007. Routine intraoperative aspiration of gallbladder during laparoscopic cholecystectomy. Surgical Endoscopy. 21(9): 1578-1581.
Center S. A. 2009. Diseases of the gallbladder and biliary tree. Veterinary Clinics: Small Animal Practice. 39(3): 543-598.
Crews L.J., Feeney D. A., Jessen C.R., Rose N.D. & Matise I. 2009. Clinical, ultrasonographic, and laboratory findings associated with gallbladder disease and rupture in dogs: 45 cases (1997–2007). Journal of the American Veterinary Medical Association. 234(3): 359-366.
Hussain Z., Sharma H., Chandail V.S., Kumar B., Mattoo S., Rasool A. & Khajuria S. 2015. Laparoscopic completion cholecystectomy for post cholecystectomy syndrome. Journal of Evolution of Medical and Dental Sciences. 4(42): 7258-7263.
Jaffey J.A., Graham A., VanEerde E., Hostnik E., Alvarez W., Arango J. & DeClue A.E. 2018. Gallbladder mucocele: variables associated with outcome and the utility of ultrasonography to identify gallbladder rupture in 219 dogs (2007–2016). Journal of Veterinary Internal Medicine. 32(1): 195-200.
Kanai H., Hagiwara K., Nukaya A., Kondo M. & Aso A. 2018. Short-term outcome of laparoscopic cholecystectomy for benign gall bladder diseases in 76 dogs. Journal of Veterinary Medical Science. 80: 1747-1753.
Kimura T., Goto H., Takeuchi Y., Yoshida M., Kobayashi T., Sakuramachi S. & Harada Y. 1996. Intraabdominal contamination after gallbladder perforation during laparoscopic cholecystectomy and its complications. Surgical Endoscopy. 10(9): 888-891.
Ludwig L.L., McLoughlin M.A., Graves T.K. & Crisp M.S. 1997. Surgical treatment of bile peritonitis in 24 dogs and 2 cats: a retrospective study (1987–1994). Veterinary Surgery. 26(2): 90-98.
Malek S., Sinclair E., Hosgood G., Moens N.M., Baily T. & Boston S.E. 2013. Clinical findings and prognostic factors for dogs undergoing cholecystectomy for gall bladder mucocele. Veterinary Surgery. 42: 418-426.
Mayhew P.D., Mehler S.J. & Radhakrishnan A. 2008. Laparoscopic cholecystectomy for management of uncomplicated gall bladder mucocele in six dogs. Veterinary Surgery. 37: 625-630.
Mehler S.J., Mayhew P.D., Drobatz K.J. & Holt D.E. 2004. Variables associated with outcome in dogs undergoing extrahepatic biliary surgery: 60 cases (1988-2002). Veterinary Surgery. 33(6): 644-649.
Memon M.A., Deeik R.K., Maffi T.R. & Fitzgibbons Jr. R.J. 1999. The outcome of unretrieved gallstones in the peritoneal cavity during laparoscopic cholecystectomy. Surgical Endoscopy. 13(9): 848-857.
Piegols H.J., Hayes G.M., Lin S., Singh A., Langlois D.K. & Duffy D.J. 2021. Association between biliary tree manipulation and outcome in dogs undergoing cholecystectomy for gallbladder mucocele: A multi‐institutional retrospective study. Veterinary Surgery. 50(4): 767-774.
Pike F.S., Berg J., King N.W., Penninck D.G. & Webster C.R. 2004. Gallbladder mucocele in dogs: 30 cases (2000-2002). Journal of the American Veterinary Medical Association. 224(10): 1615-1622.
Rice D.C., Memon M.A., Jamison R.L., Agnessi T., Ilstrup D., Bannon M.B. & Donohue J.H. 1997. Long-term consequences of intraoperative spillage of bile and gallstones during laparoscopic cholecystectomy. Journal of Gastrointestinal Surgery. 1(1): 85-91.
Sarli L., Pietra N., Costi R. & Grattarola M. 1999. Gallbladder perforation during laparoscopic cholecystectomy. World Journal of Surgery. 23(11): 1186-1190.
Scott J., Singh A., Mayhew P.D., Case J.B., Runge J.J., Gatineau M. & Kilkenny J. 2016. Perioperative Complications and Outcome of Laparoscopic Cholecystectomy in 20 Dogs. Veterinary Surgery. 45: 49-59
Simon A. & Monnet E. 2020. Laparoscopic cholecystectomy with single port access system in 15 dogs. Veterinary Surgery. 49: 156-162.
Suh S.W., Park J.M., Lee S.E. & Choi Y.S. 2012. Accidental gallbladder perforation during laparoscopic cholecystectomy: does it have an effect on the clinical outcomes? Journal of Laparoendoscopic & Advanced Surgical Techniques. 22(1): 40-45.
Szabo K., Rothe A. & Shamiyeh A. 2012. Laparoscopic cholecystectomy – review over 20 years with attention on acute cholecystitis and conversion. European Surgery. 44: 28-32.
Thompson B.J., DeClue A. & Jaffey J. 2021. Comprehensive Review of Biliary Peritonitis. Topics in Companion Animal Medicine. 44(3): 100532.
Worley D.R., Hottinger H.A. & Lawrence H.J. 2004. Surgical management of gallbladder mucoceles in dogs: 22 cases (1999-2003). Journal of the American Veterinary Medical Association. 225(9): 1418-1422.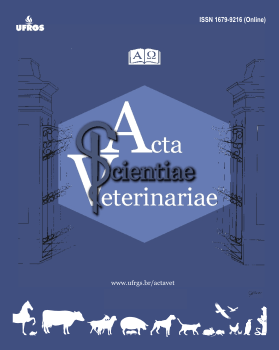 Additional Files
How to Cite
Linhares, M. T., Milech, V., Martins, L. R., Antunes, B. N., Cadiñanos, V. da S., Fischborn, N. T., & Brun, M. V. (2022). Biliary Peritonitis in a Dog after Perforation of the Gallbladder during Laparoscopic Cholecystectomy . Acta Scientiae Veterinariae, 50. https://doi.org/10.22456/1679-9216.121741
License
Copyright (c) 2022 Marcella Teixeira Linhares, Vanessa Milech, Letícia Reginato Martins, Bernardo Nascimento Antunes, Nadine Trinks Fischborn, Vinícius da Silva Cadiñanos, Maurício Veloso Brun
This work is licensed under a Creative Commons Attribution 4.0 International License.
This journal provides open access to all of its content on the principle that making research freely available to the public supports a greater global exchange of knowledge. Such access is associated with increased readership and increased citation of an author's work. For more information on this approach, see the Public Knowledge Project and Directory of Open Access Journals.
We define open access journals as journals that use a funding model that does not charge readers or their institutions for access. From the BOAI definition of "open access" we take the right of users to "read, download, copy, distribute, print, search, or link to the full texts of these articles" as mandatory for a journal to be included in the directory.
La Red y Portal Iberoamericano de Revistas Científicas de Veterinaria de Libre Acceso reúne a las principales publicaciones científicas editadas en España, Portugal, Latino América y otros países del ámbito latino