Choroid Plexus Papilloma in a Bitch
Abstract
Background: Choroid plexus papilloma is a benign neoplasm derived from the neuroepithelium of the choroid plexus of the ventricular cavity, commonly located in the fourth ventricle, affecting dogs of different age groups and without predilection for sex. There is a range of therapeutic options, and the treatment to be chosen will be defined based on tumor localization and development. Due to the difficulties in accessing treatments, tutors opt for euthanasia or death occurs with the worsening of the clinical condition. This case report aims to present the symptomatology, treatment and evolution of the case until the death of the animal, as well as the pathological findings.
Case: A 12-year-old bitch, mixed breed, was treated presenting behavior alteration, with unusual aggressiveness, perceived by the tutor four weeks ago. Neurological examination revealed changes in behavior, compulsive walking and focal epileptic seizures. After the presumptive diagnosis of brain neoplasia, the dog underwent symptomatic treatment with prednisolone (1 mg/kg, orally, every 24 h, for 15 days, with subsequent reduction to 0.5 mg/kg for another 15 days) and phenobarbital (3 mg/kg, every 12 h, orally), until death. After the beginning of the treatment, no more epileptic seizures and aggressive behavior were observed. After 5 months of consultation, the dog returned with aggressive and anorexic behavior. Due to the worsening of clinical signs, with the possibility of brain neoplasia, the tutor opted for euthanasia. Necropsy was performed and macroscopic examination was observed in the telecephalus, occlusion of the third ventricle by grayish mass, soft, 1.2 cm in diameter with slight dilation of lateral ventricles. On histological examination, it was observed that the third ventricle was occluded, epithelial proliferation of arboriform aspect, composed of cuboidal cells to columnares sustained by moderate fibrovascular stroma. Based on macroscopic and histopathological findings of the telecephalus, the alterations determined the diagnosis of choroid plexus papilloma.
Discussion: The diagnosis of choroid plexus papilloma was confirmed by observing the neurological signs and pathological findings that characterize this neoplasm. Choroid plexus tumors are less common, in the third ventricle, only in 36% of all reports are of tumors in that area. The search for care is mainly due to clinical signs that include behavioral, and locomotor changes and sometimes epileptic seizures, such clinical signs were found in the dog. Choroid plexus papilloma affects dogs of all ages, but more in adults and increasing the occurrence as they age. The tumor is still correlated in a higher occurrence in large animals, the evaluated dog was of age, but small in size. During anamnesis, in addition to the clinical history, neurological examinations provide a good basis for the presumptive diagnosis that can be complemented by an imaging diagnosis. Sometimes such technologies are not available for use, therefore, more comprehensive knowledge about clinical signs and anamnesis are indispensable for a correct diagnosis. Palliative drug therapies are an excellent option for most cases presented in the literature and clinical routine, since they provide better quality of life by decreasing or eliminating clinical signs, besides being easily administered by tutors. The therapy proved to be of great value for the improvement of the clinical signs of the evaluated dog, confirming the importance of knowledge of the appropriate prescriptions for each case and reinforcing that consultation with one was important in defining the diagnosis and symptomatic treatment.
Keywords: dog, neurology, tumor, benign, choroid plexus.
Título: Papiloma de plexo coronoide em uma cadela.
Descritores: cão, neurologia, tumor, benigno, plexo coroide.
Downloads
Download data is not yet available.
References
Bagley R.S. & Gavin P.R. 1998. Seizures as a complication of brain tumors in dogs. Clinical Techniques in Small Animal Practice. 13(3): 179-184.
Dalton M.F., Stilwell J.M., Krimer P.M., Miller A.D. & Rissi D.R. 2019. Clinicopathologic features, diagnosis, and characterization of the immune cell population in canine choroid plexus tumors. Frontiers in Veterinary Science. 6: 224.
Ecco R., Viott A.M., Graça D.L. & Alessi A.C. 2016. Sistema nervoso. In: Lima S.R.D. & Carlos A.A. (Eds). Patologia Veterinária. 2.ed. Rio de Janeiro: Roca, pp.487-572.
Fonseca Pinto A.C.B.C., Villamizar L.A., Ghirelli C.O., Silva T.R.C., Baroni C.O., Banon G.P.R., Guerra J.M., Amaral C.T. & Torres L.N. 2013. Choroid plexus papilloma in a rottweiler: Computed tomographic, gross morfological and histological features. Arquivo Brasileiro de Medicina Veterinaria e Zootecnia. 65(3): 763-767.
Fredsø N., Sabers A., Toft N., Møller A. & Betendt M. 2016. A single-blinded phenobarbital-controlled trial of levetiracetam as mono-therapy in dogs with newly diagnosed epilepsy. Veterinary Journal. 208: 44-49.
Heckler M.C.T., Cagnini D.Q., Ramos R.S. & Machado L.H.A. 2013. Papiloma de plexo coroide em um cão. Acta Scientiae Veterinariae. 41(Suppl 1): 13. 7p.
Hirose N., Uchida K., Matsunaga S., Chambers J.K. & Nakayama H. 2015. Expression of cell adhesion molecules in canine choroid plexus tumors. Journal of Veterinary Medical Science. 77(2): 255-259.
Hu H., Barker A., Harcourt-Brown T. & Jeffery N. 2015. Systematic review of brain tumor treatment in dogs. Journal of Veterinary Internal Medicine. 29(6): 1456-1463.
Itoh T., Uchida K., Nishi A., Shii H., Nagayoshi T. & Sakamoto H. 2016. Choroid plexus papilloma in a dog surviving for 15 months after diagnosis with symptomatic therapy. Journal of Veterinary Medical Science. 78(1): 167-169.
Kishimoto T.E., Uchida K., Chambers J.K., Kok M.K., Son N.V., Shiga T., Miyuki Hirabayashi M., Ushio N. & Nakayama H. 2020. A retrospective survey on canine intracranial tumors between 2007 and 2017. Journal of Veterinary Medical Science. 82(1): 77-83.
Kurtz H.J. & Hanlon G.F. 1971. Choroid plexus papilloma in a dog. Veterinary Pathology. 8(1): 91-95.
Lecouteur R.A. 1999. Current concepts in the diagnosis and treatment of brain turnours in dogs and cats. Journal of Small Animal Practice. 40(9): 411-416.
Louis D.N., Perry A., Reifenberger G., von Deimling A., Figarella-Branger D., Cavenee W.K., Ohgaki H., Wiestler O.D., Kleihues P. & Ellison D.W. 2016. The 2016 World Health Organization Classification of tumors of the central nervous system: a summary. Acta Neuropathologica. 131(6): 803-820.
Mandigers P.J., van Nes J.J. & Voorhout G. 1994. Intracranial tumors: a diagnostic challenge. The Veterinary Quarterly. 16(Suppl 1): 62S.
Miller A.D., Miller C.R. & Rossmeisl J.H. 2019. Canine primary intracranial cancer: a clinicopathologic and comparative review of glioma, meningioma, and choroid plexus tumors. Frontiers in Oncology. 9: 1151.
Moore M.P., Bagley R.S., Harrington M.L. & Gavin P.R. 1996. Intracranial tumors. The Veterinary Clinics of North America: Small Animal Practice. 26(4): 759-777.
Muscatello L.V., Avallone G., Serra F., Seuberlich T., Mandara M.T., Sisó S., Brunetti B. & Oevermann A. 2018. Glomeruloid microvascular proliferation, desmoplasia, and high proliferative index as potential indicators of high grade canine choroid plexus tumors. Veterinary Pathology. 55(3): 391-401.
Rossmeisl J.H. 2014. New treatment modalities for brain tumors in dogs and cats. Veterinary Clinics of North America: Small Animal Practice. 44(6): 1013-1038.
Schwartz M., Lamb C.R., Brodbelt D.C. & Volk H.A. 2011. Canine intracranial neoplasia: clinical risk factors for development of epileptic seizures. Journal of Small Animal Practice. 52(12): 632-637.
Song R.B., Vite C.H., Bradley C.W. & Cross J.R. 2013. Postmortem evaluation of 435 cases of intracranial neoplasia in dogs and relationship of neoplasm with breed, age, and body weight. Journal of Veterinary Internal Medicine. 27(5): 1143-1152.
Vernau K.M., Higgins R.J., Bollen A.W., Jimenez D.F., Anderson J.V., Koblik P.D. & LeCouteur R.A. 2001. Primary canine and feline nervous system tumors: intraoperative diagnosis using the smear technique. Veterinary Pathology. 38(1): 47-57.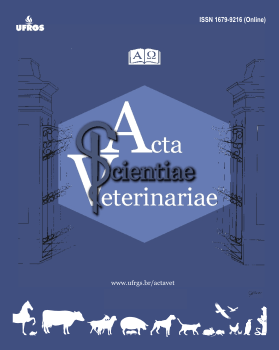 Additional Files
How to Cite
Richeli Kuwer, K., Oliveira Chaves, R., Copat, B. ., Oliveira Vasques, W. ., Sonne, L. ., & Conceição de Oliveira, E. . (2022). Choroid Plexus Papilloma in a Bitch. Acta Scientiae Veterinariae, 50. https://doi.org/10.22456/1679-9216.121678
License
Copyright (c) 2022 eduardo conceição oliveira
This work is licensed under a Creative Commons Attribution 4.0 International License.
This journal provides open access to all of its content on the principle that making research freely available to the public supports a greater global exchange of knowledge. Such access is associated with increased readership and increased citation of an author's work. For more information on this approach, see the Public Knowledge Project and Directory of Open Access Journals.
We define open access journals as journals that use a funding model that does not charge readers or their institutions for access. From the BOAI definition of "open access" we take the right of users to "read, download, copy, distribute, print, search, or link to the full texts of these articles" as mandatory for a journal to be included in the directory.
La Red y Portal Iberoamericano de Revistas Científicas de Veterinaria de Libre Acceso reúne a las principales publicaciones científicas editadas en España, Portugal, Latino América y otros países del ámbito latino