Nasolacrimal Duct Neoplasm in a Bitch
Abstract
Background: Nasolacrimal duct tumors are divided into primary and secondary, with primary tumors being rare in all species. Secondary involvement of the lacrimal sac and duct can occur from any skin lesion involving the eyelid and/or conjunctiva and from any neoplastic process involving the paranasal sinuses. Lacrimal sac metastatic lesions may originate from any distant site and include carcinomas or melanomas, with squamous cell carcinoma being the most common type. The objectives of the present report were to describe a case of squamous cell carcinoma in the nasolacrimal duct and to emphasize the importance of a good ophthalmic evaluation.  
Case: A 16-year-old spayed bitch white poodle was presented to the veterinary clinic. The owner complained that the animal had epiphora and mucoid secretion in the right eye, eyelid hyperemia in both eyes, and sporadic sneezing with blood. On ophthalmic examination, the animal was initially diagnosed with nasolacrimal duct obstruction and right eye (OD) blepharitis and OU uveitis. Fourteen days after the first evaluation, the nasolacrimal duct region increased, with the presence of bloody secretion. Biomicroscopy showed nodules inside the lacrimal duct, in the punctum region. The animal was sedated to obtain a fragment of the nodule for histopathological analysis, and a subsequent oral cavity evaluation identified a nodule in the transition region between the 4th premolar and 1st molar, which was sent for cytology. Cytology of the medial corner region of the RE showed epithelial and mesenchymal cells with malignancy characteristics, and the biopsy was suggestive of malignant epithelial neoplasia (carcinoma). A surgical procedure for nodule resection was ruled out because bone involvement was extensive, and chemotherapy was selected. The patient died 2 months after the 1st consultation. The diagnosis was confirmed through necropsy via immunohistochemical tests, demonstrating squamous cell carcinoma (SCC) both in the mouth and the nasal and ocular sinuses.
Discussion: The most common conditions affecting the nasolacrimal drainage system in dogs are those causing obstructions. These may be congenital, arising from a developmental defect of micropunctum or agenesis of the punctum, they may be acquired, arising from infection and inflammation. SCC is a malignant neoplasm originating in the stratified squamous epithelium. The predisposing factors in cats and dogs include lack of adnexal pigmentation and, possibly, chronic irritation of the ocular surface. A light coat is considered a relevant factor, especially in regions with little hair coverage. In addition to a mass lesion, other clinical signs of eyelid or ocular surface tumors may include epiphora, conjunctival vascular injection, mucopurulent ocular discharge, 3rd eyelid protrusion, conjunctival/corneal roughness or ulceration, and corneal neovascularization or pigmentation. Clinical presentations are nonspecific. Neoplasms, whether nasal and/or in the maxillary sinus, can invade the nasolacrimal duct and spread to the nasal cavity, and neoplasms in the nasal cavity can invade the nasolacrimal duct. Ophthalmic evaluation along with good inspection of the oral cavity is a useful tool in the diagnosis of eye neoplasms that may have effects on the oral cavity or vice versa due to the strong association between them. Early diagnosis is crucial for the clinical or surgical management of each case of ophthalmic neoplasia and for therapeutic success.
Keywords: neoplasm, tumor, nasolacrimal duct, dog, eye.
Título: Neoplasia de ducto nasolacrimal em uma cadela
Descritores: neoplasia, tumor, canalículo lacrimal cão, olho.
Downloads
Download data is not yet available.
References
Ashton N., Choyce D.P. & Fison L.G. 1951. Carcinoma of the lacrimal sac. British Journal of Ophthalmology. 35(6): 366. DOI: 10.1136/bjo.35.6.366.
Evans S.M. & Shofer F. 1988. Canine oral nontonsillar squamous cell carcinoma: Prognostic factors for recurrence and survival following orthovoltage radiation therapy. Veterinary Radiology and Ultrasound. 29(3): 133-137. DOI: 10.1111/j.1740-8261.1988.tb01763.x.
Ferreira I., Rahal S.C., Ferreira J. & Corrêa T.P. 2006. Terapêutica no carcinoma de células escamosas cutâneo em gatos. Ciência Rural. 36(3): 1027-1033.
Guérios S.D., Pês M.S., Guimarães F.V., Robes R.R., Rodigheri S.M. & Macedo T.R. 2003. Carcinoma de células escamosas do plano nasal em felinos: Por que optar pelo tratamento cirúrgico? Medvep - Revista Científica de Medicina Veterinária - Pequenos Animais e Animais de Estimação. 1(3): 203-209.
Hendriz D.V. & Gelatt K.N. 2000. Diagnosis, treatment and outcome of orbital neoplasia in dogs: a retrospective study of 44 cases. Journal of Small Animal Practice. 41(3): 105-108. DOI: 10.1111/j.1748-5827.2000.tb03175.x.
Kumar V.A., Esmaeli B., Ahmed S., Gogia B., Debnam J.M. & Ginsberg L.E. 2016. Imaging Features of Malignant Lacrimal Sac and Nasolacrimal Duct Tumors. American Journal of Neuroradiology. 37(11): 2134-2137. DOI: 10.3174/ajnr.A4882.
Miller P.E. & Dubielzig R.R. 2007. Ocular tumors. In: Small Animal Clinical Oncology. Saint Louis: Saunders Elsevier, pp.686-698.
Rodigheri S.M. & De Nardi A.B. 2016. Quimioterapia metronômica. In: Daleck C.R. & De Nardi A.B. (Eds). Oncologia em Cães e Gatos. 2.ed. Rio de Janeiro: Roca, pp.243-247.
Saggi S., Badran K.W., Han A.Y., Kuan E.C. & St John M.A. 2018. Clinicopathologic characteristics and survival outcomes in floor of mouth squamous cell carcinoma: a population-based study. Otolaryngol Head Neck Surgery. 159(1): 51-58. DOI: 10.1177/0194599818756815.
Sandmeyer L.S. & Grahn B.H. 2021. Diseases and Surgery of the Canine nasolacrimal system. In: Gelatt K.N., Ben-Shlomo G., Gilger B.C., Hendrix D.V.H., Kern T.J. & Plummer C.E. (Eds). Veterinary ophthalmology. 6th edn. Hoboken: John Wiley & Sons, pp.988-1007.
Santos P.C.G. Roder P.R. & Guimarães J.G.P. 2004. Carcinoma de células escamosas em gatos: relato de caso. Revista Científica Eletrônica de Medicina Veterinária. 2(3): 1-3.
Slatter D. 2005. Sistema Lacrimal. In: Fundamentos de Oftalmologia Veterinária. 3.ed. São Paulo: Roca, pp.259-282.
Song X., Wang J., Wang S., Wang W., Wang S. & Zhu W. 2018. Clinical analysis of 90 cases of malignant lacrimal sac tumor. Graefe's Archive for Clinical and Experimental Ophthalmology. 256(7): 1333-1338. DOI: 10.1007/s00417-018-3962-4.
Williams D. L., Long R. D. & Barnett K. C. 1998. Lacrimal pseudotumour in a young bull terrier. Journal of Small Animal Practice. 39(1): 30-32. DOI: 10.1111/j.1748-5827.1998.tb03666.x.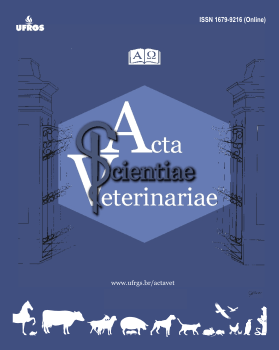 Additional Files
How to Cite
Moro Bassil Dower, N. ., Ghisi Gomes, L. ., Ribeiro Fiori, M. ., Viccini Galli, F. ., da Costa Junior, A. R., & Paulino de Figueiredo Wouk, A. F. . (2022). Nasolacrimal Duct Neoplasm in a Bitch. Acta Scientiae Veterinariae, 50. https://doi.org/10.22456/1679-9216.121643
License
Copyright (c) 2022 Nathalie Bassil Dower, lianna Ghisi gomes, marina ribeiro fiori, fernanda viccini galli, augusto roberto da costa junior, Antônio Felipe Paulino de Figueiredo Wouk
This work is licensed under a Creative Commons Attribution 4.0 International License.
This journal provides open access to all of its content on the principle that making research freely available to the public supports a greater global exchange of knowledge. Such access is associated with increased readership and increased citation of an author's work. For more information on this approach, see the Public Knowledge Project and Directory of Open Access Journals.
We define open access journals as journals that use a funding model that does not charge readers or their institutions for access. From the BOAI definition of "open access" we take the right of users to "read, download, copy, distribute, print, search, or link to the full texts of these articles" as mandatory for a journal to be included in the directory.
La Red y Portal Iberoamericano de Revistas Científicas de Veterinaria de Libre Acceso reúne a las principales publicaciones científicas editadas en España, Portugal, Latino América y otros países del ámbito latino