Tissue Necrosis in Equine Associated with use of Phenylbutazone
Abstract
Background: Wounds that occur with tissue necrosis and that result from the application of medications through the most diverse accesses are described as drug skin medical embolism or Nicholas syndrome in human medicine, with wide description. In veterinary medicine, this subject has not yet been described extensively and specifically in veterinary medicine, especially regarding to wounds that occurred after the application of non-intravenous medications in horses, even though these lesions are recurrent in the clinical routine.  This report aims to describe a case of skin necrosis in a horse, due to phenylbutazone infection.
Case: A 7 year-old Mangalarga Marchador horse, weighing 400 kg, was admitted to the Veterinary Hospital for Large Animals of the Universiade Federal Rural do Rio de Janeiro (UFRRJ), with a history of phenylbutazone injection to the left side of the neck. The animal had an extensive wound on the neck and face on the left side and was characterized by the presence of cold and devitalized skin, with a hardened and parched appearance and that easily detached.  During the anamnesis, a single administration of 10 mL of a non-steroidal anti-inflammatory drug based on phenylbutazone was reported intramuscularly for about 10 days to control the pain resulting from the claudication present for 14 days. The medication was administered in the region of the lateral border of the neck, on the left side. After drug administration, the animal presented an increase in volume at the application site. After 24 h, the lesion spread from the inoculation region, extending to the head and chest of the animal. During debridement, it was found that the lesion did not reach the underlying muscle tissue. In addition to the wound, the animal had upper eyelid palsy, lower lip, and auricular ptosis. Treatment with surgical debridement of devitalized tissue, topical application of ozonated sunflower oil, ketanserin, and a free skin graft was instituted. During hospitalization, the animal had a corneal ulcer in the left eye with an unfavorable prognosis due to paralysis of the upper eyelid, with enucleation of the affected eyeball. The animal was under veterinary care for 180 days and was discharged when his wound was already in an advanced stage of healing.
Discussion: The history of the application of phenylbutazone intramuscularly and the location and characteristics of the lesion presented by the patient in the present report suggest that this animal presented aseptic tissue necrosis resulting from the administration of non-steroidal anti-inflammatory drugs, phenylbutazone. Although aseptic tissue necrosis, better known as Nicolau's syndrome or drug embolism cutis, is widely characterized and described in this species, there are studies in the literature that reproduce the syndrome in pigs and rabbits. Phenylbutazone was able to cause arterial damage, mainly in the tunica intima of the artery in which the medication was administered, with perivascular inflammatory infiltrate and subsequent skin necrosis at the site of administration. In addition to the skin lesion, the animal started to show signs compatible with the left facial nerve lesion, evidenced by the immobility of the upper eyelid and labial and ear ptosis. This resulted in corneal ulceration and subsequent enucleation. The animal also developed chewing difficulty in the first months of hospitalization. This dysfunction may be due to a lesion of the mandibular nerve, responsible for innervating the masticatory muscles and the oral mucosa. However, the animal showed improvement in this aspect, no longer showing this condition after 90 days of hospitalization.  The treatment used was successful in healing the wound.
Keywords: wound, tissue necrosis, iatrogenic injury, Nicolau Syndrome, treatment, horse.
Título: Necrose tissular em equino associada ao uso de fenilbutazona.
Descritores: ferida, necrose tecidual, iatrogenia medicamentosa, síndrome de Nicolau, tratamento, cavalo.
Downloads
Download data is not yet available.
References
Aleman M., Nout-Lomas Y.S. & Reed S.M. 2018. Disorders of the Neurologic System. In: Reed S.M., Bayly W.M. & Sellon D.C. (Eds). Equine Internal Medicine. 4th edn. St. Louis: Elsevier Health Sciences, pp. 580-708.
Benedito G.S., Albuquerque A.P.L., Taffarel M.O. & Bastos-Pereira A.L. 2017. Incidência de medicação sem prescrição em um hospital veterinário na cidade de Umuarama, Paraná, no período entre 2011 e 2015. Revista de Ciência Veterinária e Saúde Pública. 4(2): 140 - 157
Brachtel R. & Meinertz T. 1977. Local skin necroses after intramuscular injection - experimental animal studies. Archives for Dermatological Research. 258(3): 281-288.
Berg R. & Budras K.D. 2012. Head Cavities. In: Brudras K. D., Sack W.O. & Röck S. (Eds). Anatomy of the Horse. 6th edn. Hannover: Schlutersche, pp.159-168.
Crispin S.M. 2000. Tear-deficient and evaporative dry eye syndromes of the horse. Veterinary Ophthalmology. 3(2-3): 87-92.
Dart A.J., Sole-Guitart A., Stashak T.S. & Theoret C. 2016. Management Practices that Influence Wound Infection and Healing. In: Theoret C. & Schumacher J. (Eds). Equine Wound Management. 3rd. edn. Ames: John Wiley & Sons, pp.47-74.
Del Conte Martins W., Steiner D., Borges Neto A., Belettini S.T., Orlandini C.F., Boscarato A.G., Volpato I.B. & Alberton L.R. 2018. Graft of small patch of partial thickness in equine wound. Acta Scientiae Veterinariae. 46(Suppl 1): 252. 7p.
Engelen M., Besche B., Lefay M.P., Hare J. & Vlaminck K. 2004. Effects of ketanserin on hypergranulation tissue formation, infection, and healing of equine lower limb wounds. The Canadian Veterinary Journal. 45(2): 144-149.
Hartley C. & Grundon R.A. 2016. Diseases and surgery of the globe and orbit. In: Gilger B.C. (Ed). Equine Ophthalmology. 3rd. edn. Hoboken: Wiley-Blackwell, pp.151-196.
Henneke D.R., Potter G.D., Kreider J.L. & Yeates B.F. 1983. Relationship between condition score, physical measurements and body fat percentage in mares. Equine Veterinary Journal. 15(4): 371-372.
Kim K.K. 2015. Nicolau syndrome: A literature review. World Journal of Dermatology, 4(2): 103-107.
Kuryszko J.K. & Lyczewska-Mazurkiewicz S. 2004. Equine masticatory organ Part III. Acta of Bioengineering and Biomechanics. 6(1): 25-30.
Maquart F.X., Bellon G., Gillery P., Wegrowski Y. & Borel J.P. 1990. Stimulation of collagen synthesis in fibroblast cultures by a triterpene extracted from centella asiatica. Connective Tissue Research. 24(2): 107-120.
Müller-Vahl H. 1983. Adverse reactions after intramuscular injections. The Lancet, 321(8332): 1050.
Müller-Vahl H. & Pabst R. 1984. An animal model for aseptic necrosis after intramuscular injections. International Journal of Tissue Reactions. 6(3): 251-254.
Oien R.F., Hansen B.U. & Håkansson A. 2000. Pinch graft skin transplantation for leg ulcers in primary care. Journal of Wound Care. 9(5): 217-220.
Ollivier F.J. 2004. The precorneal tear film in horses: its importance and disorders. Veterinary Clinics: Equine Practice. 20(2): 301-318.
Plummer C.E. 2017. Corneal Response to Injury and Infection in the Horse. Veterinary Clinics of North America: Equine Practice. 33(3): 439-463.
Pollock P.J., Russell T., Hughes T.K., Archer M.R. & Perkins J.D. 2008. Transpalpebral eye enucleation in 40 standing horses. Veterinary Surgery. 37(3): 306-309.
Puschmann T. & Ohnesorge B. 2015. Complications after intramuscular injections in equids. Journal of Equine Veterinary Science. 35(6): 465-474.
Santler R. 1972. Embolia cutis medicamentosa. Hautarzt Dtsch. 23(12): 530-534.
Schumacher J. & Wilmink J.M. 2016. Free Skin Grafting. In: Theoret C. & Schumacher J. (Eds). Equine Wound Management. 3rd. edn. Ames: John Wiley & Sons, pp.422-448.
Theoret C. 2016. Physiology of Wound Healing In: Theoret C. & Schumacher J. (Eds). Equine Wound Management. 3rd edn. Ames: John Wiley & Sons, pp.1-13.
Xiao W., Tang H., Wu M., Liao Y., Li K., Li L. & Xu X. 2017. Ozone oil promotes wound healing by increasing the migration of fibroblasts via PI3K/Akt/mTOR signaling pathway. Bioscience Reports. 37(6): BSR20170658. [Fonte: https://doi.org/10.1042/BSR20170658].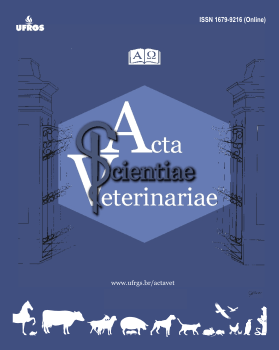 Additional Files
How to Cite
Freitas, M. S. de, Medeiros, B. P., Pessoa, J. M. N., Gonçalo, V. V., Silva, A. A., & Botteon, P. de T. L. . (2022). Tissue Necrosis in Equine Associated with use of Phenylbutazone . Acta Scientiae Veterinariae, 50. https://doi.org/10.22456/1679-9216.121491
License
Copyright (c) 2022 Marina Sereno de Freitas, Bianca Pachiel Medeiros, Josiane Magaton Nunes Pessoa, Vinícius Vasconcellos Gonçalo, Andreza Amaral Silva, PAULO DE TARSO LANDGRAF BOTTEON
This work is licensed under a Creative Commons Attribution 4.0 International License.
This journal provides open access to all of its content on the principle that making research freely available to the public supports a greater global exchange of knowledge. Such access is associated with increased readership and increased citation of an author's work. For more information on this approach, see the Public Knowledge Project and Directory of Open Access Journals.
We define open access journals as journals that use a funding model that does not charge readers or their institutions for access. From the BOAI definition of "open access" we take the right of users to "read, download, copy, distribute, print, search, or link to the full texts of these articles" as mandatory for a journal to be included in the directory.
La Red y Portal Iberoamericano de Revistas Científicas de Veterinaria de Libre Acceso reúne a las principales publicaciones científicas editadas en España, Portugal, Latino América y otros países del ámbito latino