Acute Erythroid Leukemia in a Cat Infected with Feline Leukemia Virus
Abstract
Background: Erythroid leukemia is a myeloproliferative hematopoietic disorder considered acute when there is a predominance of blasts in the bone marrow. It is frequently reported in cats infected with feline leukemia virus, but it is unclear whether this virus is involved in the oncogenesis. The clinical signs in cats are anorexia, apathy, weight loss, with evolution from two weeks to two months, pale mucous membranes, hemorrhages, ascites, salivation, and dyspnea due to pleural effusion. This affection responds little to chemotherapy with an unfavorable prognosis. The aim of this study is to report a case of a feline leukemia virus infected cat with the onset of severe hemolytic anemia.
Case: A 8-year-old male mixed breed cat was attended with a history of anorexia, oligodipsia, apathy, progressive weight loss, and yellowish color of urine for 7 days. Laboratorial exams showed anemia (with metarubricytes, acanthocytes and ghost cells), leukocytosis and FeLV reagent test. The cat underwent treatment with methylprednisolone acetate and supportive care. One day later, the animal returned with icteric mucous membranes, and emesis. A blood count was performed that found worsening anemia, increased leukocytosis, and lymphocytosis. Abdominal ultrasound showed cholangiohepatitis and lymphadenomegaly in mesenteric lymph nodes. Mycoplasmosis associated with cholangiohepatitis and lymphoma were suspected. Treatment was started with ondansetron, metronidazole, and amoxicilin with potassium clavulanate. The cat returned after 3 days and laboratorial exams revealed worsening of blood parameters, so blood transfusion was performed. After 2 days, the patient started with dyspnea and hypothermia, that evolved to cardiorespiratory arrest. The body was sent to necropsy and histopathology, where blast cells and rubricytes were found in blood vessels of various organs. The bone marrow was markedly cellular with complete disappearance of adipose tissue. Most of the cells were blasts with abundant and eosinophilic cytoplasm, central nucleus with finely dotted chromatin and a large nucleolus. There were rubricytes, which made possible to confirm acute erythroid leukemia as a morphological diagnosis.
Discussion: This cat was initially with feline stomatitis gingivitis complex, and after the results of the first tests, the suspicion of hemotropic mycoplasmosis and lymphoma was raised. The clinical signs observed in acute erythroid leukemia are lethargy, inappetence, fever, splenomegaly, mild lymphadenomegaly, associated with leukocytosis, severe anemia, and thrombocytopenia. The reported animal presented signs similar to those described in the literature except that there was no change in platelet counts. The diagnosis of leukemia was reached after histopathology, and it is made when is observed more than 30% of myeloblasts and monoblasts together or when the blast cells count including rubriblasts is greater than 30%. Although chemotherapy, the prognosis is usually poor. It is essential to perform the myelogram for the diagnosis of myeloid leukemias in vivo. In this report, we only achieve final diagnosis after the cat's death, due to the aggressive behavior of the disease. Clinicians must be aware of the likely development of acute erythroid leukemia whenever a feline leukemia virus infected cat presents hemolytic anemia to get an early diagnosis, since this is an extremely aggressive disease, to propose prompt chemotherapy and give the patient a longer survival period. 
Keywords: hematopoietic disorders, hemolytic anemia, FeLV, leukemia, myeloneoplastic syndrome.
Downloads
Download data is not yet available.
References
Biondo A.W. 2005. Doenças Mieloproliferativas. In: II Simpósio de Patologia Clínica da Região Sul do Brasil (Porto Alegre, Brazil). pp.36-37.
Chiu E.S., Hoover E.A. & Vandewoude S.A. 2018. Retrospective Examination of Feline Leukemia Subgroup Characterization: Viral Interference Assay to Deep Sequencing. Viruses. 10(1): DOI: 10.3390/v10010029
Cristo T.G., Biezus G., Noronha L.F., Gaspar T., Dal T.P., Withoeft J.A., Furlan L., Costa, L.S., Traverso S.D. & Casagrande R.A. 2019. Feline Leukaemia Virus Associated with Leukaemia in Cats in Santa Catarina, Brazil. Journal of Comparative Pathology. 170: 10-21. DOI: 10.1016/j.jcpa.2019.05.002
Fischer C., Tan E. & Bienzle D. 2012. Erythroleukemia in a retrovirus-negative cat. Journal of the American Veterinary Medical Association. 240(3): 294-297. DOI: 10.2460/javma.240.3.294
Hisasue M., Nagashima N., Nishigaki K., Fukuzawa I., Ura S., Katae H., Tsuchiya R., Yamada T., Hasegawa A. & Tsujimoto H. 2009. Myelodysplastic syndromes and acute myeloid leukemia in cats infected with feline leukemia virus clone33 containing a unique long terminal repeat. International Journal of Cancer. 124(5): 1133-1141. DOI: 10.1002/ijc.24050
Hisasue M., Okayama H. & Okayama T. 2001. Hematologic Abnormalities and Outcome of 16 Cats with Myelodysplastic Syndromes. Journal of Veterinary Internal Medicine. 15(5): 471-477. DOI: 10.1292/jvms.62.1059
Jain N.C. 1993. Classification of Myeloproliferative Disorders in Cats Using Criteria Proposed by the Animal Leukemia Study Group: A Retrospective Study of 181 cases (1969-1992). Comparative Hematology International. 3: 125-134. DOI: 10.1007/BF00186096.
Prihirunkit K., Narkkong N. & Apibal S. 2008. Acute monoblastic leukemia in a FeLV-positive cat. Journal of Veterinary Science. 9(1): 109-111. DOI: 10.4142/jvs.2008.9.1.109
Shimada T., Matsumoto Y., Okuda M., Momoi Y, Bon-Kobara M, Watari T, Goitsuka R, Ono K., Goto N., Tsujimoto H. & Hasegawa A. 1995. Erythroleukemia in two cats naturally infected with feline leukemia virus in same household. Journal of Veterinary Medicine. 57(8): 199-204. DOI: 10.1292/jvms.57.199.
Tochetto C., Souza T.M., Barros C.S.L. & Fighera R.A. 2011. Aspectos epidemiológicos, clínicos, hematológicos e anatomopatológicos da leucemia eritroide aguda (LMA M6) em gatos. Pesquisa Veterinária Brasileira. 31(7): 610-619. DOI: 10.1590/S0100-736X2011000700011
Vassalo J. & Magalhães S.M.M. 2009. Síndromes mielodisplásicas e mielodisplásicas/ mieloproliferativas. Revista Brasileira de Hematologia e Hemoterapia. 31(4): 267-272. DOI: 10.1590/S1516-84842009005000062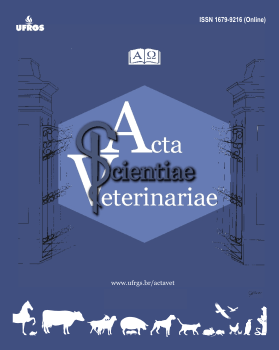 Additional Files
How to Cite
Chimenes, N. D., Caramalac, S. M., Castilho, M. O., Gazzone, A. C., Pupin, R. C., Palumbo, M. I. P., & Babo-Terra, V. J. (2022). Acute Erythroid Leukemia in a Cat Infected with Feline Leukemia Virus . Acta Scientiae Veterinariae, 50. https://doi.org/10.22456/1679-9216.120852
License
Copyright (c) 2022 Natielly Dias Chimenes, Silvana Marques Caramalac, Mikaelle Oliveira Castilho, Alexandre Coltro Gazzone, Rayane Chitolina Pupin, Mariana Isa Poci Palumbo, Veronica Jorge Babo-Terra
This work is licensed under a Creative Commons Attribution 4.0 International License.
This journal provides open access to all of its content on the principle that making research freely available to the public supports a greater global exchange of knowledge. Such access is associated with increased readership and increased citation of an author's work. For more information on this approach, see the Public Knowledge Project and Directory of Open Access Journals.
We define open access journals as journals that use a funding model that does not charge readers or their institutions for access. From the BOAI definition of "open access" we take the right of users to "read, download, copy, distribute, print, search, or link to the full texts of these articles" as mandatory for a journal to be included in the directory.
La Red y Portal Iberoamericano de Revistas Científicas de Veterinaria de Libre Acceso reúne a las principales publicaciones científicas editadas en España, Portugal, Latino América y otros países del ámbito latino