Aberrant Right Subclavian Artery in a Dog - Clinical and Imaging Aspects
Abstract
Background: Aberrant right subclavian artery is only rarely observed in veterinary medicine. Some animals may present postprandial regurgitation and progressive weight loss, which is considered an incidental finding unrelated to clinical alterations. Advanced imaging techniques such as thoracic CT scan, magnetic resonance imaging (MRI) and contrast angiography are used for the accurate detection of lesions, anatomical changes and specific information about vascular rings. This paper describes the clinical changes, imaging exams and therapeutic approach in a female dog with megaesophagus induced by an aberrant right subclavian artery.  
Case: A 2-month-old female bull terrier, weighing 1.6 kg, with a history of regurgitation immediately or a few minutes after a meal, diarrhea, polyphagia, progressive emaciation and apathy for 45 days, was treated at a University Veterinary Hospital. The dog's physical examination revealed 7% dehydration and body condition score 1 (scale 1 to 5), but no cardiac or pulmonary alterations upon auscultation. The hematological analysis and renal and hepatic serum enzymes were within the normal range for the species. In view of the presumptive clinical diagnosis of vascular anomaly, suggested by the contrast X-ray examination, a chest tomography was performed, which revealed altered aortic arch shape and contours, and a posterior aneurysm in the area of ​​abnormal connection of the right subclavian artery. The patient was released with a prescription for conservative dietary management for megaesophagus. Within two weeks, the patient returned with a report of a good response to the prescribed therapy, absence of vomiting and diarrhea, and an increase in body weight. Surgical correction was recommended, but has not been performed so far, but conservative treatment for megaesophagus was continued. No further episodes of regurgitation were identified during the nine-month follow-up period.
Discussion: In the case reported here, the right subclavian artery is considered anatomically atypical because it arises directly from the aortic arch.  This vascular anomaly passes on to the right pectoral limb, dorsal to the esophagus, contracting it in its dorsal aspect. It tends to affect purebred dogs, occurring more frequently in Irish setters, German shepherds and Labrador retrievers, although it has been described in other breeds such as the bull terrier documented here and mixed breed dogs. Vascular ring anomalies may not cause clinical changes in animals and represent only incidental findings, or they may lead to gastrointestinal changes resulting from esophageal stricture, contributing to megaesophagus and clinical signs of esophageal obstruction, especially in recently weaned puppies. Such alterations were observed in this case, with the dog presenting regurgitation, immediately or a few minutes after a meal, megaesophagus, diarrhea and progressive weight loss. A CT scan was performed to confirm the type and location of the vascular anomaly and diagnostic accuracy, as recommended in the literature. Dietary therapy is one of the approaches adopted for patients presenting with regurgitation resulting from megaesophagus secondary to vascular anomalies. The dog in this report responded well to the medical therapy; nevertheless, the treatment of choice to correct the esophageal obstruction caused by this anomaly is surgical sectioning of the aberrant vessel by right intercostal thoracotomy, given that the degree of esophageal dilation and dysfunction tends to increase over time. However, at this time, the animal's owner decided to suspend the recommended surgical procedure.
Keywords: aberrant right subclavian artery, female dog, megaesophagus.
Título: Artéria Subclávia Direita Aberrante em cão - aspectos clínicos e de imagem.
Descritores: artéria subclávia direita aberrante, cão fêmea, megaesôfago.
Downloads
Download data is not yet available.
References
Barranhas A.D., Indiani J.M.C., Marchiori E., Santos A.A.S.M.D., Rochitte C.E. & Nacif M.S. 2009. Apresentação atípica do divertículo de Kommerell. Arquivos Brasileiros de Cardiologia. 93(6): e101-e103. DOI: 10.1590/S0066-782X2009001200026.
Christiansen K.J., Snyder D., Buchanan J.W. & Holt D.E. 2007. Multiple vascular anomalies in a regurgitating German shepherd puppy. Journal of Small Animal Practice. 48(1): 32-35. DOI: 10.1111/j.1748-5827.2006.00105.x.
Cinti F., Della Santa D., Borgonovo S., Bussadori R., Troiano D. & Pisani G. 2019. Aberrant right subclavian artery causing megaoesophagus in three cats. Journal of Small Animal Practice. 60(9): 571-574. DOI: 10.1111/jsap.12856.
Culau P.D.O.V., Oliveira J.C.D., Reckziegel S.H. & Lindemann T. 2004. Origem ectópica da artéria subclávia direita e do tronco bicarotídeo no cão. Ciência Rural. 34: 1615-1618. DOI: 10.1590/S0103-84782004000500046.
De Kleer V.S. 1970. An anomalous origin of the right subclavian artery in the dog. British Veterinary Journal. 127(2): 76-82.
Farrow C.S. 2003. Heart and Circulatory Variations and Radiographic Disease Indicators. In: Veterinary Diagnostic Imaging: The Dog and Cat. St. Louis: Mosby, pp.481-492.
Fossum T.W. 2007. Cirurgia de Pequenos Animais. 4.ed. Rio de Janeiro: Elsevier Brasil, pp.405-409.
Gunby J.M., Hardie R.J. & Bjorling D.E. 2004. Investigation of the potential heritability of persistent right aortic arch in Greyhounds. Journal of the American Veterinary Medical Association. 224(7): 1120-1122. DOI: 10.2460/javma.2004.224.1120.
Henjes C.R., Nolte I. & Wefstaedt P. 2011. Multidetector-row computed tomography of thoracic aortic anomalies in dogs and cats: patent ductus arteriosus and vascular rings. BMC Veterinary Research. 7(57): 1-9. DOI:10.1186/1746-6148-7-57.
House A.K., Summerfield N.J, German A.J., Noble P.J.M., Ibarrola P. & Brockman D.J. 2005. Unusual vascular ring anomaly associated with a persistent right aortic arch in two dogs. Journal of Small Animal Practice. 46(12): 585-590. DOI: 10.1111/j.1748-5827.2005.tb00291.x.
Hurley K., Miller M.W. & Boothe H.W. 1993. Left aortic arch and right ligamentum arteriosum causing esophageal obstruction in a dog. Journal of the American Veterinary Medical Association. 203(3): 410-412. PMID: 8226217.
Isselbacher E.M. 2005. Aneurismas torácicos e de aorta abdominal. Circulação. 111(6): 816-828. DOI: 10.1161/01.CIR.0000154569.08857.7A.
Jergens A.E. 2006. Disease of esophagus. In: Ettinger S.J. & Feldman E.C. (Eds). Textbook of Veterinary Internal Medicine. 6th edn. Philadelphia: Elsevier Saunders, pp.1304-1307.
Ka-Tak W., Lam W.W.M. & Yu S.C.H. 2007. MDCT of an aberrant right subclavian artery and of bilateral vertebral arteries with anomalous origins. American Journal of Roentgenology. 188(3): 274-275. DOI: 10.2214/AJR.05.0694.
Kim J., Eom K. & Yoon H. 2017. Computed tomography angiography reveals stenosis and aneurysmal dilation of an aberrant right subclavian artery causing systemic blood pressure misreading in an old Pekinese dog. Journal of Veterinary Medical Science. 17(31): 1052-1055. DOI: 10.1292/jvms.17-0031.
Krebs I.A., Lindsley S., Shaver S. & MacPhail C. 2014. Short-and long-term outcome of dogs following surgical correction of a persistent right aortic arch. Journal of the American Animal Hospital Association. 50(3): 181-186. DOI: 10.5326/JAAHA-MS-6034.
Miller M., Christensen G. & Evans H. 1965. Anatomy of the Dog. Medicina Acadêmica. 151(4): 610-611. DOI: 10.1002/ar.1091510412.
Miller R., Wilson C., Wray J., Jakovljevic S. & Tappin S. 2015. Adult‐onset regurgitation in a dog with an aberrant right subclavian artery: a CT angiographic study. Veterinary Record Case Reports. 3: e000138. DOI: 10.1136/vetreccr-2014-000138.
Morgan K.R.S. & Bray J.P. 2019. Current diagnostic tests, surgical treatments, and prognostic indicators for vascular ring anomalies in dogs. Journal of the American Veterinary Medical Association. 254(6): 728-733. DOI: 10.2460/javma.254.6.728.
Natsis K., Didagelos M., Gkiouliava A., Lazaridis N., Vyzas V. & Piagkou M. 2017. The aberrant right subclavian artery: cadaveric study and literature review. Surgical and Radiologic Anatomy. 39(5): 559-565. DOI: 10.1007/s00276-016-1796-5.
Noden D.M. & De Lahunta A. 1985. Cardiovascular System I: blood and arteries. In: The Embryology of Domestic Animals: Developmental Mechanisms and Malformations. Baltimore: Lippincott, Williams and Wilkins, pp.211-230.
Orton E.C. & Monnet E. 1995. Congenital heart defects. In: Small Animal Thoracic Surgery. 2nd edn. Philadelphia: Williams & Wilkins, pp.124-127.
Paiva O.M. 1948. Dois casos de A. subclávia dextra como última colateral do Arcus aorticus no cão. Revista da Faculdade de Medicina Veterinária, Universidade de São Paulo. 3(4): 203-223. DOI: 10.11606/issn.2318-5066.v3i4p203-222.
Park J.H., Ha D.S., Lee S.G. & Eom K.D. 2005. A case of aberrant right subclavian artery in a dog. Veterinary Clinics of North America. 22(3): 281-283. eISSN: 2384-0749.
Polguj M., Chrzanowski Ł., Kasprzak J.D., Stefańczyk L., Topol M. & Majos A. 2014. The aberrant right subclavian artery (arteria lusoria): the morphological and clinical aspects of one of the most important variations - a systematic study of 141 reports. The Scientific World Journal. 2014: 292734. DOI: 10.1155/2014/292734.
Shojaei B., Akhtardanesh B., Kheirandish R. & Vosough D. 2011. Megaesophagus caused by an aberrant right subclavian artery and the brachiocephalic trunk in a cat. Online Journal of Veterinary Research. 15(1): 46-52.
Tanaka N.M., Hoogevonink N., Tucholski A.P., Trapp S.M. & Frehse M.S. 2010. Megaesôfago em cães. Revista Acadêmica Ciência Animal. 8(3): 271-279. DOI: 10.7213/cienciaanimal.v8i3.10880.
Tavares T.G., Lima C.V.B., Romão L.P., Marin J.F.V., Silveira D.S., Nunes L.C. & Boeloni J.N. 2020. Aberrant right subclavian artery in a dog ˗ case report. Arquivo Brasileiro de Medicina Veterinária e Zootecnia. 72(6): 2266-2270. DOI: 10.1590/1678-4162-12078.
White R.N., Burton C.A. & Hale J.S.H. 2003. Vascular ring anomaly with coarctation of the aorta in a cat. Journal of Small Animal Practice. 44(7): 330-334. DOI: 10.1111/j.1748-5827.2003.tb00164.x.
Yoon H.Y. & Jeong S.W. 2011. Surgical correction of an aberrant right subclavian artery in a dog. The Canadian Veterinary Journal. 52: 1115-1118.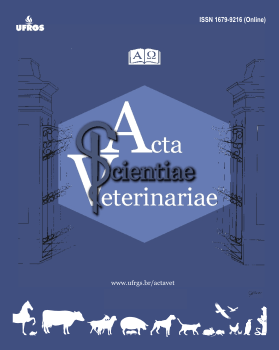 Additional Files
How to Cite
Antunes, H. M. R., Vieira, N. C., Franco, E. R. de J., Sousa, V. R. F., Néspoli, P. E. B., & Almeida, A. do B. P. F. de. (2022). Aberrant Right Subclavian Artery in a Dog - Clinical and Imaging Aspects. Acta Scientiae Veterinariae, 50. https://doi.org/10.22456/1679-9216.120766
License
Copyright (c) 2022 Helloine Mariane Ribeiro Antunes, Nathany Camila Vieira, Ellen Ronara de Jesus Franco, Valéria Régia Franco Sousa, Pedro Eduardo Brandini Néspoli, Arleana do Bom Parto Ferreira de Almeida
This work is licensed under a Creative Commons Attribution 4.0 International License.
This journal provides open access to all of its content on the principle that making research freely available to the public supports a greater global exchange of knowledge. Such access is associated with increased readership and increased citation of an author's work. For more information on this approach, see the Public Knowledge Project and Directory of Open Access Journals.
We define open access journals as journals that use a funding model that does not charge readers or their institutions for access. From the BOAI definition of "open access" we take the right of users to "read, download, copy, distribute, print, search, or link to the full texts of these articles" as mandatory for a journal to be included in the directory.
La Red y Portal Iberoamericano de Revistas Científicas de Veterinaria de Libre Acceso reúne a las principales publicaciones científicas editadas en España, Portugal, Latino América y otros países del ámbito latino