Preputial Reconstruction Combined with Graft in Dogs
Abstract
Background: Preputial injuries are significant in the clinical routine. Traumas, conditions, and mass excision result in extensive and full-thickness defects that lead to chronic penile exposure and consequential injuries. Severe injuries may require preputial reconstructive surgery to restore function and aesthetics. The objective is to report the use of the preputial reconstruction technique using the caudal superficial epigastric axial standard flap associated with a single-stage, full-thickness oral mucosa graft in 3 dogs where the loss of the prepuce was significant.
Cases: Three dogs were admitted to the Veterinary Teaching Hospital of UFMT with preputial lesions of different etiologies. All cases were referred for preventive reconstruction using a flap in the caudal axial epigastric pattern associated with a single-stage oral mucosa graft. In the 3 reported cases, changes that compromised surgical success, such as suture dehiscence, necrosis, or infection, were not observed during hospitalization. Cutaneous stitch dehiscence, however, was observed in all 3 cases. Dog 1. A small point of dehiscence and tissue necrosis was found and treated with chemical debridement and healed by second intention, which proved to be sufficient on the 30th day. Dog 2.  A half-moon rotation flap was performed, which closed the defect. Dog 3.  A new procedure using the reporting theme technique was necessary in order to cover the cranial portion of the foreskin. The dehiscence present in dogs 2 and 3 was significant. Flap retraction was observed in all 3 cases. In dogs 1 and 3, the retraction was slight, and the exposure of a small portion of the penile glans were observed, showing no changes that required intervention. In dog 2, retraction was important, leading to partial stenosis of the preputial ostium. A larger ostium was obtained by suturing the mucosa to the edge of the wedge. Considering the possibility of adhesion formation, "captons" were made in sterile silicone tubes, and sutures were placed in the dorsal and ventral aspects to prevent adherence of the oral mucosa graft located on the inside of the new foreskin. The captons were removed on the tenth post-operative day, revealing a good opening of the preputial orifice and adequate penile exposure.
Discussion: The absence of a foreskin caused by trauma or surgical excision leads to chronic penile exposure, dryness, and ulcerations. The simple covering of the skin with an axial-type flap of the caudal superficial epigastric region tends to fail since only the graft edges are sutured into the abdominal skin. In these circumstances, the subcutaneous region on the penis is exposed and comes in direct contact with urine and the penile mucosa, causing the flap skin to grow to exacerbated retraction. The transplantation of a free-lip mucosa graft allows the subcutaneous region of the transposed skin flap to create adhesions in the fenestrated regions of the lip tissue through the formation of granulation tissue buds, which is performed in a single stage. The permanence of the penis protects the lower urinary system from the occurrence of infections relative to what is normally observed in cases where partial or total penile amputation is practiced in combination with adjunctive scrotal urethrostomy. Given the observations of the 3 cases described here, the technique of pre-facial reconstruction with an axial skin flap of the caudal superficial epigastric region, combined with free-labial mucosa graft, was found to be feasible for the single-stage foreskin technique, but that paraphimosis remanagement may be necessary when cutaneous portions of the penile skin caudal to the glans are removed.
Keywords: prepuce, reconstruction, oral mucosa.
Título: Reconstrução prepucial com uso de enxerto combinado em cães.
Descritores: prepúcio, reconstrução, mucosa oral.
Downloads
Download data is not yet available.
References
Amsellem P. 2011. Complications of reconstructive surgery in companion animals. Veterinary Clinics of North America. Small Animal Practice. 41(5): 995-1006.
Aper R.L. & Smeak D.D. 2005. Clinical evaluation of caudal superficial epigastric axial pattern flap reconstruction of skin defects in 10 dogs (1989-2001). Journal of the American Animal Hospital Association. 41(3): 185-192.
Boothe H.W. 2018. Penis and prepuce. Veterinary Surgery Small Animal. 2nd edn. Amsterdam: Elsevier, pp.5831-5857.
Castro J.L. C., Huppes R.R., Sprada A.G., Pazzini J.M., De Nardi A.B., Queiroz T.N. L. & Pascoli A.L. 2017. Axial pattern flap from the caudal superficial epigastric artery for the correction of surgical defects created by the resection of tumors or traumas in cats and dogs: 16 cases (2012-2015). Journal of Agricultural Science. 9(5): 170-174.
Cruz T.P.P.S., Jarrah S.A., Silva E.P., Gomes L.G., Travagin D.R.P., Lima S.R.L. & Ribeiro A.P. 2015. Aspectos clínicos, cirúrgicos, histológicos e urinários de seis cães submetidos à penectomia total. Acta Scientiae Veterinariae. 43(Suppl 1): 96. 10p.
Grossman J. & Baltzer W. 2012. Use of a preputial circumferential mucosal flap for hypospadias management in a Boston terrier. Journal of Small Animal Practice. 53(5):292-6.
Forster K., Cutando L.S., Ladlow J., Anderson D., Burton C., Das S., Gibson S., Kulendra N., Emmerson T., Baines S., Rutherford L., Paulino R.D., Fontanini R., Compagnone K. & De La Puerta B. 2022. Outcome of caudal superficial epigastric axial pattern flaps in dogs and cats: 70 cases (2007-2020). Journal of Small Animal Practice. 63(2): 128-135.
Massari F., Montinaro V., Buracco P. & Romanelli G. 2018. Combined caudal-superficial-epigastric axial pattern flap and full-thickness buccal mucosa graft for single-stage preputial reconstruction in six dogs. Journal of Small Animal Practice. 59(7): 415-421.
Milgram J., Yas-Natan E., Benzioni-Bar H. & Shipov A. 2019. A proposed technique for one-step preputial reconstruction in the dog. Journal of Small Animal Practice. 60(12): 739-745.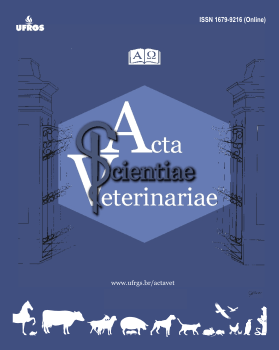 Additional Files
How to Cite
Amorim, T. M., Ribeiro, A. P., Prass, D. S., Magalhães, T. B. S., Dias Lourenço, L. ., & Maíra Fernanda Gonçalves Koiyama. (2022). Preputial Reconstruction Combined with Graft in Dogs . Acta Scientiae Veterinariae, 50. https://doi.org/10.22456/1679-9216.120044
License
Copyright (c) 2022 Tássia Moara Amorim, Daniela Souza Prass, Tayane Bruna Soares Magalhães, Letícia Dias Lourenço, Gabriela Cardoso Batista, Acácio Delapícola, Nathalia Freschi, Michelly Ferreira Fernandes, Alexandre Pinto Ribeiro
This work is licensed under a Creative Commons Attribution 4.0 International License.
This journal provides open access to all of its content on the principle that making research freely available to the public supports a greater global exchange of knowledge. Such access is associated with increased readership and increased citation of an author's work. For more information on this approach, see the Public Knowledge Project and Directory of Open Access Journals.
We define open access journals as journals that use a funding model that does not charge readers or their institutions for access. From the BOAI definition of "open access" we take the right of users to "read, download, copy, distribute, print, search, or link to the full texts of these articles" as mandatory for a journal to be included in the directory.
La Red y Portal Iberoamericano de Revistas Científicas de Veterinaria de Libre Acceso reúne a las principales publicaciones científicas editadas en España, Portugal, Latino América y otros países del ámbito latino