Open Fracture of the Femur in a Two-toed Sloth (Choloepus didactylus) - Treatment and Rehabilitation
Abstract
ABSTRACT
Background: The Choloepus didactylus is characterized by having 2 fingers on the forelimbs and 3 on the hind limbs, being found more frequently in northern South America, in countries such as Venezuela, Guyana, Ecuador, Peru, and Brazil. In Brazil, deforestation of the Atlantic Forest has negatively affected the survival of C. didactylus. In addition, these animals can be affected by several conditions, being those of the musculoskeletal system with limited reports. Thus, the present report aimed to describe the treatment and evolution of an open fracture of the femur in a free-living Choloepus didactylus, which after rehabilitation was released back to the wild.
Case: A free-living female two-toed sloth (Choloepus didactylus), weighing 7.0 kg, was found in Manaus city and referred to the Wild Animal Screening Center (CETAS - IBAMA-AM) located in Amazonas, Brazil, after initial treatment and osteosynthesis in a private clinic (CVMinasPet). According to history, the animal had suffered electrocution 30 days ago and, as a result, had an extensive wound that resulted in the exposure of the knee joint, distal fracture of the femur, and areas of necrosis in the right pelvic limb. After cleansing of the area and removal of necrotic tissues, the fracture was stabilized with the cross-pinning technique (two Steinmann pins). Then, the stifle joint was stabilized with external skeletal fixation (Type 1b, unilateral biplanar). The external fixator and cross-pins were removed 4 months after the surgical procedure, being observed bone healing. Next, the animal underwent physical rehabilitation for 30 days. After the rehabilitation period, a microchip and a radio collar were applied, and the sloth was released back to the wild.
Discussion: Electrocution has been one of the causes of wildlife rescue, with consequences varying depending on the degree of the burn. Generally, the burn is most severe at the entry and exit sites. Since suspensory quadrupedal locomotion requires that sloths have specialized hands and feet to connect with the supports, probably the animal of the current report touched the right pelvic limb on a high-tension pole. The cross-pinning technique combined with the external fixator was used because the animal had an exposed Salter-Harris type I fracture with soft tissue loss. The younger the animal presents physeal fractures, the greater is the chance of developing growth abnormalities due to growth plate closure caused by fracture type or immobilization method. Since the sloth was a free-living animal, the age was unknown.  However, pelvic limb length discrepancy was not observed after removing the implants. Culture and antimicrobial susceptibility test were not done and may be considered a limitation of this report. However, the application of ceftriaxone was adequate to control the infection, since the animal did not show signs of infection or draining sinus tracts. Ceftriaxone is a third-generation antibiotic that can be used in chronic osteomyelitis. In addition, the animal in the present report showed good adaptation to captive conditions that contributed to the clinical management. The longevity of the sloth in captivity can reach more than 31 years, but the goal is always to return the animal to nature after the treatment. Surgical treatment of the fracture and physical therapy after implant removal allowed this action in the current report, confirmed by monitoring with the radio collar.
Keywords: sloths, electrocution, radiography, wildlife, fracture.
Título: Fratura exposta do fêmur em preguiça-real (Choloepus didactylus) - tratamento e reabilitação
Descritores: preguiças, eletrocussão, radiografia, vida selvagem, fratura.
Downloads
Download data is not yet available.
References
Beale B. 2004. Orthopedic clinical techniques femur fracture repair. Clinical Techniques in Small Animal Practice. 19(3): 134-150.
Carmo C.C., Miranda, J.M.S., Cavalcante M.J.S., Batista Jr. F.A., Silva A.L. & Ribeiro A.S.S. 2019. Electrocution in common sloth (Bradypus variegatus). Ciência Animal. 29(2): 27-33.
DeCamp C.E., Johnston S.A., Dejardin L.M. & Schaefer S.L. 2016. Fractures of the femur and patella. In: Brinker, Piermattei and Flo's Handbook of Small Animal Orthopaedics and Fracture Repair. 5th edn. St Louis: Elsevier, pp.518-596.
Diniz L.S. & Oliveira P.M. 1999. Clinical problems of sloths (Bradypus sp. and Choloepus sp.) in captivity. Journal of Zoo and Wildlife Medicine. 30(1): 76-80.
Dünner C. & Pastor G. 2017. Manual de Manejo, Medicina y rehabilitación de Perezosos. Valdívia: Fundación Huálamo, 154p.
Feldhamer G.A., Drickamer L.C., Vessey S.H., Merritt J.F. & Krajewski C. 2015. Mammalogy: Adaptation, Diversity, Ecology. Baltimore: Johns Hopkins University Press, 2024p.
Gomes D., Pereira M. & Bettencourt A.F. 2013. Osteomyelitis: an overview of antimicrobial therapy. Brazilian Journal of Pharmaceutical Sciences. 49(1): 13-27.
Miranda F. 2014. Cingulata (Tatus) e Pilosa (Preguiças e Tamanduás). In: Cubas Z.S., Silva J.C.R. & Catão-Dias J.L. (Eds). Tratado de Animais Selvagens: Medicina Veterinária. 2.ed. São Paulo: Roca, pp.707-722.
Nyakatura J.A., Petrovitch A. & Fischer M.S. 2010. Limb kinematics during locomotion in the two-toed sloth (Choloepus didactylus, Xenarthra) and its implications for the evolution of the sloth locomotor apparatus. Zoology. 113(4): 221-234.
Presslee S., Slater G.J., Pujos F., Forasiepi A.M., Fischer R., Molloy K., Mackie M., Olsen J.V., Kramarz A., Taglioretti M., Scaglia F., Lezcano M., Lanata J.L., Southon J., Feranec R., Bloch J., Hajduk A., Martin F.M., Salas Gismondi R., Reguero M., Muizon C., Greenwood A., Chait B.T., Penkman K., Collins M. & MacPhee R.D.E. 2019. Palaeoproteomics resolves sloth relationships. Nature Ecology and Evolution. 3(7): 1121-1130.
Santos P.M., Bailey L.L., Ribeiro M.C., Chiarello A.G. & Pagli A.P. 2019. Living on the edge: Forest cover threshold effect on endangered maned sloth occurrence in Atlantic Forest. Biological Conservation. 240: 108264.
Superina M., Miranda F.R., & Abb A.M. 2010. The 2010 anteater red list assessment. Edentata. 11(2): 96-114.
Zemaitis M.R., Foris L.A., Lopez R.A. & Huecke M.R. 2021. Electrical Injuries. Treasure Island: StatPearls Publishing, pp.1-10.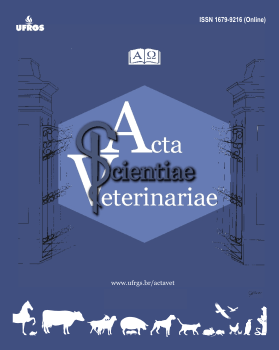 Additional Files
How to Cite
Santos, L. S. dos, Canevese Rahal, S., Aparecida de Souza Lima, N., Pereira da Cunha, D. A., Ferreira Dales Nava, A., Chiesorin Neto, L., & Roberto Teixera, C. (2022). Open Fracture of the Femur in a Two-toed Sloth (Choloepus didactylus) - Treatment and Rehabilitation. Acta Scientiae Veterinariae, 50. https://doi.org/10.22456/1679-9216.119693
License
Copyright (c) 2022 Laynara Silva dos Santos
This work is licensed under a Creative Commons Attribution 4.0 International License.
This journal provides open access to all of its content on the principle that making research freely available to the public supports a greater global exchange of knowledge. Such access is associated with increased readership and increased citation of an author's work. For more information on this approach, see the Public Knowledge Project and Directory of Open Access Journals.
We define open access journals as journals that use a funding model that does not charge readers or their institutions for access. From the BOAI definition of "open access" we take the right of users to "read, download, copy, distribute, print, search, or link to the full texts of these articles" as mandatory for a journal to be included in the directory.
La Red y Portal Iberoamericano de Revistas Científicas de Veterinaria de Libre Acceso reúne a las principales publicaciones científicas editadas en España, Portugal, Latino América y otros países del ámbito latino