Immune-Mediated Hemolytic Anemia in a Bitch Triggered by Drugs
Abstract
Background: Immune-mediated hemolytic anemia (IMHA) is characterized by an autoimmune response with production of auto-antibodies and destruction of erythrocytes resulting in anemia. Primary IMHA is referred to a condition when the cause is unknown (idiopathic), whereas secondary IMHA involves changes in red blood cells caused by the action of drugs, neoplasms, or infectious diseases. The diagnosis can be made through changes in the blood count, usually of a regenerative character, Coombs test, and autoagglutination test. The present study aimed to report a case of drug-induced hemolytic anemia, with emphasis on the clinical signs, diagnostic methods, and treatment, in a female dog.
Case: A 9-year-old mixed-breed bitch weighing 29.6 kg was referred to the Veterinary Medical Teaching Hospital (HCV-UFRGS) with a previous diagnosis of gallbladder mucocele that was unresponsive to clinical treatment. After laboratory tests, cholecystectomy was performed, and the procedure required conversion from laparoscopic to open cholecystectomy. Therapy included administration of amoxicillin, dipyrone, tramadol hydrochloride, and meloxicam. Three days after surgery, the dog presented with apathy, lethargy, hyporexia, and a pale and subicteric mucosa. The patient developed hypochromic macrocytic anemia with reticulocytosis, spherocytosis, anisocytosis, and leukocytosis with neutrophilia. The result of the autoagglutination test was positive, confirming the diagnosis. All medications were suspended, and immunosuppressive treatment with dexamethasone was included, with a subsequent switch to prednisolone. After 10 days of treatment, the patient experienced significant improvement, and therapy was discontinued.
Discussion: Based on the patient's history, the cause of the IMHA was secondary to drug administration, and it is not possible to distinguish if it was due to one or a combination of drugs, as they were all started and stopped simultaneously. The patient had hypothyroidism, which may have contributed to the production of antibodies against TSH receptors, blocking the hormone's action, thereby causing tissue damage due to T cell-mediated cytotoxicity and the effect of cytokines. The pale and subicteric mucosa, apathy, weakness, lethargy, exercise intolerance, and dyspnea resulted from extravascular hemolysis and bilirubin released from erythrocyte rupture with a subsequent decrease in the number of red blood cells, leading to oxygen transport deficiency. The diagnosis is based on the blood count and results of autoagglutination supported by the response to immunosuppressive therapy. Anemia results in increased production and release of precursor cells from the bone marrow, accompanied by reticulocytosis and increased mean corpuscular volume (MCV) and mean corpuscular hemoglobin concentration (MCHC). The treatment of IMHA consists of supportive care and immunosuppressive therapy with corticosteroids to ensure suppression of the immune system, preventing response against erythrocytes. Initially, tramadol hydrochloride, dipyrone, and amoxicillin with potassium clavulanate were suspended to interrupt the cause of IMHA, and administration of dexamethasone in an immunosuppressive dose was started. Therefore, it is important to include drug-induced IMHA in the differential diagnosis of patients who present with anemia after using medications. Early diagnosis, initiation of therapy, and adequate care were important factors for the recovery of the animal.
Título: Anemia hemolítica imunomediada medicamentosa em uma cadela
Keywords: dog, hypochromic macrocytic anemia, erythrocyte, hemoglobin, spherocyte.
Descritores: cão, anemia macrocítica hipocrômica, eritrócito, hemoglobina, esferócito.
Downloads
Download data is not yet available.
References
Fighera R.A. 2007. Anemia hemolítica em cães e gatos. Acta Scientiae Veterinariae. 35(Suppl 2): 264-266.
Garden O.A., Kidd L., Mexas A.M., Chang Y.M., Jeffery U., Blois S.L., Fogle J.E., MacNeill A.L., Lubas G., Birkenheuer A., Buoncompagni S., Dandrieux J.R.S., Di Loria A., Fellman C.L., Glanemann B., Goggs R., Granick J.L., LeVine D.N., Sharp C.R., Smith-Carr S., Swann J.W. & Szladovits B. 2019. ACVIM consensus statement on the diagnosis of immune-mediated hemolytic anemia in dogs and cats. Journal of Veterinary Internal Medicine. 33(2): 313-334. DOI: 10.1111/jvim.15441
Owen J.L. & Harvey J.W. 2012. Hemolytic Anemia in Dogs and Cats Due to Erythrocyte Enzyme Deficiencies. Veterinary Clinics of North America - Small Animal Practice. 42(1): 73-84. DOI:10.1016/j.cvsm.2011.09.006
Ramos L.T. & Leite A.K.R. 2017. Alterações clínicas e laboratoriais em um cão com anemia hemolitica imunomediada: Relato de caso. Revista Científica De Medicina Veterinária. (28): 1-10.
Swann J.W., Garden O.A., Fellman C.L., Glanemann B., Goggs R., LeVine D.N., Mackin A.J. & Whitley N.T. 2019. ACVIM consensus statement on the treatment of immune-mediated hemolytic anemia in dogs. Journal of Veterinary Internal Medicine. 33(3): 1141-1172. DOI: 10.1111/jvim.15463
Weingart C., Thielemann D. & Kohn B. 2019. Primary immune-mediated haemolytic anaemia: a retrospective long-term study in 61 dogs. Australian Veterinary Journal. 97(12): 483-489.
Weetman A. 2020. Autoimmune thyroid disease. Endocrine. 68: 258-260. DOI: https://doi.org/10.1007/s12020-020-02188-6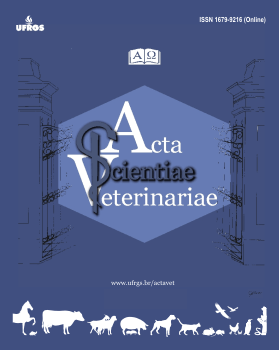 How to Cite
Martins, A. T., Ledur, G. R., Queiroga, L. B., Beck, C. A. de C., Carvalho, A. L., & Trindade-Gerardi, A. B. (2021). Immune-Mediated Hemolytic Anemia in a Bitch Triggered by Drugs. Acta Scientiae Veterinariae, 49. https://doi.org/10.22456/1679-9216.119619
License
This journal provides open access to all of its content on the principle that making research freely available to the public supports a greater global exchange of knowledge. Such access is associated with increased readership and increased citation of an author's work. For more information on this approach, see the Public Knowledge Project and Directory of Open Access Journals.
We define open access journals as journals that use a funding model that does not charge readers or their institutions for access. From the BOAI definition of "open access" we take the right of users to "read, download, copy, distribute, print, search, or link to the full texts of these articles" as mandatory for a journal to be included in the directory.
La Red y Portal Iberoamericano de Revistas Científicas de Veterinaria de Libre Acceso reúne a las principales publicaciones científicas editadas en España, Portugal, Latino América y otros países del ámbito latino