Squamous Cell Carcinoma of the Eyelid with Ocular Metastases in a Domestic Cat
Abstract
Background: Eye neoplasms are infrequent in felines and usually affect the eyelids. Squamous cell carcinoma (SCC) is a neoplasm that occurs owing to recurrent lesions caused by solar radiation and affects the margins of the ears, eyelids, nose and lips of animals with light-colored coat. The clinical signs consist of ulcerated, crusty lesions that may form masses. The diagnosis is established by means of histopathological analysis, and the prognosis depends on the area affected and tumor infiltration. This work aimed to describe a case of SCC in the eyelid with invasion of the eye and its adnexa in a cat, highlighting clinical aspects and the importance of the anatomopathological examination.
Case: A female mixed breed senile cat that had been rescued from the streets was brought in for examination. Dehydration and a low body condition score were observed at the general clinical examination. A physical inspection revealed the presence of an ulcerated periocular lesion on the eyelid; the right eye exhibited increased size and loss of definition of its internal structures. The presence of malodorous cerumen in the right ear canal, a tilted head, and walking in circles to the right were also noted. A dysplastic epithelium along with neutrophilic inflammation was observed at the cytopathological analysis. The treatment instituted consisted of administration of antibacterial and anti-inflammatory drugs, and cleaning of the ear. On the follow-up appointment, 2 days later, the patient's condition had worsened and in spite of the supportive therapy administered, the animal died. An anatomopathological study of the body identified, in addition to the alterations in the eyelid and the eye mentioned above, a traumatic lesion with perforation of the mandibular bone, and presence of a brownish content with caseous consistency in the right ear canal. After visualization of the microscopic alterations, the diagnosis established was squamous cell carcinoma of the eyelid with metastases in the optical nerve and choroid blood vessels.
Discussion: Squamous cell carcinoma is one of the most common epithelial neoplasms in felines, and can occur in any region of the face; however, the eyelids and the eyes are less frequently affected, which confirms that the case reported here is uncommon. SCC has a higher incidence in female cats older than 10 years of age with light-colored coat and highly exposed to ultraviolet radiation. The case reported here exhibited these characteristics, as the patient had been rescued from the streets where exposition to sunlight is intense. The clinical presentation was consistent with that described in other works, with ulcerated crusty lesions on the eyelid and the nose. Vestibular syndrome, as inferred from the tilted head and circular gait (walking in circles to the right), could be explained by internal otitis, which was observed at necropsy. The cytological analysis of the eye lesion demonstrated the presence of a neutrophilic inflammatory process along with a dysplastic or immature squamous epithelium, which prompted for therapy using antimicrobial and anti-inflammatory drugs. The definitive diagnosis was established with basis on the histopathological analysis, which revealed a pattern of neoplastic cells arranged in clusters or strands connected to the epidermal surface, and the presence of "keratin pearls" consistent with SCC affecting not only the eyelid and the eye, but also invading the optical nerve and the choroid blood vessels. The prognosis was unfavorable owing to the advanced stage of the tumor and concomitant diseases. Even though the development of SCC in the eyelid is relatively common, the occurrence of metastasis in the eye adnexa is rare in felines. An anatomopathological study was required to establish the diagnosis of SCC as the patient's clinical history data were scarce.
Keywords: squamous cell carcinoma, feline, eye neoplasm, oncology.
Título: Carcionoma de células escamosas em pálpebra com metástase ocular em um gato doméstico.
Descritores: carcinoma de células escamosas, felino, neoplasia ocular, oncologia.
Downloads
Download data is not yet available.
References
Conceição M.E.B.A.M., Martins D.M., Bertolo P.H.L., Bezerra D.K.O., Silva C.D.C.F., Aguirra V.M.R.L., Vasconcelos R.O. & Pereira W.L.A. 2016. Carcinoma de células escamosas em terceira pálpebra de feline. Acta Scientiae Veterinariae. 44(Suppl 1): 170. 5p.
Delisle E. & Devauchelle P. 1999. Skin Tumours. In: Guaguère E. & Prélaud P. (Eds). A Practical Guide to Feline Dermatology. Paris: Merial, pp.15.1-15.14.
Diehl K.A., Pryor S.G. & Teixeira L.B.C. 2018. Orbital invasive squamous cell carcinoma with adnexal involvement clinically mimicking feline restrictive orbital myofibroblastic sarcoma: 19 cases (1990-2016). Veterinary Ophthalmology. 21(3): 281-289.
Favrot C., Welle M., Heimann M., Godson D.L. & Guscetti F. 2009. Clinical, Histologic, and Immunohistochemical Analyses of Feline Squamous Cell Carcinoma in Situ. Veterinary Pathology. 46: 25-33.
Ferreira I., Rahal S.C., Ferreira J. & Correa T.P. 2006. Terapêutica no carcinoma de células escamosas cutâneo em gatos. Ciência Rural. 36(3): 1027-1033.
Ghisleni G., Roccabianca P., Ceruti R., Stefanello D., Bertazzolo W., Bonfanti U. & Caniatti M. 2006. Correlation between fine-needle aspiration cytology and histopathology in the evaluation of cutaneous and subcutaneous masses from dogs and cats. Veterinary Clinical Pathology. 35: 24-30.
Goldschmidt M.H. & Goldschmidt K.H. 2017. Epithelial and Melanocytic Tumors of the Skin. In: Meuten D.J. (Ed). Tumors in Domestic Animals. 5th edn. Ames: Iowa State Press, pp.88-141.
Grapes N.J., Taylor-Brown F.E., Volk H.A. & Decker S.D. 2020. Clinical reasoning in feline vestibular syndrome: which presenting features are the most important? Journal of Feline Medicine and Surgery. 23(8): 669-678.
Hayden W.D. 1976. Squamous Cell Carcinoma in a Cat with Intraocular and Orbital Metastases. Veterinary Pathology. 13: 332-336.
Hesse K.L., Fredo G., Guimarães L.L.B., Reis M.O., Pigatto J.A.T., Pavarini S.P., Driemeier D. & Sonne L. 2015. Neoplasmas oculares e de anexos em cães e gatos no Rio Grande do Sul: 265 casos (2009 - 2014). Pesquisa Veterinária Brasileira. 35(1): 49-54.
Jie T.J., Reduan M.F.H., Jasni S., Shaari R., Rajendren S.K., Shaharulnizim N., Roslan N.S., Kamaruzaman I.N.A. & Aziz A.R. 2021. Squamous cell carcinoma in a left periorbital region in a domestic short hair cat: a case report. Journal of Animal Health and Production. 9(2): 136-139.
Meyer D. J. & Raskin R. E. 2003. Pele e Tecido Subcutâneo: In: Atlas de Citologia de Cães e Gatos. São Paulo: Roca, pp.29-78.
Murphy S. 2013. Cutaneous Squamous Cell Carcinoma in the Cat: Current understanding and treatment approaches. Journal of Feline Medicine and Surgery. 15: 401-407.
Murphy S. 2016. Squamous Cell Carcinoma in Cats. In: Little S.E. (Ed). August's Consultations in Feline Internal Medicine. 7th edn. St. Louis: Elsiever, pp.526-533.
Newkirk K.M. & Rohrbach B.W. 2009. A retrospective study of eyelid tumor from 43 cats. Veterinary Pathology. 46: 916-927.
Pérez-Enriquez J.M., Romero-Romero L., Alonso-Morales R.A. & Fuentes-Pananá E.M. 2020. Tumor prevalence in cats: experience from a reference diagnostic center in Mexico City (2006-2018). Veterinaria México OA. 7(4): 1-14.
Santos N.N., Pereira L.B.S.B., Fonseca Filho L.B., Carvalho A.J., Pontes M.B., D'Alcantara N.A.L.G., Bessa A.L.N.G., Albuquerque P.V., Nascimento J.C.S. & Souza W.M.A. 2018. Carcinoma de células escamosas em felino: relato de caso. PUBVET. 12(7): 1-12.
Silveira L.M.G., Cunha F.M., Brunner C.H.M. & Xavier J.G. 2016. Utilização de eletroquimioterapia para carcinoma de células escamosas tegumentar em felino. Pesquisa Veterinária Brasileira. 36(4): 297-302.
Soltero-Rivera M.M., Krick E.L., Reiter A. M., Brown D.C. & Lewis J.R. 2014. Prevalence of regional and distant metastasis in cats with advanced oral squamous cell carcinoma: 49 cases (2005-2011). Journal of Feline Medicine and Surgery. 16(2): 164-169.
Yoshikawa H., Maranon D.G., Battaglia C.L.R., Ehrhart E.J., Charles J.B., Bailey S.M. & LaRue S.M. 2014. Predicting clinical outcome in feline oral squamous cell carcinoma: tumour initiating cells, telomeres and telomerase. Veterinary and Comparative Oncology. 12: 1-13.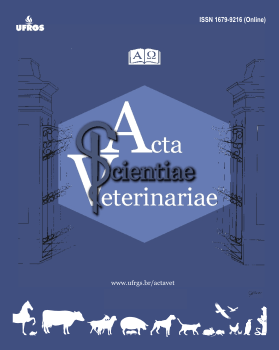 Additional Files
How to Cite
Flecke, L. R., Polesso, M., Souza Mattei, A., & Affeldt Guterres, K. (2022). Squamous Cell Carcinoma of the Eyelid with Ocular Metastases in a Domestic Cat. Acta Scientiae Veterinariae, 50. https://doi.org/10.22456/1679-9216.119301
License
Copyright (c) 2022 Laís Rezzadori Flecke, Marina Polesso, Antonella Souza Mattei, Karina Affeldt Guterres
This work is licensed under a Creative Commons Attribution 4.0 International License.
This journal provides open access to all of its content on the principle that making research freely available to the public supports a greater global exchange of knowledge. Such access is associated with increased readership and increased citation of an author's work. For more information on this approach, see the Public Knowledge Project and Directory of Open Access Journals.
We define open access journals as journals that use a funding model that does not charge readers or their institutions for access. From the BOAI definition of "open access" we take the right of users to "read, download, copy, distribute, print, search, or link to the full texts of these articles" as mandatory for a journal to be included in the directory.
La Red y Portal Iberoamericano de Revistas Científicas de Veterinaria de Libre Acceso reúne a las principales publicaciones científicas editadas en España, Portugal, Latino América y otros países del ámbito latino