Omphalocele in Neonate Calf
Abstract
Background: An omphalocele is a rare congenital malformation characterized by the protrusion of the abdominal contents through the base of the umbilical cord. A defect in the midline of the abdomen results in the abdominal contents being covered by a membranous sac near the umbilical cord, which ultimately results in the failure of the abdominal organs to return to the abdominal cavity in the early gestational stages and the development of an omphalocele. This study aimed to address the diagnosis, medical-surgical management, and treatment for an omphalocele in a newborn calf.
Case:A 2-day-old male Red Angus calf, weighing 35 kg, was referred to the HVU-UFSM. According to the owner, the animal was born via normal delivery, had ingested milk, was alert, and had an enlarged pendulous abdomen at the umbilicus. Physical examination did not show any changes in vital functions; however, intestinal stasis was observed. An in-depth examination revealed the presence of a round mass of tissue approximately 15 cm in diameter that was filling the remnant of the umbilical cord. This structure was covered by a thin, slightly dried membrane that isolated the contents from the external environment. On palpation, the mass was firm and non-reducible, and an omphalocele was suspected. Given the severity of the condition, the animal immediately underwent an emergency surgical procedure to correct the congenital defect. The surgery involved placing the intestinal loops that were present inside the sac in the abdominal cavity. At the end of the procedure, the animal was placed in a quadrupedal position to better assess omphalocele reduction. Postoperatively, the following medications were administered: a single dose of an analgesic along with a dipyrone and hyoscine-based antispasmodic (25 mg/kg, IM), an enrofloxacin-based antibiotic (2.5 mg/kg, IM) once a day for 7 days, and a non-steroidal anti-inflammatory drug, meloxicam (0.5 mg/kg, IM), for 3 days; in addition, the surgical wound was cleaned with a 2% povidone-iodine solution. The animal defecated shortly after the surgery. It received the first postoperative treatment and subsequently recommended therapy on the farm. Wound healing was observed after 10 days, and the stitches were removed by a local veterinarian.
Discussion: Birth defects, which are not uncommon in the offspring of a herd, are anomalies in the structure and/or function of a certain system of the organism or part of it. An omphalocele is one of these anomalies and has been reported in foals, cats, dogs, pigs, buffalos, calves, goats, dolphins, and sheep. However, its cause is remains unknown. Although it is speculated that the condition is caused by a recessive genetic trait, it has not been confirmed as a hereditary anomaly. In humans, omphalocele is often associated with other anomalies and, in addition to the intestine, other organs of the abdomen may be involved, which significantly increases mortality. The animal in this study presented with intestinal stasis solely due to the entrapment of portions of the small intestine, and no other organic alteration was found to be associated with the omphalocele. Other abnormalities associated with this congenital defect have not been reported in literature either. The case described herein demonstrates how the clinical approach, early diagnosis, surgical intervention, and therapeutic management achieved the objective of correcting an omphalocele in a neonate calf.
Keywords: congenital defect, omphalocele, malformation.
Título: Onfalocele em bezerro neonato
Descritores: defeito congênito, onfalopatia, malformação.
Downloads
Download data is not yet available.
References
Baird A.N. 1993. Omphalocele in two calves. Journal of the American Veterinary Medical Association. 202(9): 1481-1482.
Camon J., Sabate D., Franch J., López‐Béjar M.A., Pastor J., Rutllant J., Ordeig E., Degollada J. & Verdu J. 1990. Associated multiple congenital malformations in domestic animals. Contribution of four cases. Journal of Veterinary Medicine Series A. 37(1‐10): 659-668.
Fazili M.R., Bhattacharyya H.K., Dar S.H. & Athar H. 2014. Congenital omphalocele and its surgical management in lamb. Egyptian Journal of Sheep & Goat Sciences. 9(1): 77-80.
Johnston S.D., Buoen L.C., Weber A.F. & Lin T.L. 1989. Triploidy (117, XXX) in a stillborn canine pup conceived with frozen semen. Journal of the American Veterinary Medical Association. 194(10): 1446-1448.
Kiyohara M.Y. 2012. Onfalocele fetal: associação das relações entre o tamanho da onfalocele e circunferência cefálica e abdominal, com morbidade e mortalidade pós-natal. 100f. São Paulo, SP. Dissertação (Mestrado em Ciências) - Programa de Obstetrícia e Ginecologia, Universidade de São Paulo.
Ko J.C.H., Evans L.E. & Haynes J.S. 1990. Multiple congenital defects in a female calf: a case report. Theriogenology. 34(1): 181-187.
Lucas F.A., Panelli E.M., Nardin Neto E., Kandrotas A.L.,Mastrocinque S., Lotaro R.A. & Oliveira G.G.S. 2016. Partial hepatectomy in a calf with an omphalocele: case report. Arquivo Brasileiro de Medicina Veterinária e Zootecnia. 68(6): 1581-1585.
Mee J.F. 1991. Premature expulsion of the placenta and bovine perinatal mortality. The Veterinary Record. 128(22): 521-523.
Mee J.F. 1992. Epidemiology of abortion in Irish dairy cattle on six research farms. Irish Journal of Agricultural and Food Research. 31(1): 13-21.
Mee J.F. 1994. Onphalocele in aborted aand full-term dairy calves: a case series. Theriogenology. 42(7): 1125-1131.
Meireles K.M., Bonow M.O., Pinto A.M.S.V., Argenta V.L.S. & Melotti V.D. 2019. Onfalopatia em bezerro – relato de caso. Revista Ciência e Saúde animal. 1(1): 26-38.
Sagar P.V., Vadde K.S. & Venkateswarlu K.S.K.S. 2011. An omphalocele in a buffalo calf: a case report. Buffalo Bulletin. 30(1): 10.
Sharma P., Kumar S., Yadav V.K. & Verma S.P. 2018. Still birth with omphalocele (Congenital umbilical hernia) in fetus of goat. Journal of Entomology and Zoology Studies. 6(2): 2222-2224.
Singh K.P., Singh R.V., Singh P. & Singh S.K. 2018. Surgical management of abdominal intestinal evisceration (Omphalocele) through persistent umbilical opening in a new born calf. International Journal of Veterinary Sciences and Animal Husbandry. 3(5): 14-15.
Smith C.R., Jensen E.D., Blankenship B.A., Greenberg M., D'Agostini D.A., Pretorius D.H., Saenz N.C., Noll N. & Venn-Watson S.K. 2013. Fetal omphalocele in a common bottlenose dolphin (Tursiops truncatus). Journal of Zoo and Wildlife Medicine. 44(1): 87-92.
Steinman A., Kelmer G. & Avni G. 2000. Omphalocele in a foal. Veterinary Record. 146(12): 341-343.
Wesley J.R. 1997. Omphalocele. In: Greenfield L.J., Mulholland M.W., Oldham K.T., Zelenock G.B. & Lillemoe K.D. Surgery: Scientific Principles and Practice. Philadelphia: Lippincott-Raven, pp.2029-2032.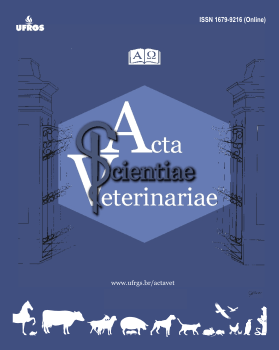 How to Cite
Rech, R. D., Coelho, I. C., Deponti, P. S., Agnes, A. B., Corrêa, L. F. D., Pozzobon, R., de Siqueira, R. F., & Leal, M. L. do R. (2022). Omphalocele in Neonate Calf. Acta Scientiae Veterinariae, 50. https://doi.org/10.22456/1679-9216.118656
License
This journal provides open access to all of its content on the principle that making research freely available to the public supports a greater global exchange of knowledge. Such access is associated with increased readership and increased citation of an author's work. For more information on this approach, see the Public Knowledge Project and Directory of Open Access Journals.
We define open access journals as journals that use a funding model that does not charge readers or their institutions for access. From the BOAI definition of "open access" we take the right of users to "read, download, copy, distribute, print, search, or link to the full texts of these articles" as mandatory for a journal to be included in the directory.
La Red y Portal Iberoamericano de Revistas Científicas de Veterinaria de Libre Acceso reúne a las principales publicaciones científicas editadas en España, Portugal, Latino América y otros países del ámbito latino