Lateral Patellar Luxation and Ehlers Danlos Syndrome (EDS) in a Dog
Abstract
Background: Ehlers Danlos Syndrome (EDS) is a rare genetic disease characterized by a deficiency in collagen synthesis, which can result in joint laxity. Patellar luxation is one of the main orthopedic conditions that affect the canine knee joint, with limited descriptions of its association with EDS in dogs. The purpose of this report is to describe the surgical management and postoperative evolution of a 1-year-old Chow Chow dog with grade II patellar luxation, tibial valgus and EDS.
Case: A 1-year-old Chow Chow dog was referred to the University Veterinary Hospital due to lameness of the left pelvic for 3 months. At the orthopedic examination were verified severe lameness and lateral deviation of the left stifle joint during the ambulation of the animal. Additionally, it was verified bilateral hyperextension of the tibiotarsal joint and grade II patellar luxation of both pelvic limbs with painful hyperextension of the left stifle joint. Radiographic evaluation showed lateral displacement of the patella from both femoral trochlear groove, and a valgus deviation of the proximal left tibial shaft. In addition, it was verified cutaneous hyperextensibility and an extensibility index suggestive of EDS. The animal was submitted to trochlear block resection technique and medial imbrication, followed by corrective tibial osteotomy. Furthermore, skin biopsies of the scapular and lumbar folds were performed during the corrective tibial osteotomy. The samples were sent for histopathological examination, which revealed fragmented and unorganized collagen fibers in the dermis. Histopathological findings were compatible with EDS. The absence of lameness and correct positioning of the patella in the trochlear sulcus were verified in the post-surgical follow-up. Complete bone consolidation of the closing wedge osteotomy to correct the tibial valgus was verified at 90 days postoperatively.
Discussion: The clinical signs, cutaneous extensibility index, and histopathological abnormalities in the present case were consistent with EDS. In the present study, this congenital collagen abnormality syndrome may have been a contributing factor of patellar luxation as EDS can result in hypermobility of ligaments and joints, due to metabolic and structural abnormalities of the collagen in connective tissues, and consequently may promote patellar luxation and other orthopedic abnormalities. A variant of EDS in humans has been implicated in the development of skeletal abnormalities such as short stature and bone deformities. This corroborates the possibility that EDS is correlated with valgus angulation of the proximal portion of the tibia in the present case. However, in-depth genetic studies are required to confirm this correlation. Corrective osteotomy in conjunction with block recession sulcoplasty and medial imbrication seem to have enabled patellofemoral stability and alignment of the quadriceps mechanism, ensuring that the patella remained in the trochlear sulcus, even in the presence of EDS. In addition, this syndrome does not seem to affect the surgical outcome of the treatment of patellar luxation associated with closed wedge osteotomy for tibial valgus correction. Medium-term follow-up can be considered excellent in this case report since there was a rapid resolution of lameness and adequate corrective osteotomy healing despite persistent hyperextension of the tibiotarsal joint. Ehlers Danlos Syndrome did not contraindicate the surgical treatment of patellar luxation. However, further studies are needed to assess the influence of the syndrome on long-term patellar luxation. The findings of this case report can help in the diagnosis and treatment of other animals affected by this rare syndrome and associated orthopedic diseases.
Keywords: patellar luxation, bone, collagen diseases.
Downloads
Download data is not yet available.
References
Barrera R., Mane C., Duran E. & Vives M. 2004. Ehlers-Danlos syndrome in a dog. The Canadian Veterinary Journal. 45(4): 355-356.
Decamp C.E., Johnston S.A., Dejardin L.M. & Schaefer S.L. 2016. The Stifle Joint. In: Decamp C.E., Johnston S.A., Dejardin L.M. & Schaefer S.L. (Eds). Brinker, Piermattei and Flo's Handbook of Small Animal Orthopedics and Fracture Repair. 5th edn. St Louis: Elsevier, pp.597-669.
Guo M.H., Stoler J., Lui J., Nilsson O., Bianchi D.W., Hirschhorn J.N. & Dauber A. 2013. Redefining the progeroid form of Ehlers-Danlos syndrome: report of the fourth patient with B4GALT7 deficiency and review of the literature. American Journal of Medical Genetics. Part A. 161A(10): 2519-2527.
Hutcheson K.D., Butler J.R. & Elder S.E. 2015. Comparison of double locking plate constructs with single non-locking plate constructs in single cycle to failure in bending and torsion. Veterinary and Comparative Orthopaedics and Traumatology. 28(4): 234-239.
Kalff S., Butterworth S.J., Miller A., Keeley B., Baines S. & Mckee W.M. 2014. Lateral patellar luxation in dogs: a retrospective study of 65 dogs. Veterinary and Comparative Orthopaedics and. Traumatology. 27(2): 130-134.
Kowaleski M.P., Boudrieau R.J. & Pozzi A. 2018. Stifle Joint. In: Johnston S.A. & Tobias K.M. (Eds). Veterinary Surgery Small Animal. 2nd edn. St. Louis: Elsevier, pp.2926-3158.
Olsen A.M., Vezzoni L., Ferretti A., Palmer R.H., Vezzoni A. & Duerr F. 2016. Hemiepiphysiodesis for the correction of proximal tibial valgus in growing dogs. Veterinary and Comparative Orthopaedics and Traumatology. 29(4): 330-337.
Paley D. 2002. Frontal Plane Mechanical and Anatomic Axis Planning. In: Paley D. (Ed). Principles of Deformity Correction. New York: Springer Verlag, pp.61-97.
Rasch S.N. 2017. Surgical and medical treatment of ocular disease in a dog with Ehlers-Danlos syndrome. Clinical Case Reports. 5(6): 880-886.
Talaat M.B., Kowaleski M.P. & Boudrieau R.J. 2006. Combination tibial plateau leveling osteotomy and cranial closing wedge osteotomy of the tibia for the treatment of cranial cruciate ligament-deficient stifles with excessive tibial plateau angle. Veterinary Surgery. 35(8): 729-739.
Ueda K., Kawai T., Senoo H., Shimizu A., Ishiko A. & Nagata M. 2018. Histopathological and electron microscopic study in dogs with patellar luxation and skin hyperextensibility. The Journal of Veterinary Medical Science. 80(8): 1309-1316.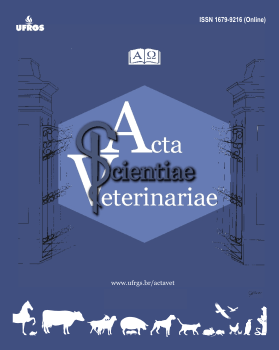 How to Cite
Aires, L. P. N., de Souza, G. V., Faria, L. G., Minto, B. W., Jacintho, A. P. P., & Rossetto, V. J. V. (2022). Lateral Patellar Luxation and Ehlers Danlos Syndrome (EDS) in a Dog. Acta Scientiae Veterinariae, 50. https://doi.org/10.22456/1679-9216.118166
License
This journal provides open access to all of its content on the principle that making research freely available to the public supports a greater global exchange of knowledge. Such access is associated with increased readership and increased citation of an author's work. For more information on this approach, see the Public Knowledge Project and Directory of Open Access Journals.
We define open access journals as journals that use a funding model that does not charge readers or their institutions for access. From the BOAI definition of "open access" we take the right of users to "read, download, copy, distribute, print, search, or link to the full texts of these articles" as mandatory for a journal to be included in the directory.
La Red y Portal Iberoamericano de Revistas Científicas de Veterinaria de Libre Acceso reúne a las principales publicaciones científicas editadas en España, Portugal, Latino América y otros países del ámbito latino