Nasal Transmissible Venereal Tumor (TVT) with Bone Metastasis in a Dog
Abstract
Background: Transmissible venereal tumor (TVT) is a highly contagious round cell neoplasm that affects dogs, and it is usually transmitted through coitus. The tumor is mainly located in the genital area; however, the neoplasm can also be extragenital, affecting the nose, mouth, and eyes, as well as the skin and superficial lymph nodes. Cytological examination is the most commonly used method for definitive diagnosis due to its low cost and fast execution. Chemotherapy, radiotherapy, surgical resection, and other procedures such as cryosurgery are the possible treatment options. The objective of this report was to describe a case of extragenital TVT with nasal primary site and metastasis in the bone tissue in a dog treated at a private veterinary hospital in the city of Belém, Pará, Brazil.
Case: A 6-year-old male domiciliary Labrador Retriever dog, weighing 24.2 kg, received oncologic treatment in a private veterinary hospital in the city of Belém, Pará, Brazil. The animal had a history of neoplastic disease, and he had undergone TVT resection associated with chemotherapy treatment more than 3 years ago. The clinical examination revealed a volume increase in the periorbital region, left lateral ocular displacement, left nostril excessive epistaxis, recurrent sneezing, cough, and pain signs, and tumor metastasis was suspected. Complementary exams of oncological cytology, computed tomography (CT), hemogram, and serum biochemistry were requested for diagnosis and staging of the condition, and supportive therapy was prescribed. The cytological report showed a dense population of neoplastic round cells with characteristics of TVT. CT indicated the presence of a heterogeneous hypodense mass with irregular contours and partially defined limits, with slight uptake of the intravenously injected contrast medium that obliterated the nasal cavity, maxillary recess, nasopharyngeal meatus, frontal sinus, and sphenoid sinus on the left side. The hematological analysis revealed mild anemia, neutrophilia, and lymphopenia, while the biochemical analysis only showed hypocalcemia. The prescribed therapy was amoxicillin + potassium clavulanate, omega-3, firocoxib, tranexamic acid, and finally chemotherapy with lomustine. Since the patient did not return for follow-up, the outcome could not be determined.
Discussion: The patient described in this report was a domiciliary dog who did not live with other pets, but had access to the community environment and contact with other animals. The animal's history, clinical signs, and cytological and imaging findings were consistent with those of TVT. In extragenital presentations of TVT, the inguinal and sublumbar lymph nodes, lungs, and abdominal organs are most commonly affected. Furthermore, bone involvement is rare, as this has not been commonly described in the literature as compared to the other sites of metastases. An abrasive brush was used for the cytological sample collection, because it provides slides with richer cells as compared to the imprint samples. CT is an important tool for the diagnosis of neoformations in the skeleton, and this method demonstrated high efficiency in identifying the bone involvement and the degree of the invasion and lesion in this case. The therapeutic agents used in this case were different from the usual, since the patient was given lomustine (40 mg/capsule, orally) in the metronomic chemotherapy. This drug has been previously used as an alternative in a canine TVT case resistant to vincristine.
Keywords: neoplasm, extragenital, computed tomography, TVT.
Título: Tumor Venéreo Transmissível (TVT) nasal com metástase óssea em um cão
Descritores: neoplasia, extragenital, tomografia computadorizada, TVT.
Downloads
Download data is not yet available.
References
Amaral A.S., Bassani-Silva S., Ferreira I., Fonseca L.S., Andrade F.H.E., Gaspar L.F.J. & Rocha N.S. 2007. Cytomorphological characterization of transmissible canine venereal tumor. Revista Portuguesa de Ciências Veterinárias. 102: 253-260.
Amaral A.V.C., Mucha F., Oliveira I.B., Carvalho C.F., Ataide W.F. & Saturnino K.C. 2020. Primary ocular transmissible venereal tumor in a prepubescent female dog. Acta Scientiae Veterinariae. 48(Suppl 1): 476. 7p.
Borges R.F., Cardoso K.C.F., Bolzan A.A., Momo C. & Honsho C.S. 2012. Estudo Comparativo de Métodos de Coleta e Coloração para Citologia Conjuntival em Cães Normais. Veterinária e Zootecnia. 19(3): 381-391.
Calderon C., Oliveira R.R., Marquez E.S. & Cruz M.F.R. 2016. Aspectos anatomopatológicos do tumor venéreo transmissível canino. Scientific Electronic Archives. 9(4): 101-113.
Dadalto C.R., Inamassu L.R., Bonatelli S.P. & Mamprim M.J. 2019. Aspectos tomográficos das neoplasias nasais em cães. Veterinária e Zootecnia. 26(2): 1-7.
Decuadro A., Ruiz N., Menéndez C., Bartesaghi N., Amaral C., Brandl S. & Benech A. 2021. Lomustine therapy for vincristine-resistant canine transmissible venereal tumor: A case report. Revista Brasileira de Medicina Veterinaria. 43(1): doi.org/10.29374/2527-2179.bjvm001320
Dias S.L., Moroz L.R., Souza D.F.R.P., Simões L.O., Peixoto T.C. & Pires C.G. 2020. Metástase de seminoma em região orbital em cão - relato de caso. Arquivo Brasileiro de Medicina Veterinária e Zootecnia. 72(2): 332-338.
Floréz L.M.M., Fêo H.B. & Rocha N.S. 2014. Canine transmissible venereal tumor: expression of MDR-1, and TP53 and BCL-2 family genes and its implications in biological and therapeutic behavior. CES Medicina Veterinaria y Zootecnia. 9(2): 281-294.
Fonseca F.M.C., Castro G.N., Ribeiro M. C., Stefanine N.R., Moura L.T.S. & Javaé N.R.K. 2017. Incidência do tumor venéreo transmissível em caninos. Revista Científica De Medicina Veterinária. 14(28): 1-9.
Gomes F.E.M., Sá I. S., Carvalho S.M.R., Freitas M.V.M., Filho M.L.S., Machado F.C.F. & Nascimento Machado Jr. A.A. 2017. Tumor venéreo transmissível ocular em cão: relato de caso - Ocular transmissible venereal tumor in a dog: case report. Revista Electrónica de Veterinaria. 18(11): 1-7.
Huppes R.R., Silva C.G., Uscategui R.A.R., Nardi A.B., Souza F.W., Costa M.T., Amorim R.L., Pazzini J.M. & Faria J.L.M. 2014. Tumor Venéreo Transmissível (Tvt): Estudo Retrospectivo De 144 Casos. Ars Veterinaria. 30(1): 13.
Medeiros L.K.G., Carvalho F.K.L., Alves A.S., Macedo M.M.S., Mendes R.S. & Souza A.P. 2017. Tumor venéreo transmissível metastático em canino. Veterinária e Zootecnia. 24(3): 495-498.
Mostachio G.Q., Pires-Buttler E.A., Apparício M., Cardilli D.J., Vicente W.R.R. & Toniollo G.H. 2008. Tumor venéreo transmissível (TVT) canino no útero: Relato de Caso. Ars Veterinaria. 23(2): 71-74.
Pereira L.H.B., Silva S.F., Brito A.K.F., Freire B.A.A., Sousa L.M. & Pereira I.M. 2017. Tumor venéreo transmissível nasal em cão: Relato de caso. Pubvet. 11(4): 351-355.
Raposo A.C.S., Gomes Jr. D.C., Lima D.C.G., Araujo N.L.L.C. & Oriá A.P. 2014. Tumor venéreo transmissível primário em conjuntiva pálpebral de cão: relato de casos. Enciclopédia Biosfera. 10(19): 1803-1809.
Sá A.C., Moraes S.F.S., Cruz M.F.R., Marquez E.S. & Calderón C. 2016. Aspectos clínicos do tumor venéreo transmissível. 9(3): 136-146.
Santos M.S.P., Nagashima J.C. & Montanha F.P. 2011. Tumor venéreo transmissível (TVT)- Revisão de Literatura. Revista Científica de Medicina Veterinária. 16(1): 1-5.
Silva M.C.V., Barbosa R.R., Santos R.C., Chagas R.S.N. & Costa W.P. 2007. Avaliação epidemiológica, diagnóstica e terapêutica do tumor venéreo transmissível (TVT) na população canina atendida no Hospital Veterinário da UFERSA. Acta Veterinaria Brasilica. 1(1): 28-32.
Souza V.J.T., Rorig M.C.L., Possamai L.M. & Ferreira C.H. 2020. Tumor venéreo transmissível na córnea de um cão: relato de caso. Pubvet. 14(6): 1-10.
Strakova A. & Murchison E.P. 2014. The changing global distribution and prevalence of canine transmissible venereal tumour. BMC Veterinary Research. 10(1): 168.
Veloso J.F., Oliveira T.N.A., Andrade L.P., Silva F.L., Sampaio K.M.O.R., Michel A.F.R.M., Lavor M.S.L. & Carlos R.S.A. 2018. Three cases of exclusively extragenital canine transmissible venereal tumor (CTVT). Acta Scientiae Veterinariae. 46(Suppl 1): 295. 8p.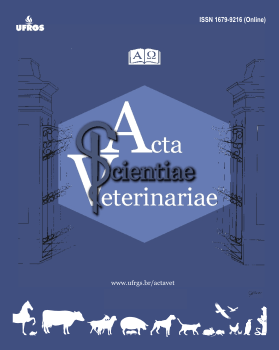 How to Cite
Silva, I. de A. R., Marinho, A. F. S., da Fonseca, T. de O. P., Tôrres, L. A. G., de Carvalho, E. do S. P., Marques, L. C., & Paredes, L. J. A. (2022). Nasal Transmissible Venereal Tumor (TVT) with Bone Metastasis in a Dog. Acta Scientiae Veterinariae, 50. https://doi.org/10.22456/1679-9216.118039
License
This journal provides open access to all of its content on the principle that making research freely available to the public supports a greater global exchange of knowledge. Such access is associated with increased readership and increased citation of an author's work. For more information on this approach, see the Public Knowledge Project and Directory of Open Access Journals.
We define open access journals as journals that use a funding model that does not charge readers or their institutions for access. From the BOAI definition of "open access" we take the right of users to "read, download, copy, distribute, print, search, or link to the full texts of these articles" as mandatory for a journal to be included in the directory.
La Red y Portal Iberoamericano de Revistas Científicas de Veterinaria de Libre Acceso reúne a las principales publicaciones científicas editadas en España, Portugal, Latino América y otros países del ámbito latino