Hydronephrosis in a Dog Related to Ovariosalpingohysterectomy
Abstract
Background: Hydronephrosis is the dilation of the pelvis and renal calyxes due to post-renal obstruction. The obstruction is often associated with extraluminal masses, blood clots and ureter ligation in castration procedures. Ureter ligation is reported as a malpractice. The renal function is reestablished if ligation is rapidly undone, but not for obstructions longer than four weeks. Often, clinical signs are results from months to years after the castration, when nephrectomy is the best therapeutic option. This paper aims to report a case of asymptomatic unilateral hydronephrosis in a 10-year-old dog caused by chronic ureter occlusion with Nylon 3.0 suture during an elective procedure.
Case: A 10-year-old female pinscher dog, spayed 3 years ago was admitted at the Surgery Department of the Veterinary Hospital of the Federal University of Jataí (HV-UFJ). The animal was taken for periodontal treatment. In the physical and laboratory examination (complete blood count, hepatic and renal biochemical tests) no significant and noteworthy alterations were found. Ultrasonographic examination showed no changes in the topography and echotexture of the left kidney, however the right kidney was not visualized, with an anechoic structure suggestive of advanced and severe hydronephrosis. Therefore, exploratory laparotomy was proposed to identify the observed structure, with the periodontal treatment considered for a later time. So, a retroumbilical incision was made, followed by linea alba and the removal of simple isolated suture remaining from previous surgical procedure. In the cavity, the viscera were isolated and the left kidney was identified, observing preserved anatomy. On the other hand, the right kidney had altered topography and morphology, being exposed after release of adhesions in adjacent structures. The right renal artery and vein were dissected and a double ligature was made. Then, the right ureter was dissected, observing marked dilatation in the proximal portion and the presence of local ligation with Nylon 3.0. Right ureterectomy and right nephrectomy were performed. After nephrectomy, the capsule was ruptured, observing dark fluid in it and absence of tissue compatible with renal parenchyma. The material was preserved in 10% formaldehyde and sent for histopathological examination. Histopathology revealed risk of rupture of the renal capsule due to the advance of renal degeneration and complete absence of parenchyma. However, contrary to the severity of the histopathological, surgical and ultrasonographic findings, the patient did not present clinical signs at the time of diagnosis.
Discussion: In the intraoperative evaluation, the cause of the hydronephrosis was verified to be in fact the ligation of the ureter, which may have been accidental or due to the malpractice of the veterinarian surgeon. Other possible causes such as adhesions and granulomas were ruled out because the Nylon 3.0 suture was found in the proximal portion of the right ureter. It is believed that the patient may have presented clinical signs of hydronephrosis that may have been confused by the tutors as postoperative complications, changes that if identified and performed in time, could have avoided the occurrence or worsening of hydronephrosis and subsequent nephrectomy. Clinically, the bitch did not show clinical signs presented in the literature as consistent with hydronephrosis such as polyuria, polydipsia, abdominalgia, external fistula and anorexia. Therefore, it is believed that this case is one of the first reports of the occurrence of severe hydronephrosis without typical clinical manifestations of hydronephrosis. This fact raises a warning about the thorough monitoring in the postoperative period by owners and veterinarians, in addition to highlighting concerns regarding the occurrence of medical malpractice versus surgical accidents.
Keywords: castration, malpractice, nephrectomy, nylon.
Downloads
Download data is not yet available.
References
Adin C.A. 2011. Complications of ovariohysterectomy and orchiectomy in companion Animals. Veterinary Clinics of North America: Small Animal Practice. 41: 1023-1039.
Atallah F.A., Silva R.S., Ramos M.L, M., Oliveira A.L.A., França T.N. & Brito M.F. 2013. Complicações pós-cirúrgicas em cadelas submetidas a ovário-histerectomia no Rio de Janeiro. Revista Brasileira de Medicina Veterinária. 35: 61-69
Bovens C. 2011. Feline Lower Urinary Tract Disease – A diagnostic approach. Feline Update. 1: 1-3. [Fonte: https://www.langfordvets.co.uk/media/1260/feline-update-autumn-2011-revised-030713.pdf]
Evans D. & Fowlkes N. 2016. Renal leiomyosarcome in a cat. Journal of Veterinary Diagnostic Investigation. 28(3): 315-318.
Gopegui R.R., Espada Y. & Majó N. 1999. Bilateral hydroureter and hydronephrosis in a nine-year-old female German Shepherd dog. Journal of Small Animal Practice. 40: 224-226.
Kanazono S., Aikawa T. & Yoshigae Y. 2009. Unilateral Hydronephrosis and Partial Ureteral Obstruction by Entrapment in a Granuloma in a Spayed Dog. Journal of the American Animal Hospital Association. 45: 301-304.
Kim J., Oh D., Cho J., Kim S. & Yoon J. 2021. Recurrent hydronephrosis and spontaneous renal rupture caused by lymphoplasmacytic inflammation in a cat. Veterinarni Medicina. 66(2): 80-86.
Mesquita L.R., Rahal S.C., Matsubara L.M., Mamprim M.J., Foschini C.R., Faria L.G. & Kano W.T. 2015. Bilateral hydronephrosis and hydroureter after ovariohysterectomy using nylon cable tie: a case report. Veterinarni Medicina. 60(1): 52-56.
Plater B.L. & Lipscomb V.J. 2020. Treatment and outcomes of ureter injuries due to ovariohysterectomy complications in cats and dogs. Journal of Small Animal Practice. 61: 170-176.
Raposo T.M.M., Varallo G.R., Huppes R.R., Brum A.M. & Nardi A.B. 2013. Dog with hydronephrosis due to abdominal trauma. Pakistan Veterinary Journal. 33(4): 526-528.
Rousset N., Abbondati E., Posch B., Owen L.J. & Herrtage M. 2011. Unilateral hydronephrosis and hydroureter secondary to ureteric atresia, and uterus unicornis in a young terrier. Journal Small Animal Practice. 52(8): 441-444.
Şahal M., Haziroğlu R., Özkanlar Y. & Beyaz L. 2005. Bilateral hydronephrosis and hydroureter in a German shepherd dog. Ankara Üniversitesi Veteriner Fakultesi Dergisi. 52: 193-196.
Schwarz T., Simpson M., Saunders J. & Bommer N. 2020. Obstructed left retrocaval ureter in a dog. Veterinary Record Case Report. 8: 1-4.
Selgas A.G., Scase T.J. & Foale R.D. 2014. Unilateral squamous cell carcinoma of the renal pelvis with hydronephrosis in a cat. Journal of Feline Medicine and Surgery. 16(2): 183-188.
Silva E.A.A.C., Jesus T.B., Muramoto C., Ribeiro Filho C.H.A., Dórea Neto F.A., Quessada A.M., Martins Filho E.F. & Costa Neto J.M. 2016. Postoperative complication of ovariohysterectomy in a female dog - case report. Revista Brasileira de Medicina Veterinaria. 38(1): 9-16.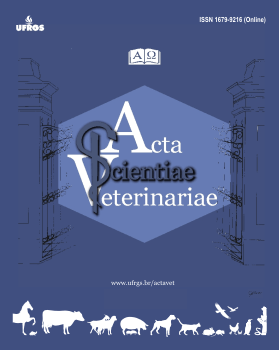 How to Cite
Zaiden, L., Germano, G. L., Neto, A. C. S., de Moraes, R. S., do Carmo, J. M. C., do Amaral, A. V. C., Regalin, B. D. da C., & Saturnino, K. C. (2021). Hydronephrosis in a Dog Related to Ovariosalpingohysterectomy. Acta Scientiae Veterinariae, 49. https://doi.org/10.22456/1679-9216.117490
License
This journal provides open access to all of its content on the principle that making research freely available to the public supports a greater global exchange of knowledge. Such access is associated with increased readership and increased citation of an author's work. For more information on this approach, see the Public Knowledge Project and Directory of Open Access Journals.
We define open access journals as journals that use a funding model that does not charge readers or their institutions for access. From the BOAI definition of "open access" we take the right of users to "read, download, copy, distribute, print, search, or link to the full texts of these articles" as mandatory for a journal to be included in the directory.
La Red y Portal Iberoamericano de Revistas Científicas de Veterinaria de Libre Acceso reúne a las principales publicaciones científicas editadas en España, Portugal, Latino América y otros países del ámbito latino