Rhinotheca Prosthesis in a Carcará (Caracara plancus)
Abstract
Background: The bird's beak is a structure in constant growth, covered by keratinized epidermal sheaths called rhamphotheca. When subjected to certain degrees of injury, birds can suffer from lesions and fractures in different parts of the body, including the beak. One can treat simple ranch lesions by antisepsis and covering it with resin while the keratin is replaced; yet in complete fractures, with segment avulsion, they need complex prostheses to restore the functions of the nozzle. The main goal of this study was to report a case of a synthetic rhinotheca prosthesis placement in a wild carcará (Caracara plancus).
Case: The carcará was referred to the Veterinary Medical Teaching Hospital of the UNIUBE, at the end of May 2018, by Uberaba's Environmental Police, with a history of having been run over. On the physical examination, the animal showed aggressive behavior, low body weight, increased heart and respiratory rates, mild dehydration and complete fracture of the rhinotheca, with avulsion of the mid-distal portion and presence of necrosis in the remaining proximal remnant, the last one seen after debridement and complete cleansing of the lesion. In the following days, complementary exams were performed aiming a complete evaluation of the animal, these revealed the following: oral cavity swab, positive for Candida sp.; radiography of thoracic and pelvic limbs, without any changes; research of hemoparasites, with a negative result; and complete blood count showing marked leukocytosis. The animal was kept in the hospital's wild animal ward, with a daily handling of 400 g of chicken neck and heart, processed on a blender and was also supplemented with a variety of minerals. After the wild animal was managed for eleven months, evolving to the ideal weight set for the species, the process for making the prosthesis started. At first, the prosthesis was made manually with epoxy resin and polyamide, being molded on the animal's rhinotheca, before that, the carcará was sedated with intranasal midazolam, and then modeled in the ideal shape for the beak. Then, the definitive prosthesis was made with acrylic resin, using the previous mold as a base. The surgical procedure was performed in April 2019, with an anesthetic protocol composed of midazolam, dexmedetomidine, ketamine and morphine for sedation, and maintenance in sevoflurane. Prosthesis and rhinotheca were both fixated by bilateral perforation with a 1.0 mm drill, and later on 2 titanium screws were inserted for dental use, these measuring 1.5 mm. After being correctly threated, the screws received a thin layer of acrylic resin on top, for better fixation. Immediately after the operation, the animal was able to use the prosthesis to feed itself. After the surgical procedure, the bird was destined for a sanctuary, and months later the prosthesis eventually fell. Since then, the bird has remained without it.
Discussion: Because the beak did not grow due to trauma and consequent necrosis, and the animal did not adapt well with the remnant still present, the manufacture of the prosthesis was the solution so that it could return to its natural habits and behaviors. For greater adherence and fixation, we opted for the use of 2 titanium screws for dental use with the deposition of a thin layer of acrylic resin on top of both. Prostheses can be successful in fixing, but there are no studies indicating how long they will remain viable. Therefore, even with the success of the procedure, allowing the bird to return to its natural habits and behaviors, until after the fall of the prosthesis, it is an animal that needs to be kept in captivity suitable for daily observation.

 

Keywords: raptors, wild animals, beak, rhinotheca, prosthesis, synthetic, rehabilitation.

 

Descritores: rapinantes, animais selvagens, bico, rinoteca, prótese, sintética, reabilitação.




 
Downloads
Download data is not yet available.
References
Bolson J. & Schossler J.E.W. 2008. Osteossíntese em Aves - Revisão da Literatura. Arquivos de Ciências Veterinárias e Zoologia da UNIPAR. 11(1): 55-62.
Crosta L. 2002. Alloplastic and Heteroplastic Bill Prostheses in Two Ramphastidae Birds. Journal of Avian Medicine and Surgery. 16(3): 218-222.
Fecchio R.S. 2010. Análise biomecânica da aderência de diferentes sistemas adesivos ao estrato córneo queratinizado do bico de tucanos-toco (Ramphastos toco). 95f. São Paulo, SP. Dissertação (Mestrado em Clínica Cirúrgica Veterinária) - Faculdade de Medicina Veterinária e Zootecnia da Universidade de São Paulo, SP.
Fecchio R.S. & Gioso M.A. 2015. Correções Ortognáticas e Prótese em Bico de Aves. In: Cubas Z.S., Silva J.C.R. & Catão-Dias J.L. (Eds). Tratado de Animais Selvagens. 2.ed. São Paulo: ROCA, pp.4296-4321.
Fecchio R.S., Gomes M.S., Kolosoki J., Petri B.S.S., Rossi J.L. & Gioso M.A. 2008. Estudo da biomecânica oclusal e da aderência da resina acrílica auto-polimerizável em fraturas de rinoteca de tucanos (Ramphastos toco). Pesquisa Veterinária Brasileira. 28(7): 335-340.
Fecchio R.S., Miranelo L. & Gioso M.A. 2010. Inserção de prótese homóloga de rinoteca em Tucano-toco (Ramphastos toco). ANCLIVEPA. 22(68): 28-30.
Fecchio R.S., Rossi Jr. J.L. & Gioso M.A. 2009. Reparo de bicos em aves: correções, restaurações e próteses. In: Villani R.G. & Schimidt E.M.S. (Eds). Avanços na Medicina de Animais Selvagens: Medicina de aves. Curitiba: Grupo Fowler, pp.197-223.
Fecchio R.S., Seki Y., Bodde S.G., Gomes M.S., Kolososki J., Rossi Jr. J.L, Gioso M.A. & Meyers M.A. 2010. Mechanical behavior of prosthesis in Toucan beak (Ramphastos toco). Material Science and Engineering C - Journal. 30(3): 460-464.
Feranti J.P.S., Silva Filho J.R., Idalencio R., Oliveira M.T., Souza F.W. & Brun M.V. 2013. Uso de prótese de bico na correção de defeito em gnatoteca de papagaio charão (Amazona pretrei). Acta Scientiae Veterinariae. 41(Suppl 1): 34. 4p.
Joppert A.M. Accipitriformes, Falconiformes e Strigiformes (Gaviões, Águias, Falcões e Corujas). In: Cubas Z.S., Silva J.C.R. & Catão-Dias J.L. (Eds). Tratado de Animais Selvagens. 2.ed. São Paulo: ROCA, pp.1007-1143.
Olsen G.H. 2003. Oral biology and beak disorders of birds. The Veterinary Clinics of North America: Exotic Animal Practice. 6(3): 505-522.
Patel V.A., Bhadesiya C.M., Gajjar P.J. & Anikar M.J. 2021. Prosthetic fixation of beak in a Green Cheek Conure (Pyrrhura molinae) using telemedicine. The Pharma Innovation Journal. 10(1): 585-588.
Prazeres R.F., Fiebig W.J., Fecchio R.S., Biase C., Castro M.F.S., Gioso M.A. & Pachaly J.R. 2013. Técnicas de reconstituição de bico em aves – artigo de revisão. Journal of the Health Sciences Institute. 31(4): 441-447.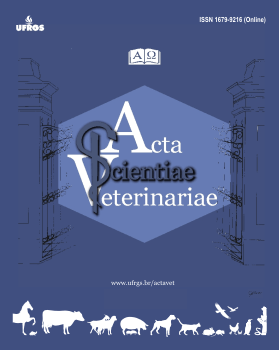 How to Cite
Bizinoto, L. B., Teodoro, A. N., Eulalio, F. H. F., Rosado, I. R., Silva, B. O., Kanayama, C. Y., Martin, I., & Alves, E. G. L. (2021). Rhinotheca Prosthesis in a Carcará (Caracara plancus). Acta Scientiae Veterinariae, 49. https://doi.org/10.22456/1679-9216.117218
License
This journal provides open access to all of its content on the principle that making research freely available to the public supports a greater global exchange of knowledge. Such access is associated with increased readership and increased citation of an author's work. For more information on this approach, see the Public Knowledge Project and Directory of Open Access Journals.
We define open access journals as journals that use a funding model that does not charge readers or their institutions for access. From the BOAI definition of "open access" we take the right of users to "read, download, copy, distribute, print, search, or link to the full texts of these articles" as mandatory for a journal to be included in the directory.
La Red y Portal Iberoamericano de Revistas Científicas de Veterinaria de Libre Acceso reúne a las principales publicaciones científicas editadas en España, Portugal, Latino América y otros países del ámbito latino