Atypical Spleen Hemophagocytic Histiocytic Sarcoma in a Dog
Abstract
Background: The histiocytic sarcoma (HS) complex is a set of malignant neoplasms originating from interstitial dendritic cells or macrophages. When it involves macrophages of the splenic red pulp and bone marrow, it is referred to as hemophagocytic histiocytic sarcoma (HHS). HHS behaves more aggressively than HS and is usually fatal. HHS can be diagnosed by cytological and histopathological examination of neoplastic tissue. HHS is confirmed by immunohistochemistry using an anti-CD11d antibody. This neoplasm is often confused with immune-mediated hemolytic anemia or Evans syndrome due to erythrophagocytosis and platelet consumption. The clinical presentation of the animals progresses with evident anemia and thrombocytopenia, leading to signs such as prostration, inappetence, and pale mucosa, making diagnosis challenging and often late. This study aimed to report the clinic-pathological aspects of a canine with atypical hemophagocytic splenic HS.
Case: A 4-year-old male Shih-Tzu canine was referred to the Veterinary Hospital with a history of prostration and anorexia. Pale mucous membranes were observed on physical examination. Blood tests revealed non-regenerative anemia, leukopenia, and thrombocytopenia. Serum protein levels were below the reference values for the species in biochemical examinations. Hemoparasitosis was suspected; however, the result of the polymerase chain reaction was negative. Abdominal ultrasound revealed a splenomegaly with heterogeneous parenchyma and a slightly irregular surface, but no visible mass in the spleen. Due to the difficulty of stabilizing the patient, even after successive transfusions, the animal underwent exploratory laparotomy with medial access and posterior splenectomy. Subsequently, the spleen was surgically removed, fixed in 10% buffered formalin, and processed routinely. Macroscopically, it had an irregular reddish-brown capsular surface. Histopathological examination of the spleen revealed a densely cellular neoplasm composed of round to spindle cells (histiocytes) arranged haphazardly in variably sized sheets separating the pre-existing spleen stroma. These histopathological findings were consistent with a histiocytic malignant neoplasm. Immunohistochemical analysis was performed to better define the origin of the histiocytic neoplasm. Neoplastic cells showed positive immunostaining of more than 80% of tumor cells for the CD11d antibody and weak immunostaining for CD11c and lysozyme. The patient survived for less than 30 days after the first hospital visit.
Discussion: The diagnosis of HHS was based on the histological characteristics and positive immunostaining of more than 80% of the tumor cells for the CD11d antibody. HHS is an extremely aggressive and rare tumor that affects elderly dogs of any breed. In this study, HHS had atypical histologic characteristics, in which erythrophagocytosis and hemosiderin were not observed within macrophages. HHSs arise from macrophages of the red pulp of the spleen or bone marrow and express the b2 integrin, CD11d, and have low expression of CD1 and CD11c, which are predominantly expressed by non-hemophagocytic HS. The hematological and biochemical changes observed in this case were similar to those described in other dogs with HHS. Treatment of HHS is only palliative. Erlichia ewingii, E. canis, Anaplasma phagocytophilum, A. platys, Borrelia burgdorferi, Dirofilaria immitis, Leishmania infantum and immune-mediated hemolytic anemia are the main differential diagnoses because they cause anemia and thrombocytopenia accompanied by splenomegaly.
Keywords: histiocytic sarcoma, spleen, immunohistochemistry, splenectomy, erythrophagocytosis.
Downloads
Download data is not yet available.
References
Abadie J., Hédan B., Cadieu E., De Brito C., Devauchelle P., Bourgain C., Parker H. G., Vaysse A., Margaritte-Jeannin P., Galibert F., Ostrander E. A. & André C. 2009. Epidemiology, pathology, and genetics of histiocytic sarcoma in the Bernese mountain dog breed. The Journal of Heredity. 100(1): 19-27.
Affolter V.K. & Moore P.F. 2002. Localized and Disseminated Histiocytic Sarcoma of Dendritic Cell Origin in Dogs. Veterinary Pathology. 39(1): 74-83.
Clifford C.A., Skorupski K.A. & Moore P.F. 2020. Histiocytic Diseases. In: Vail D.M., Thamm D.H. & Liptak J.M. (Eds). Small Animal Clinical Oncology. 6th edn. St. Louis: Elsevier, pp.791-810.
Dervisis N.G., Kiupel M., Qin Q. & Cesario L. 2017. Clinical prognostic factors in canine histiocytic sarcoma. Veterinary and Comparative Oncology. 15(4): 1171-1180.
Goulart J. C., Sanches F.J., Merlini N.B., Mazzucatto B.C., Gasser B. & Marcusso P.F. 2020. Hemophagocytic Histiocytic Sarcoma in Dog. Acta Scientiae Veterinariae. 48(1): 574-580.
Jark P.C. & Rodigheri S.M. 2016. Distúrbios Histiocíticos. In: Daleck C.R. & De Nardi A.B. (Eds). Oncologia em Cães e Gatos. 2.ed. Rio de Janeiro: Editora Roca, pp.661-671.
Moore P.F. 2014. A Review of Histiocytic Diseases of Dogs and Cats. Veterinary Pathology. 51(1): 167-184.
Moore P.F. 2017. Canine and Feline Histiocytic Diseases. In: Meuten D.J. & Wiley J. (Eds). Tumors in Domestic Animals. 5th edn. Ames: John Wiley & Sons, pp.322-336.
Moore P.F., Affolter V.K. & Vernau W. 2006. Canine hemophagocytic histiocytic sarcoma: A proliferative disorder of CD11d+ macrophages. Veterinary Pathology. 43(5): 632-645.
Mullin C. & Clifford C.A. 2019. Histiocytic Sarcoma and Hemangiosarcoma Update. Veterinary Clinics of North America: Small Animal Practice. 49(5): 855-879.
Purzycka K., Peters L.M., Elliott J., Lamb C.R., Priestnall S.L., Hardas A., Johnston C.A. & Rodriguez‐Piza I. 2020. Histiocytic sarcoma in miniature schnauzers: 30 cases. Journal of Small Animal Practice. 61(6): 338-345.
Vieira T.C., Telles L.F., Nakagaki K.Y.R. & Cassali G.D. 2021. Clinic-Pathological Aspects of Spleen Hemophagocytic Histiocytic Sarcoma in a Dog. Acta Scientiae Veterinariae. 49(Suppl 1): 630. 6p.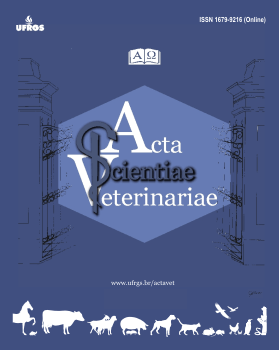 How to Cite
Stein, H., Oliveira, M. P., Lasta, C. S., Eckert, J., Coradini, J. S., Luz, L. E., Contesini, E. A., & Pereira, C. M. (2021). Atypical Spleen Hemophagocytic Histiocytic Sarcoma in a Dog. Acta Scientiae Veterinariae, 49. https://doi.org/10.22456/1679-9216.117103
License
This journal provides open access to all of its content on the principle that making research freely available to the public supports a greater global exchange of knowledge. Such access is associated with increased readership and increased citation of an author's work. For more information on this approach, see the Public Knowledge Project and Directory of Open Access Journals.
We define open access journals as journals that use a funding model that does not charge readers or their institutions for access. From the BOAI definition of "open access" we take the right of users to "read, download, copy, distribute, print, search, or link to the full texts of these articles" as mandatory for a journal to be included in the directory.
La Red y Portal Iberoamericano de Revistas Científicas de Veterinaria de Libre Acceso reúne a las principales publicaciones científicas editadas en España, Portugal, Latino América y otros países del ámbito latino