Management of Difficult Airway in a Cat with Tonsillitis
Abstract
Background: Tracheal intubation is performed in an anesthetized patient in order to optimize oxygenation and to allow the administration of volatile anesthetics. Some patients have characteristics that make intubation a challenge. Therefore, an adequate pre-anesthetic evaluation enables the anesthesiologist to define the best management. There are reports of the impossibility of performing conventional intubation attributed to the lack of pre-anesthetic consultation in Medicine, which motivates and justifies the discussion of these aspects in Veterinary Medicine. Therefore, this study aims to report a case of difficult airway management in a feline with tonsillitis. 
Case: A 3-year-old male NDB cat weighing 3.5 kg was admitted to the Veterinary Hospital, Federal University of Pampa (UNIPAMPA) - Uruguaiana, for consultation. After physical examination, total tooth extraction and tonsillectomy was recommended. On the day of the procedure, a physical evaluation of the patient was performed, and he was classified as ASA II. Zolazepam and tiletamine [Zoletil®️ - 5 mg/kg, i.m] associated with morphine [Dimorf®️ - 0.3 mg/kg, i.m] was given as premedication. Given the difficulty of intubation in a previous procedure reported by the tutor, a thoughtful conduct was planned for the intubation of the patient, considering the possibility of tracheostomy. The patient was pre-oxygenated, and subsequently, propofol [Propovan®️ - 4 mg/kg, i.v] was administered to promote anesthetic induction. The first attempt at intubation was done by laryngoscopy, but despite the use of a 6 cm blade, it was too large in relation to the hyperplastic tissue; then swabs and a flashlight were subsequently used. With the help of two people, the experienced anesthesiologist was able to position the endotracheal tube correctly approximately 25 min after the first attempt, requiring supplemental doses of propofol [Propovan®️ to the effect, i.v] and oxygenation between the attempts. Anesthetic maintenance was achieved with isoflurane [Isoforine®️ vaporized in 100% oxygen] in a system without gas rebreathing. Locoregional block of the maxillary nerve and inferior branch of the mandibular nerve was performed with lidocaine 2% [0.1 mL/kg]. During the transoperative, the vital parameters remained stable and there was no need for analgesic rescue. After the end of the procedure and extubation, the patient received oxygen therapy via facemask until he regained consciousness and had no complications.
Discussion: The mortality of dogs and cats related to anesthetic procedures is substantially higher when compared to humans. Studies have shown that most anesthetic-related complications in humans are predictable. The lack of adequate pre-anesthetic evaluation or anesthetic consultation are factors that can cause losses in the transoperative period. Therefore, sharing information that can mitigate these situations is critical. The scarcity of reports on pre-anesthetic evaluation in veterinary medicine allows the identification of a gap on the role of the anesthesiologist in this important stage of anesthesia, and how it is performed in the hospital routine or in veterinary clinics. The success in managing the difficult airway in the case reported here can be attributed to the procedures adopted in all stages of the procedure, especially the planning based on information obtained during the pre-anesthetic period. It is worth mentioning that the owner was a veterinarian and we believe this also contributed to the outcome, since he informed the anesthesiologist about the difficulties encountered during the previous procedure. This case motivated the implementation of a pre-anesthetic consultation service in the hospital in question. In addition to the physical examination, a complete anamnesis carried out with the owner may reveal relevant details for determining the most appropriate and safe anesthetic conduct for the patient.
Keywords: preanesthetic evaluation, endotracheal intubation, veterinary anesthesia.
Título: Manejo da via aérea difícil em um gato com tonsilite
Descritores: avaliação pré-anestésica, intubação endotraqueal, anestesiologia veterinária.
Downloads
Download data is not yet available.
References
Bisinotto F.M.B, Pedrini Júnior M., Alves A.A.R. & Andrade M.A.P.R. 2007. Implantação do Serviço de Avaliação Pré-Anestésica em Hospital Universitário. Dificuldades e Resultados. Revista Brasileira de Anestesiologia. 57(2): 167-176.
Blitz J. 2020. Inadequate preanesthesic evaluation, airway trouble. AORN Journal. 11(3): 379-381.
Brodbelt D. 2010. Feline Anesthesic Deaths in Veterinary Practice. Topics in Companion Animal Medicine. 25(4): 189-194.
Brodbelt D. 2009. Perioperative mortality in small animal anaesthesia. The Veterinary Journal. 182(2): 152-161.
Brodbelt D.C., Pfeiffer D.U., Young L.E. & Wood J.L.N. 2007. Risk factors for anesthesic-related death in cats: results from the confidential enquiry into perioperative small animal fatalities. British Journal of Anaesthesia. 99(5): 617-623.
Dyson D.H., Maxie M.G. & Schnurr D. 1998. Morbidity and Mortality Associated with Anesthesic Management in Small Animal Veterinary Practice in Ontario. Journal of the American Animal Hospital Association. 34(4): 325-335.
Grubb T., Sager J., Gaynor J.S., Montgomery E., Parker J.A., Shafford H. & Tearney C. 2020. American Animal Hospital Association - Anesthesia and Monitoring Guidelines for Dogs and Cats. Journal of the American Animal Hospital Association. 56(2): 59-82.
Issa M.R.N., Isoni N.F.C., Soares A.M. & Fernandes M.L. 2011. Avaliação Pré-Anestésica e Redução dos Custos do Preparo Pré-operatório. Revista Brasileira de Anestesiologia. 61(1): 60-71.
Kim J.H. 2012. Preoperative evaluation of a surgical patient; preanesthesic interview by anesthesiology residents. Korean Journal of Anesthesiology. 62(3): 207-208.
Kluger M.T., Tham E.J., Coleman N.A., Runciman W.B. & Bullock F.M. 2000. Inadequate pre-operative evaluation and preparation: a review of 197 reports from the Australian Incident Monitoring Study. Anesthesia. 55(12): 1173-1178.
Mendes F.F., Machado E.L., De Oliveira M., Brail F.R., Eizerik G. & Telöken P. 2013. Preoperative Evaluation: Screening using a Questionnaire. Revista Brasileira de Anestesiologia. 63(4): 347-351.
Mitchell S.L., McCarthy R., Rudloff E. & Pernell R. 2000. Tracheal rupture associated with intubation in cats: 20 cases (1996-1998). Journal of the American Veterinary Medical Association. 216(10): 1592-1595.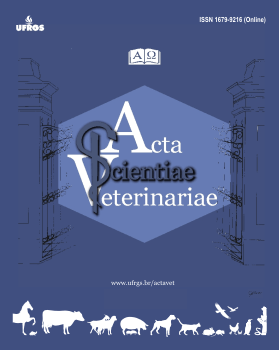 How to Cite
Orlandin, R., Mestieri, M. L. de A., Beckmann, D. V., Pereira, B. W., & de Oliveira, M. T. (2021). Management of Difficult Airway in a Cat with Tonsillitis. Acta Scientiae Veterinariae, 49. https://doi.org/10.22456/1679-9216.117099
License
This journal provides open access to all of its content on the principle that making research freely available to the public supports a greater global exchange of knowledge. Such access is associated with increased readership and increased citation of an author's work. For more information on this approach, see the Public Knowledge Project and Directory of Open Access Journals.
We define open access journals as journals that use a funding model that does not charge readers or their institutions for access. From the BOAI definition of "open access" we take the right of users to "read, download, copy, distribute, print, search, or link to the full texts of these articles" as mandatory for a journal to be included in the directory.
La Red y Portal Iberoamericano de Revistas Científicas de Veterinaria de Libre Acceso reúne a las principales publicaciones científicas editadas en España, Portugal, Latino América y otros países del ámbito latino