Endosurgery Approach in a Dog with Thoracoabdominal Injury
Abstract
Background: Chest trauma is one of the main thoracic injuries in dogs and cats, reaching a high morbidity and mortality. The tissue damage, in thoracic trauma, can be underappreciated by visual exam and traditional radiography. The thoracoscopy can provide information for a precise definitive diagnosis, by this technique bleeding or air leakage can be identified and corrected immediately and the diaphragm can be completely evaluated. The aim of this work was to describe the thoracoscopic approach in a case of diaphragmatic perforation caused by penetrating trauma in a dog.
Case:A 6-year-old male dog mixed-breed dog, weighing 14 kg with thorax perforation was presented to the Veterinary Hospital. Clinical examination of the animal revealed the following: pale mucous membranes, moderate dyspnea, open pneumothorax, abdominal distension, heart rate of 108 beats per minute and respiratory rate of 64 breaths per minute. Physical examination confirmed a 3 cm perforation hemorrhagic lesion in the left ninth intercostal space. As an emergency treatment, oxygen therapy, tramadol hydrochloride [Cronidor® 2%, 4 mg/kg, i.v, TID], tranexamic acid [Transamin® 25 mg/kg, i.v, TID], ceftriaxone [Rocefin® 50 mg/kg, i.v, BID] and fluid therapy with lactated Ringer's solution were administered. The hair was removed, and then, wound cleaning and obliteration of the wall injury with sterile gauze was performed. After the emergency stabilization, the animal was anesthetized, followed by preventive thoracocentesis by an approach close to thoracic perforation and thoracoscopy without pneumoperitonea through this thoracic perforation with 0-degree rigid endoscope. About 100 mL of blood and air was drained and diagnosed perforation in the diaphragm and pulmonary atelectasis in the caudal and left cranial lobes. the edges of the incisional wound were debrided, and the closure of thoracic incision was performed usual way. After that, the air was removed by a catheter and syringe system. A flexible plastic tube was inserted through the chest wall and into the pleural space for drainage every 2 h for 24 h. There were no intercurrences during the first 24 h after the surgical procedure. The patient was discharged 48 h after the surgery. Cephalexin [75 mg, 30 mg/kg, v.o, TID, during 5 days), Ketoprofen [20 mg, 2 mg/kg, v.o, SID, during 5 days], Tramadol Hydrochloride [50 mg, 4 mg/kg, v.o, SID, during 2 days] and Rifamycin spray at the wound site was prescribed. Ten days after surgery, the patient returned to the hospital for suture removal and reassessment.
Discussion: The prognosis of chest perforation depends on the severity and number of internal and external thoracic lesions, as well as cardiovascular status at the time of initial patient care. In cases of penetrating chest trauma, it is essential to thoroughly examine the thoracic cavity for bleeding, tissue tears, and diaphragm perforation. The use of the endoscope allowed for a more detailed exploration of the chest without the need to increase the incision. When the diaphragm lesion was found, it was also possible to perform the abdominal examination by videoendoscopy, through this perforation. Laparotomy and thoracotomy cause postoperative pain and discomfort, in addition to increasing recovery time, however, even with trauma, not performing a larger incision favored the recovery of this patient, without any intercurrence in the first 24 h after the procedure. In conclusion, the endoscopic approach was efficient for diagnosis, avoiding greater trauma and contributing to a better clinical recovery of the patient.
Keywords: dog, chest trauma, minimally invasive surgery, thoracocentesis, thoracoscopy.
Downloads
Download data is not yet available.
References
Balsa I. & Culp W. 2019. Use of Minimally Invasive Surgery in the Diagnosis and Treatment of Cancer in Dogs and Cats. Veterinary Science. 6(1): 33. DOI:10.3390/vetsci6010033.
Bhoite R., Preethi K., Chanakya T., Karunya G. & Muralidhar D. 2021. Traumatic pneumothorax in golden retriever dog: A case report. Journal of Entomology and Zoology Studies. 9(2): 690-692. DOI: 10.22271/j.ento.2021.v9.i2j.8550.
Case J.B. 2016. Advances in Video-Assisted Thoracic Surgery, Thoracoscopy. Veterinary Clinics: Small Animal Practice. 46(1): 147-169. doi: 10.1016/j.cvsm.2015.07.005.
Feranti J.P.S., Oliveira M.T., Hartmann H.F., Corrêa D.L.F., Pinto Filho S.T.L., Linhares M.T., Chaves R.O., Silva M.A.M. & Brun M.V. 2016. Laparoscopic diaphragmatic hernioplasty in a dog. Brazilian Journal of Veterinary Research and Animal Science. 53(1): 103-106. DOI: 10.11606/issn.1678-4456.v53i1p103-106.
Intarapanich N.P., McCobb E.C., Reisman R.W., Rozanski E.A. & Intarapanich P.P. 2016. Characterization and Comparison of Injuries Caused by Accidental and Non-accidental Blunt Force Trauma in Dogs and Cats. Journal of Forensic Sciences. 61(4): 993-999. DOI: 10.1111/1556-4029.13074.
Kirberger R.M., Leisewitz A.L., Rautenbach Y., Lim C.K., Stander N., Cassel N., Arnot L., DeClercq M. & Burchell Richard. 2019. Association between computed tomographic thoracic injury scores and blood gas and acid-base balance in dogs with blunt thoracic trauma.
Journal of Veterinary Emergency and Critical Care. 29(4): 373-384. doi: 10.1111/vec.12863.
Kovak J.R., Ludwig L.L., Bergman P.J., Baer K.E. & Noone K.E. 2002. Use of thoracoscopy to determine the etiology of pleural effusion in dogs and cats: 18 cases (1998-2001). Journal of the American Veterinary Medical Association. 221(7): 990-994. doi: 10.2460/javma.2002.221.990.
Lux C.N., Culp W.T.N., Mellema M.S., Rosselli D.D., Schmiedt C.W., Singh A., Haynes A., Schoenrock E., Selmic L.E., Phillips H., Milovancev M., Mayhew P.D. & Brown D.C. 2018. Perioperative mortality rate and risk factors for death in dogs undergoing surgery for treatment of thoracic trauma: 157 cases (1990-2014). Journal of the American Veterinary Medical Association. 252(9): 1097-1107.DOI: 10.2460/javma.252.9.1097.
Peláez M.J. & Jolliffe C. 2012. Thoracoscopic foreign body removal and right middle lung lobectomy to treat pyothorax in a dog. Journal of Small Animal Practice. 53(4): 240-244. DOI: 10.1111/j.1748-5827.2011.01175.x.
Peterson N.W., Buote N.J. & Barr J.W. 2015. The impact of surgical timing and intervention on outcome in traumatized dogs and cats. Journal of Veterinary Emergency and Critical Care. 25(1): 63-75. DOI: 10.1111/vec.12279.
Rozanski E.A. 2015. Oxygenation and Ventilation. Veterinary Clinics: Small Animal Practice. 45(5): 931-940. DOI:10.1016/j.cvsm.2015.04.001.
Schmiedt C. 2009. Small Animal Exploratory Thoracoscopy. Veterinary Clinics: Small Animal Practice. 39(5): 953-964. DOI:10.1016/j.cvsm.2009.05.007.
Zitz J., Rozanski E., Penninck D. & Berg J. 2007. Managing dogs with thoracic impalement injuries: a review of nine cases. Veterinary Medicine. 102(5): 307-313.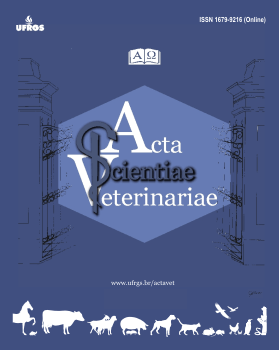 How to Cite
de Oliveira, M. C., de Morais, H. L. M., Madeira, E. A. O., dos Santos, G. M. A., Cardoso, T. da S., Monteiro, F. D. de O., João, C. F., & Teixeira, P. P. M. (2021). Endosurgery Approach in a Dog with Thoracoabdominal Injury. Acta Scientiae Veterinariae, 49. https://doi.org/10.22456/1679-9216.116907
License
This journal provides open access to all of its content on the principle that making research freely available to the public supports a greater global exchange of knowledge. Such access is associated with increased readership and increased citation of an author's work. For more information on this approach, see the Public Knowledge Project and Directory of Open Access Journals.
We define open access journals as journals that use a funding model that does not charge readers or their institutions for access. From the BOAI definition of "open access" we take the right of users to "read, download, copy, distribute, print, search, or link to the full texts of these articles" as mandatory for a journal to be included in the directory.
La Red y Portal Iberoamericano de Revistas Científicas de Veterinaria de Libre Acceso reúne a las principales publicaciones científicas editadas en España, Portugal, Latino América y otros países del ámbito latino