Pituitary Carcinoma in a Bitch: Clinical, Tomographic, Histopathological and Immunohistochemistry Findings
Abstract
Background: Primary pituitary carcinoma is rarely reported in dogs and only few reports describe its malignancy. In veterinary literature, primary pituitary carcinomas correspond up to 2.4% to 3.4% of intracranial neoplasms found in dogs and information regarding its biological behavior is quite limited.  In humans, primary pituitary carcinomas represent less than 1.0% of all tumors found in the pituitary gland. The proposed classification for pituitary carcinoma in humans and dogs determines that the tumor must have its origin in adenohypophyseal region and disseminated metastasis by cerebrospinal fluid or systemically to other organs must be observed. In dogs, a few reports have described primary pituitary carcinoma. The goal of this report was to describe clinical, tomographic, histopathological and immunohistochemistry features of a dog with primary pituitary carcinoma with adjacent invasion.

Case: A 7-year-old female spayed Golden Retriever dog was assessed by general practice due progressive weight loss, muscular atrophy, lethargy, blindness, head pressing, and hyporexia for 21 days. Computed tomography (CT) showed a cerebral parenchyma with expansive extra-axial base formation, originating from sella turcica topography, measuring about 2.0 centimeter dorsally, displacing the third ventricle, suggesting the diagnosis of pituitary neoplasia. The hormones thyroid-stimulating hormone (TSH) and total thyroxine (T4) as well as stimulation ACTH test were unremarkable. After 7 days, neurological clinical signs progressed and unfortunately the patient died ten days later after hospitalization. A necropsy exam revealed pituitary gland with increased dimensions (2.5 x 2.0 cm). Histopathological findings revealed tumor proliferation in pituitary gland. The neoplasm showed invasion to the nervous parenchyma and metastatic foci between the brain lobes. Immunohistochemistry was positive for keratin and neuron-specific enolase and negative for epithelial membrane antigen, S-100 protein, glial fibrillary acidic protein, estrogen receptor, CD34, chromogranin, somatostatin, and ACTH. The clinical, histopathological and immunohistochemistry findings supported the diagnosis of primary pituitary carcinoma.

Discussion: There is lack information regarding pituitary carcinoma prevalence in dogs, and little is known about its pathological and clinical features. The patient showed a shorter survival time (30 days after the onset of clinical signs) for a non-hormonally functional tumor that presented with acute onset of neurological signs due to local effect of an expanding mass, also described in others pituitary carcinoma reports. It was observed a metastatic focus of pituitary neoplasia between cerebral hemispheres, leading us to conclude to be a pituitary carcinoma. Adjacent infiltration was noticed by the presence of neoplasm invasion to the synoptic nervous parenchyma and metastatic foci between the brain lobes as well as the presence of a non-delimited nodular area of neoplastic implantation between the cerebral hemispheres, and optic nerve compromised by neoplasm cells. The data reported here showed that a negative ACTH receptor in neoplasm with 10% Ki-67 proliferation index with no history of clinical signs of pituitary-dependent hyperadrenocorticism (PDH). Pituitary adenocarcinomas are thought to be more often non-secretors. CT findings reveled a pituitary mass of 2.5 cm in vertical height suggesting a pituitary macrotumor although there is lack of description for pituitary carcinomas in veterinary literature. The animal had a fast deterioration of his clinical condition and quickly came to death, suggesting poor biological behavior of the tumor.

 

Keywords: adrenocorticotropic hormone, case report, dog, pituitary tumors.
Downloads
Download data is not yet available.
References
Boujon C.E., Ritzy U., Rossi G.L., & Bestetti E. 1991. A clinico-pathological study of canine cushing`s disease caused by a pituitary carcinoma. Journal of Comparative Pathology. 105: 353-365.
Gestier S., Cook R.W., Agnew W. & Kiupel M. 2012. Silent pituitary corticotroph carcinoma in a young dog. Journal Comparative Pathology. 146(4): 327-331.
Hansen K.S., Zwingenberger A.L., Théon A.P. & Kent M.S. 2019. Long-term survival with stereotactic radiotherapy for imaging-diagnosed pituitary tumors in dogs. Veterinary Radiology Ultrasound. 60(2): 219-232.
Heaney A.P.J. 2011. Clinical review: Pituitary carcinoma: Difficult diagnosis and treatment. Journal of Clinical Endocrinology Metabolism. 96(12): 3649-3660.
Longo M., Binanti D., Zagarella P.G., Iocca F., Zani D., Ravasio G., Giancamillo M.D. & Zani D.D. 2016. A rare case of pituitary chromophobe carcinoma in a dog: clinical, tomographic and histopathological findings. Open Veterinary Journal. 6(3): 158-161.
Mete O. & Lopes M.B. 2017. Overview of the 2017 WHO Classification of Pituitary Tumors. Endocrine Pathology. 28: 228–243.
Miller M.A., Bruyette D.S., Scott-Moncrieff J.C., Owen T.J., Ramos-Vara J.A., Weng H.Y., Vanderpool A.L., Chen A.V., Martin L.G., DuSold D.M. & Jahan, S. 2018. Histopathologic findings in canine pituitary glands. Veterinary Pathology. 55: 871–879.
Nakaichi M., Iseri T., Horikirizono H., Sakai Y., Itoh H., Sunahara H., Itamoto K. & Tani K. 2020. Clincal features and their course of pituitary carcinoma with distant metastasis in a dog. The Journal of Veterinary Medical Science. 82 (11): 1671-1675.
Peterson M.E., Krieger D., Drucker W.D. & Halmi N.S. 1982. Immunocytochemical study of the hypophysis in 25 dogs with pituitary-dependent hyperadrenocorticism. Acta Endocrinologica. 101: 15–24.
Pollard R.E., Reilly C.M., Uerling M.R Wood F.D. & Feldman E.C. 2010. Cross- sectional imaging characteristics of pituitary adenomas, invasive adenomas and adenocarcinomas in dogs: 33 cases (1988–2006). Journal of Veterinary Internal Medicine. 24(1): 160–165.
Polledo L., Grinwis G.C.M., Graham P., Dunning M. & Baiker K. 2018. Pathological findings in the pituitary glands of dogs and cats. Veterinary Pathology. 55: 880–888.
Puente S. Pituitary carcinoma in an Airedale terrier. Canadian Veterinary Journal. 44: 240-242.
Riley D.S., Barber M.S., Kienle G.S., Aronson J.K., Schoen-Angerer T., Tugwell P., Kiene H., Helfand M., Altman D.G., Sox H., Werthmann P.G., Moher D., Rison R.A., Shamseer L., Koch C.A., Sun G.H., Hanaway P., Sudak N.L., Kaszkin-Bettag M., Carpenter J.E. & Gagnier J.J. 2017. CARE guidelines for case reports: Explanation and elaboration document. Journal of Clinical Epidemiology. 89: 218-235.
Rissi D.R. 2015. A retrospective study of skull base neoplasia in 42 dogs. Journal of Veterinary Diagnostic Investigation. 27: 743–748.
Roncaroli F., Kovacs K., Lloyd R.V., Matsuno A. & Righi A. 2017. Tumors of pituitary gland. In: Lloyd, R.V., Osamura, R.Y., Klöppel, G. & Rosai, J. (Eds). WHO Classification of Tumors of Endocrine Organs. 4.ed. Lyon: IARC Publications, pp.41–44.
Rosol T.J. & Meuten D. J. 2017. Tumors of the endocrine glands. In: Meuten, D.J. (Ed). Tumors in Domestic Animals. 5.ed. New Jersey: Wiley Blackwell, pp.766–833.
Saeger W., Lüdecke D.K., Buchfelder M., Fahlbusch R., Quabbe H.J., Petersenn S. 2007. Pathohistological classification of pituitary tumors: 10 years of experience with the German Pituitary Tumor Registry. European Journal of Endocrinology. 156(2): 203-216.
Sanders K., Galac S. & Meij B.P. 2021. Pituitary tumor types in dogs and cats. Veterinary Journal. 270: 105623.
Santos-Pinheiro F., Penas-Prado, M., Kamiya-Matsuoka, C., Waguespack S.G., Mahajan, A., Brown, P.D., Shah, K.B., Fuller G.N., McCutcheon I.E. 2019. Treatment and long-term outcomes in pituitary carcinoma: a cohort study. European Journal of Endocrinology. 181(4): 397-407.
Sato J., Sato R., Kinai M., Tomizawa N., Osawa T., Nakada K., Yano A., Goryo M. & Naito Y. 2001. Pituitary chromophobe carcinoma with a low level of serum gonadotropin and an aspermatogenesis in a dog. Journal of Veterinary Medical Science. 63(2): 183-185.
Sheehan N.K., Rylander H., Christensen N. & Nafe L.A. 2017. Meningueal dissemination of a pituitary carcinoma to the cauda equina in a dog. Canadian Veterinary Journal. 58: 839-841.
Snyder M., Lipitz L., Skorupski K.A., Shofer F.S. & Van Winkle T.J. 2008. Secondary intracranial neoplasia in the dog: 177 cases (1986–2003). Journal of Veterinary Internal Medicine. 22: 172–177.
Wilfried M. 2018. MRI of the brain: Brain neoplasia. In: Willfried M (Eds). Diagnostic MRI in Dogs and Cats. Boca Raton: CRC Press, pp.211-239.
Wood F.D., Pollard R.E., Uerling, M.R. & Feldman E.C. 2007. Diagnostic imaging findings and endocrine test results in dogs with pituitary-dependent hyperadrenocorticism that did or did not have neurologic abnormalities: 157 cases (1989-2005). Journal of American Veterinary Medical Association. 231(7): 1081-1085.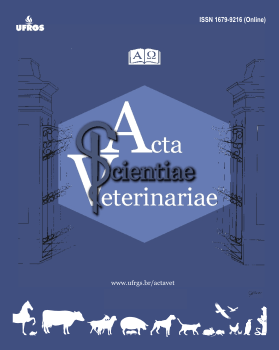 How to Cite
Tavares, F., Cobucci, G. C., Dos Anjos, D. S., Fonseca-Alves, C. E., Guimarães, T. F., & De Campos, S. N. (2022). Pituitary Carcinoma in a Bitch: Clinical, Tomographic, Histopathological and Immunohistochemistry Findings. Acta Scientiae Veterinariae, 50. https://doi.org/10.22456/1679-9216.116892
License
This journal provides open access to all of its content on the principle that making research freely available to the public supports a greater global exchange of knowledge. Such access is associated with increased readership and increased citation of an author's work. For more information on this approach, see the Public Knowledge Project and Directory of Open Access Journals.
We define open access journals as journals that use a funding model that does not charge readers or their institutions for access. From the BOAI definition of "open access" we take the right of users to "read, download, copy, distribute, print, search, or link to the full texts of these articles" as mandatory for a journal to be included in the directory.
La Red y Portal Iberoamericano de Revistas Científicas de Veterinaria de Libre Acceso reúne a las principales publicaciones científicas editadas en España, Portugal, Latino América y otros países del ámbito latino