General Anesthesia in Red-footed Tortoise (Chelonoides carbonaria) for Gastric Foreign Body Removal
Abstract
Background: The anatomical, physiological, and pharmacological characteristics of reptiles make anesthesia in chelonians particularly challenging. Specific literature regarding safe anesthetic protocols that provide immobilization, antinociception, amnesia, and unconsciousness are scarce. Thus, this paper aims to report the case of a red-footed tortoise submitted to long-duration general anesthesia to celiotomy for foreign body removal. 
Case: An adult red-footed tortoise (Chelonoides carbonaria), 5.9 kg, was admitted due to hyporexia after ingesting a metallic fishhook. Serial radiographs confirmed the diagnosis and location of the foreign body in the stomach. The animal was premedicated with 0.03 mg/kg dexmedetomidine, 6 mg/kg ketamine, and 0.4 mg/kg butorphanol intramuscularly. After 90 min we inserted a 22G jugular catheter and proceeded to anesthesia induction with 5 mg/kg propofol. We intubated the animal with a 2.5 mm uncuffed endotracheal and started fluid therapy at a rate of 5 mL/kg/h. Surgical anesthesia was maintained with isoflurane in 0.21 oxygen, in a non-rebreathing circuit (baraka), under spontaneous breathing. Expired isoflurane was maintained between 3 and 4.5%. Due to reduced respiratory rate and hypercapnia, we opted for implementing manually-assisted positive pressure ventilation. Morphine (0.5 mg/kg) was administered at 10 and 87 min after the beginning of the surgery for further analgesia when the isoflurane requirement increased significantly. We did not detect any alterations in heart and body temperature. Surgical anesthesia lasted 6 h. During anesthesia recovery, voluntary head retraction and coordinated movement of the limbs occurred at 240 and 540 min after the extubation, respectively. In 2 days, the patient returned to voluntary feeding, being very active and responsive to stimulus. The post-surgical hematologic evaluation was unremarkable. 
Discussion: Pre-anesthetic medication aimed to promote sedation and preemptive analgesia. Due to its minimal cardiorespiratory depression, we chose the combination of ketamine, dexmedetomidine, and butorphanol. Dexmedetomidine reduced the ketamine dose and caused sufficient muscle relaxation and immobilization to perform the jugular catheter placement. Butorphanol is an agonist-antagonist opioid; that is why we decided to add it to the protocol for antinociception. However, due to signs of nociceptive response (increased isoflurane requirements and heart rate), and considering the evidence of a predominance of μ receptors in reptiles, we administered low-dose morphine twice during the procedure. Propofol was chosen as an induction agent at a dose sufficient to allow endotracheal intubation. Since reptilians often show apnea in the presence of 100% oxygen, we used a 0.21 oxygen fraction. Despite this, the patient showed respiratory depression. Due to right to left cardiac shunt, sudden changes in the direction of the blood can lead to very rapid changes in the serum concentrations of isoflurane, which leads to frequent oscillations in the anesthetic depth and consequently the need for vaporizer adjustments, which may justify the high expired isoflurane fraction during the procedure. Despite that, physiological parameters were maintained within normal ranges for the species, with slight variations during the surgical procedure. We conclude that the proposed anesthetic protocol is safe for long-duration anesthesia in chelonians, ensuring cardiovascular and respiratory stability. Thus, this report may help veterinarians to perform safe anesthesia in tortoises submitted to invasive surgical procedures. 
Keywords: testudines, dexmedetomidine, ketamine, butorphanol.
Descritores: testudines, dexmedetomidina, cetamina, butorfanol.
Downloads
Download data is not yet available.
References
Alves Jr. J.R.F., Bosso A.C., Andrade, M.B., Werther K. & Santos A.L.Q. 2012. Association of midazolam with ketamine in Giant Amazon River turtles Podocnemis expansa breed in captivity. Acta Cirurgica Brasileira. 27(2): 144-147.
Arcoverde K.N. 2018. Anestesia em répteis com distocia: relato de dois casos. 38f. Areia, PB. Dissertação - Curso de Medicina Veterinária, Universidade Federal da Paraíba.
Bertelsen M.F. 2007. Squamates (Snakes and Lizards). In: West G., Heard D. & Caulkett N. (Eds). Zoo Animal and Wildlife Immobilization and Anesthesia. Oxford: Blackwell Publishing, pp.233-243.
Bienzle D. & Boyd C.J. 1992. Sedative effects of ketamine and midazolam in Snapping Turtles (Chelydra serpentina). Journal of Zoo and Wildlife Medicine 23(2): 201-204.
Boyer T. & Boyer D. 2006. Turtles, tortoises and terrapins. In: Mader D.R. (Ed). Reptile Medicine and Surgery. 2nd edn. St. Louis: Saunders Elsevier, pp.78-98.
Cubas P.H. & Baptistotte C. 2007. Chelonia (Tartaruga, Cágado, Jabuti). In: Cubas Z.S., Silva J.C.R. & Catão-Dias J.L. (Eds). Tratado de Animais Selvagens - Medicina Veterinária. São Paulo: Roca, pp.86-91.
Dennis P.M. & Heard D.J. 2002. Cardiopulmonary effects of a medetomidine-ketamine combination administered intravenously in gopher tortoises. Journal of the American Veterinary Medical Association. 220(10): 1516-1519.
Gutierrez-Blanco E., Victoria-Mora J.M., Ibancovichi-Camarillo J.A., Sauri-Arceo C.H., Bolio-Gonzalez M.E., Acevedo-Arcique C.M., Marin-Cano G. & Steagell P.V.M. 2013. Evaluation of the isoflurane-sparing effects of fentanyl, lidocaine, ketamine, dexmedetomidina, or the combination lidocaine-ketamine-dexmedetomidine during ovariohysterectomy in dogs. Veterinary Anaesthesia and Analgesia. 40(6): 599-609.
Holz P. & Holz R.M. 1994. Evaluation of ketamine, ketamine/xylazine and ketamine/midazolam anaesthesia in red-eared sliders (Trachemys scripta elegans). Journal of Zoo and Wildlife Medicine. 25(4): 531-537.
Kukanich B. & Wiese A.J. 2017. Opioides. In: Grimm K.A., Lamont L.A., Tranquilli W.J., Greene S.A. & Robertson S.A (Eds). Lumb & Jones: Anestesiologia e Analgesia em Veterinária. 5.ed. Rio de Janeiro: Roca, pp.624-646.
Klaphake E., Gibbons P.M., Sladky K.K. & Carpenter J.W. 2018. Reptiles. In: Carpenter J.W. & Marion C.J. (Eds). Exotic Animal Formulary. 5th edn. St. Louis: Saunders Elsevier, pp.127-246.
Longley L.A. 2008. Chelonian (tortoise, terrapin and turtle) anaesthesia. In: Anaesthesia of Exotic Pets. London: Elsevier Saunders, pp.228-237.
McArthur S.R., Meyer J. & Innis C. 2004. Anatomy and Physiology. In: McArthur S.R., Wilkinson R. & Meyer J. (Eds). Medicine and Surgery of Tortoises and Turtles. Oxford: Blackwell Publishing, pp.35-72.
Mosley C.L. & Mosley C.A. 2017. Anestesia e Analgesia Comparada de Répteis, Anfíbios e Peixes. In: Grimm K.A., Lamont L.A., Tranquilli W.J., Greene S.A. & Robertson S.A. (Eds). Lumb & Jones: Anestesiologia e Analgesia em Veterinária. 5.ed. Rio de Janeiro: Roca, pp.2291-2308.
Olsson A. & Simpson M. 2018. Analgesia and Anaesthesia. In: Doneley B., Monks D., Johnson R. & Carmel B. (Eds). Reptile Medicine and Surgery in Clinical Practice. Oxford: Wiley-Blackwell, pp.369-381.
Perpiñán D. 2018. Reptile anaesthesia and analgesia. Companion Animal. 23(4): 236-243.
Santos A.L.Q., Bosso A.C.S., Alves Jr. J.R.F., Brito F.M.M., Pachally J.R. & Ávila-Junior R.H. 2008. Pharmacological restraint of captivity giant Amazonian turtle Podocnemis expansa (Testudines, Podocnemididae) with xylazine and propofol. Acta Cirúrgica Brasileira. 23(3): 270-273.
Sleeman J.M. & Gaynor J. 2000. Sedative and cardiopulmonary effects of medetomidine and reversal with atipamezole in desert tortoises (Gopherus agassizii). Journal of Zoo and Wildlife Medicine. 31(1): 28-35.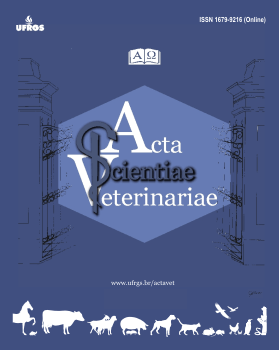 How to Cite
Siepmann, E. C., Sinotti, J. F., Fucks de Souza, C., Nishimura, H. K., Tanabe, L. Y., Piccoli, R. J., da Cunha, O., & Fukushima, F. B. (2021). General Anesthesia in Red-footed Tortoise (Chelonoides carbonaria) for Gastric Foreign Body Removal. Acta Scientiae Veterinariae, 49. https://doi.org/10.22456/1679-9216.116855
License
This journal provides open access to all of its content on the principle that making research freely available to the public supports a greater global exchange of knowledge. Such access is associated with increased readership and increased citation of an author's work. For more information on this approach, see the Public Knowledge Project and Directory of Open Access Journals.
We define open access journals as journals that use a funding model that does not charge readers or their institutions for access. From the BOAI definition of "open access" we take the right of users to "read, download, copy, distribute, print, search, or link to the full texts of these articles" as mandatory for a journal to be included in the directory.
La Red y Portal Iberoamericano de Revistas Científicas de Veterinaria de Libre Acceso reúne a las principales publicaciones científicas editadas en España, Portugal, Latino América y otros países del ámbito latino