Pseudopterygium in a Rabbit - Treatment with Tracolinus
Abstract
Background: Pseudopterygium, also known as aberrant conjunctival growth, is poorly described in the literature, although it is known that this abnormality is uncommon and affects dwarf rabbits and their crossbreeds. The etiology of this disease is unknown, but there are hypotheses that the conjunctival growth cause may have its origins in immunological factors, inflammation, traumatic conditions, or cartilage dysplasias. Thus, this study reports the treatment efficacy applied in a rabbit, through the continuous use of tracolimus eye drops, after surgical procedure of conjunctival fold resection, as a way of controlling the pseudopterygium in rabbits.
Case: This case report discusses the positive results from the surgical and therapeutic conduct of a clinical case attended by the Ophthalmology and Microsurgical Veterinary Service at the Hospital Veterinário Universitário (HVU) of the UFSM. The patient was a male rabbit, sterilized cunicle, approximately 2-year-old, crossed with a dwarf rabbit. The owner's main complaint was the change in the aspect of the left eye, with progressive worsening in the previous four weeks. In the ophthalmological examination, the animal did not present impaired vision or discomfort, however, a vascularized pink membrane was noted, which consisted of a fold of the bulbar conjunctiva, that grew centripetally and covered 90% of the cornea in 360 degrees. The diagnosis was confirmed through visual inspection and the patient's history. The eye alteration had a characteristic aspect, described as proliferation of the bulbar conjunctiva over the cornea, in a centripetal manner and without signs of inflammation. In addition, other ophthalmological alterations were ruled out during the patient's physical and specific examination. The patient was referred for anesthetic evaluation and, in addition, pre-surgical blood tests were performed, which were normal, according to the expected ranges for the species. Subsequently, the animal was submitted to surgical treatment, which consisted of dividing the exuberant conjunctiva, followed by three radial incisions in equal portions. Next, the conjunctival fold was completely incised to the edge of the limbus, without the need of sutures. Anterior lamellar keratectomy was performed on the portion where the membrane was attached to the cornea. For home care, tobramycin-based eye drops (QID, for 7 days) and 0.02% aqueous tacrolimus eye drops (BID - continuous use) were prescribed. The animal was reevaluated 7, 14, 30, 60, 120 and 180 days after surgical correction, and no recurrence of pseudopterygium was observed during the follow-up period. The prognosis of patients with pseudopterygium is reserved, as it is known that the disease may recur after surgical treatment. Therefore, the continuous use of the chosen immunomodulating eye drops was recommended as well as periodic follow-up of the patient.
Discussion: In the current study, it was not possible to increase knowledge regarding about the pseudopterygium etiology. Although the condition is not serious, it can cause partial impairment of vision and chronic discomfort. However, the vision field described in the rabbit in this current case remained unchanged, in accordance with other cases described in the literature. Furthermore, no signs of patient discomfort were detected. Some surgical techniques described in the literature for correction of pseudopterygium, shows membrane's growth recurrence. The use of immunomodulatory drugs is suggested for relapses controlling. In this study, the tracolimus eye drops efficacy was tested, and presented good results in the patient's evaluations for a long period after surgery. The use of immunomodulators is an option for adjuvant topical treatment for controlling pseudopterygium growth, which, associated with corrective surgical treatment, has shown positive results.
Keywords: conjunctiva, aberrant, immunomodulator, treatment, bunny.
Título: Pseudopterígio em coelho - tratamento com tracolimus
Descritores: conjuntiva, aberrante, imunomodulador, tratamento, coelho.
Downloads
Download data is not yet available.
References
Allgoewer I., Malho P., Schulze H. & Schaffer E. 2008. Aberrant conjuctival stricture and overgrowth in the rabbit. Veterinary Ophthalmology. 11(1): 18-22.
Feng Q.Y., Hu Z.X., Song X.L. & Pan H.W. 2017. Aberrant expression of genes and proteins in pterygium and their implications in the pathogenesis. International Journal Ophthalmology. 10(6): 973-981.
Katsuta O., Shinomiya K., Mochizuki T., Kikkawa C., Yoshimi M. & Ikuse T. 2008. Pseudopterygium: Unique Conjunctival Stricture Observed in Japanese White Rabbit. Journal Toxicology Pathology. 21(4): 239-241.
Kim J.Y., Williams D., Rho K.S., Kim K.H., Lee Y.S. & Jeong S.W. 2013. Surgical correction of aberrante conjuntival overgrowth in a rabbit: a case report. Irish Veterinary Journal. 66(1): 18. 4p.
Roze M. 2002. La membrane conjonctivale épiconéenne du lapin: essai de traitement par la cyclosporine. Pratique Médicale et Chirurgicale de L'Animal de Compagnie. 37(4): 153-156.
Roze M., Ridings B. & Lagadic M. 2001. Comparative morphology of epicorneal conjunctival membranes in rabbits and human pterygium. Veterinary Ophtalmology. 4(3): 171-174.
Saldanha A., Bortolini M., Seabra N.M., Sanches A.W.D., Lange R.R., Pachaly J.R. & Ferreira F.M. 2017. Pseudopterígio em coelho-anão (Oryctolagus cuniculus): relato de caso. Archives of Veterinary Science. 22(4): 88-94.
Turner S.M. 2008. Aberrant conjuntival overgrowth in rabbits. In: Small Animal Ophthalmology. 4th edn. London: Elsevier, pp.85-88.
Williams D.L. 1999. Laboratory animal ophthalmology. In: Veterinary Ophthalmology. 3rd edn. Baltimore: Lippincott Williams & Wilkins, pp.1217-1218.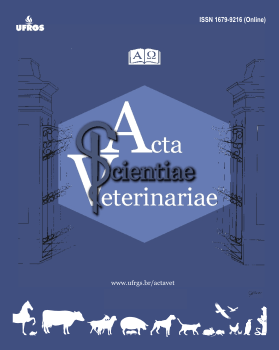 How to Cite
Farencena, F. I., Krebs, C. O. E., Girondi, G. B., Cassanego, G. R., & Corrêa, L. F. D. (2022). Pseudopterygium in a Rabbit - Treatment with Tracolinus. Acta Scientiae Veterinariae, 50. https://doi.org/10.22456/1679-9216.116675
License
This journal provides open access to all of its content on the principle that making research freely available to the public supports a greater global exchange of knowledge. Such access is associated with increased readership and increased citation of an author's work. For more information on this approach, see the Public Knowledge Project and Directory of Open Access Journals.
We define open access journals as journals that use a funding model that does not charge readers or their institutions for access. From the BOAI definition of "open access" we take the right of users to "read, download, copy, distribute, print, search, or link to the full texts of these articles" as mandatory for a journal to be included in the directory.
La Red y Portal Iberoamericano de Revistas Científicas de Veterinaria de Libre Acceso reúne a las principales publicaciones científicas editadas en España, Portugal, Latino América y otros países del ámbito latino