Cloacoplasty in a 40-Day-Old Monk Parakeet with Cloacal Prolapse
Abstract
Background: The monk parakeet (Myiopsitta monachus) is also known as the quaker parrot and belongs to the order Psittaciformes in the family Psittacidae. The cloaca is a posterior orifice common to reproductive, digestive and urinary systems and the cloacal prolapse is the displacement or inversion of its anatomic position. Nowadays, the non-conventional pet market in Brazil is rapidly growing, which demands more skills and competences from an avian veterinarian. This study case has as its main objective to present a 40-day-old monk parakeet (Myiopsitta monachus) with cloacal prolapse, treated using the cloacoplasty technique. It is important to mention that the occurrence of cloacal prolapse in this species and in such an early age is uncommon.
Case: The patient presented 1 day before the physical examination an increased volume in the cloacal region and hematochezia, and diagnosed as cloacal prolapse. For the treatment, wounds were washed using physiological saline solution, ice and sugar were applied in order to reduce the edema, and mineral oil was used for repositioning the cloacal mucosa. Finally, local anesthesia was applied and 2 isolated contralateral sutures were done with the objective of reducing the sphincter's diameter, without compromising the flow of urine and feces.  The monk parakeet was treated with antibiotic Avitrin®)  [oxytetracycline hydrochloride - 8.1 mg/mL] and a vermifuge [mebendazole 50 mg/mL]. A sample of feces was also obtained and sent to the Laboratory of Avian Pathology Diagnosis. The patient was discharged after 7 days of the treatment, obtaining a favorable result with no further complications.
Discussion: The results of the coproparasitological examination were negative for the samples analyzed; nevertheless, the possibility of a false negative result cannot be totally dismissed. Cloacal prolapse may be related to cases of hypersexual disorder or overexertion to defecate due to intestinal parasites, posture, polyps, enteritis, neoplasm or cloacal hyperplasia. Besides that, endoparasitism is common in captive birds. For the correct treatment, proceed with a cloacoplasty, in which 1 or 2 simple sutures are made separated laterally in both sides, promoting the narrowing of the orifice. The surgeries such as the cloacoplasty are currently being defended, but in most cases as an adjuvant therapy. Cloacal prolapse in birds is a disease considered as an intestinal emergency. The techniques presented in this work demand sedation or anesthesia for the patient, which were not authorized by the tutor due to the high risk involved. However, due to the characteristic of domestication and docile behavior of the bird, it was possible to perform the 2 sutures with a local anesthetic block only. Cloacal prolapse is relatively common in adult psittacine birds, but uncommon in monk parakeets and young birds.  The treatment performed was effective for the monk-parakeet presented in this study case. The authors, however, would like to strongly reinforce the need to identify the cause of cloacal prolapse in order to properly treat it. The importance of correctly identifying the anatomy of a psittacine bird as well as applying precisely the suture techniques are the most important conclusions obtained, making both the identification of the problem and its solution through surgical intervention a simpler and successful process.
Keywords: birds, endoparasites, suture, wild.
Downloads
Download data is not yet available.
References
Biswas D. & Seifuddin A.K.M. 2014. Cloaca-vent Prolapsed in a Lutino Fischer's Love Bird (Agapornis Fischeri). Veterinary Science Development. 4(1): 13-14. doi: 10.4081/vsd.2014.5141
Bünzen S. & Haese D. 2006. Controle de Micotoxinas na alimentação de aves e suínos. Revista Eletrônica Nutritime. 3(1): 304-309.
Castro P.F., Fantoni D.T. & Matera J.M. 2013. Estudo retrospectivo de afecções cirúrgicas em aves. Pesquisa Veterinária Brasileira. 33(5): 662-668. doi:10.1590/S0100736X2013000500018
Dutton T.A.G., Forbes N.A. & Carrasco D.C. 2016. Cloacal Prolapse in Raptors: Review of 16 Cases. Journal of Avian Medicine and Surgery. 30(2): 133-140. doi: 10.1647 / 2015-091
Grespan A. & Raso T.F. 2014. Psittaciformes (Araras, Papagaios, Periquitos, Calopsitas e Cacatuas). In: Cubas Z.S., Silva J.C.R. & Catão-Dias J.L. (Eds). Tratado de Animais Selvagens: Medicina Veterinária. 2.ed. São Paulo: Roca, pp.614-654.
Harrison G.J., Lightfoot T. & Flinchum G. 2006. Emergency and Critical Care. In: Harrison G.J. & Lightfoot T.L. (Eds). Clinical Avian Medicine. v.1. Palm Beach: Spix Publishing, pp.213-231.
Macwhirter P. 2010. Anatomia, Fisiologia e Nutrição básica. In: Tully Jr. T.N., Dorrestein G.M. & Jones A.K. (Eds). Clínica de Aves. 2.ed. Rio de Janeiro: Elsevier, pp.78-82.
Moraillon R., Legeay Y., Boussarie D. & Sénécat O. 2013. Manual Elsevier de Veterinária: Diagnóstico e Tratamento de Cães, Gatos e Animais Exóticos. 7.ed. Rio de Janeiro: Elsevier, pp.1801-1802.
Silva D.C., Castro I.D.K., Sprenger L.K. & Slomp M.N. 2019. Influência da Deficiência de Cálcio no Desempenho e Qualidade de Ovos de Galinhas Poedeiras em Sistema Semi-Intensivo na Região Sudeste do Paraná. Revista de Estudos Vale do Iguaçu. 1(33): 57-68.
Snak A., Lenzi P.F., Agostini K.M., Delgado L.E., Montanucci C.R. & Zabott M. V. 2014. Análises Coproparasitológicas de Aves Silvestres Cativas. Ciência Animais Brasileira. 15(4): 502-507. doi: 10.1590/1809-6891v15i425797
Zaheer O., Beaufrère H., Jajou S. & Gardhouse S. 2020. Asymmetrical Cloacoplasty for the Chronic Cloacal Prolapse in Psittaciformes: A Case Series. Journal of Avian Medicine and Surgery. 34(2): 172-180. doi: 10.1647/1082-6742-34.2.172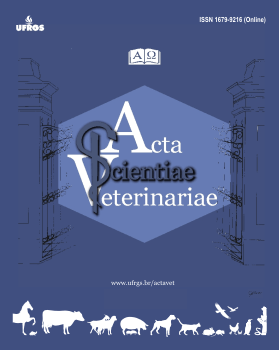 How to Cite
Cassanego, G. R., Ferreira, P. I., da Rosa, C. C., Flores, F. da S., & Corrêa, L. F. D. (2021). Cloacoplasty in a 40-Day-Old Monk Parakeet with Cloacal Prolapse. Acta Scientiae Veterinariae, 49. https://doi.org/10.22456/1679-9216.116658
License
This journal provides open access to all of its content on the principle that making research freely available to the public supports a greater global exchange of knowledge. Such access is associated with increased readership and increased citation of an author's work. For more information on this approach, see the Public Knowledge Project and Directory of Open Access Journals.
We define open access journals as journals that use a funding model that does not charge readers or their institutions for access. From the BOAI definition of "open access" we take the right of users to "read, download, copy, distribute, print, search, or link to the full texts of these articles" as mandatory for a journal to be included in the directory.
La Red y Portal Iberoamericano de Revistas Científicas de Veterinaria de Libre Acceso reúne a las principales publicaciones científicas editadas en España, Portugal, Latino América y otros países del ámbito latino