Splenic Stromal Sarcoma in a Labrador Dog
Abstract
Background: Splenic stromal neoplasms are a heterogeneous group of tumors that shares the morphology of spindle cells, and are considered a primary mesenchymal neoplasm of the spleen. Among these neoplasms, some are as yet unclassified. Although stromal neoplasms represent 25 a 50% of dog splenic neoplasms in dogs, subtypes rarely occur alone. As these neoplasms are difficult to diagnose in the routine veterinary medical examination, the objective of this article was to report a case of splenic stromal sarcoma in a dog treated at a private veterinary hospital in Recife, Pernambuco, Brazil. 
Case: An 8-year-old male labrador dog was treated at a veterinary hospital for an initial clinical suspicion of gastroenteritis. Clinical examinations showed anemic ocular mucosa and a distended abdomen. Considering the animal's condition, blood count, serum biochemistry, and abdominal ultrasonography (US) were requested. The laboratory tests revealed anemia, thrombocytopenia, leukocytosis with neutrophilia, and changes in the indices of alanine aminotransferase (ALT) and alkaline phosphatase (ALP), among other findings. Abdominal ultrasound showed hepatomegaly, diffuse splenomegaly, a neoformation in the spleen suggestive of splenic neoplasia, and mild cystic prostatic hyperplasia. The dog underwent exploratory laparotomy with splenectomy. During the procedure, a nodule was found attached to the spleen. It was removed, fixed in a 10% neutral buffered formalin solution, and sent for histopathological and immunohistochemical examinations (vimentin, S100, desmin, MyoD1, HHF35, CD31, and alpha smooth muscle actin). The histopathological diagnosis was poorly differentiated spindle cell splenic sarcoma, compatible with splenic stromal sarcoma. Immunohistochemistry showed neoplastic cells immunoreactive for vimentin and S100, and it was not reactive for other markers. Based on the immunohistochemical and morphological profile, the diagnosis of splenic stromal sarcoma was confirmed.  
Discussion: Dogs affected by splenic neoplasms are generally aged between three and 17 years, and clinically present withanorexia, emesis, lethargy, weight loss, and abdomen distension, which were observed in the present case. However, a purelyclinical diagnosis is disputable, since other diseases can present the same signs. Thus, complementary exams are essential for a correct diagnosis. Laboratory changes in blood count and serum biochemistry are considered nonspecific for splenic neoplasms, with neutrophilic leukocytosis and anemia being consistent with paraneoplastic syndromes frequently diagnosed in small animals.  Microscopically, splenic stromal sarcomas are characterized by focal splenic nodules composed of cohesive polygonal to spindle-shaped cell layers. The cells usually exhibit anisokaryosis and often have large oval to round vesicular nuclei and, occasionally, multinucleated cells. They have large areas of necrosis, diffuse or nodular lymphoid aggregates, and foci of extramedullary hematopoiesis, consistent with the histopathological examination reported in the present case. The immunohistochemical analysis included evaluation of seven markers to elucidate the histogenesis of the neoplasm, with the anti-vimentin and anti-S100 markers demonstrating positive cytoplasmic immunoreactivity, revealing the mesenchymal origin of the neoplasm. Thus, the definitive diagnosis was splenic stromal sarcoma, a rare and aggressive neoplasm. 
Keywords: spleen, histopathology, immunohistochemistry, neoplasm.  
Descritores: baço, histopatologia, imunohistoquímica, neoplasia
Downloads
Download data is not yet available.
References
Bandinelli M.B., Pavarini S.P., Oliveira E.C., Gomes D.C., Cruz C.E.F. & Driemeier D. 2011. Estudo retrospectivo de lesões em baços de cães esplenectomizados: 179 casos. Pesquisa Veterinária Brasileira. 31(8): 697-701.
Bhuiyan M.S.A., Kim N.K., Cho Y.M., Yoon D., Kim K.S., Jeon J.T. & Lee J.H. 2009. Identification of SNPs in MYOD gene family and their associations with carcass traits in cattle. Livestock Science. 126: 292-297.
Cartarozzi L.P. 2013. Utilização do selante de fibrina combinado com células tronco mesenquimais no reparo de nervos periféricos através da técnica de tubulização. 112f. Campinas, SP. Dissertação (Mestrado em Biologia Celular e Estrutural) - Programa de Pós-Graduação em Biologia Celular e Estrutural. Universidade Estadual de Campinas, Instituto de Biologia.
Couto C.G. 2014. Lymphadenopathy and Splenomegalyn. In: Nelson R.W. & Couto C.G. (Eds.) Small Animal Internal Medicine. 5th edn. St. Louis: Mosby Elsevier, pp.1264-1275.
Filgueira K.D., Reis P.F.C.C., Batista J.S. & Paula V.V. 2012. Hemangiossarcoma cutâneo com metástase no sistema nervoso central de um canino. Acta Scientiae Veterinariae. 40(1): 1-7.
Gleason B.C. & Hornick J.L. 2019. Vascular Tumors. In: Hornik J.L. (Ed). Practical Surgical Soft Tissue Pathology: a Diagnostic Approach. 2nd edn. Philadelphia: Elsevier, pp.341-390.
Gomaa M., Samy M.T., Kramer M., Omar M.S. & Nefissa H.M. 2010. Ultrasonographic Diagnosis of Splenic Surgical Affections in Dogs and Cats. Zagazig Veterinary Journal. 38: 31-41.
Leong A.S.Y., Cooper K. & Leong F.J.W.M. 1999. Manual of Diagnostic Antibodies for Immunohistology. London: Greenwich Medical Media Ltd., pp.3-40.
Linder K.E. 2017. Tumors of the spleen. In: Meuten D.J. (Ed). Tumors in Domestic Animals. 5th edn. Ames: Wiley Blackwell, pp.307-321.
Mahoney P. 2011. Spleen. In: Barr F. & Gaschen L. (Eds). BSAVA Manual of Canine and Feline Ultrasonography. Quedgeley: British Small Animal Veterinary Association, pp.100-109.
Miller A.D. & Zachary J.F. 2017. Nervous System. In: Zachary J.F. (Ed). Pathologic Basis of Veterinary Disease. 6th edn. St. Louis: Elsevier, pp.805-907.
Miller L.M. & Gal A. 2017. Cardiovascular System and Lymphatic Vessels. In: Zachary J.F. (Ed). Pathologic Basis of Veterinary Disease. 6th edn. St. Louis: Elsevier, pp.561-616.
Moore A.S., Frimberger A.E., Sullivan N. & Moore P.F. 2012. Histologic and Immunohistochemical Review of Splenic Fibrohistiocytic Nodules in Dogs. Journal of Veterinary Internal Medicine. 26: 1164-1168.
Morais H.L., Argyle D.J. & O'Brien R.T. 2010. Diseases of the Spleen. In: Ettinger S.J. & Feldman E.C. (Eds). Textbook of Veterinary Internal Medicine. 7th edn. St. Louis: Elsevier Saunders, pp.810-819.
Ramos-Vara J.A. & Borst L.B. 2017. Immunohistochemistry: Fundamentals and Applications in Oncology. In: Meuten D.J. (Ed). Tumors in Domestic Animals. 5th edn. Ames: Wiley Backwell, pp. 69-76.
Rangdaeng S. & Truong L.D. 1991. Comparative Immunohistochemical Staining for Desmin and Muscle-Specific Actin: A Study of 576 Cases. American Journal of Clinical Pathology. 96(1): 32-45.
Spangler W.L., Culbertson M.R. & Kass P.H. 1994. Primary Mesenchymal (Nonangiomatous/Nonlymphomatous) Neoplasms Occurring in the Canine Spleen: Anatomic Classification, Immunohistochemistry, and Mitotic Activity Correlated with Patient Survival. Veterinary Pathology. 31: 37-47.
Spangler W.L. & Kass P.H. 1998. Pathologic and prognostic characteristics of splenomegaly in dogs due to fibrohistiocytic nodules: 98 cases. Veterinary Pathology. 35(6): 488-498.
Tsukada T., Tippens D., Gordon D., Ross R. & Gown A.M. 1987. HHF35, a Muscle-Actin-Specific Monoclonal Antibody. I. Immunocytochemical and Biochemical Characterization. The American Journal of Pathology. 126(1): 51-60.
Valli V.E., Bienzle D., Meuten, D.J. & Linder K.E. 2017. Tumors of hemolymphatic system. In: Meuten D.J. (Ed). Tumors in Domestic Animals. 5th edn. Ames: Wiley Backwell, pp.203-321.
Zambarda T.T., Souza M.J., Cannavon J.M., Felten C., Pavarini S.P. & Poppl A.G. 2017. Mixossarcoma esplênico em cão. Acta Scientiae Veterinariae. 45(Suppl 1): 245. 4p.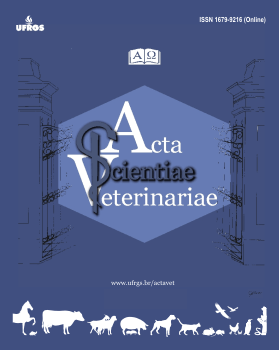 How to Cite
Waterloo, M. de M. L., Miranda, M. P. de, Vilela, L. M., Rodrigues, A. E. da S., Borba, G. de S., Teixeira, R. de H., Oliveira, A. A. da F., & Pereira, M. de F. (2021). Splenic Stromal Sarcoma in a Labrador Dog. Acta Scientiae Veterinariae, 49. https://doi.org/10.22456/1679-9216.116608
License
This journal provides open access to all of its content on the principle that making research freely available to the public supports a greater global exchange of knowledge. Such access is associated with increased readership and increased citation of an author's work. For more information on this approach, see the Public Knowledge Project and Directory of Open Access Journals.
We define open access journals as journals that use a funding model that does not charge readers or their institutions for access. From the BOAI definition of "open access" we take the right of users to "read, download, copy, distribute, print, search, or link to the full texts of these articles" as mandatory for a journal to be included in the directory.
La Red y Portal Iberoamericano de Revistas Científicas de Veterinaria de Libre Acceso reúne a las principales publicaciones científicas editadas en España, Portugal, Latino América y otros países del ámbito latino