Management of Urethral Obstruction in a Cat with Epidural Sacrococcygeal Anesthesia Guided by Electrical Neurostimulation
Abstract
Background: The treatment for urethral obstruction in cats consists of catheterization, and for this, the cat must be sedated or anesthetized. Sacococcygeal epidural block has the advantage of being close to receptors related to nociception located in the spinal cord and it is safer because it represents lower risk of spinal cord injury or inadvertent application in the subarachnoid space, when compared to the lumbosacral epidural. Nerve stimulation through the neurolocator to identify the epidural space increases the accuracy of this technique. Thus, the objective is to report a case of epidural anesthesia with a sacrococcygeal approach guided by neurostimulation in a cat with urethral obstruction.
Case: A 4-year-old male Siamese cat, weighing 4 kg, was referred to the veterinary care with a history of apathy and anorexia for 2 days. From the physical exam, the clinical diagnosis of urethral obstruction was made, and to desobstruction, we chose to perform sacrococcygeal epidural block. Initially, the patient was anesthetized with propofol (4 mg/kg) and midazolam (0.3 mg/kg). To perform the anesthetic block, the cat was placed in sternal decubitus with the hind limbs extended cranially to perform sacrococcygeal epidural block. The positive pole (cathode) was connected to the skin of the right inguinal region at the caudal aspect of the thigh and the neurostimulator was turned on and adjusted to 0.7 mA of stimulating current intensity, 0.1 ms duration and 1 Hz frequency. The needle for electrical neurolocation was introduced in the dorsal midline, perpendicular to the skin surface, between the spinous processes of S3-Cd1 in the skin. The exact injection point was obtained observed by the muscular response of the middle and distal third of the animal's tail with the neurostimulator adjusted to 0.3 mA of intensity, in the same duration and frequency as before. The total volume of 0.9 mL (0.22 mL/kg) of solution containing the combination of 0.6 mL of 0.75% levobupivacaine and 0.3 mL of 2% lidocaine was injected. The success of the block was confirmed by the loss of reflexes of the pelvic limbs and anal sphincter 10 min after the administration of the anesthetic solution.
Discussion: In this case, the use of the neurolocator helped to perform an effective sacrococcygeal block, allowing urethral catheterization without the addition of other analgesic agents. This technique desensitizes and relaxes muscles in the regions of the perineum, anus, distal colon and penis, being useful for performing urethral catheterization. The use of smaller anaesthetic volumes to perform sacrococcygeal block makes it possible to achieve a more localized anesthesia, without affecting the motor function of the pelvic limbs. However, in our report, using a combination of levobupivacaine and lidocaine, the pelvic limb block was also verified despite the low volume applied. A hypothesis that could justify the different responses in relation to the pelvic limb block compared to other studies would be due to the different physicalchemical properties of the drugs used. Lidocaine is known to be less fat-soluble than bupivacaine, so it tends to spread more through the epidural space, in order to result in more extensive blocks. The use of a neurostimulator using a fixed electric current of 0.7 mA, pulse 0.1 ms and a frequency of 1 Hz allowed the correct identification of the needle position for the application of the anesthetic.
Keywords: local block, nerve stimulation, levobupivacaine, lidocaine.
Downloads
Download data is not yet available.
References
Bernards C.M. 2004. Recent insights into the pharmacokinetics of spinal opioids and the relevance to opioid selection. Current Opinion in Anesthesiology, 17 (5): 441-447. DOI: 10.1097/00001503-200410000-00015.
Cooper E.S. 2015. Controversies in the management of feline urethral obstruction. Journal of Veterinary Emergency and Critical Care, 25 (1): 130-137. DOI: 10.1111/vec.12278.
Costa G.A. 2015. Avaliação sensitiva e motora de gatos submetidos à anestesia peridural guiada por neuroestimulação pela abordagem sacrococcígea com diferentes volumes de bupivacaína 0,5%. 112f. Rio de Janeiro, RJ. Dissertação (Mestrado em Medicina Veterinária) – Curso de Pós-Graduação, Universidade Federal Rural do Rio de Janeiro.
Garcia-Pereira F. 2018. Epidural anesthesia and analgesia in small animal practice: an update. The Veterinary Journal, 242: 24-32. DOI: 10.1016/j.tvjl.2018.09.007
Garcia-Pereira F.L., Hauptman J., Shih A.C., Laird S.E. & Pease A. 2010. Evaluation of electric neurostimulation to confirm correct placement of lumbosacral epidural injections in dogs. American Journal of Veterinary Research, 71 (2): 157-160. DOI: 10.2460/ajvr.71.2.157
Gregori T., Viscasillas J. & Benigni L. 2014. Ultrasonographic anatomy of the sacrococcygeal region and ultrasound‐guided epidural injection at the sacrococcygeal space in dogs. Veterinary Record, 175(3): 68-68. DOI: 10.1136/vr.102453
Jones, R. 2001. Epidural Analgesia in the Dog and Cat. The Veterinary Journal, 61 (2): 123–131. DOI:10.1053/tvjl.2000.0528
Otero P.E. 2013 Anestesia locorregional do neuroeixo. In: Klaumann P.R. & Otero P.E.(Eds). Anestesia Locorregional em Pequenos Animais. São Paulo: Roca, pp. 135-176.
Otero P.E., Verdier N., Zaccagnini A.S., Fuensalida S.E., Tarragona L. & Portela D.A. 2015. The use of a nerve stimulation test to confirm sacrococcygeal epidural needle placement in cats. Veterinary Anaesthesia and Analgesia, 42(1): 115-118. DOI:10.1111/vaa.12173
Sen O., Donmez N. F., Ornek D., Kalayci D., Arslan M. & Dikmen B. 2012. Efeitos da inclinação de agulha peridural e diferentes velocidades de injeção na distribuição de anestesia peridural. Revista Brasileira de Anestesiologia, 62(6): 857-862. DOI: 10.1590/S0034-70942012000600010
Skarda R.T. & Tranquilli W.J. 2013. Anestésicos locais. In: Tranquilli W.J., Thurmon J.C. & Grimm K.A. (Eds). Lumb & Jones' Anestesiologia e Analgesia Veterinária. São Paulo: Roca. pp. 428-454.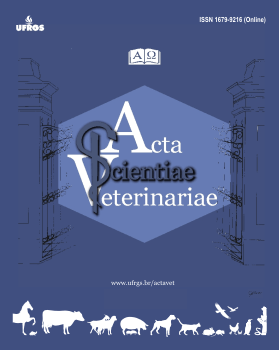 How to Cite
Caramalac, S. M., Leite, B.-S. N. N. C., Caramalac, S. M., Frazilio, F. de O., & Palumbo, M. I. P. (2021). Management of Urethral Obstruction in a Cat with Epidural Sacrococcygeal Anesthesia Guided by Electrical Neurostimulation. Acta Scientiae Veterinariae, 49. https://doi.org/10.22456/1679-9216.116354
License
This journal provides open access to all of its content on the principle that making research freely available to the public supports a greater global exchange of knowledge. Such access is associated with increased readership and increased citation of an author's work. For more information on this approach, see the Public Knowledge Project and Directory of Open Access Journals.
We define open access journals as journals that use a funding model that does not charge readers or their institutions for access. From the BOAI definition of "open access" we take the right of users to "read, download, copy, distribute, print, search, or link to the full texts of these articles" as mandatory for a journal to be included in the directory.
La Red y Portal Iberoamericano de Revistas Científicas de Veterinaria de Libre Acceso reúne a las principales publicaciones científicas editadas en España, Portugal, Latino América y otros países del ámbito latino