Myxomatous Degeneration of Atrioventricular Valves in a Crab-eating fox (Cerdocyon thous) - Echodopplercardiography Diagnosis
Abstract
Background: The myxomatosis degeneration is a degenerative cardiac valve disease, with a higher incidence in male and senile canids. The diagnosis is made by a doppler echocardiography exam. Although there are few reports on the occurrence of cardiopathies in wild dogs (Cerdocyon thous), some studies on their cardiological parameters can be found. Considering this, and knowing that the cardiopathies in wild canids are common post mortem findings, the objective of this study is to describe the echocardiography diagnosis of a case of myxomatous degeneration of the atrioventricular valves in 1 wild dog (Cerdocyon thous) living in captivity.
Case: It was treated at the Diagnostic Imaging Department of the Veterinary Hospital of the Federal University of Mato Grosso (HOVET-UFMT), 1 wild dog (C. thous), male, living in captivity with approximately 10-year-old, directed by the Center of Medicine and Research in Wild Animals of Cuiabá, to perform echocardiography exam. The patient was submitted to anesthesia for proper examination, which was used Esaote® machine model MyLabFive VET with sector scan transducer (4.0 -7.5 MHz). The longitudinal, transverse and apical scan planes were obtained through left and right parasternal windows. The evaluation of M mode exposed ejection fraction and shortening increased, of 81% and 47%, respectively, however it showed no increase in systolic and diastolic values of left ventricle, nor in right cavities on subjective evaluation. The relation between the left atrium (LA) and the aorta (Ao) remained normal, at 1.2 mm, with dimensions of 13.4 mm from the AO and 16.3 mm from LA, compatible with species parameters or domestic canines. The atrioventricular valves showed thickening and irregularities in their cusps, with great intensity in the left atrioventricular valve (LAV). The Doppler mode analysis revealed a turbulent systolic flow into the left atrium and right atrium, constituting transvalvular LAV and right atrioventricular valve- (RAV) regurgitation, both observed through the blood flow in colored Doppler and measured through the reflux velocity of 4.02 m/s of LAV and 2.17 m/s of RAV by the continuous Doppler, showing insufficiency of intense degree of LAV and moderate degree of RAV, no evidence of pulmonary hypertension. On the other hand, the relation between wave E and wave A (E/A) was 1.0, with increased transvalvular velocities and values of 0.95 m/s for wave E and A. The isovolumetric mitral relaxation time was approximately 76 m/s. The value of the pressure derivative (dp) in relation to time (dt) dp/dt measured from the LAV reflux was 1257 mmHg, within the limit considered normal for canines. Four months after the diagnosis, the patient died due to complications of chronic renal failure.
Discussion: Despite being a commonly diagnosed pathology in domestic canids, the myxomatous degeneration of atrioventricular valves is still little reported in wild canids. The evaluation of the results showed that although there was severe LAV regurgitation, there was no hypertrophy or compensatory dilation of the left cavities. However, there was a compensatory increase in the shortening fraction together with the ventricular relaxation deficit. The diagnosis of this condition in Cerdocyon thous demonstrates that the pathology can affect animals of advanced age and that its incidence needs to be determined in these captive species, in order to understand the real impact of this disease in these populations.
Keywords: cardiopathies, cardiac valve disease, degenerative disease, cardiological parameters, wild dog.
Título: Degeneração mixomatosa das válvulas atrioventriculares em cachorro-do-mato (Cerdocyon thous) - diagnóstico ecocardiográfico
Descritores: cardiopatias, doença valvular cardíaca, doença degenerativa, parâmetros cardiológicos, canídeo selvagem.
Downloads
Download data is not yet available.
References
Arruda A.F.D.P. 2018. Avaliação cardiológica de cachorros-do-mato (Cerdocyon Thous, Linnaeus 1758) de cativeiro. 63f. Uberlândia, MG. Tese (Doutorado) - Universidade Federal de Uberlândia, Programa de Pós-Graduação em Ciências Veterinárias.
Boon J.A. 2011. Evaluation of size, function, and hemodynamics. In: Veterinary Echocardiography. 2nd edn. Baltimore: Wiley- Blackwell, pp.153-247.
Chetboul V. & Tissier R. 2012. Echocardiographic assessment of canine degenerative mitral valve disease. Journal of Veterinary Cardiology. 1(14): 127-148.
Estrada A.H., Gerlach T.J., Schmidt M.K., Siegal-Willott J.L., Atkins A.L., Van Gilder J., Citino S.B. & Padilla L.R. 2009. Cardiac Evaluation of clinically healthy captive maned wolves (Chrysocyon brachyurus). Journal of Zoo and Wildlife Medicine. 40(3): 478-486.
Fox P.R. 2012. Pathology of myxomatous mitral valve disease in the dog. Journal of Veterinary Cardiology. 1(14): 103-126.
Guglielmini C., Rocconi F., Brugnola L., Valerio F., Mattei L. & Boari A. 2006. Echocardiographic and doppler echocardiographic findings in 11 wolves (Canis lupus). Veterinary Records. 158(4): 125-129.
Larouche-Lebel E., Loughran K.A. & Oyama M.A. 2019. Echocardiographic indices and severity of mitral regurgitation in dogs with preclinical degenerative mitral valve disease. Journal of Veterinary Internal Medicine. 33(2): 489-498.
Mendes T.G., Sousa P.R. & Carvalho R.O.A. 2019. Síndrome cardiorrenal em cães. Enciclopédia Biosfera. 16(29): 1375-1396.
Miller L.M., Van Vleet J.F. & Gal A. 2013. Sistema cardiovascular e vasos linfáticos. In: McGavin M.D. & Zachary J.F. (Eds). Base da Patologia em Veterinária. 5.ed. Rio de Janeiro: Elsevier Editora, pp.542-591.
Nelson T.A., Gregory D.G. & Laursen J.R. 2003. Canine Heartworms in coyotes in Illinois. Journal Wildlife Diseases. 39(3): 593-599.
Newell-Fugate A. & Lane E. 2009. Periaortic haemangiosarcoma in an African wild dog (Lycaon pictus). Journal of the South African Veterinary Association. 80(2): 108-110.
Ribeiro V.R.F. 2020. Perfil cardiovascular em cachorros-do-mato (Cerdocyon thous) de cativeiro e anestesiados com cetamina e midazolam. 83f. Botucatu, SP. Dissertação (Mestrado) – Universidade Estadual Paulista "Júlio De Mesquita Filho", Programa de Pós-Graduação em Medicina Veterinária.
Silva D.C.S. 2017. Avaliação de escore corporal e cardíaca em cachorro-do-mato (Cerdocyon thous - Linnaeus, 1766). 83f. Botucatu, SP. Dissertação (Mestrado) - Universidade Estadual Paulista "Júlio De Mesquita Filho", Programa de Pós-Graduação em Medicina Veterinária.
Sousa M.G., Córdova F.M., Ramos A.T., Viana E.B. & Castro C.L.M. 2016. Ventricular Septal defect in a crabeating fox (Cerdocyon thous). Journal of Zoo and Wildlife Medicine. 47: 667-670.
Swenson J., Orr K. & Bradley G.A. 2012. Hemorrhagic and necrotizing hepatites associated with administration of a modified live canine adenovirus-2 vaccine in a maned wolf (Chrysocyon brachyurus). Journal of Zoo and Wildlife Medicine / American Association of Zoo Veterinarians. 43(2): 375-383.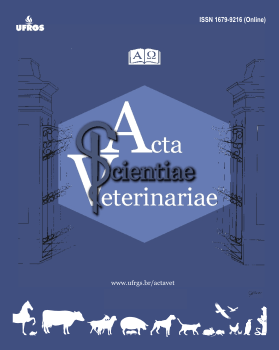 How to Cite
Santos, J. G., Franco, E. R. de J., Fliegner, E. B., Borba, J. de P., Ribeiro, M., Colodel, E. M., Morgado, T. O., & Néspoli, P. E. B. (2022). Myxomatous Degeneration of Atrioventricular Valves in a Crab-eating fox (Cerdocyon thous) - Echodopplercardiography Diagnosis. Acta Scientiae Veterinariae, 50. https://doi.org/10.22456/1679-9216.114524
License
This journal provides open access to all of its content on the principle that making research freely available to the public supports a greater global exchange of knowledge. Such access is associated with increased readership and increased citation of an author's work. For more information on this approach, see the Public Knowledge Project and Directory of Open Access Journals.
We define open access journals as journals that use a funding model that does not charge readers or their institutions for access. From the BOAI definition of "open access" we take the right of users to "read, download, copy, distribute, print, search, or link to the full texts of these articles" as mandatory for a journal to be included in the directory.
La Red y Portal Iberoamericano de Revistas Científicas de Veterinaria de Libre Acceso reúne a las principales publicaciones científicas editadas en España, Portugal, Latino América y otros países del ámbito latino