Anesthesia for Osteosynthesis of Femur in a Cane Toad (Rhinella marina)
Abstract
Background: The taxonomic order Anura is composed of frogs and toads, with approximately 6000 species worldwide, of which 900 species are found in Brazil. Rhinella marina, popularly known as "sapo-cururu," is the most commonly found frog in Brazil. Although most of these animals are found in research laboratories and zoos, they are increasingly being reared as pets. Therefore, sedation or anesthesia is often necessary for these animals to facilitate medical care, complementary examinations, or surgical procedures. However, there are only a few reports of anesthesia in frogs. Therefore, the present report aimed to describe the anesthetic protocol for femoral osteosynthetic surgery in an adult cane toad.
Case: An adult cane toad presented with a history of difficulty in moving the left hindlimb and loss of limb movements. Radiography showed a simple, complete, transverse, and closed average shaft of the left femur and bone shaft fracture deviation. The animal was referred for an osteosynthetic surgery to stabilize the fracture. Animal restraint was performed using humidified gloves on the operating table. As premedication, ketamine, meloxicam, and morphine were administered, and general anesthesia was induced with isoflurane through a face mask. The anesthesia was maintained with isoflurane through a drip on the animal's back for cutaneous absorption. Lidocaine (2%) anesthetic gel was applied on the incision line to complement the somatic analgesia. The fracture was fixed using an intramedullary Kirschner pin. The heart rate was measured based on the beep of the arterial pulse using a Doppler ultrasonic device, respiratory rate was recorded by visual observation of the animal's respiratory motion, and body temperature was assessed using an esophageal digital thermometer—all of these remained stable during the procedure. Morphine, enrofloxacin, and meloxicam were administered postoperatively. The animal was discharged from the hospital seven days after the surgery, and 14 days later, the animal was deemed clinically stable with favorable wound healing.
Discussion: Toads use their skin to breathe and maintain osmotic balance. Therefore, their skin is extremely sensitive to dehydration, requiring constant wetting. General anesthesia in amphibians is recommended for prolonged and painful procedures, as in the present case. Different anesthetics, analgesics, and associated drugs may be used. Ketamine is often used for chemical restraint in amphibians, and the induction and recovery times may vary due to sensitivity and drug resistance. Inhalational anesthesia with isoflurane may also be effective; in the present case, the anesthetic was administered using a mask placed on the frog's skin, without any irritation. Analgesia is essential for any animal, and amphibians have opioid receptors that may be used as targets of non-steroidal anti-inflammatory agents. As indicated for all species, the animal was monitored throughout the procedure. Assessment of heartbeat is the simplest way to monitor anesthesia using Doppler (on the heart or throat); in the present case, was placed on the axillary artery for clear auscultation. In addition, other parameters, such as temperature and primary respiratory movements, were monitored. Anesthetic recovery can take hours or even days, whereas excretion depends on the metabolic rate of each animal. In the present case, recovery was observed 4 h after completion of the procedure, using fresh water on the animal's body to accelerate recovery, as indicated in the literature. This case demonstrated that anesthesia and medications used for anesthesia induction, maintenance, and recovery are safe in toads. For cane toads, during femoral osteosynthesis, this anesthetic procedure has never been described previously in the literature. Finally, such information can aid veterinarians in performing safe and adequate analgesic and anesthetic procedures for the wellbeing of animals.
Keywords: amphibians, analgesia, surgery, skin absorption.
Downloads
Download data is not yet available.
References
Bícego-Nahas K.C., Gargaglioni L.H. & Branco L.G.S. 2001. Seasonal Changes in the Preferred Body Temperature, Cardiovascular, and Respiratory Responses to Hypoxia in the Toad. Bufo paracnemis. Journal of Experimental Zoology. 289(6): 359-365.
Doss G.A., Nevarez J.G., Fowlkes N. & Cunha A.F. 2014. Evaluation of metomidate hydrochloride as an anesthetic in leopard frogs (Rana pipiens). Journal of Zoo and Wildlife Medicine. 45(1): 53-59.
Fan Y., Yue X., Xue F., Brauth S.E., Tang Y. & Fang G. 2018. The right thalamus may play an important role in anesthesia-awakening regulation in frogs. Peer J. 6: e4516.
Fischer D., Lorenz N., Heuser W., Kämpfer P., Scholz H.Z. & Lierz M. 2012. Abscesses associated with a Brucella inopinata-like bacterium in a big-eyed tree frog (Leptopelis vermiculatus). Journal of Zoo and Wildlife Medicine. 43(3): 625-628.
Hernandez S.E., Sernia C. & Bradley A.J. 2013. The effect of three anaesthetic protocols on the stress response in cane toads (Rhinella marina). Veterinary Anaesthesia and Analgesia. 39(6): 584-590.
Jaramillo E.Y. 2012. Urgência em Anfíbios. In: Rabelo R. (Ed). Emergências de Pequenos Animais Condutas Clínicas e Cirúrgicas no Paciente Grave. Rio de Janeiro: Elsevier, pp.621-625.
Longley L.A. 2008. Amphibian anaesthesia. In: Longley L.A. (Ed). Anaesthesia of Exotic Pets. London: Saunders Elsevier, pp.245-258.
Morrison K.E., Strahl-Heldreth D. & Clark-Price S.C. 2016. Isoflurane, sevoflurane and desflurane use in cane toads (Rhinella marina). Veterinary Record Open. 3(1): 000185.
Natalini C.C. 2007. Protocolo de anestesia geral volátil nas Espécies animais. In: Natalini C.C. (Ed). Teoria e Técnicas em Anestesiologia Veterinária. Porto Alegre: Artmed, pp.125-167.
Oliveira P.M.A. 2003. Anfíbios. In: Oliveira P.M.A. (Ed). Animais Silvestres e Exóticos na Clínica Particular. São Paulo: Roca, pp.135-196.
Paula C.D. & Toledo L.F. 2014. Anfíbios (Rã, Sapo e Cobra-cega). In: Cubas Z.S., Silva J.C. & Catão-Dias J.L. (Eds). Tratado de Animais Selvagens. 2.ed. São Paulo: Roca, pp.132-151.
Posner L.P., Bailey K.M., Richardson E.Y., Motsinger-Reif A.A. & Harms C.A. 2013. Alfaxalone anesthesia in bullfrogs (Lithobates catesbeiana) by injection or immersion. Journal of Zoo and Wildlife Medicine. 44(4): 965-971.
Speare R., Speare B., Muller R. & Bishop P. 2014. Anesthesia of tadpoles of the southern brown tree frog (Litoria ewingii) with isoeugenol (AQUI-S). Journal of Zoo and Wildlife Medicine. 45(3): 492-496.
Stetter M. 2007. Amphibians. In: West G., Heard D. & Caulket N. (Eds). Zoo Animal & Wildlife Immobilization and Anesthesia. Hoboken: Blackwell Publishing, pp.205-209.
Wright K.M. 2006. Overview of Amphibian medicine. In: Mader D.R. (Ed). Reptile Medicine and Surgery. 2nd edn. St. Louis: Saunders Elsevier, pp.941-971.
Young S., Speare R., Bergerand L. & Skerratt L.F. 2012. Chloramphenicol with fluid and Electrolyte therapy cures terminally ill green tree frogs (Litoria caerulea) with chytridio mycosis. Journal of Zoo and Wildlife Medicine. 43(2): 330-337.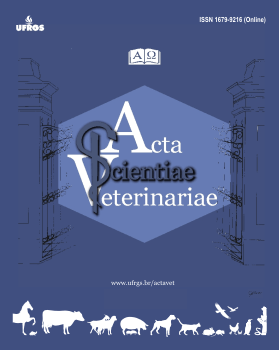 How to Cite
Gorczak, R., Avila Valandro, M., Villamayor Garcia, Érika F., Coelho, A. C., Zafalon da Silva, B., & Vasconcelos Soares, A. (2021). Anesthesia for Osteosynthesis of Femur in a Cane Toad (Rhinella marina). Acta Scientiae Veterinariae, 49. https://doi.org/10.22456/1679-9216.114175
License
This journal provides open access to all of its content on the principle that making research freely available to the public supports a greater global exchange of knowledge. Such access is associated with increased readership and increased citation of an author's work. For more information on this approach, see the Public Knowledge Project and Directory of Open Access Journals.
We define open access journals as journals that use a funding model that does not charge readers or their institutions for access. From the BOAI definition of "open access" we take the right of users to "read, download, copy, distribute, print, search, or link to the full texts of these articles" as mandatory for a journal to be included in the directory.
La Red y Portal Iberoamericano de Revistas Científicas de Veterinaria de Libre Acceso reúne a las principales publicaciones científicas editadas en España, Portugal, Latino América y otros países del ámbito latino