Hepatogenous Photosensitization in Steer by Brachiaria decumbens
Abstract
Background: Although the etiology of hepatogenous photosensitization has not yet been fully elucidated, it is known that hepatotoxic substances (saponins) present in grasses of the genus Brachiaria spp. are responsible for intoxication of several species, causing great economic losses in the whole world. Since this grass is the source of food for the herd in Brazil, and other countries of the world, the aim of this paper is to describe the epidemiological, clinical, laboratory and anatomopathological aspects of a steer with this disease.
Case: A 3-year-old Nellore steer was referred to veterinary care at a property in Bahia, with a 3-week history of swelling, loss of cutaneous tissue in the ear and scrotum region, and dry faeces. The animal was raised in pasture with Brachiaria decumbens along with five animals of different age and sex; however, it was the only one to present symptoms. Although the animal had been treated at the farm, there was no clinical improvement. On clinical examination, the steer was apathetic with jaundiced mucous membranes, nasal and ocular discharge, epiphora, and ulcers on the labial and gum commissure. The steer had leukocytosis with neutrophilia, anemia, and hyperfibrinogemia. The body condition score (BCS) was 3 (BCS ranges from 1 to 9), and the skin lesions observed were bedsores, necrosis and scabs in several regions. The increase in liver enzymes (GGT, AST) indicated hepatic impairment, suggesting a case of hepatogenous photosensitization. The therapeutic protocol instituted was enteral hydration, electrolyte replacement, topical application of ointment in the injured areas. In addition, it was recommended to maintain the animal in the shade, supply of good quality grass, and a new clinical evaluation in seven days. On new examination, it was observed that there was no satisfactory clinical improvement of the animal, and persistence of laboratory changes. Despite the poor prognosis, treatment was continued for another month with the same recommendations. However, in view of the severe clinical condition and unfavorable prognosis, the animal was submitted euthanasia. Necropsy revealed extensive areas of bedsores, erythema, severe jaundice in the mucous membranes, eyeballs and opaque corneas. The liver had an enlarged volume with bulging edges and a greenish color. The kidneys had a pale brownish color, with an irregular and mottled subcapsular surface, with blackened and depressed spots. Histologically, the cytoplasm of the hepatocytes was finely vacuolated, sometimes refringent and with an abundant presence of bile pigment. It was also observed in the middle of the liver parenchyma, multiple foci of accumulation of macrophages filled with vacuoles of different sizes containing saponins and crystals of saponins inside bile ducts. Furthermore, it was possible to observe hypertrophy and hyperplasia of Kupffer cells, disarrangement of hepatocytes with individual necrosis of hepatocytes.
Discussion: The diagnosis of hepatogenous photosensitization was based on history, clinical, laboratory and anatomopathological findings. Serum biochemistry was important to measure hepatic impairment and possible secondary lesions, which were confirmed by the necropsy. Although hepatogenous photosensitization is less common in adult cattle, it must be considered in the differential diagnosis of skin lesions, reduced appetite, and jaundice. Since it was a sporadic case, individual predisposition is probably a preponderant factor.
Keywords: cattle, photodermatitis, intoxication, liver injury, skin lesions.
Downloads
Download data is not yet available.
References
Albernaz T.T., Silveira J.A.S., Silva N.S., Oliveira H.S., Reis A.S.B., Oliveira, C.M.C., Duarte M.D. & Barbosa J.D. 2010. Fotossensibilização em ovinos associada à ingestão de Brachiaria brizantha no estado do Pará. Pesquisa Veterinária Brasileira. 30(9): 741-748.
Barbosa J.D., Oliveira C.M.C., Tokarnia C.H. & Peixoto P.V. 2006. Fotossensibilização hepatógena em equinos pela ingestão de Brachiaria humidicola (Gramineae) no Estado do Pará. Pesquisa Veterinária Brasileira. 26(3): 147-153.
Cardona-Álvarez J., Vargas-Vilória M. & Paredes-Herbach E. 2015. Estudio clínico e histopatológico de la dermatitis fototóxica en terneros Cebú en pastoreo de Brachiaria decumbens. Revista MVZ Córdoba. 21(2): 5366-5380.
Connor H.E. 1977. Poisonous Plants in New Zealand. 2nd edn. Wellington: Keating Government Printer, pp.64-70.
Costa S.Z.R., Nespoli P.B., Bezerra Júnior P.S., Nogueira V.A., Driemeier D., Boabaid F.M., Peixoto P.V., Armién A.M. & França T.N. 2013. Avaliação lectino-histoquímica de fígado e rim de ovinos com fotossensibilização causada por Brachiaria decumbens. Pesquisa Veterinária Brasileira. 33(8): 955-962.
Cruz C., Driemeier D., Pires V.S. & Schenkel E.P. 2001. Experimentally induced cholangiohepatopathy by dosing sheep with fractionated extracts from Brachiaria decumbens. Journal of Veterinary Diagnostic Investigation. 13(2): 170-172.
Faccin T.C., Brumatti R.C., Lima S.C., Madureira R.C., Fernandes C.E.S., Kommers G.D. & Lemos R.A.A. 2015. Perdas econômicas pela condenação em matadouro frigorífico de fígados de bovino por fibrose causada por ingestão de Braquiaria spp. Pesquisa Veterinária Brasileira. 35(6): 547-551.
Jain N.C. 1993. Essentials of Veterinary Hematology. Philadelphia: Lea & Febiger, pp.66-67.
Kerr M.G. 2003. Exames Laboratoriais em Medicina Veterinária: Bioquímica Clínica e Hematologia Veterinária. 2.ed. São Paulo: Roca, pp.119-130.
Lemos R.A.A. & Purisco E. 2002. Plantas Que Causam Fotossensibilização Hepatógena. In: Lemos R.A.A., Barros N. & Brum K.B. (Eds). Enfermidades de Interesse Econômico em Bovinos de Corte: Perguntas e Respostas. Campo Grande: Editora UFMS, pp.147-155.
Lemos R.A.A., Ferreira L.C.L., Silva S.M., Nakazato L. & Salvador S.C. 1996. Fotossensibilização e colangiopatia associada a cristais em ovinos em pastagem com Brachiaria decumbens. Ciência Rural. 26(1): 109-113.
Lima F.G., Ribeiro C.S., Andrade D.D.F., Guimarães V.Y., Wysocki Júnior H.L., Haraguchi M. & Fioravanti M.C.S. 2009. Braquiária: fatores que interferem nos níveis de saponina. Ciência Animal Brasileira. 1: 367-372.
Mendonça F.S., Camargo L.M., Freitas S.H., Dória R.G.S., Baratella-Evêncio L. & Evêncio Neto J. 2008. Aspectos clínicos e patológicos de um surto de Fotossensibilização hepatógena em ovinos pela ingestão de Brachiaria decumbens (Gramineae) no município de Cuiabá, Mato Grosso. Ciência Animal Brasileira. 9(4): 1034-1041.
Meyer D.J., Coles H.E. & Rich L.J. 1995. Medicina de Laboratório Veterinária: Interpretação e Diagnóstico. São Paulo: Roca, pp.3-6.
Moan J. & Sommer S. 1985. Oxygen dependence of the photosensitizing effect of hematoporphyrin derivative in NHIK 3025 cells. Cancer Research. 45(4): 1608-1610.
Molento M.B., Tasca C., Gallo A., Ferreira M., Bononi E & Stecca E. 2004. Método Famacha como parâmetro clínico individual de infecção por Haemonchus contortus em pequenos ruminantes. Ciência Rural. 34(4): 1139-1145.
Moreira N., Martin C.C., Hilgert A.R., Tostes R.A. & Viott A.M. 2018. Surto de fotossensibilização hepatógena em bovinos por ingestão de Brachiaria decumbens no município de Cascavel-PR. Archives of Veterinary Science. 23(1): 52-62.
Oleszek W.A. 2002. Chromatographic determination of plant saponins. Journal of Chromatography A. 967(1): 147-162.
Oliveira C.H.S., Barbosa J.D., Oliveira C.M.C., Bastianetto E., Melo M.M., Haraguchic M., Freitas L.G.L., Silva M.X. & Leite R.C. 2013. Hepatic photosensitization in buffaloes intoxicated by Brachiaria decumbens in Minas Gerais State, Brazil. Toxicon. 73: 121-129.
Pedroso P.M.O., Pinheiro E.E.G., Oliveira R.S. & Macêdo J.T.S.A. 2018. Plantas tóxicas para animais de produção na Região do Recôncavo da Bahia. Revista Brasileira de Higiene e Sanidade Animal. 12(1): 120-132.
Quinn J., Kessell A. & Weston L. 2014. Secondary Plant Products Causing Photosensitization in Grazing Herbivores: Their Structure, Activity and Regulation. International Journal of Molecular Sciences. 15(1): 1441-1465.
Radostits O.M., Gay C.C., Blood D.C. Hinchcliff K.W & Peter D.C. 2007. Veterinary Medicine: A Textbook of the Diseases of Cattle, Horses, Sheep, Pigs and Goats. 10th edn. London: Saunders, pp.347-360.
Riet-Correa F. & Méndez M.C. 2009. Intoxicações por Plantas e Micotoxinas. In: Riet-Correa F., Schild A.L., Lemos R.A.A. & Borges J.R.J. (Eds). Doenças de Ruminantes e Eqüídeos. 3.ed. Santa Maria: Pallotti, pp.99-2019.
Riet-Correa F., Haraguchi M., Dantas A.F.M., Burakovas R.G., Yokosuka A., Mimaki Y., Medeiros R.M.T. & Matos P.F. 2009. Sheep poisoning by Panicum dichotomiflorum in northeastern Brazil. Pesquisa Veterinária Brasileira. 29(1): 94-98.
Rosa F.B., Rubin M.I.B., Martins T.B., Lemos R.A.A., Gomes D.C., Pupin R.C., Lima S.C. & Barros C.S.L. 2016. Spontaneous poisoning by Brachiaria decumbens in goats. Pesquisa Veterinária Brasileira. 36(5): 389-396.
Sant'ana F.J.F., Reis Júnior J.L., Freitas Neto A.P., Moreira Júnior C.A., Vulcani V.A.S., Rabelo R.E. & Terra J.P. 2014. Plantas tóxicas para ruminantes do Sudoeste de Goiás. Ciência Rural. 44(5): 875-881.
Santos J.A., Riet-Correa F., Simoes S.V.D. & Barros C.S.L. 2008. Patogênese, sinais clínicos e patologia das doenças causadas por plantas hepatotóxicas em ruminantes e eqüinos no Brasil. Pesquisa Veterinária Brasileira. 28(1): 1-14.
Saturnino K.C., Mariani T.M., Barbosa-Ferreira M., Brum K.B., Fernandes C.E.S. & Lemos R.A.A. 2010. Intoxicação experimental por Brachiaria decumbens em ovinos confinados. Pesquisa Veterinária Brasileira. 30(3): 195-202.
Scheie E., Flåøyen A., Moan J. & Berg K. 2002. Phylloeritrin: Mechanisms for cellular uptake and location, photosensitization and spectroscopic evaluation. New Zealand Veterinary Journal. 50(3): 104-110.
Silveira J.A.S., Albernaz T.T., Silva N.S., Lopes C.T.A., Cerqueira V.D., Oliveira C.M.C. & Duarte M.D. 2009. Fotossensibilização hepatógena em caprinos associada à ingestão de Brachiaria brizantha no estado do Pará. In: VIII Congresso Brasileiro de Buiatria (Belo Horizonte, Brazil). Ciência Animal Brasileira. Suppl 1: 336-341.
Souza R.I.C., Riet-Correa F., Brum K.B., Fernandes C.E., Barbosa-Ferreira M. & Lemos R.A.A. 2010. Intoxicação por Brachiaria spp. em bovinos no Mato Grosso do Sul. Pesquisa Veterinária Brasileira. 30(12): 1036-1042.
Tokarnia C.H., Brito M.F., Barbosa J.D., Peixoto P.V. & Döbereiner J. 2012. Plantas Tóxicas do Brasil para Animais de Produção. 2.ed. Rio de Janeiro: Helianthus, pp.323-335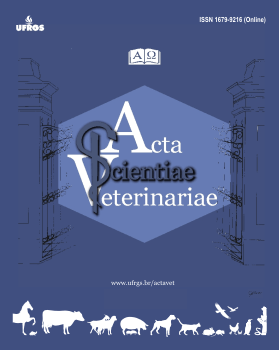 How to Cite
Guimarães Carmo, J. dos S., Nunes Costa, J., Almeida Biscarde, C. E., da Anunciação Pimentel, L., de Oliveira Filho, J. C., & Abreu Mendonça, A. P. (2021). Hepatogenous Photosensitization in Steer by Brachiaria decumbens. Acta Scientiae Veterinariae, 49. https://doi.org/10.22456/1679-9216.114124
License
This journal provides open access to all of its content on the principle that making research freely available to the public supports a greater global exchange of knowledge. Such access is associated with increased readership and increased citation of an author's work. For more information on this approach, see the Public Knowledge Project and Directory of Open Access Journals.
We define open access journals as journals that use a funding model that does not charge readers or their institutions for access. From the BOAI definition of "open access" we take the right of users to "read, download, copy, distribute, print, search, or link to the full texts of these articles" as mandatory for a journal to be included in the directory.
La Red y Portal Iberoamericano de Revistas Científicas de Veterinaria de Libre Acceso reúne a las principales publicaciones científicas editadas en España, Portugal, Latino América y otros países del ámbito latino