Partial Penectomy in a Horse with Paraphimosis
Abstract
Background: In horses, an increase in the volume of penis and foreskin can be caused by trauma. The resultant edema interferes with the retraction of the penis and cause paraphimosis. Surgical intervention through penectomy is indicated in cases wherein an alternative treatment is not feasible. Partial penectomy can prolong the life and reproductive function of many stallions. The present study aims to report on the methodological, functional, and economic feasibility of a successful case of the use of Williams technique for partial penectomy performed in the field in a horse with paraphimosis, preserving urinary, productive, and reproductive functions.
Case: A 10-year-old horse weighing 500 kg had clinical signs of paraphimosis due to the formation of granulomatous tissue following trauma to the glans region. A surgical intervention, namely a partial penectomy was decided to be performed to prevent injury from priapism. Due to the limited resources provided by the owner and the impossibility of moving the animal to a surgical center in a veterinary hospital, the procedure was performed in the field, with prior sanitization and preparation of the environment used to perform surgery. The horse was tranquilized with intravenous xylazine hydrochloride and acepromazine, with subsequent induction of anesthesia with ready-to-use (RTU) guaifenesin bolus and maintenance of anesthesia with an intravenous association of RTU guaifenesin, xylazine hydrochloride, and ketamine. The distal third of the penis was amputated using the recommended Williams technique. Although the complications like dehiscence and emergence of granulation tissue occurred after surgery, these were controlled in the daily follow-up of the animal and post-surgical treatment.
Discussion:Paraphimosis predisposed the horse to abrasions and edema of the exposed portion of the penis. However, there was no urine retention, which suggested that the urethral ostium and the urethra had no lesions. Because the granulomatous lesions were located in the distal third of the penis and the extent of penile exposure was small, the partial penectomy technique proved effective in solving the permanent exposure of the penis. The anesthetic protocol used was inexpensive, easy to execute, and effective, and no anesthetic complications occurred, proving this protocol to be efficient for the anesthetic induction of animals in the field.In addition to being reliable and widespread, the Williams technique was recommended to prevent possible urethral stenosis and the development of contact dermatitis by urine. This technique makes a rapid recovery of the animal possible, with improvement of its physiological parameters, and due to ease of being able to be done in the field, it is also inexpensive. The edema and the granulation tissue that occurred after surgery were controlled with medication. In general, post-penectomy animals are not used for reproduction. This makes the present report an important contribution, because in cases in which the lesions present a distal disposition and the penile exposure is small, stallions have a chance of maintaining reproductive function after surgery, even with a long period of evolution before surgical treatment. This was demonstrated in the present case, as the animal in this case later impregnated a mare, with the pregnancy confirmed by ultrasound examination. Partial penectomy is a resolution technique for cases of traumatic paraphimosis, in which exuberant granulation tissue is formed in the distal third of the penis, with a long period of evolution. The surgery can be done in the field, with a low surgical cost to the owner, and a good productive and reproductive prognosis for the animal.
Keywords: partial penectomy, paraphimosis, Williams technique, horse.
Descritores: penectomia parcial, parafimose, técnica de William, equino.
Título: Penectomia em equino com parafimose
Downloads
Download data is not yet available.
References
Alves G.E.S. 2015. Aspectos de manejo e condições genitais que podem constituir ameaça à longevidade reprodutiva de garanhões. Revista Brasileira de Reprodução Animal. 39(1): 208-213.
Brouwer E.D., Ribera T., Climent F. & Prades M. 2017. Alternative method to facilitate resolution of paraphimosis after penile trauma in the horse. Equine Veterinary Education. 29: 655-658.
Carvalho A.M., Munhoz T.C.P., Artmann T.A., Pimentel L.A., Toma H.S., Yamauchi K.C.I. & Camargo L.M. 2015. Fimose e parafimose decorrente de fibrose cicatricial em equinos – Relato de cinco casos. Revista Brasileira de Higiene e Sanidade Animal. 9(4): 645-664.
Dias M.C., Araújo M. S., Kievitsbosch T. & Prestes N.C. 2013. Penectomia em equino com carcinoma de células escamosas. Enciclopédia Biosfera. 9(17): 1-10.
Eurides D. & Silva O.C. 2017. Postoplastia e penectomia parcial em equino com carcinoma de células escamosas. REDVET Revista Electrónica de Veterinaria. 18: 1-8.
Feitosa F.L.F. 2008. Sistema Reprodutor. In: Feitosa F.L.F (Ed). Semiologia Veterinária: A Arte do Diagnóstico. 2.ed. São Paulo: Editora Roca, pp.365-369.
Melo L.R.B., Padilha M.L., Souto E.P.F., Assis D.M., Alves R.C., Correia G.S., Correa F.R. & Dantas A.F.M. 2020. Papiloma peniano associado a parafimose persistente em um equino. Acta Scientiae Veterinariae. 48(Suppl 1): 569, 6p.
Muir W.W., Hubbe J.A.E., Skarda R.T. & Bednarski R.M. 2008. Anestesia local em bovinos, ovejas, cabras y cerdos. In: Manual de Anestesia Veterinária. 4.ed. Madrid: Elsevier, pp.72-99.
Nieman R.T., Crusco S.E., Souza R.D., Maiello G.A., Pereira J.S., Diniz G.S. & Moraes A.P.L. 2020. Penectomia parcial como tratamento de paralisia crônica secundária a hematoma peniano em um equino - relato de caso. Revista Brasileira de Reprodução Animal. 44(3): 116-120.
Rabbers A.S., Rabelo R.E., Vulcani V.A., Sant'ana F.J., Lima C.R. & Silva L.A. 2014. Diagnóstico clínico, laboratorial e tratamento cirúrgico do carcinoma de células escamosas no genital de equinos machos: relatos de dois casos. Revista Brasileira De Ciência Veterinária. 21(1): 12-18.
Ramalho L.N., Manzan I.B., Silva G.L.G., Oporto C.I.S., Yamada D.I. & Andrade Junior L.R.P. 2018. Penectomia parcial em equino com carcinoma espinocelular: relato de caso. Revista de Educação Continuada em Medicina Veterinária e Zootecnia do CRMV-SP. 16(3): 60-68.
Schumacher J. 2019. Penis and Prepuce. In: Auer J. & Stick J. (Eds). Equine Surgery. 5th edn. Saint Louis: Elsevier, pp.1035-1062.
Schumacher J. & Varner D.D. 2011. Abnormalities of the penis and prepuce. In: McKinnon A.O., Squires E.L., Vaala W.E. & Varner D.D. (Eds). Equine Reproduction. 2nd edn. Ames: Wiley Blackwell, pp.1130-1144.
Thrall M.A., Weiser G., Allison R.W. & Campbell T.W. 2015. Avaliação Laboratorial das Proteínas do Plasma e do Soro Sanguíneo. In: Fagliari J.F. & Thiesen R. (Eds). Hematologia e Bioquímica Clínica Veterinária. 2.ed. São Paulo: Roca, pp.978-1001.
Viana L.F., Wenceslau A.A., Costa S.C.L., Figueiredo M.A.F., Dias F.S.S. & Ferreira M.L. 2014. Tratamentos complementares para ferida com tecido de granulação exuberante em um equino - Relato de caso. Brazilian Journal of Veterinary Medicine. 36(4): 417-420.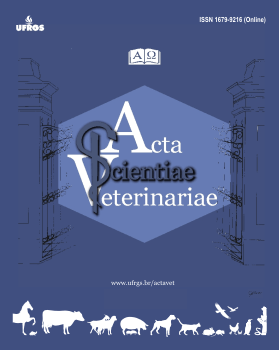 How to Cite
Rocha, L. R., Ott, L. C., Chenard, M. G., de Gouvêa, L. V., Monteiro, A. R., Mendonça, J. de S., Barroso Lessa, D. A., & Helayel, M. A. (2021). Partial Penectomy in a Horse with Paraphimosis. Acta Scientiae Veterinariae, 49. https://doi.org/10.22456/1679-9216.113978
License
This journal provides open access to all of its content on the principle that making research freely available to the public supports a greater global exchange of knowledge. Such access is associated with increased readership and increased citation of an author's work. For more information on this approach, see the Public Knowledge Project and Directory of Open Access Journals.
We define open access journals as journals that use a funding model that does not charge readers or their institutions for access. From the BOAI definition of "open access" we take the right of users to "read, download, copy, distribute, print, search, or link to the full texts of these articles" as mandatory for a journal to be included in the directory.
La Red y Portal Iberoamericano de Revistas Científicas de Veterinaria de Libre Acceso reúne a las principales publicaciones científicas editadas en España, Portugal, Latino América y otros países del ámbito latino