Pulmonar Granular Cell Tumor in a Horse
Abstract
Background: The occurrence of neoplasms in horses is relatively low. Granular cell tumor is a seldom diagnosed neoplasm, usually benign, of mesenchymal origin. Controversies exist regarding its origin, which is possibly from Schwann cells or cells with neuroendocrine differentiation. Despite being one of the main primary neoplasms in the lungs of horses, the number of cases is low in comparison to that of secondary lung tumors. Thus, this study proposes to report the anatomopathological aspects in a horse with granular cell tumor of primary pulmonary origin.
Case: An 11-year-old female Quarter Horse breed underwent exploratory right lateral thoracotomy after presenting with chronic respiratory changes. During the operation, tumor masses were found in the right and left caudal pulmonary lobes. Due to the severity of clinical respiratory signs and the extent of the lesions, the animal was subjected to euthanasia and anatomopathological examination. Upon necroscopic examination, a tumor mass was found in the middle third of the left caudal lobe, rounded to flattened, measuring 10.0 × 8.0 cm in height and length, white in color, of firm consistency, smooth and regular surface and rising to the lung surface. When sectioned, the mass showed to be composed of multiple firm and dense circular lobes, separated by a thin layer of connective tissue. The tumor invaded the lumen of nearby segmental and subsegmental bronchi, which were partially or totally obstructed by the mass. In the right lung, multiple similar nodules were observed, accompanied by peritumoral hemorrhage. Histopathological analysis of the new formation revealed a dense cluster of cells that expanded over the lung parenchyma. The neoplastic cells were pleomorphic, moderately cohesive, without defined borders, with abundant cytoplasm, densely eosinophilic and finely granular. Intracytoplasmic granules were well evidenced by periodic acid Schiff staining (PAS). The cell nucleus was rounded to oval, excentric, markedly basophilic and with dense chromatin. There was moderate anisocytosis and mild anisokaryosis, with rare mitotic figures. Immunohistochemical analysis revealed positive staining for anti-vimentin and anti-S100 antibodies, confirming the diagnosis of granular cell tumor.
Discussion: Granular cell tumors have no predisposition as to breed, sex or age. However, most of the described cases are reported in female horses aged around 13 years. The advanced age of the diagnosed animals may be related to late definitive diagnosis, since the clinical signs are nonspecific and treated palliatively like other respiratory diseases. Macroscopically, this tumor is more common in the multinodular form and, as observed in this case, it has a greater capacity for infiltration. Histologically, the visualization of large, polygonal cells, with a wide cytoplasm containing eosinophilic granules leads to the diagnosis of granular cell tumor. However, PAS staining and immunohistochemical tests were essential for the diagnostic conclusion in this report, confirming the presence of cytoplasmic granules and the mesenchymal and neuroectodermal origin of this neoplasm, respectively. Thus, considering the low occurrence of pulmonary granular cell tumor, the description of this case contributes to the basis of the knowledge of medical-veterinary professionals about this tumor in its clinical and diagnostic aspects.
Keywords: Schwann cells, immunohistochemistry, neoplasia, lung.
Descritores: células de Schwann, imuno-histoquímica, neoplasia, pulmão.
Título: Tumor de células granulares pulmonar em um equino
Downloads
Download data is not yet available.
References
Baccarin R.Y.A. & Alvarenga J. 1999. Toracotomia em equinos. Brazilian Journal of Veterinary Research and Animal Science. 36(6): 290-295.
Baccarin R.Y.A., Silva L.C.L.C., Belli C.B., Fernandes W.R. & Zoppa A.L.V. 2011. Ocorrência de neoplasias em 15 anos de atendimento hospitalar de equídeos. Brazilian Journal of Veterinary Research and Animal Science. 48(6): 439-445.
Baccarin R.Y.A., Silva L.C.L.C., Zoppa A.L.V. & Fernandes W.R. 2002. Tórax agudo em equinos. Revista de Educação Continuada em Medicina Veterinária e Zootecnia do CRMV-SP. 5(1): 59-72.
Bulak K., Lopuszynki W., Lutnicki K., Pomorska-Zniszczynska A., Smiech A. & Jodłowska-Jedrych B. 2019. Granular Cell Tumor in a Horse: Multifocal Pulmonary Distribution and Evidence of Autophagy in Tumorigenesis. Journal of Equine Veterinary Science. 79: 23-29.
Carvalho F.K.L., Dantas A.F.M., Riet-Correa F., Andrade R.L.F.S., Nóbrega Neto P.I., Miranda Neto E.G., Simões S.V.D. & Azevedo S.S. 2014. Estudo retrospectivo das neoplasias em ruminantes e equídeos no semiárido do Nordeste Brasileiro. Pesquisa Veterinária Brasileira. 34(3): 211-216.
Caswell J.L. & Williams K.J. 2015. Respiratory System. In: Maxie M.G. (Ed). Jubby, Kennedy and Palmers Pathology of Domestic Animals. v.II. 6th edn. Philadelphia: Elsevier Saunders, pp.465-591.
Davis E.G. & Rush B.R. 2013. Diagnostic challenges: Equine thoracic neoplasia. Equine Veterinary Education. 25(2): 96-107.
Ertelt A., Sulikowska A., Huisinga M., Köhler K. & Fey K. 2016. Granularzelltumor als Ursache chronischen Hustens bei einem Pferd. Pferdeheilkunde. 32(4): 323-328.
Facemire P.R., Chilcoat C.D., Sojka J.E., Adams S.B., Irizarry A.R., Weirich W.E., Morisset S.S. & Dutweiler V.A. 2000. Treatment of granular cell tumor via complete right lung resection in a horse. Journal of the American Veterinary Medical Association. 217(10): 1522-1525.
Fennelly C. & Amaravadi R.K. 2017. Lysosomal Biology in Cancer. Methods in molecular biology. 1594: 293-308.
Heesewijk N.V., Knowles E.J., Palgrave C.J. & Mair T.S. 2015. Treatment of a pulmonary granular cell tumour by repeated transendoscopic diode laser photoablation. Equine Veterinary Education. 27(6): 302-305.
Jiang M., Anderson T., Nwogu C. & Tan D. 2003. Pulmonary malignant granular cell tumor. World Journal of Surgical Oncology. 1(22): 1-3.
Kagawa Y., Hirayama K., Tagami M., Tsunoda N., Yoshino T., Matsui T., Furuoka H. & Taniyama H. 2001. Immunohistochemical analysis of equine pulmonary granular cell tumours. Journal of Comparative Pathology. 124(2-3): 122-127.
Kelley L.C., Hill J.O., Hafner S. & Wortham K.J. 1995. Spontaneous equine pulmonary granular cell tumors: morphologic, histochemical, and immunohistochemical characterization. Veterinary Pathology. 32(2): 101-106.
Mair T.S., Rush B.R. & Tucker R.L. 2004. Clinical and diagnostic features of thoracic neoplasia in the horse. Equine Veterinary Education. 16: 30-36.
Patnaik A.K. 1993. Histologic and immunohistochemical studies of granular cell tumors in seven dogs, three cats, one horse, and one bird. Veterinary Pathology. 30(2): 176-185.
Pusterla N., Norris A.J., Stacey B.A., Smith P., Fielding C.L., Moore R.F. & Watson J.L. 2003. Granular cell tumours in the lungs of three horses. The Veterinary Record. 153: 530-532.
Ramos A.T., Souza A.B., Norte D.M., Ferreira J.L.M. & Fernandes C.G. 2008. Tumores em animais de produção: aspectos comparativos. Ciência Rural. 38(1): 148-154.
Turk M.A. & Breeze R.G. 1981. Histochemical and ultrastructural features of an equine pulmonary granular cell tumour (myoblastoma). Journal of Comparative Pathology. 91(4): 471-481.
Wilson D.W. 2017. Tumors of the Respiratory Tract. In: Meuten D.J. (Ed). Tumors in Domestic Animals. 5th edn. Hoboken: John Wiley & Sons, pp.495-496.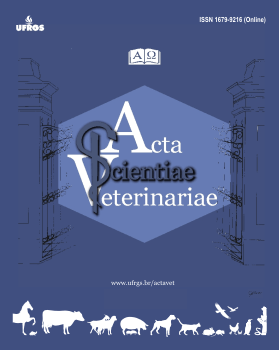 How to Cite
Pereira de Araújo, D., Fagundes Bento, M., Nascente, E. de P., Esteves Thomé, H., & Maria Brianezi Dignani de Moura, V. (2021). Pulmonar Granular Cell Tumor in a Horse. Acta Scientiae Veterinariae, 49. https://doi.org/10.22456/1679-9216.113931
License
This journal provides open access to all of its content on the principle that making research freely available to the public supports a greater global exchange of knowledge. Such access is associated with increased readership and increased citation of an author's work. For more information on this approach, see the Public Knowledge Project and Directory of Open Access Journals.
We define open access journals as journals that use a funding model that does not charge readers or their institutions for access. From the BOAI definition of "open access" we take the right of users to "read, download, copy, distribute, print, search, or link to the full texts of these articles" as mandatory for a journal to be included in the directory.
La Red y Portal Iberoamericano de Revistas Científicas de Veterinaria de Libre Acceso reúne a las principales publicaciones científicas editadas en España, Portugal, Latino América y otros países del ámbito latino