Salmonellosis in Calves by Serovar Dublin in Paraná State, Brazil - Clinicopathological Aspects
Abstract
Background: Calf diarrhea remains one of the main diseases affecting the cattle industry. Persistence of this significant problem is associated with the complexity of factors that may be involved (infectious, environmental). An accurate diagnosis is essential for confirming the cause and helping clinicians and cattle producers to apply appropriate strategies in a timely manner. This report describes the histological changes according to the degree of salmonellosis severity, which is a contagious infectious disease caused by Salmonella enterica subsp. enterica, a Gram-negative bacterium, in two beef calves in northern Paraná State, southern Brazil.
Cases: Two 90-day-old crossbred Angus and Nellore calves from a beef farm in northern Paraná State were referred to a Veterinary Hospital. Animal 1- developed acute clinical signs (enteritis, ataxia, and muscle rigidity) and died the day after the signs began. Gross findings included heavy and non-collapsed lungs, pulmonary oedema, hepatomegaly, enteritis, and severe diffuse typhlitis. Microscopic analysis revealed severe diffuse necrotic enteritis, typhlitis, severe diffuse interstitial pneumonia, moderate centrilobular hepatic necrosis, mild multifocal nephritis, and severe spleen and lymph node necrosis. Paratyphoid nodules were evidenced on the liver, spleen, and mesenteric lymph nodes. Animal 2- presented apathy, green fibrinous diarrhea, and died three days after the onset of clinical signs. The macroscopic examination showed moderate diffuse enteritis and hepatosplenomegaly. At the microscopic examination, many paratyphoid nodules were observed on the liver, spleen, kidneys, and Peyer's patches, which were associated with intralesional and intravascular bacilli. Additional findings included severe diffuse fibrinous necrotic enteritis with intralesional bacilli, diffuse interstitial pneumonia, multifocal splenic necrosis, lymphoid depletion, and moderate multifocal to coalescent lymphocytic nephritis. Histological Gram staining was performed on selected samples, revealing intralesional Gram-negative bacilli in the liver and intestine. Thus, liver and intestine fragments were used for the microbiological examination. Microbiological culture, isolation and biochemical tests identified the genus Salmonella spp. Then, the colonies were subjected to serological tests for serovar identification, according to ISO/TR 6579-3, which determined the serovar Dublin. After identifying the disease etiological agent, the outbreak was controlled by appropriate antibiotic therapy combined with the correction of sanitary measures.
Discussion: Enteritis is a frequent disease in calves, posing a diagnostic challenge in identifying the etiological agent. In the present case, the histological, microbiological, and serological results confirmed a disseminated Salmonella spp. infection. The microscopic findings, such as interstitial pneumonia, fibrinous necrotic enteritis markedly in ileum and paratyphoid nodules in various organs, are the most common aspects of the disease. However, fibrinous cholecystitis, which is considered pathognomonic for salmonellosis, was not observed in this study. Therefore, the absence of such a lesion should not exclude the disease in sick animals. A microscopic injury score was used to determine lesion severity by assigning values from 1 to 4, wherein: 1 = no apparent lesions, 2 = mild lesions, 3 = moderate lesions, and 4 = severe lesions. Both calves were scored as 4. Multiple predisposing factors for the condition were identified in this farm such as different age animals in the same paddock and no specific paddock for sick animals, given that the infectious agent remains in feces, saliva, and nasal discharge. The serovar Dublin induces several clinical signs such as septicemic, respiratory, and enteric manifestations, making a clinical diagnosis a challenge.
Keywords: dysbiosis, calf diarrhea, infection, paratyphoid nodules, septicemia.
Descritores: disbiose, diarreia neonatal, infecção, nódulos paratifoides, septicemia.
Título:  Salmonelose em bezerros pelo sorovar Dublin no estado do Paraná, Brasil - aspectos clínico-patológicos
Downloads
Download data is not yet available.
References
Barros C.S.L. 2007. Salmonelose. In: Riet-Correa F., Schild A.L., Lemos R.A.A. & Borges J.R.J. (Eds). Doenças de Ruminantes e Equídeos. 3.ed. Santa Maria: Pallotti, pp.416-425.
Blanchard P.C. 2012. Diagnostics of dairy and beef cattle diarrhea. Veterinary Clinics of North America: Food Animal Practice. 28(3): 443-464. DOI: 10.1016/j.cvfa.2012.07.002.
Brenner F.W., Villar R.G., Angulo F.J., Tauxe R. & Swaminathan B. 2000. Salmonella nomenclature. Journal of Clinical Microbiology. 38(7): 2465-2467.
Brown C.C., Baker D.C. & Baker I.K. 2007. Alimentary system. In: Maxie M.G. (Ed). Jubb, Kennedy and Palmer's Pathology of Domestic Animals. 5th edn. Philadelphia: Saunders Elsevier, pp.193-204.
Cho Y.I. & Yoon K.J. 2014. An overview of calf diarrhea - infectious etiology, diagnosis, and intervention. Journal of Veterinary Science. 15(1): 1-17.
Ekperigin H.E. & Nagaraja K.V. 1998. Microbial food borne pathogens. Salmonella. Veterinary Clinics of North America: Food Animal Practice. 14(1):17-29 DOI: 10.1016/s0749-0720(15)30276-0.
Fenwick S.G. & Collett M.G. 2004. Bovine salmonellosis. In: Coetzer J.A.W. & Tustin R.C. (Eds). Infectious Diseases of Livestock. Cape Town: Oxford University Press, pp.1582-1593.
Frizzo S.L., Zbrum V.M., Soto P.L., Bertozzi E., Sequeira J.G., Marti L.E., Signorini M.L., Armesto R.R. & Rosmini M.R. 2012. Pathogen translocation and histopathological lesions in an experimental model of Salmonella Dublin infection in calves receiving lactic acid bacteria and lactose supplements. Journal of Veterinary Science. 13(3): 261-270. DOI: 10.4142/jvs.2012.13.3.261.
Guizelini C.C., Pupin R.C., Leal C.R.B., Ramos C.A.N., Pavarani S.P., Gomes D.C., Martins T.B. & Lemos R.A.A. 2019. Salmonellosis in calves without intestinal lesions. Pesquisa Veterinária Brasileira. 39(8): 580-586. DOI: 10.1590/1678-5150-PVB-6328.
Grimont P.A.D. & Weill F.X. 2007. Antigenic formulae of the Salmonella serovars. 9th edn. Paris: WHO Collaborating Centre for Reference and Research on Salmonella, 166p.
Marques A.L.A., Simões S.V.D., Garino Junior F., Maia L.A., Silva T.R.D., Riet-Correa B., Lima E.F. & Riet-Correa F. 2013. Surto de salmonelose pelo sorovar Dublin em bezerros no Maranhão. Pesquisa Veterinária Brasileira. 33(8): 983-988. DOI: 10.1590/S0100-736X2013000800006.
Mohler V.L., Izzo M.M. & House J.K. 2009. Salmonella in calves. Veterinary Clinics of North America: Food Animal Practice. 25(1): 37-54. DOI: 10.1016/j.cvfa.2008.10.009.
Nielsen LR. 2013. Review of pathogenesis and diagnostic methods of immediate relevance for epidemiology and control of Salmonella Dublin in cattle. Veterinary Microbiology. 162(1): 1-9. DOI: 10.1016/j.vetmic.2012.08.003.
Pecoraro H.L., Thompson B. & Duhamel G.E. 2017. Histopathology case definition of naturally acquired Salmonella enterica serovar Dublin infection in young Holstein cattle in the northeastern United States. Journal of Veterinary Diagnostic Investigation. 29(6): 860-864. DOI: 10.1177/1040638717712757.
Radostits O.M., Gay C.C., Hinchcliff K.W. & Constable P.D. 2007. Diseases associated with Salmonella species. In: Constable P.D., Hinchcliff K.W., Done S.H. & Grünberg W. (Eds). Veterinary Medicine: a Textbook of the Diseases of Cattle, Sheep, Goats, Pigs and Horses. Philadelphia: W.B. Saunders, pp.896-920.
Rebhun W.C. 2000. Doenças infecciosas do trato intestinal: Salmonelose. In: Doenças do Gado Leiteiro. São Paulo: Roca, pp.205-210.
Santos B.L., Ladeira S.R.L., Riet-Correa F., Soares M.P., Marcolongo-Pereira C., Sallis E.S.V., Raffi M.B. & Schild A.L. 2019. Clostridial diseases diagnosed in cattle from the South of Rio Grande do Sul, Brazil. A forty-year survey (1978-2018) and a brief review of the literature. Pesquisa Veterinária Brasileira. 39(7): 435-446. DOI: 10.1590/1678-5150-pvb-6333.
Smith B.P. 2006. Salmonelose em ruminantes. Medicina Interna de Grandes Animais. 3.ed. São Paulo: Editora Manole, pp.775-779.
Sousa M.V., Gonçalves R.C., Lisbôa J.A.N., Almeida C.T. & Chiacchio S.B. 2000. Aspectos clínicos e epidemiológicos da diarreia dos bezerros em Botucatu, SP. Revista brasileira de Ciência Veterinária. 7(2): 74-77. DOI: 10.4322/rbcv.2015.183.
Vaessen M.A., Veling J., Frankena K., Graat E.A. & Klunder T. 1998. Risk factors for Salmonella Dublin infection on dairy farms. Veterinary Quarterly. 20(3): 97-99. DOI: 10.1080/01652176.1998.9694848.
Warnick L.D., Crofton L.M., Pelzer K.D. & Hawkins M.J. 2001. Risk factors for clinical salmonellosis in Virginia, USA cattle herds. Preventive Veterinary Medicine. 49(3/4): 259-275. DOI: 10.1016/s0167-5877(01)00172-6.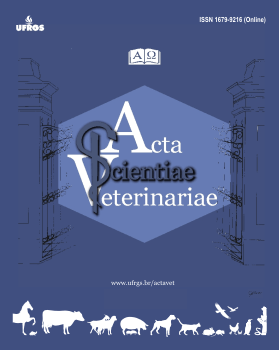 How to Cite
Aguiar, A. de, Di Santis, G. W., Müller, M. C., Baptista, A. A. S., dos Santos, B. Q., Lisboa, J. A. N., & Bracarense, A. P. F. R. L. (2021). Salmonellosis in Calves by Serovar Dublin in Paraná State, Brazil - Clinicopathological Aspects. Acta Scientiae Veterinariae, 49. https://doi.org/10.22456/1679-9216.113852
License
This journal provides open access to all of its content on the principle that making research freely available to the public supports a greater global exchange of knowledge. Such access is associated with increased readership and increased citation of an author's work. For more information on this approach, see the Public Knowledge Project and Directory of Open Access Journals.
We define open access journals as journals that use a funding model that does not charge readers or their institutions for access. From the BOAI definition of "open access" we take the right of users to "read, download, copy, distribute, print, search, or link to the full texts of these articles" as mandatory for a journal to be included in the directory.
La Red y Portal Iberoamericano de Revistas Científicas de Veterinaria de Libre Acceso reúne a las principales publicaciones científicas editadas en España, Portugal, Latino América y otros países del ámbito latino