T-cell Lymphoma in the Nasal Cavity in Goat
Abstract
Background: Lymphomas are considered uncommon in goats, being the multicentric form with the highest number of cases for the species. Primary intranasal lymphomas are often diagnosed in dogs, cats, and humans. In the literature, there is only a description of a multicentric case involving the frontal sinuses and mucosa of the nasal cavity in a goat; therefore, it is important to describe unusual cases of this disease for the inclusion of new clinical and pathological characteristics in the ruminant clinic medicine. The objective of this work is to describe a case of T-cell lymphoma in the nasal cavity of a young goat.
Case: The animal had dyspnea and respiratory noise for 15 days. Clinical examination showed nodulation in the right nasal cavity associated with serosanguinous secretion. Tracheostomy was performed; however, after 30 days the animal was euthanized. A sagittal plane of the head showed a pinkish-gray mass in the right and left nasal cavity, with a smooth, multilobulated surface, smooth adhering to the rostral portion of the dorsal concha and occluding the dorsal nasal meatus. Submandibular lymph nodes were slightly enlarged. Histopathological examination of the nasal cavity revealed a non-encapsulated, poorly delimited and ulcerated tumor composed of round cells arranged in a mantle supported by a discrete fibrovascular stroma extending the mucosa and lamina propria. Cells were round with sparse, eosinophilic and poorly delimited cytoplasm. Nuclei varied from round to elongated with condensed chromatin and evident nucleoli. Occasionally, aberrant nuclei, reniform shape and multinucleated cells were seen. Pleomorphism was moderate characterized by anisocytosis and anisocariosis. Typical and atypical mitosis were frequent (0-4 per field of highest magnification [400x]). Amidst the neoplasm, there were multifocal areas of necrosis and hemorrhage associated with a mild lymphocytic inflammatory infiltrate. Immunohistochemistry showed positive immunostaining for Vimentin antibodies and CD3, and negative for pan CK and CD20.
Discussion: The lymphomas immunophenotyping is little used when it comes to farm animals, and there are few studies that use this technique for the definitive diagnosis of these neoplasms for small ruminants. The use of this technique must be considered in each case, in order to determine the pathogenesis, the accurate diagnosis and the origin of the neoplastic lymphocytes. In goats, T-cell lymphomas are the most diagnosed, although cases of multicentric B-cell lymphomas with ocular involvement have been diagnosed. In view of the clinical picture of the case described, infectious rhinitis already described in goats, such as aspergillosis and protothecosis, should be included as differential diagnoses. However, the anatomopathological findings facilitate the direction of the diagnosis, since infectious rhinitis presents as nodules / ulcerated masses or focal areas of necrosis associated with purulent secretion and in the histopathological examination it is possible to observe the intralesional etiological agents. In addition, the enzootic ethmoidal tumor must be included, as it has similar clinical signs and affects young animals, but they are adenomas/adenocarcinomas that affect the ethmoidal nasal shells induced by a retrovirus. Lymphomas in the caprine species are rare in the Northeastern semi-arid, but that in the present diagnostic routine occasionally occurs, being important the first description of its nasal shape for its inclusion in the differential diagnoses of diseases that present with clinical obstruction and dyspnea for the species.
Keywords: hematopoietic neoplasia, immunophenotyping, lymphocytes, dyspnea.
Descritores: neoplasia hematopoietica, imunofenotipagem, linfócitos, dispneia.
Título: Linfoma de células T na cavidade nasal de caprino.
Downloads
Download data is not yet available.
References
Anjos B.L., Trost M.E., Diefenbach A., Gressler L.T. & Irigoyen L.F. 2010. Linfossarcoma de células B multicêntrico em uma ovelha. Acta Scientiae Veterinariae. 38(3): 315-318.
Braun U., Tschuor A.C. & Sydler T. 2011. Nachhandparese infolge eines malignen Lymphoms bei einer Ziege. Schweizer Archiv für Tierheilkunde. 153(3): 123-126.
Carvalho F.K.L., Dantas A.F.M., Riet-Correa F., Andrade R.L.F.S., Nóbrega Neto P.I., Miranda Neto E.G., Simões S.V.D. & Azevedo S.S. 2014. Estudo retrospectivo das neoplasias em ruminantes e equídeos no semiárido do Nordeste Brasileiro. Pesquisa Veterinária Brasileira. 34(3): 211-216.
DiGrassie W.A., Wallace M.A. & Sponenberg D.P. 1997. Multicentric lymphosarcoma with ovarian involvement in a Nubian goat. The Canadian Veterinary Journal. 38(6): 383-384.
Do Carmo P.M.S., Portela R.A., Oliveira-Filho J.C., Dantas A.F.M., Simões S.V.D., Garino Júnior F. & Riet-Correa F. 2014. Nasal and cutaneous aspergillosis in a goat. Journal of Comparative Pathology. 150(1): 4-7.
Fernandes M., Peixoto S., Silva N., Libório-Kimura T., Lima L. & Oliveira J. 2015. Linfoma extranodal tipo nasal de células T/Natural Killer acometendo mucosa oral de paciente com histórico de leishmaniose. Revista Portuguesa de Estomatologia, Medicina Dentária e Cirurgia Maxilofacial. 56: 251-255.
Jacobs R.M., Messick J.B. & Valli V.E. 2002. Tumors of the hemolymphatic system. In: Meuten D.J. (Ed). Tumors in Domestic Animals. 4th edn. Ames: Iowa State Press, pp.119-198.
Kiser P.K. & Löhr C.V. 2017. Lymphoma Classification in Goats. Veterinary Pathology. 54(4): 611-619.
Little L., Patel R. & Goldschmidt M. 2007. Nasal and Nasopharyngeal Lymphoma in Cats: 50 Cases (1989-2005). Veterinary Pathology. 44(6): 885-892.
Löhr C.V. 2012. One Hundred Two Tumors in 100 Goats (1987-2011). Veterinary Pathology. 50(4): 668-675.
Macêdo J.T., Riet-Corrêa F., Dantas A.F.M. & Simões S.V. 2008. Cutaneous and Nasal Protothecosis in a Goat. Veterinary Pathology. 45(3): 352-354.
Mazaro R.D., Rizkallah I.P.J., Luz F.S., Lorensetti D.M., Cogliati B. & Fighera R.A. 2018. Aspectos epidemiológicos, clínicos e anatomopatológicos do linfoma folicular em cães. Pesquisa Veterinária Brasileira. 38(9): 1772-1780.
Panziera W., Bianchi R.M., Faccin T.C., Galiza G.J.N., Lopes E.M.B., Kommers G.D. & Fighera R.A. 2016. Classificação de 86 casos de linfoma em bovinos de acordo com a Working Formulation (WF) of Non-Hodgkin's Lymphomas for Clinical Usage e The Revised European-American Classification of Lymphoid Neoplasms (REAL). Pesquisa Veterinária Brasileira. 36(4): 263-271.
Rodrigues R.T.G.A., Medeiros V.B., Borges I.L., Oliveira Z.C.R., Batista J.S. & Filgueira K.D. 2016. Linfoma intranasal em cão: aspectos clínicopatológicos e imunoistoquímicos. Acta Veterinaria Brasilica. 10(1): 84-91.
Rozear L., Love N.E. & Van Camp S.L. 1998. Radiographic diagnosis: Pulmonary lymphosarcoma in a goat. Veterinary Radiology & Ultrasound. 39: 528-531.
Valentine B.A., Stieger-Vanegas S., Brown S.R., Tornquist S. J. & Young K. 2011. Exophthalmos due to multicentric B-cell lymphoma in a goat. Canadian Veterinary Journal. La Revue vétérinaire canadienne. 52(12): 1350-1352.
Valli V.E.O., Kiupel M., Bienzle D. & Wood R.D. 2016. Hematopoietic System. In: Maxie M.G. (Ed). Jubb, Kennedy, and Palmer's Pathology of Domestic Animals. 6th edn. St. Louis: Elsevier, pp.102-268.
Wanderley G.G. 2009. Processos etmoidais em ovinos. Medicina Veterinária (UFRPE). 3(1): 37-46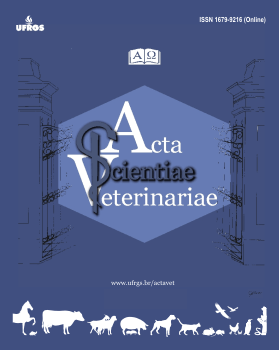 Published
2021-01-01 — Updated on 2023-05-16
How to Cite
Firmino, M. O., Borges, I. L., da Silveira, G. L., de Lima Tolentino, M. L. D., Queiroz, E. de L. G., Miranda Neto , E. G. ., Galiza, G. J. N., & Dantas, A. F. M. (2023). T-cell Lymphoma in the Nasal Cavity in Goat. Acta Scientiae Veterinariae, 49. https://doi.org/10.22456/1679-9216.113702 (Original work published January 1, 2021)
License
Copyright (c) 2021 Millena Oliveira Firmino, Ismael Lira Borges Lira Borges, Gian Libânio Silveira, Mikael Leandro Duarte Lima Tolentino, Erika de Lourdes Gomes Queiroz, Eldinê Gomes Miranda Neto, Glauco José Nogueira Galiza, Antônio Flávio Medeiros Dantas
This work is licensed under a Creative Commons Attribution 4.0 International License.
This journal provides open access to all of its content on the principle that making research freely available to the public supports a greater global exchange of knowledge. Such access is associated with increased readership and increased citation of an author's work. For more information on this approach, see the Public Knowledge Project and Directory of Open Access Journals.
We define open access journals as journals that use a funding model that does not charge readers or their institutions for access. From the BOAI definition of "open access" we take the right of users to "read, download, copy, distribute, print, search, or link to the full texts of these articles" as mandatory for a journal to be included in the directory.
La Red y Portal Iberoamericano de Revistas Científicas de Veterinaria de Libre Acceso reúne a las principales publicaciones científicas editadas en España, Portugal, Latino América y otros países del ámbito latino