Tumoral Resection followed by Blepharoplasty in Squamous Cell Carcinoma Treatment in the Lower Eyelid of a Horse
Abstract
Background: Equines are routinely subjected to enucleation due to palpebral tumors. Blepharoplasties in horses, especially in the lower eyelid, are rarely performed due to the difficulty of sliding once the tissue around the eyes presents low mobility. Defects involving more than 50% of the lower eyelid is considered challenging after tumor removal. Squamous cell carcinoma (SCC) is the second most reported neoplasm in horses, being very common in regions of the lower eyelid, third eyelid, sclera and or cornea. The aim of this study is to present the Destro VY skin advancement flap as a blepharoplasty technique performed after surgical excision of a SCC, with total commitment of the lower eyelid, completely covering the right eye of a mare.
Case: A 8-year-oldmarePaint Horse, weighing420 kg,was referred for evaluation of tumor tissue of 6.0 x 4.0 x 2.0 cm, with nodular and ulcerated appearance, involving the right lower eyelid, in its total extension and completely covering the eye, without adhering to it. Considering the initial suspicion of SCC, the treatment strategy performed was surgical eyelid excision and maintenance of the eye, followed by blepharoplasty as an attempt to reconstruct the eyelid. Under general inhalation anesthesia, the animal was placed in left lateral recumbency, when the surgical region was prepared and local anesthetic block was performed. After antisepsis, a skin incision was made circumscribing the tumor, respecting a margin of 10 mm apart and excision of all visible tumor tissue was performed followed by intralesional ozone therapy. Blepharoplasty was performed to cover the portions of the exposed lacrimal and zygomatic bones, as well as correction of the eyelid aesthetics. For this, Destro VY skin advancement flap was performed for reconstruction of the lower eyelid. An incision of approximately 7 cm in V-shaped skin was performed, and the subcutaneous tissue under the V was dissected, maintaining a central pedicle, responsible for the vascularization of the flap, which was slid, approximately 20 mm, towards the eye. After obtaining the desired skin approximation, Y-suture was performed, covering the exposed bone and reconstructing the lower eyelid. In the postoperative period, local instillation of mitomycin eye drops and systemic meloxicam administration were instituted. The mare had her vision restored, presenting satisfactory morpho functional and aesthetic results and no tumor recurrence during 1-year of follow-up.
Discussion: The repair of lower eyelid imperfections is challenging, especially when they have large defects, and there are no reports of performing the Destro VY skin advancement flap technique in horses for lower eyelid reconstruction. In this case, the importance of the blepharoplasty technique is emphasized, avoiding enucleation, preserving horse's vision and aesthetics. In addition, aiming to avoid tumor recurrence, especially if surgical safety margins can not be achieved, other complementary treatments should be associated, including intralesional ozone therapy, mitomycin, an antineoplastic chemotherapy drug, and meloxicam, a COX-2 selective, non-steroidal anti-inflammatory drug, as performed in this study. It is concluded that the use of the Destro VY skin advancement flap technique for reconstruction of the external lamella in cases of SCC in the lower eyelid of horses is a feasible technique, which preserves the animal's vision, as well as aesthetics. The safety margin in the surgical excision of the SCC and the association of complementary therapies in the resolution of the condition are important points also to be considered.
Keywords: epidermoid carcinoma, equine, ophthalmology, plastic surgery, skin tumor.
Título: Exérese tumoral seguida de blefaroplastia no tratamento de carcinoma de células escamosas em pálpebra inferior de equino
Downloads
Download data is not yet available.
References
Beard W.L. & Wilkie D.A. 2002. Partial orbital rim resection, meshy skin expansion, and second intention healing combined with enucleation or exenteration for extensive periocular tumours in horses. Veterinary Ophthalmology. 5: 23‐28.
Conceição F.F.C.B., Neves M.R., Santos D.G.V., Sampaio G.R., Lima A.P. & Sousa T.M. 2019. Tratamento clínico com mitomicina C em equino com carcinoma de célula escamosas ocular. Revista Acadêmica de Ciência Animal. 17: 636-637.
Giuliano E.A. 2011. Equine ocular adnexal and nasolacrimal disease. In: Gilger B.C. (Ed). Equine Ophthalmology. 2nd edn. Maryland Heights: Elsevier Saunders, pp.133‐180.
Lima D.A. 2018. Reconstrução total de pálpebra inferior com associação dos retalhos de Hughes e Destro. Revista Brasileira de Cirurgia Plástica. 33: 364-373.
Montgomery K.W. 2014. Equine ocular neoplasia: a review. Equine Veterinary Education. 26: 372‐380.
Moore A.S., Beam S.L., Rassnick K.M. & Provost P. 2003. Long‐term control of mucocutaneous squamous cell carcinoma and metastases in a horse using piroxicam. Equine Veterinary Journal. 35: 715-718.
Pinto V.M. 2018. Ozonioterapia em neoplasias equinas: casos e possíveis mecanismos de açăo. ARS Veterinaria. 34: 141-167.
Souza T.M., Brum J.S., Fighera R.A., Brass K.E. & Barros C.S.L. 2011. Prevalęncia dos tumores cutâneos de equinos diagnosticados no Laboratório de Patologia Veterinária da Universidade Federal de Santa Maria, Rio Grande do Sul. Pesquisa Veterinária Brasileira. 31: 379-382.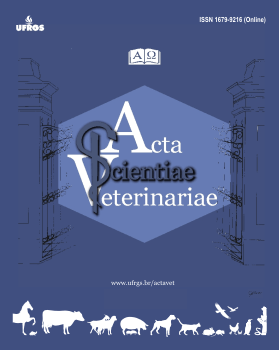 How to Cite
Bortoletto, Y. N., Arantes, J. de A., Coelho, A. M., Gomes, L. M., Lambert, M. C. C., Strefezzi, R. de F., & Dória, R. G. S. (2021). Tumoral Resection followed by Blepharoplasty in Squamous Cell Carcinoma Treatment in the Lower Eyelid of a Horse. Acta Scientiae Veterinariae, 49. https://doi.org/10.22456/1679-9216.113334
License
This journal provides open access to all of its content on the principle that making research freely available to the public supports a greater global exchange of knowledge. Such access is associated with increased readership and increased citation of an author's work. For more information on this approach, see the Public Knowledge Project and Directory of Open Access Journals.
We define open access journals as journals that use a funding model that does not charge readers or their institutions for access. From the BOAI definition of "open access" we take the right of users to "read, download, copy, distribute, print, search, or link to the full texts of these articles" as mandatory for a journal to be included in the directory.
La Red y Portal Iberoamericano de Revistas Científicas de Veterinaria de Libre Acceso reúne a las principales publicaciones científicas editadas en España, Portugal, Latino América y otros países del ámbito latino