Strongyloidiasis in a Puppy in Northeastern Brazil
Abstract
Background: Strongyloides stercoralis is a nematode that causes intestinal infection in vertebrate hosts, especially in humans and dogs. The species S. stercoralis is responsible for chronic and asymptomatic infections in adult dogs or serious infections in puppies and immunosuppressed animals. In Brazil, natural infection in dogs was demonstrated by coproparasitological and serological methods, however, there are no reports that address the clinicopathological characteristics of the infection in the canine species. Thus, this paper aims to describe the epidemiological, clinical and pathological aspects of S. stercoralis infection in a puppy in Northeastern Brazil.
Case: A puppy female Chihuahua was referred to the Animal Pathology Laboratory of the Veterinary Hospital of the Federal University of Campina Grande for necropsy with a historic of severe respiratory symptoms and gastrointestinal changes that included sanguineous diarrhea and vomiting that evolved to death in 5 days. Grossly, there was a moderate amount of slightly reddish fluid in the thoracic cavity. The lungs remained expanded with a smooth, shiny, and diffusely reddish pleural surface interspersed with multifocal and blackened coalescent areas. Upon cutting, a moderate amount of slightly yellow foamy liquid flowed from the airways and trachea. In the duodenum, the mucosa was diffusely reddened. Histologically, there were multifocal to coalescent areas of moderate interalveolar accumulation of fibrin, edema and hemorrhage in the lung surrounded by an inflammatory infiltrate composed of foamy macrophages associated with numerous parasitic structures in longitudinal and transverse sections in the alveolar lumen and pleural surface. In the duodenum, we observed flattening with diffuse and moderate fusion of the villi and multifocal areas of mucosal erosion. The crypts were moderately dilated, covered by attenuated epithelium, with numerous longitudinal and transversal sections of adult nematode parasites, larvae and eggs associated with inflammatory lymphplasmocytic infiltrate in the lamina propria. The morphological characteristics were compatible with the nematode S. stercoralis.
Discussion: The diagnosis of strongyloidiasis was performed by means of microscopic lesions associated with parasitic structures morphologically compatible with the nematode S. stercoralis. This species is responsible for parasitism especially in humans, dogs, and cats. Parasites are the only ones that have a life cycle that involve free living form and parasitic. In this case, it was not possible to determine the primary portal of entry for the infection, but most infections commonly occur through the penetration of the larvae into the skin or mucous membranes, where they migrate via the haematogenous to the lung, then they are swallowed up to the intestine. Occasionally, there is autoinfection by larvae that enter the intestinal mucosa or perianal region and the contamination of neonates and puppies through the ingestion of milk. The clinical signs evidenced in this case, revealed the committed respiratory and gastrointestinal, possibly may be related to the migration of the larvae in the lungs and the destruction of the intestinal epithelium caused by the high number of parasites, respectively. It is concluded that strongyloidiasis is an uncommon infectious disease in puppies in Brazil, capable of causing severe respiratory and gastrointestinal changes that result in the death of animals with a high parasitic load and should be included in the differential diagnosis of diseases that affect the respiratory system and gastrointestinal tract of dogs.
Keywords: dog disease, parasitic infection, nematode, Strongyloides stercoralis.
Downloads
Download data is not yet available.
References
Anselmi M., Buonfrate D., Espinoza AG., Prandi R., Marquez M., Gobbo M., Montresor A., Albonico M., Orbe MR., Moreira J.M. & Bisoffiet Z. 2015. Mass administration of ivermectin for the elimination of onchocerciasis significantly reduced and maintained low the prevalence of Strongyloides stercoralis in Esmeraldas, Ecuador. PLOS Neglected Tropical Diseases. 9(11): 1-12.
Cervone M., Giannelli A., Otranto D. & Perrucci S. 2016. Strongyloides stercoralis hyperinfection in an immunosuppressed dog from France. Revue Vétérinaire Clinique. 51(2): 55-59.
Dillard K.J., Saari S.A. & Anttila M. 2007. Strongyloides stercoralis infection in Finnish kennel. Acta Veterinaria Scandinavica. 49(37): 1-6.
Epe C., Ising-Volmer S. & Stoye M. 1993. Parasitological fecal studies of equids, dogs, cats, and hedgehogs during the years 1984-1991. Dtsch Tierarztl Wochenschr. 100(11): 426-428.
Ferreira Júnior A., Gonçalves-Pires M.R.F., Silva D.A.O., Gonçalves A.L.R. & Costa-Cruz J.M. 2006. Parasitological and serological diagnosis of Strongyloides stercoralis in domesticated dogs from southeastern Brazil. Veterinary Parasitology. 136(2): 137-145.
Gelberg H.B. 2017. Alimentary System and the Peritoneum, Omentum, Mesentery, and Peritoneal Cavity. In: Zachary J.F. (Ed). Pathologic Basis of Veterinary Disease. 6th edn. St. Louis: Elsevier, pp.324-411.
Graham J.A., Sato M., Moore A.R., McGrew A.K., Ballweber L.R., Byas A.D., Kristy L. & Dowers K.L. 2019. Disseminated Strongyloides stercoralis infection in a dog following long-term treatment with budesonide. American Veterinary Medical Association. 254(8): 974-978.
Grove D.I. 1996. Human strongyloidiasis. Advances in Parasitology. 38: 251-309.
Itoh N., Kanai K., Hori Y., Nakao R., Hoshi F. & Higuchi S. 2009. Fenbendazole treatment of dogs with naturally acquired Strongyloides stercoralis infection. Veterinary Record. 164(18): 559-560.
Martins C.M., Barros C.C., Bier D., Marinho A.P., Figueiredo J.M., Hoffmann J.L., Molento M.B. & Biondo A.W. 2012. Dog parasite incidence and risk factors, from sampling after one-year interval, in Pinhais, Brazil. Revista Brasileira de Parasitologia Veterinária. 21(2): 101-106.
Papazahariadou M., Founta A., Papadopoulos E., Chliounakis S., Antoniadou-Sotiriadou K. & Theodorides Y. 2007. Gastrointestinal parasites of shepherd and hunting dogs in the Serres Prefecture, northern Greece. Veterinary Parasitology. 148(2): 170-173.
Paradies P., Iarussi F., Sasanelli M., Capogna A., Lia R.P., Zucca D., Greco B., Cantacessi C. & Otranto D. 2017. Occurrence of strongyloidiasis in privately owned and sheltered dogs: Clinical presentation and treatment outcome. Parasites & Vectors. 10(1): 1-9.
Ribeiro L.C., Rodrigues Junior E.N.A., Silva M.D., Takiuchi A. & Fontes C.J.F. 2005. Púrpura em paciente com estrongiloidíase disseminada. Revista da Sociedade Brasileira de Medicina Tropical. 38(3): 255-257.
Schär F., Inpankaew T., Traub R.J., Khieu V., Dalsgaard A., Chimnoi W., Chhoun C., Sok D., Marti H., Muth S. & Odermatt P. 2014. The prevalence and diversity of intestinal parasitic infections in humans and domestic animals in a rural Cambodian village. Parasitology International. 63(4): 597-603.
Shoop W.L., Michael B.F., Eary C.H. & Haines H.W. 2002. Transmammary transmission of Strongyloides stercoralis in dogs. Journal of Parasitology. 88(3): 536-539.
Thamsborg S.M., Ketzis J., Horii Y. & Matthews J.B. 2017. Strongyloides spp. infections of veterinary importance. Parasitology. 144(3): 274-284.
Uzal F.A., Plattner B.L. & Hostetter J.M. 2016. Alimentary System. In: Maxie M.G. (Ed). Jubb, Kennedy, and Palmer's Pathology of Domestic Animals. v.2. 6th edn. Philadelphia: Elsevier Saunders, pp.1-257.
Veloso M.G.P., Porto A.S. & Moraes M. 2008. Hiperinfecção por Strongyloides stercoralis: relato de caso autopsiado. Revista da Sociedade Brasileira de Medicina Tropical. 41(4): 413-415.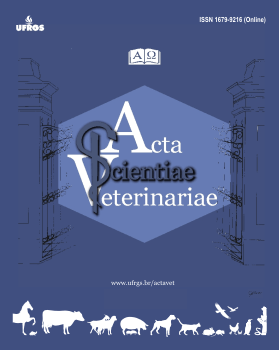 How to Cite
Alves, R. C., Soares, Y. G. dos S., Pinheiro, J. K., Brito Junior, J. R. C., Silva, R. A. F., Firmino, M. de O., Galiza, G. J. N. de, & Dantas, A. F. M. (2021). Strongyloidiasis in a Puppy in Northeastern Brazil. Acta Scientiae Veterinariae, 49. https://doi.org/10.22456/1679-9216.113326
License
This journal provides open access to all of its content on the principle that making research freely available to the public supports a greater global exchange of knowledge. Such access is associated with increased readership and increased citation of an author's work. For more information on this approach, see the Public Knowledge Project and Directory of Open Access Journals.
We define open access journals as journals that use a funding model that does not charge readers or their institutions for access. From the BOAI definition of "open access" we take the right of users to "read, download, copy, distribute, print, search, or link to the full texts of these articles" as mandatory for a journal to be included in the directory.
La Red y Portal Iberoamericano de Revistas Científicas de Veterinaria de Libre Acceso reúne a las principales publicaciones científicas editadas en España, Portugal, Latino América y otros países del ámbito latino