Successful Treatment and Management of Canine Ehrlichiosis-Leishmaniosis-Heartworm Comorbidity
Abstract
Background: Canine vector borne diseases (CVBD) are common in tropical countries where the climate favors arthropods abundance. Comorbidity with one or more CVBD are reported as clinical complication and worsen prognostic. Canine visceral leishmaniosis (CanL) is an endemic zoonotic disease in Brazil caused by Leishmania infantum, with several restrictions to canine treatment and suggestion of reservoirs euthanasia for disease control. Heart worm (HW) is a helminthic disease caused by Dirofilaria immitis infection in dogs. It is a chronic heart disease, which can lead to death by congestive heart failure. Canine ehrlichiosis (CE) is caused by Ehrlichia canis bacterial infection with a zoonotic potential and fatal to dogs in acute and chronic presentations. Exposed the above, this study aims to describe a successful treatment and management of a dog with CanL, CE, and HW comorbidity.
Case: A 3-year-old male uncastrated black Labrador dog, weighing 35 kg, was admitted to the veterinary clinic due to immunochromatographic CanL positive test performed by municipal zoonosis control center active surveillance in August 2014. Clinical exam showed a mild shedding, intermittent eye white/yellow discharge and popliteal lymph nodes enlargement. After positive for CanL, veterinary requested more laboratorial exams. IFAT and ELISA were positive for CanL, blood smear showed presence of microfilaria, and bone marrow cytology showed Ehrlichia spp. morulae and microfilaria. Initial treatment prescribed was oral doxycycline, omeprazole, ranitidine, and domperidone for 30 days, and allopurinol and ivermectin until further recommendation. Additionally, repellent collar, repellent spray and vitamin supplement was indicated. After first month, marbofloxacin for 30 days and three doses of immune stimulant protocol were administrated. After three months of treatment, dog still positive for heartworm, ehrlichiosis, and CanL. Doxycycline protocol was repeated. Dog became consistently negative for all pathogens one year later with persistent thrombocytopenia but without clinical signs, ergo allopurinol and ivermectin were discontinued. After four years of follow up, the animal had an acute pancreatitis and died, with unremarkable total blood count and negative for all pathogens.
Discussion: CVBD coinfections are commonly reported as worsen prognostic in endemic regions. The pathogens reported here share a host immunomodulation competence. L. infantum and Ehrlichia spp.downregulates Th1 response, whereas D. immitis increase as Th2 profile. The therapeutic protocol was iniciated by staging CanL. Since the patient had clinical signs, allopurinol was prescribed as a well-established drug for CanL. Marbofloxacin was added due to its high safety drug in clinical improvement of infected dogs with and without renal disease and in vitro effectiveness against L. infantum. Domperidone was used to promote Th1 cytokine profile as INF-γ, IL-2, IL-12, and TNF-α. We used an immunostimulant protocol to favor polarization to the Th1 profile comprised by 30 days of domperidone protocol followed by a vaccine and an immunomodulator. Doxycycline was used successfully for Ehrlichia spp. and HE clearance after two treatment courses and one year of ivermectin every 15 days. The animal presented intermittent coughing episodes on the first treatment course, but no medical intervention was needed besides exercise restriction. Our report shows the successful management of one dog with CanL, CE and HE comorbidity. This success was possible due to early detection and good therapeutic choice.
Keywords: canine visceral leishmaniosis, coinfection, Dirofilaria immitis, Erhlichia canis, Leishmania infantum, treatment.
Downloads
Download data is not yet available.
References
Amante J.F.A.A., Santos A.R., Santos B.M., Mantovan K.B., Joaquim S.F., Latosinski G.S., Menozzi B.D., Hataka A., Lucheis S.B., Venturini J. & Langoni H. 2020. Marbofloxacin induces leishmanicidal activity and less inflammatory response in Leishmania chagasi infected macrophages. Veterinária e Zootecnia. 27: 1-11.
Baneth G., Bourdeau P., Bourdoiseau G., Bowman D., Breitschwerdt E., Capelli G., Cardoso L., Dantas-Torres F., Day M., Dedet J.P., Dobler G., Ferrer L., Irwin P., Kempf V., Kohn B., Lappin M., Little S., Maggi R., Mirá G., Naucke T., Oliva G., Otranto D., Penzhorn B., Pfeffer M., Roura X., Sainz A., Shaw S., Shin S., Solano-Gallego L., Straubinger R., Traub R., Trees A., Truyen U., Demonceau T., Fitzgerald R., Gatti D., Hostetler J., Kilmer B., Krieger K., Mencke N., Mendão C., Mottier L., Pachnicke S., Rees B., Siebert S., Stanneck D., Tarancán Mingote M., Von Simson C. & Weston S. 2012. Vector-borne diseases - Constant challenge for practicing veterinarians: Recommendations from the CVBD World Forum. Parasites and Vectors. 5(1): 2-4.
Bazzocchi C., Mortarino M., Grandi G., Kramer L.H., Genchi C., Bandi C., Genchi M., Sacchi L. & McCall J.W. 2008. Combined ivermectin and doxycycline treatment has microfilaricidal and adulticidal activity against Dirofilaria immitis in experimentally infected dogs. International Journal for Parasitology. 38(12): 1401-1410.
Bendas A.J.R., Mendes-de-Almeida F., Guerrero J. & Labarthe N. 2017. Atualização sobre a epidemiologia de Dirofilaria immitis na América do sul e no México: Revisão de literatura. Brazilian Journal of Veterinary Research and Animal Science. 54(4): 319-329.
Bowman D.D. & Atkins C.E. 2009. Heartworm Biology, Treatment, and Control. Veterinary Clinics of North America - Small Animal Practice. 39(6): 1127-1158.
Brasileish. 2018. Diretrizes para o diagnóstico, estadiamento, tratamento e prevenção da Leishmaniose Canina. Disponível em: https://www.brasileish.com.br/assets/files/DIRETRIZES_Brasileish_2.pdf
Cortese L., Pelagalli A., Piantedosi D., Mastellone V., Manco A., Lombardi P., Ciaramella P. & Avallone L. 2006. Platelet aggregation and haemostatic response in dogs naturally co-infected by Leishmania infantum and Ehrlichia canis. Journal of Veterinary Medicine Series A: Physiology Pathology Clinical Medicine. 53(10): 546-548.
Da Silva A.C.T., Santos J.R.S., Silva R.M.N., Santana V.L., Martins F.S.M., Falcão B.M.R., Tanikawa A., Almeida T.M., Vaz A.F.M. & Souza A.P. 2021. Prednisolone associated with doxycycline on the hematological parameters and serum proteinogram of dogs with ehrlichiosis. Ciência Rural. 51(3): 1-9.
Dantas-Torres F. & Otranto D. 2020. Overview on Dirofilaria immitis in the Americas, with notes on other filarial worms infecting dogs. Veterinary Parasitology. 282: 109113.
DOI: 10.1016/j.vetpar.2020.109113.
De Tommasi A.S. Otranto D., Dantas-Torres F., Capelli G., Breitschwerdt E.B. & Caprariis D. 2013. Are vector-borne pathogen co-infections complicating the clinical presentation in dogs? Parasites & Vectors. 6(1): 97. DOI: 10.1186/1756-3305-6-97
Farca A.M., Miniscalco B., Badino P., Odore R., Monticelli P., Trisciuoglio A. & Ferroglio E. 2012. Canine leishmaniosis: In vitro efficacy of miltefosine and marbofloxacin alone or in combination with allopurinol against clinical strains of Leishmania infantum. Parasitology Research. 110(6): 2509-2513.
Harrus S., Waner T., Weiss D.J., Keysary A. & Bark H. 1996. Kinetics of serum antiplatelet antibodies in experimental acute canine ehrlichiosis. Veterinary Immunology and Immunopathology. 51(1–2): 13-20.
Lima A.L., Santos G.J.L., Roatt B.M., Reis A.B., Freitas J.C.C. & Nunes-Pinheiro D.C.S. 2015. Serum TNF-α and IL-10 in Ehrlichia spp. Naturally Infected Dogs. Acta Scientiae Veterinariae. 43: 1322. 7p.
Lina T.T., Luo T., Velayutham T., Das S. & McBride J.W. 2017. Ehrlichia Activation of Wnt-PI3K-mTOR Signaling Inhibits Autolysosome Generation and Autophagic Destruction by the Mononuclear Phagocyte. Infection and Immunity. 85(12): 1-17.
Magalhães-Junior J.T., Mota T.F., Porfirio-Passos G., Larangeira D.F., Franke C.R. & Barrouin-Melo S.M. 2016. Xenodiagnosis on dogs with visceral leishmaniasis: Canine and sand fly aspects related to the parasite transmission. Veterinary Parasitology. 223: 120-126.
McCall J.W., Kramer L., Genchi C., Guerrero J., Dzimianski M.T., Mansour A., McCall S.D. & Carson B. 2014. Effects of doxycycline on heartworm embryogenesis, transmission, circulating microfilaria, and adult worms in microfilaremic dogs. Veterinary Parasitology. 206(1-2): 5-13.
Morchón R., López-Belmonte J., Bazzocchi C., Grandi G., Kramer L. & Simón F. 2007. Dogs with patent Dirofilaria immitis infection have higher expression of circulating IL-4, IL-10 and iNOS mRNA than those with occult infection. Veterinary Immunology and Immunopathology. 115(1-2): 184-188.
Mylonakis M.E., Harrus S. & Breitschwerdt E.B. 2019. An update on the treatment of canine monocytic ehrlichiosis (Ehrlichia canis). Veterinary Journal. 246: 45-53.
Mylonakis M.E., Koutinas A.F., Breitschwerdt E.B., Hegarty B.C., Billinis C.D., Leontides L.S. & Kontos V.S. 2004. Chronic Canine Ehrlichiosis (Ehrlichia canis): A Retrospective Study of 19 Natural Cases. Journal of the American Animal Hospital Association. 40(3): 174-184.
Nicolai L., Gaertner F. & Massberg S. 2019. Platelets in Host Defense: Experimental and Clinical Insights. Trends in Immunology. 40(10): 922-938.
Passeri B., Vismarra A., Cricri G., Bazzocchi C., Kramer L. & Bacci C. 2014. The adulticide effect of a combination of doxycycline and ivermectin in Dirofilaria immitis-experimentally infected dogs is associated with reduction in local T regulatory cell populations. Veterinary Parasitology. 205(1-2): 208-210.
Pineda C., Aguilera-Tejero E., Morales M.C., Belinchon-Lorenzo S., Gomez-Nieto L.C., Garcia P., Martinez-Moreno J.M., Rodriguez-Ortiz M.E. & Lopez I. 2017. Treatment of canine leishmaniasis with marbofloxacin in dogs with renal disease. PLoS ONE. 12(10): 1-17.
Roatt B.M., Aguiar-Soares R.D. de O., Coura-Vital W., Ker H.G., Moreira N. das D., Vitoriano-Souza J., Giunchetti R.C., Carneiro C.M. & Reis A.B. 2014. Immunotherapy and immunochemotherapy in visceral leishmaniasis: Promising treatments for this neglected disease. Frontiers in Immunology. 5: 272. DOI: 10.3389/fimmu.2014.00272
Roatt B.M., Aguiar-Soares R.D.O., Reis L.E.S., Cardoso J.M.O., Mathias F.A.S., Brito R.C.F., Silva S.M., Gontijo N.D.F., Ferreira S.A., Valenzuela J.G., Corrêa-Oliveira R., Giunchetti R.C. & Reis A.B. 2017. A vaccine therapy for canine visceral leishmaniasis promoted significant improvement of clinical and immune status with reduction in parasite burden. Frontiers in Immunology. 8: 217. DOI: 10.3389/fimmu.2017.00217
Rougier S., Hasseine L., Delaunay P., Michel G. & Marty P. 2012. One-year clinical and parasitological follow-up of dogs treated with marbofloxacin for canine leishmaniosis. Veterinary Parasitology. 186(3-4): 245-253.
Sabaté D., Llinás J., Homedes J., Sust M. & Ferrer L. 2014. A single-centre, open-label, controlled, randomized clinical trial to assess the preventive efficacy of a domperidone-based treatment programme against clinical canine leishmaniasis in a high prevalence area. Preventive Veterinary Medicine. 115(1-2): 56-63.
Silveira N.S.D., Mendes E.M., Pereira M.L., Tavela A.D.O., Patricia A., Veiga M. & Zimermann F.C. 2021. Leishmaniose visceral em cães. Acta Scientiae Veterinariae. 49: 610. 12p.
Solano-Gallego L., Miró G., Koutinas A., Cardoso L., Pennisi M.G., Ferrer L., Bourdeau P., Oliva G., Baneth G. & The LeishVet Group. 2011. LeishVet guidelines for the practical management of canine leishmaniosis. Parasites & Vectors. 4(1): 86. DOI: 10.1186/1756-3305-4-86
Todorovic S. & McKay T. 2020. Potential mosquito (Diptera: Culicidae) vectors of Dirofilaria immitis from residential entryways in Northeast Arkansas. Veterinary Parasitology. 282: 109105. DOI: 10.1016/j.vetpar.2020.109105
Toepp A., Larson M., Wilson G., Grinnage-Pulley T., Bennett C., Leal-Lima A., Anderson B., Parrish M., Anderson M., Fowler H., Hinman J., Kontowicz E., Jefferies J., Beeman M., Buch J., Saucier J., Tyrrell P., Gharpure R., Cotter C. & Petersen C. 2018. Randomized, controlled, double-blinded field trial to assess Leishmania vaccine effectiveness as immunotherapy for canine leishmaniosis. Vaccine. 36(43): 6433–6441.
Toepp A.J., Monteiro G.R.G., Coutinho J.F.V., Lima A.L., Larson M., Wilson G., Grinnage-Pulley T., Bennett C., Mahachi K., Anderson B., Ozanne M. V., Anderson M., Fowler H., Parrish M., Willardson K., Saucier J., Tyrell P., Palmer Z., Buch J., Chandrashekar R., Brown G.D., Oleson J.J., Jeronimo S.M.B. & Petersen C.A. 2019. Comorbid infections induce progression of visceral leishmaniasis. Parasites & Vectors. 12(1): 54. DOI: 10.1186/s13071-019-3312-3
Toepp A.J. & Petersen C.A. 2020. The balancing act: Immunology of leishmaniosis. Research in Veterinary Science. 130: 19-25. DOI: 10.1016/j.rvsc.2020.02.004
Travi B.L. & Miró G. 2018. Use of domperidone in canine visceral leishmaniasis: gaps in veterinary knowledge and epidemiological implications. Memórias do Instituto Oswaldo Cruz. 113(11): e180301.
Villaescusa A., García-Sancho M., Rodríguez-Franco F., Tesouro M.Á. & Sainz Á. 2015. Effects of doxycycline on haematology, blood chemistry and peripheral blood lymphocyte subsets of healthy dogs and dogs naturally infected with Ehrlichia canis. The Veterinary Journal. 204(3): 263-268.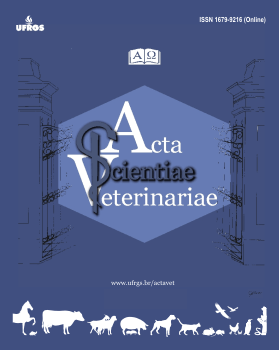 How to Cite
Leal-Lima, A., Ferreira, T. C., Ferreira, T. M. V., Coelho, P. C., & Nunes-Pinheiro, D. C. S. (2021). Successful Treatment and Management of Canine Ehrlichiosis-Leishmaniosis-Heartworm Comorbidity. Acta Scientiae Veterinariae, 49. https://doi.org/10.22456/1679-9216.113295
License
This journal provides open access to all of its content on the principle that making research freely available to the public supports a greater global exchange of knowledge. Such access is associated with increased readership and increased citation of an author's work. For more information on this approach, see the Public Knowledge Project and Directory of Open Access Journals.
We define open access journals as journals that use a funding model that does not charge readers or their institutions for access. From the BOAI definition of "open access" we take the right of users to "read, download, copy, distribute, print, search, or link to the full texts of these articles" as mandatory for a journal to be included in the directory.
La Red y Portal Iberoamericano de Revistas Científicas de Veterinaria de Libre Acceso reúne a las principales publicaciones científicas editadas en España, Portugal, Latino América y otros países del ámbito latino