Liver Cysts in a Kitten with Platynosomum sp.
Abstract
Background: Hepatic cysts are rarely described in association with infections by Platynosomum sp. Infected animals are most often asymptomatic, and the severity of symptoms is associated with the number of biliary tract parasites, which may lead to cholangitis and cholangiohepatitis. Although platinosomiasis is often associated with cholangitis and cholangiohepatitis, it rarely is with polycystic disease. For the parasite's life cycle to occur, the infected cat must eliminate the eggs in the feces and three intermediate hosts are needed: snails, terrestrial isopods and vertebrates like the frog or the gecko. The eggs are ingested by the snails, then the miracids are released and matured into the mother sporocyst form, which originates child sporocysts containing the cercariae, that leave the mollusks for the soil and are ingested by the terrestrial isopod in which the cercariae matures until metacercariae. Vertebrates ingest terrestrial isopods and are ingested by felines. The present study aimed to report an unusual case of platinosomiasis with the development of multiple hepatic cysts.
Case: 
A mixed breed male kitten was admitted with a history of apathy, hyporexia, increased abdominal volume and jaundice. In the ultrasound examination, we could see hepatomegaly and several hypoecogenic rounded structures, similar to cysts. There was an increase of serum concentration of the hepatic enzymes alanine transaminase and gamma glutamyl transferase enzyme. The parasite's eggs were investigated in the patient's feces using the simple sedimentation method, with a negative result. The animal was submitted to celiotomy and it was possible to observe several cystic structures in the liver. The cysts content was sent to cytology and culture. Cytology result was compatible with liver cyst and there was no bacterial growth in the culture. Bile fluid was collected and sent for Platynosomum sp. research using the centrifugal sedimentation test in formalin-ether solution, which allowed the parasite's eggs to be observed. The cat was treated with praziquantel,silymarin, S-Adenosyl methionine, and ursodeoxycholic acid. The patient gradually improved from jaundice and there was a reduction in abdominal volume.
Discussion: This report describes a case of platinossomiasis associated with polycystic liver disease in a domestic cat, which seems to be an uncommon presentation. Most infected cats are asymptomatic, but some animals may exhibit anorexia, apathy, increased abdominal volume due to hepatomegaly and/or ascitis and jaundice. Although infestation in domestic cats is relatively common, its association with liver cysts is rare or poorly reported in the literature, representing a diagnostic challenge, which makes mandatory the inclusion of this differential diagnosis in polycystic liver diseases in cats. The diagnosis of this parasitosis can be made based on the association among clinical signs, laboratory tests and ultrasound examination, but the definitive diagnosis is usually made by visualizing the parasite's eggs. In the case described, it was not possible to observe parasite's eggs in the patient's feces, but in the bile. Platynosomum sp. infection should always be considered as a differential diagnosis in cases of polycystic liver disease in cats, especially in countries with tropical or subtropical climate. Early diagnosis and appropriate treatment were fundamental for the improvement of the patient's clinical condition.
Keywords: feline, liver, platinosomiasis, polycystic disease, jaundice, cystic lesions.
Downloads
Download data is not yet available.
References
Azevedo F.D., Veiga C.C.P., Scott F.B., Correia T.R., Fernandes J.I. & Verocai G.G. 2013. Avaliação radiográfica e ultrassonográfica do fígado e da vesícula biliar em gatos domésticos (Felis catus domesticus) parasitados por Platynosomum illiciens (Braun, 1901) Kossak, 1910. Revista Brasileira de Medicina Veterinária. 35: 283-288.
Bosje J.T., van den Ingh T.S.G.A.M. & van der Linde-Sipman J.S. 1998. Polycystic kidney and liver disease in cats. The Veterinary Quarterly. 20: 136-139.
Bunch S.E. 2009. Hepatobiliary diseases in the cat. In: Nelson R.W. & Couto G.C. (Eds). Small Animal Internal Medicine. St. Louis: Elsevier, pp.520-540.
Carreira V.S., Vieira R.F.C., Machado G.F. & Luvizotto M.C.R. 2008. Feline cholangitis/cholangiohepatitis complex secondary to Platynosomum fastosum infection in a cat. Revista Brasileira de Parasitologia Veterinária. 17: 184-187.
Daniel A.G.T., Diaz R.F., Camignatto L.O., Kage N.K., Pellegrino A. & Cogliati B. 2012. Polycystic liver disease associated with Platynosomum fastosum infection in a cat. Braz. Journal of Veterinary Pathology. 5: 137-141.
Facin C.A., Montanhim L.G., Sfrizo S.L., Camplesi C.A., Dias G.G.G.L. & Moraes C.P. 2018. Resolution of a biliary obstruction caused by Platynosomum fastosum in a feline by a modified cholecystoduodenostomy approach – case report. Acta Veterinaria-Beograd. 68(2): 224-231.
Norsworth G.D. 2006. Flukes: Liver, biliary and pancreatic. In: The Feline Patient. Ames: Blackwell, pp.108-109.
Salomão M., Souza-Dantas L.M., Mendes-de-Almeida F., Branco A.S., Bastos O.P.M., Sterman F. & Labarthe N. 2005. Ultrasonography in hepatobiliary evaluation of domestic cats infected by Platynosomum looss. International Journal of Applied Research and Veterinary Medicine. 3: 271-279.
Sampaio M.A.S., Berlim C.M., Angelim A.J.G.L., Gondim L.F.P. & Almeida M.A.O. 2006. Infecção natural pelo Platynosomum looss 1907, em gato no município de Salvador, Bahia. Revista Brasileira de Saúde e Produção Animal. 7 (1):1-6.
Vieira A.L.S., Ecco R., Lima W.S. & Guedes R.M.C. 2009. Platynosomum fastosum infection in two cats in Belo Horizonte, Minas Gerais State. Brazilian Journal of Veterinary Pathology. 2: 45-58.
Xavier F.G., Morato G.S., Righi D.A., Maiorka P.C. & Spinosa H.S. 2007. Cystic liver disease related to high Platynosomum fastosum infection in a domestic cat. Journal of Feline Medicine and Surgery. 9: 51-55.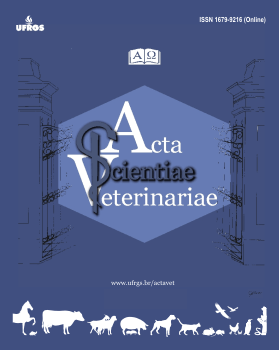 How to Cite
Piana, I. das N., Gazzone, A. C., Simplício, L. L., Palumbo, M. I. P., & Babo-Terra, V. J. (2021). Liver Cysts in a Kitten with Platynosomum sp. Acta Scientiae Veterinariae, 49. https://doi.org/10.22456/1679-9216.113095
License
This journal provides open access to all of its content on the principle that making research freely available to the public supports a greater global exchange of knowledge. Such access is associated with increased readership and increased citation of an author's work. For more information on this approach, see the Public Knowledge Project and Directory of Open Access Journals.
We define open access journals as journals that use a funding model that does not charge readers or their institutions for access. From the BOAI definition of "open access" we take the right of users to "read, download, copy, distribute, print, search, or link to the full texts of these articles" as mandatory for a journal to be included in the directory.
La Red y Portal Iberoamericano de Revistas Científicas de Veterinaria de Libre Acceso reúne a las principales publicaciones científicas editadas en España, Portugal, Latino América y otros países del ámbito latino