Metastatic Leiomyosarcoma in African Goose (Anser cygnoides)
Abstract
Background: In birds, neoplasms are more frequently observed in Psittaciformes and Galliformes and rarely seen in Columbiformes and Anseriformes, with few reports of the occurrence of mesenchymal neoplasms such as leiomyosarcoma affecting birds. Therefore, the objective of this study was to describe a case of metastatic leiomyosarcoma in an African goose (Anser cygnoides), analyzing the epidemiological, clinical and pathological aspects.
Case: A 10-month-old male African goose, was referred to the Veterinary Hospital, Universidade Federal de Campina Grande, Patos, Paraiba, Brazil, whit ataxia, tremors of intention in the head, and nystagmus about one month ago, progressing to lateral decubitus. Due to the unfavorable prognosis, animal was euthanized. Samples of the organs of the coelomic cavity and central nervous system were collected for histologic examination. The samples were fixed in 10% buffered formalin. After fixation, the organs were embedded in paraffin, cut into 4-5 μm sections, and then stained with hematoxylin and eosin. Paraffin blocks with liver, kidney and encephalon fragments were selected and sent for immunohistochemical analysis. The primary antibodies used were: alpha-smooth muscle actin (monoclonal 1A4), anti-vimentin (monoclonal, V9), CD57 (monoclonal, NK1) and cytokeratin (monoclonal, AE1/AE3) and incubated for 18 h at 4Cº. As an amplification and detection system polymer and labeled by addition of the liquid diaminobenzidine+substratechromogen system and counterstained with Harris hematoxylin. Macroscopically were observed in the liver nodular multifocal areas yellowish, sometimes coalescing, firm, and elevated to the surface that at the cut deepened to the parenchyma. In the left kidney there was a similar tumor mass. In the left frontal lobe, there was nodular focal area, well circumscribed, yellowish and protruding. To cutting surface it compressed the parietal and temporal lobe and showed surface yellowish and smooth. Microscopically, the liver was diffusely infiltrated by mesenchymal neoplasia, expansive, infiltrative, poorly circumscribed and not encapsulated, constituted by spindle cells arranged in interlaced bundles. The cells were elongated with sparse cytoplasm, slightly eosinophilic and indistinct borders with rounded to elongated nuclei, with coarse chromatin and evident nucleoli. In fragments of kidney and brain, neoplastic infiltration similar to that described in the liver was observed. In immunohistochemistry, neoplastic cells were positive with antibodies anti-vimentin and alpha-smooth muscle actin.
Discussion: The diagnosis of metastatic leiomyosarcoma in an African goose was based on epidemiological, clinical and pathological findings and confirmed by immunohistochemistry. Reports of neoplasms in birds are relatively rare, however the occurrence of metastatic leiomyosarcoma affecting goose in the most varied locations has been described, from skin to organs of the coelomic cavity like kidney, ovary and intestinal wall. In this case, there is the unusual occurrence of dissemination in the liver, kidney and cerebral cortex, progressing to a neurological clinic condition. There are rare cases of metastatic leiomyosarcoma in geese African goose (Anser cygnoides). The main differential diagnoses include fibrosarcomas, neurofibrosarcomas and histiocytic sarcomas, which are similar macroscopically and histologically.
Keywords: ornithopathology, mesenchymal neoplasms, anseriformes.
Descritores: ornitopatologia, neoplasias mesenquimais, anseriformes.
Título: Leiomiossarcoma metastáticoem ganso africano (Anser cygnoides)
Downloads
Download data is not yet available.
References
Blackmore D.K. 1966. The clinical approach to tumours in cage birds. The pathology and incidence of neoplasia in cage birds. Journal of Small Animal Practice. 7(3): 217-223.
Bonel J., Alberti T.S., Stumm G.K.F., Gamba C.O., Bandarra P. & Cassali G.D. 2019. Leiomysarcoma in a cockatiel. Ciência Rural. 49(3): 1-4.
Cardoso J.F.R. & Levy M.G.B. 2014. Pathological and immunohistochemical Diagnosis of an Intestinal Leiomyosarcoma in a Zebra Finch. Brazilian Journal Veterinary Pathology. 7(2): 89-92.
Cooper B.J. & Valentine B.A. 2017. Tumors of muscle. In: Meuten D.J. (Ed). Tumors in Domestic Animals. 5th edn. Ames: John Wiley & Sons Inc, pp.435-436.
Doster A.R., Jerre A., Johnson L., Gerald B., Duhamel E., Bargar A.T.W. & Nasonc G. 1987. Liposarcoma in a Canada Goose (Branta canadensis). Avian Diseases. 31(4): 918-920.
Gates R.J., Woolf A., Caithamer D.F. & Moritz W.E. 1992. Prevalence of spindle cell sarcomas among wild Canada geese from southern Illinois. Journal of Wildlife Diseases. 28(4): 666-668.
Godoy S.N., Alves V.A.F., Kanamura C.T. & Matushima E.R. 2009. Principais processos neoplásicos encontrados em psitacídeos mantidos em cativeiro. Pesquisa Veterinária Brasileira. 29(6): 445-451.
Jaensch S.M., Butler R., O'Hara A., Raidal S.R. & Wuatt K. 2002. Atypical multiple, papilliform, xanthomatous, cutaneous neoplasia in a goose (Anser anser). Australian Veterinary Journal. 80(5): 277-279.
Nair V. & Fadly A.M. 2013. Neoplastic diseases: leukosis/ sarcoma group. In: Swayne D.E., Glisson J.R., McDougald L.R., Nolan L.K., Suarez D.L. & Nair N. (Eds). Diseases of Poultry. 13th edn. New York: John Wiley & Sons, pp.566- 576.
Nemeth N.M., Gonzalez-Astudillo V., Oesterle P.T. & Howerth E.W. 2016. A 5-Year Retrospective Review of Avian Diseases Diagnosed at the Department of Pathology, University of Georgia. Journal of Comparative Pathology. 155(3): 105-120. DOI: http://dx.doi.org/10.1016/j.jcpa.2016.05.006
Pachaly J.R., De Conti J.B., Werner P.R., Sanches A.W.D., Montiani-Ferreira F., Santos A.L.Q., Germano R.M. & Voltarelli-Pachaly E.M. 2016. Neurofbrossarcoma em papagaio-verdadeiro (Amazona aestiva) - Relato de caso. Revista Brasileira de Medicina Veterinária. 38(Suppl 1): 115-119.
Payne L.N. & Purchase H.G. 1991. Leukosis/sarcoma group. In: Calnek B.W., Barnes H.J., Beard C.W., Reid W.M. & Yoder H.W. (Eds). Diseases of Poultry. 9th edn. Ames: Iowa State University Press, pp.386-439.
Reece R.L. 1996. Some observations on naturally occurring neoplasms of domestic fowls in the State of Victoria, Australia (1977-87). Avian Pathology. 25(3): 407- 447.
Rigdon R.H. & Leibovitz L. 1970. Spontaneous-occurring tumors in the duck: Review of the literature and report of three cases. Avian Diseases. 14(3): 431-444.
Sinhorini J.A. 2008. Neoplasias em aves domésticas e silvestres mantidas em domicílio: avaliação anatomopatológica e imunoistoquímica. 134f. São Paulo, SP. Dissertação (Mestrado em Ciências) - Faculdade de Medicina Veterinária e Zootecnia, Universidade de São Paulo.
Siqueira R.A.S., Maciel W.C., Bezerra W.G.A., Nishi-Machado D., Horn R.V. & Barbosa R.L. 2018. Fibrossarcoma intranasal invasivo e colienterite secundária em um periquito australiano (Melopsittacus undulatus). Revista Agropecuária Técnica. 39(2): 185-190.
Zamani-Ahmadmahmudi M., Nassiri S.M., Khaksar E. & Solati A.A. 2014. A rare case of cutaneous leiomyosarcoma in budgerigar (Melopsittacus undulatus). Archives of Razi Institute. 69(1): 57-60.
Zhu F., Jie H., Lian L., Qu L.J., Hou Z.C., Zheng J.X., Chen S.Y., Yang N. & Liu Y.P. 2015. Avian sarcoma and leukosis virus gag gene in the Anser anser domesticus genome. Genetics and Molecular Research. 14(4): 14379-14386. DOI: 10.4238/2015.November.18.1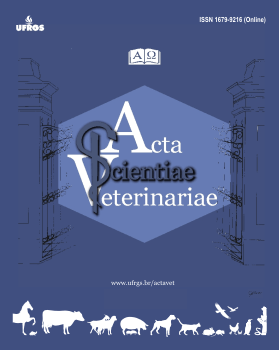 How to Cite
Silva, R. A. F., Olinda, R. G., Galiza, G. J. N. de, & Dantas, A. F. M. (2021). Metastatic Leiomyosarcoma in African Goose (Anser cygnoides). Acta Scientiae Veterinariae, 49. https://doi.org/10.22456/1679-9216.112998
License
This journal provides open access to all of its content on the principle that making research freely available to the public supports a greater global exchange of knowledge. Such access is associated with increased readership and increased citation of an author's work. For more information on this approach, see the Public Knowledge Project and Directory of Open Access Journals.
We define open access journals as journals that use a funding model that does not charge readers or their institutions for access. From the BOAI definition of "open access" we take the right of users to "read, download, copy, distribute, print, search, or link to the full texts of these articles" as mandatory for a journal to be included in the directory.
La Red y Portal Iberoamericano de Revistas Científicas de Veterinaria de Libre Acceso reúne a las principales publicaciones científicas editadas en España, Portugal, Latino América y otros países del ámbito latino