Atresia Ani (Imperforated Anus) in Calves: Clinical, Surgical and Pathological Aspects
Abstract
Background: Anal atresia is a congenital malformation, which often affects calves, and is related to the imperforation of the membrane that separates the endoderm of the posterior intestine from the ectodermal anal membrane. It is commonly associated with other congenital malformations and skeletal anomalies. The clinical signs generally appear in the first days of the animal's life, due to a retention of feces. The diagnosis is clinical and is based on observation, anamnesis and a physical examination of the animal. The only viable treatment is surgical. This paper aims to report 6 cases of anal atresia in bovine calves, 4 males and 2 females that were successfully treated surgically.
Cases: This work reports 6 cases of anal atresia in 4 male calves and 2 female calves. Three presented total atresia (type II), one partial (type I) and in both female calves, anal atresia and rectovaginal fistula (type IV) were observed. The animals were all of undefined race. Five of the cases were from northern Tocantins, 4 males and 1 female (anal atresia with rectovaginal fistula), and 1 female (anal atresia with rectovaginal fistula) was from Valença, RJ. All animals were born active, by eutocic/natural birth, and assumed a quadrupedal position followed by the first feeding as normal. They were aged between 2 days and 6 months, and had a clinical history of abdominal distention and difficulty or inability defecating, and the females both also had a rectovaginal fistula, all cases compatible with anal atresia. Based on the patient's history and clinical examination, surgical treatment for anal reconstruction was decided upon. Postoperative treatment consisted of enrofloxacin [2.5 mg/kg - intramuscularly (IM), once daily (SID), for 5 days] and fluxinin meglumine [1.1 mg/kg - IM, SID, for 3 days] ; as well as a healing ointment which was applied to the area of the surgical wound, every 12 h, for 7 days. There were no trans-surgical complications. The animals showed progressive recovery after anal reconstruction and the stitches were removed in all cases on the 10th postoperative day, with no postoperative complications and no recurrence of any clinical signs from that moment on.
Discussion: The study of congenital and hereditary changes enables the identification of their origins, can help prevent new cases and, some of them, are open to economically viable treatment and/or correction that can improve the well-being of the animal and prevent economic losses due to death or animal sacrifice, as reported in the present study. Anal atresia is the most common congenital defect of the lower gastrointestinal tract in calves, being an isolated abnormality, or associated with other malformations, especially of the distal spinal column such as the absence of a tail (perosumus acaudato), as one of the animals in this study. The clinical signs and physical examination are sufficient to establish the diagnosis, as demonstrated in this report, which is usually made in newborn animals, due to the lack or difficulty in defecation associated with no anal orifice and/or swelling in the perineal region. The treatment of choice for anal atresia is surgical, in order to construct an anal neo-orifice and thus avoid endotoxemic shock as well as providing relief and well-being for the animals. As observed in this study, when anal atresia is diagnosed early, and surgical treatment is properly instituted, the prognosis is favorable. The surgery is considered of low complexity, quick and it can be carried out in the field. Thus, from a commercial point of view, considering the costs of the procedures and the value of the calf at the end of weaning, such treatments are beneficial to the owners. In addition, the surgical treatment is essential for animal health and welfare in cases of anal atresia.
Keywords: cattle, congenital defects, hereditary pathology, perosomus acaudato, surgery.
Downloads
Download data is not yet available.
References
Brown C.C., Baker D.C. & Baker I.K. 2007. Alimentary system. In: Jubb K.V.F., Kennedy P.C. & Palmer N. (Eds). Pathology of Domestic Animals. 5th edn. New York: Academic Press, pp.3-296.
Campos F.K., Sousa M.G.S, Silva N.S., Oliveira C.H.S., Duarte M.D., Barbosa J.D. & Oliveira C.M.C. 2009. Doenças congênitas em bovinos diagnosticadas pela central de diagnóstico veterinário (cedivet) da Universidade Federal do Pará, no período de 1999 a 2009. Ciência Animal Brasileira. 1: 13-18.
Carvalho Y.N.T., Branco M.A.C., Mota L.H.C.M., Evangelista L.S.M., Silva S.V. & Feitosa Júnior F.S. 2012. Atresia Anal Associada à Fístula reto-vaginal em Bezerra: Uma Revisão. PUBVET. 6(33): 1-15.
Dantas A.F.M., Riet-correa F., Medeiros R.M.T., Galiza G.J.N., Pimentel L.A., Anjos B.L. & Mota R.A 2010. Malformações congênitas em ruminantes no semiárido do nordeste brasileiro. Pesquisa Veterinária Brasileira. 30(10): 807-815.
Debasis J. & Mousumi J. 2010. Perosomus acaudatus (Anury) in a local non-descript milch cow: A report. North East Veterinarian. 10: 1-25.
Gangwar A.K., Devi K.S., Singh A.K., Katiyar N., Patel G. & Srivastava S. 2014. Congenital anomalies and their surgical correction in ruminants. Advances in Animal and Veterinary Sciences. 2(7): 369-376.
Kumar G., Arora N., Tiwari D.K., Shamar S. & Kaushik D. 2020. Surgical management of atresia ani complicated with rectovaginal fistula in a Sahiwal calf. Journal of Entomology and Zoology Studies. 8(3): 714-716.
Macêdo J.T.S.A., Lucena R.B., Giaretta P.R., Kommers G.D., Fighera R.A., Irigoyen L.F. & Barros C.S.L. 2011. Defeitos Congênitos em Bovinos da Região Central do Rio Grande do Sul. Pesquisa Veterinária Brasileira. 31(4): 297-306.
Mahesh R., Kamalakar G. & Devi P.V. 2014. Surgical management of atresia ani in a calf: a case report. International Journal of Agricultural Sciences and Veterinary Medicine. 2(2): 51-53.
Remi-adewunmi B.D., Fale M.S., Usman B. & Lawal M. 2007. A retrospective study of atresia ani cases at the Ahamdu Bello University veterinary teaching hospital Zaria, Nigeria. Nigerian Veterinary Journal. 28(1): 48-53.
Shakoor A., Muhammad S.A., Younus M. & Kashif M. 2012. Surgical repair of congenital recto-vaginal fistula with atresia ani in a cow calf. Pakistan Veterinary Journal. 32(2): 298-300.
Singh J., Singh A.P., Patil D.B. & Kelawala D.N. 2020. The digestive system. In: Singh J., Singh S. & Tyagi R.P.S. (Eds). Ruminant Surgery. 2nd edn. New Delhi: CBS Publisher and Distributors, pp.292-337.
Singh N.K., Kumar A. & Kumar P. 2018. Surgical correction of atresia ani et recti along with pervious urachus in sahiwal cow calves. Journal of Natural Science, Biology and Medicine. 9(2): 288-290.
Weaver A.D., Jean G.S. & Steiner A. 2005. In: Bovine Surgery and Lameness. 2nd edn. Oxford: Blackwell Publishing, pp.75-139.
Yanaka R., Ferreira H.N., Assis M.M.Q., Oliveira G.K., Albuquerque V.B. & Sartori V.C. 2012. Defeitos congênitos múltiplos em bezerros nelore - Relato de caso. Revista Arquivos Veterinária. 28(3): 144-147.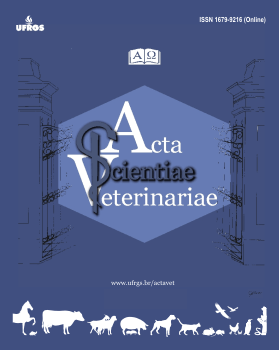 How to Cite
Fernandes, M. E. dos S. L., Caldas, S. A., Rocha, L. R., Chenard, M. G., Freire, K. R. F., Carvalho, N. da S., Nogueira, V. de A., & Helayel, M. A. (2021). Atresia Ani (Imperforated Anus) in Calves: Clinical, Surgical and Pathological Aspects. Acta Scientiae Veterinariae, 49. https://doi.org/10.22456/1679-9216.112980
License
This journal provides open access to all of its content on the principle that making research freely available to the public supports a greater global exchange of knowledge. Such access is associated with increased readership and increased citation of an author's work. For more information on this approach, see the Public Knowledge Project and Directory of Open Access Journals.
We define open access journals as journals that use a funding model that does not charge readers or their institutions for access. From the BOAI definition of "open access" we take the right of users to "read, download, copy, distribute, print, search, or link to the full texts of these articles" as mandatory for a journal to be included in the directory.
La Red y Portal Iberoamericano de Revistas Científicas de Veterinaria de Libre Acceso reúne a las principales publicaciones científicas editadas en España, Portugal, Latino América y otros países del ámbito latino