Thalamic Melanosis in Goats
Abstract
Background: Melanosis is a blackened pigmentation resulting from the accumulation of melanocytes in tissues that are not normally pigmented. This change in the color of the organs occurs due to the agglomeration of melanocytes originating from abnormal migration during embryogenesis and does not cause dysfunction to the affected organ. Although melanosis frequently occurs in several species and affects several organs such as the brain and spinal cord leptomeninges, involvement in the thalamus region is unusual. The objective of this work was to report two cases of thalamic melanosis in goats, determining the pathological and histochemical aspects that assist in the diagnosis of this condition.
Cases: Two cases of thalamic melanosis in goats were diagnosed. In both cases, the animals had no nervous history disease and clinical signs. The cause of death in cases 1 and 2 was established based on anatomopathological findings and clinical signs being diagnosed with mycoplasmosis and asphyxia, respectively. After fixing and making cross-sections of the brain, a focal lengthy blackened area was observed on the thalamus surface in both cases. Microscopically, lesions in the brain were similar in both cases and exclusively affected the thalamus. These cells had abundant cytoplasm, well delimited with brownish granular pigment. The nuclei were difficult to visualize and in some cells, it was rounded, well-defined, morphologically compatible with melanocytes. Melanocytes were mainly distributed around neurons and often distended the perivascular space of multiple blood vessels. In Fontana Masson staining, the granules in the cytoplasm of these cells stained strongly black. The Prussian Blue, Periodic Acid- Schiff's, Von Kossa, and Giemsa stains were negative, and the pigment remained brown. In the unstained slides, assembled after the deparaffinization and clarification process, it was observed the permanence of cells with blackish-brown pigment in the cytoplasm. In immunohistochemistry, strong immunostaining of pigmented cells with the Anti-MelanA antibodies was observed in both cases.
Discussion: The diagnosis of thalamic melanosis in goats was carried out based on the characteristic pathological findings, in which melanin pigments were demonstrated and identified through HE, Fontana-Masson staining, and unstained slides and confirmed by the IHC. The use of complementary histochemical techniques was fundamental for the classification of the pigment as melanin, demonstrating to be an accessible and reliable tool for the diagnosis of pathological processes that lead to the accumulation of pigments and or material in the tissues. The occurrence of melanin in the thalamus may be associated with a failure in the migration of melanoblasts, which would go to the optical pathways or to the thalamus. This erratic migration of melanoblasts can be explained by the fact that the forebrain is the embryogenic origin of the optic and diencephalon pathways. Macroscopically, thalamic melanosis must be differentiated mainly from neoplastic processes such as melanoma and hemangiosarcoma, pigmented fungus infections, Phalaris angusta poisoning, listeriosis, neurocutaneous melanosis, and neuromelanin. It was concluded that thalamic melanosis is an uncommon alteration in goats and although it has been diagnosed as an incidental necropsy finding, should be included in the differential diagnosis of diseases that affect the central nervous system, especially those that have a color change associated with the deposition of pigments in the tissues.
Keywords: melanin, necropsy findings, pigment, thalamus.
Descritores: melanina, achados de necropsia, pigmento, tálamo.
Título: Melanose talâmica em caprinos.
Downloads
Download data is not yet available.
References
Barros C.S.L. 2016. Fígado, vias biliares e pâncreas exócrino. In: Santos R.L. & Alessi A.C. (Eds). Patologia Veterinária. 2.ed. Rio de Janeiro: Roca, pp.181-265.
Bestetti V.G., Fatzer R. & Frese K. 1980. Histologische und ultrastrukturelle Untersuchungen zur Melanosis thalami beim Tier. Schweizer Archiv fur Tierheilkunde. 122: 637-652.
Biava J.S., Gonçalves R.C., Biondo A.W & Telles J.E.Q. 2008. Escore total de hemossiderófagos (THS) na Hemorragia Pulmonar Induzida por Exercício (EIPH) em Cavalos Quarto de Milha. Revista Acadêmica de Ciências Agrárias e Ambientais. 6(3): 335-340.
Bizzi J.W.J. & Leão H.Z. 2017. Embriologia do sistema nervoso. In: Jotz G.P., Marrone A.C.H., Stefani M.A., Bizzi J.J. & Aquini M.G. (Eds). Neuroanatomia Clínica e Funcional: Anatomia, Fisiologia e Patologia. Rio de Janeiro: Elsevier, pp.1-18.
Bradley L.N & Brian P.W. 2013. Orelha e olhos. In: McGavin M.D. & Zachary J.F. (Eds). Bases da Patologia em Veterinária. 5.ed. Rio de Janeiro: Elsevier, pp.774-873.
Busato E.M., Sousa R.S., Silva-Meirelles J.R., Castro M.L., Deconto I. & Dornbuschet P.T. 2017. Compressão de medula espinhal ocasionada por melanoma em cavalo de pelagem castanha. Arquivo Brasileiro de Medicina Veterinária e Zootecnia. 69(5): 1346-1350.
Chen Y., Deng W., Zhu H., Li J., Xu Y., Dai X., Jia C., Kong Q., Huang L., Liu Y., Ma C., Xiao C., Liu Y., Li Q., Bezard E. & Qinet C. 2009. The pathologic features of neurocutaneous melanosis in a cynomolgus macaque. Veterinary Pathology. 46(4): 773-775.
Dillehay D.L., Ribas J.L., Newton Junior J.C. & Kwapienet R.P. 1987. Cerebral phaeohyphomycosis in two dogs and a cat. Veterinary Pathology. 24(2): 192-194.
Doucet M.Y. & Viel l. 2002. Alveolar Macrophage Graded Hemosiderin Score from Bronchoalveolar Lavage in Horses with Exercise-Induced Pulmonary Hemorrhage and Controls. Journal of Veterinary Internal Medicine. 16(3): 281-286.
Ecco R., Viott A.M., Graça D.L & Alessi A.C. 2016. Sistema Nervoso. In: Santos R.L. & Alessi A.C. (Eds). Patologia Veterinária. 2.ed. Rio de Janeiro: Roca, pp.487-572.
Fankhauser R. 1963. Cerebrale Melanose bei der Ziege. Wien Tierarztl Monatsschr. 50: 373-384.
Filgueira K.D., Reis P.F.C.C., Batista J.S. & Paula V.V. 2012. Hemangiossarcoma cutâneo com metástase no sistema nervoso central de um canino. Acta Scientiae Veterinariae. 40(1): 1-7.
Frade M.T.S., Firmino M.O., Maia L.A., Silveira A.M., Nascimento M.J.R., Martins F.S.M., Souza A.P. & Dantas A.F.M. 2018. Características epidemiológicas, clínico-patológicas e morfotintoriais de quatorze casos de nocardiose em cães. Pesquisa Veterinária Brasileira. 38(1): 99-106.
Gava A., Sousa R.S., Deus M.S., Pilati C., Cristani J., Mori A. & Neves D.S. 1999. Phalaris angusta (Gramineae) como causa de enfermidade neurológica em bovinos no Estado de Santa Catarina. Pesquisa Veterinária Brasileira. 19(1): 35-38.
Guedes K.M.R. Colodel E.M., Castro M.B., Souza M.A., Arruda L.P., Dianezi D.M., Borges J.R.J. & Riet-Correa F. 2011. Calcinose enzoótica em ruminantes no Brasil Central. Pesquisa Veterinária Brasileira. 31(8): 643-648.
Guedes R.M.C. Brown C.C., Sequeira J.L. & Reis Jr. J.L. 2016. Sistema digestório. In: Santos R.L. & Alessi A.C. (Eds). Patologia Veterinária. 2.ed. Rio de Janeiro: Roca, pp.87-180.
Jones T. & Hunt R. 1983. Veterinary Pathology. 5th edn. Philadelphia: Lea & Febiger, pp.79-82.
Joseph K.R., Difazio M.P., Hartman K.R. & Ney J.P. 2007. Neurocutaneous melanosis associated with autoimmune diabetes mellitus. Neurology. 68(21): 1862-1863.
Kaliner G., Frese K., Fatzer R. & Fankhauser R. 1974. Thalamic melanosis in goats. Schweizer Archiv fur Tierheilkunde. 116(9): 405-411.
Kasantikul V., Shuangshoti S., Pattanaruenglai A. & Kaoroptham S. 1989. Intraspinal melanotic arachnoid cyst and lipoma in neurocutaneous melanosis. Surgical Neurology. 31(2): 138-141.
Prado R.G.S., Domiciano T.A.O., Paredes L.J.A., Bezerra Jr. P.S., Pereira W.L.A., Cerqueira V.D., Driemeier D. & Riet-Correa G. 2019. Nervous form of listeriosis in buffaloes. Pesquisa Veterinária Brasileira. 39(5): 299-303.
Rech R.R. Giaretta P.R. Brown C. & Barros C.S.L. 2018. Gross and histopathological pitfalls found in the examination of 3,338 cattle brains submitted to the BSE surveillance program in Brazil. Pesquisa Veterinária Brasileira. 38(11): 2099-2108.
Rolls G.O., Farmer N.J. & Hall J.B. 2008. Fixation Artifacts. In: Rolls G.O., Farmer N.J. & Hall J.B. (Eds). Artifacts in histological and cytological preparations. Melbourne: Leica Microsystems, pp.21-27.
Sousa R. & Irigoyen L.F. 1999. Intoxicação experimental por Phalaris angusta (Gramineae) em bovinos. Pesquisa Veterinária Brasileira. 19(3/4): 116-122.
Vila M. 2019. Neuromelanin, aging, and neuronal vulnerability in Parkinson's disease. Movement Disorders. 34(10): 1440-1451.
Werner P.R. 2011. Acúmulos ou Deposições de Substâncias. In: Werner P.R. (Ed). Patologia Geral Veterinária. São Paulo: Roca, pp.103-144.
Zachary J.F. 2013. Sistema Nervoso. In: McGavin M.D. & Zachary J.F. (Eds). Bases da Patologia em Veterinária. 5.ed. Rio de Janeiro: Elsevier, pp.774-873.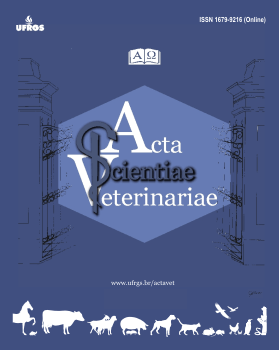 How to Cite
Soares, Y. G. dos S., Silva, D. M. dos S., Nascimento, M. J. R. do, Firmino, M. de O., Alves, R. C., Olinda, R. G. de, Dantas, A. F. M., & Galiza, G. J. N. de. (2021). Thalamic Melanosis in Goats. Acta Scientiae Veterinariae, 49. https://doi.org/10.22456/1679-9216.112905
License
This journal provides open access to all of its content on the principle that making research freely available to the public supports a greater global exchange of knowledge. Such access is associated with increased readership and increased citation of an author's work. For more information on this approach, see the Public Knowledge Project and Directory of Open Access Journals.
We define open access journals as journals that use a funding model that does not charge readers or their institutions for access. From the BOAI definition of "open access" we take the right of users to "read, download, copy, distribute, print, search, or link to the full texts of these articles" as mandatory for a journal to be included in the directory.
La Red y Portal Iberoamericano de Revistas Científicas de Veterinaria de Libre Acceso reúne a las principales publicaciones científicas editadas en España, Portugal, Latino América y otros países del ámbito latino