Giant Fibrolipoma in the Distal Limb of a Cow
Abstract
Background: Lipomas are adipocytic tumors of slow and expansive growth. They can be classified into several subtypes depending on the tissue present next to the neoplastic adipocytes. One of such subtypes is the fibrolipoma, which is formed by well-differentiated adipocytes and fibrous connective tissue. This neoplasm has been little described in cattle, and rare reports present the treatment and resolution of the case. Thus, the dissemination of cases of fibrolipomas in cattle is essential to help veterinarians diagnose this neoplasm. The present report describes a case of fibrolipoma in the distal pelvic limb of a cow successfully treated by surgical excision.
Case: A 4-year-old 3/4 Girolando cow from the municipality of Vazante-MG, Brazil, was treated on the farm. According to the owner, the animal had been showing tumoral growth in the left pelvic limb over the period of 1 year and 3 months. The tumor involved the entire left metatarsus and was 40 x 37 cm, without ulcerations and painless on palpation. A neoplasm was suspected and surgical excision was the chosen approach. The cow was sedated, positioned and restrained in right lateral recumbency for surgery. The operative field was prepared and a subcutaneous locoregional ring block was performed dorsally to the tumor. The tumor mass was excised with a safety margin of 1 cm. After removal, the mass was found to weigh 10.4 kg and to be yellowish-white upon sectioning. Due to the distance between the edges of the surgical wound, skin suture could not be performed. Thus, second-intention healing and wound protection with bandages were the choice of management. In the postoperative period, the adopted treatment consisted of antibiotic therapy with benzathine penicillin, analgesia with non-steroidal anti-inflammatory drugs, daily dressings and wound protection with bandages. The animal did not show postoperative complications and, over 8 months of monitoring after surgery, there was no recurrence of the neoplasm and the cow was in productive activity. Tumor fragments were fixed in 10%buffered formalinand sent for histopathological examination, which revealed a neoplasm of mesenchymal cells in the subcutaneous adipose tissue supported by dense fibrovascular stroma with solid arrangement. A large amount of dense connective tissue was found among the neoplastic cells. In view of these findings, the diagnosis of fibrolipoma was established.
Discussion: Fibrolipoma is a benign neoplasm little described in the veterinary literature, especially in cattle, with only 3 cases reported. To the knowledge of the authors, this is the first report of this neoplasm in the distal limb of cattle. Fibrolipomas are a rare type of lipoma formed by well-differentiated lipocytes and fibrous tissue. The fibrolipoma described in this report was 40 cm in diameter and weighed 10.4 kg, so it can be classified as a type of giant lipoma, as it was more than 10 cm in diameter and more than 1 kg in weight. In the present report and in others in the medical literature, surgical removal of the fibrolipoma resulted in complete recovery of the patient without postoperative complications. Surgical excision is the treatment of choice in these cases and usually promotes healing. However, surgery must be performed early and the neoplasm must be completely removed. The histological characteristics of the fibrolipoma in this case are similar to those found in other cases in cattle and corroborate the choice for surgical treatment and maintenance of the animal in the herd. Although rare, fibrolipomas should be included in the differential diagnosis of tumors of slow and expansive growth in cattle.
Keywords: bovine, adipose tissue, lipoma, neoplasia, surgery.
Descritores: bovino, cirurgia, tecido adiposo, lipoma, neoplasia.
Título: Fibrolipoma gigante no membro distal de uma vaca
Downloads
Download data is not yet available.
References
Abellán I., Molina M., Bernabé A. & González P. 2019. Recurrent giant fibrolipoma: A difficult pathology to manage. Cirugia Espanola. 97(9): 544-546.
Allen P.W., Strungs I. & MacCormac L.B. 1998. Atypical subcutaneous fatty tumors: A review of 37 referred cases. Pathology. 30(2): 123-135.
Chander B., Krishna M., Thakur S., Mahajan N., Vij A. & Diwakaran J. 2012. Extremely rare giant retroperitoneal fibrolipoma: A case report. Journal of Cancer Research and Therapeutics. 8(2): 314-316.
Davis C.R., Valentine B.A., Gordon E., McDonough S.P., Schaffer P.A., Allen A.L. & Pesavento P. 2016. Neoplasia in 125 donkeys (Equus asinus): literature review and a survey of five veterinary schools in the United States and Canada. Journal of Veterinary Diagnostic Investigation. 28(6): 662-670.
Ginn P., Mansell J. & Rakich P. 2007. Skin and appendages. In: Maxie G. (Ed). Jubb, Kennedy & Palmer's Pathology Domestic Animals. 5th edn. St. Louis: Elsevier, pp.553-781.
Gross T.L., Ihrke P.J., Walder E.J. & Affolter V.K. 2005. Lipocytic tumors. In: Gross T.L., Ihrke P.J., Walder E.J. & Affolter V.K. (Eds). Skin Diseases of the Dog and Cat: Clinical and Histopathologic Diagnosis. 2nd edn. Oxford: Blackwell Publishing, pp.766-777
Hendrick M.J. 2017. Mesenchymal tumors of the skin and soft tissues. In: Meuten D.J. (Ed). Tumors in Domesic Animals. 5th edn. Ames: Wiley Blackwell, pp.142-175.
Hussain J., AlZamel H.A., Nawaz I. & Al Bader A. 2018. A case of large deep fibrolipoma in the left subclavicular region that compromised the branchial plexus and thoracic duct: A case report. International Journal of Surgery Case Reports. 48: 139-141.
Jain R.R., Jain R.R. & Shukla B.P.P. 2014. Fibrolipoma of elbow joint in bullock. Indian Veterinary Journal. 91(4): 80-81.
Johnson C.J.D., Pynsent P.B. & Grimer R.J. 2001. Clinical features of soft tissue sarcomas. Annals of the Royal College of Surgeons of England. 83(3): 203-205.
Liggett A.D., Frazier K.S. & Styer E.L.. 2002. Angiolipomatous tumors in dogs and a cat. Veterinary Pathology. 39(2): 286-289.
Makovicky P., Juhasz A., Rimarova K. & Makovicky P. 2019. Histological aspects of white fatty lesions in dogs: case reports. International Journal of Applied Research in Veterinary Medicine. 17(2): 41-46.
Marino F., Salvaggio A. & Macri D. 2006. Congenital retroparietal fibrolipoma and osteochondroma in a calf. Veterinary Record. 158(22): 772.
Mazzocchi M., Onesti M.G., Pasquini P., La Porta R., Innocenzi D. & Scudri N. 2006. Giant fibrolipoma in the leg - a case report. Anticancer Research. 26(5B): 3649-3654.
Osawa T., Miura M., Yamagishi N., Kim D., Fukuda N., Fukuoka H., Sasaki J. & Goryo M. 2011. Fibrolipoma of a cryptorchid testis in a young bull. Journal of Veterinary Medical Science. 73(9): 1253-1255.
Sanchez M.R., Golomb M.F., Moy J.A. & Potozkin J.R. 1993. Giant lipoma: Case report and review of the literature. Journal of the American Academy of Dermatology. 28(2): 266-268.
Santos A.M.D.N., Mendonça K.V.T.D.H., Araújo J.C.D.M., Barbosa J.A.P., Santana, S.F., Lima A.V.B.L. & Panjwani C.M.B.R.G. 2020. Histopathological aspects of oral cavity fibrolipoma: a case report. Oral Surgery, Oral Medicine, Oral Pathology and Oral Radiology. 130(3): e209.
Sethia R., Rawlins K.W., Aljasser A., Nogan S., Elmaraghy C.A. & Wiet G.J. 2019. Pediatric nasopharyngeal fibrolipoma: A case report and review of the literature. International Journal of Pediatric Otorhinolaryngology. 125: 103-106.
Simsek T., Sonmez A., Aydogdu I.O., Eroglu L. & Karagoz F. 2011. Giant fibrolipoma with osseous metaplasia on the thigh. Journal of Plastic, Reconstructive and Aesthetic Surgery. 64(5): 125-127.
Studart-Soares E.C., Costa F.W.G., Sousa F.B., Alves A.P.N.N. & Osterne R.L.V. 2010. Oral lipomas in a brazilian population: A 10-year study and analysis of 450 cases reported in the literature. Medicina Oral, Patologia Oral y Cirugia Bucal. 15(5): 691-696.
Tellier B., Gabrian M. & Jaquet J.B. 2021. Carpal tunnel syndrome caused by a giant lipoma of the hand: A Case Report. International Journal of Surgery Case Reports. 80(2021): 105647.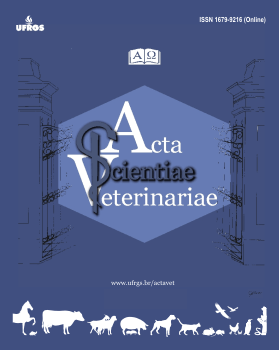 How to Cite
Queiroz, P. J. B., Caixeta, P. C. M. M., Nascente, E. de P., Silva, D. C., Rabelo, R. E., & Silva, L. A. F. da. (2021). Giant Fibrolipoma in the Distal Limb of a Cow. Acta Scientiae Veterinariae, 49. https://doi.org/10.22456/1679-9216.112607
License
This journal provides open access to all of its content on the principle that making research freely available to the public supports a greater global exchange of knowledge. Such access is associated with increased readership and increased citation of an author's work. For more information on this approach, see the Public Knowledge Project and Directory of Open Access Journals.
We define open access journals as journals that use a funding model that does not charge readers or their institutions for access. From the BOAI definition of "open access" we take the right of users to "read, download, copy, distribute, print, search, or link to the full texts of these articles" as mandatory for a journal to be included in the directory.
La Red y Portal Iberoamericano de Revistas Científicas de Veterinaria de Libre Acceso reúne a las principales publicaciones científicas editadas en España, Portugal, Latino América y otros países del ámbito latino