Cardiac Tamponade Secondary to Hemangiosarcoma in a Dog
Abstract
Background: Nonspecific clinical manifestations such as apathy, anorexia and diarrhea are common in the clinical routine, and therefore may mask the severity of its triggering factor. When patients presenting this symptomatology are referred to the care center, it is essential that a thorough investigation is performed to clarify the primary causes of these manifestations, and for this, complementary imaging exams may be necessary. The objective of this study is to describe the clinical and imaging aspects of a canine with cardiac hemangiosarcoma and to correlate with the pathophysiology of the alterations observed, in order to optimize the clinical care of patients with nonspecific clinical signs and affected by this alteration.
Case: A 10-year-old Pitbull dog was treated with a history of vomiting, loss of appetite and diarrhea. Upon clinical examination, the animal presented dehydration level and distended abdomen. On ultrasound examination, hepatomegaly was observed, associated with signs of double layer in the gallbladder wall and the presence of moderate peritoneal effusion. On chest radiography, the cardiac silhouette showed an important increase in size with loss of shape and contours. Dorsal displacement of the trachea, greater contact of the heart with the sternum and displacement of the caudal vena cava were observed. In addition, an amorphous and poorly defined structure with radiopacity of soft tissues was observed in the region of the atrium and right ventricle, causing the obliteration of pulmonary fields. On echocardiographic examination, a significant amount of free anechogenic fluid was observed in the pericardial sac, confirming the suspicion of pericardial effusion, with consequent collapse of the wall of the right heart chambers during systole. Furthermore, an amorphous, poorly defined and heterogeneous structure was observed in the right atrium wall. Due to the location of the neoformation, the patient's general clinical condition, euthanasia was chosen. During the necropsy, the ocular, oral and preputial mucosae were moderately pale. In the abdomen, the presence of hydroperitoneum and hepatomegaly was observed. In the thoracic cavity, hemothorax, enlarged heart were identified and, in the right atrium, a reddish mass was identified. In addition, the lungs were whitish and hypercrepitating at the edges of the cranial lobes; the rest of the organ was moderately hyperemic, hypocrepitating. In histopathological examination of the liver, the centrilobular region showed chronic passive congestion associated with necrosis and multifocal degeneration of hepatocytes. Neoplastic proliferation of mesenchymal cells, moderately cellular, non-encapsulated, of infiltrative growth was observed in the heart. Neoplastic cells formed bundles, with a tendency to organize themselves into small blood vessels filled with red blood cells. The cytoplasm was moderate, elongated, indistinct, eosinophilic and homogeneous. The nucleus was large, unique, elongated, with finely dotted chromatin and sometimes with one or two nucleoli evident. Anisocytosis, anisocariosis and cell pleomorphism were moderate. Interwoven with neoplastic cells, a moderate presence of multifocal lymphohistioplasmocytic inflammatory infiltrate was observed. The definitive diagnosis of cardiac changes was hemangiosarcoma.
Discussion: Hemangiosarcoma is a vascular endothelial cell neoplasm with high metastatic power and unfavorable prognosis. When located in the heart, it is commonly found in the auricle and right atrium and the cardiovascular changes caused by this neoplasm as well as the severity of these changes vary according to size and location. Clinical manifestations can be quite nonspecific and are usually associated with hemodynamic impairment, causing signs of right or left congestive heart failure.
Keywords: heart, neoplasm, pathophysiology.
Descritores: coração, neoplasia, patofisiologia.
Título: Tamponamento cardíaco secundário ao hemangiossarcoma em cães
Downloads
Download data is not yet available.
References
De Sandre-Robinson D.M., Quina M.T. & Lurie D.M. 2018. Pericardial Hemangiosarcoma in a 10-Year-Old Papillon. Journal of the American Animal Hospital Association. 54(5): 545-549. DOI: 10.5326/JAAHA-MS-6612.
Flores M.M., Panziera W., Kommers G.D., Irigoyen L.F., Barros C.S.L. & Fighera R.A. 2012. Aspectos epidemiológicos e anatomopatológicos do hemagiossarcoma em cães: 40 casos (1965-2012). Pesquisa Veterinária Brasileira. 32(12): 1319-1328. DOI: 10.1590/S0100-736X2012001200017
Fruchter A.M., Miller C.W. & O'Grady M.R. 1992. Echocardiographic results and clinical considerations in dogs with right atrial/auricular masses. The Canadian Veterinary Journal - La revue Veterinaire Canadienne. 33(3): 171-174.
Janus I., Nowak M., Noszczyk-Nowak A., Ciaputa R., Kandefer-Gola M., Pasławska U., Sapierzyński R., Łopuszyński W. & Otrocka-Domagała I. 2016. Epidemiological and pathological features of primary cardiac tumours in dogs from Poland in 1970-2014. Acta Veterinaria Hungarica. 64(1): 90-102. DOI: 10.1556/004.2016.010
Kim J.H., Graef A.J., Dickerson E.B. & Modiano J.F. 2015. Pathobiology of Hemangiosarcoma in Dogs: Research Advances and Future Perspectives. Veterinary Sciences. 2(4): 388-405. DOI: 10.3390/vetsci2040388
Madron É. 2016. Pericardial Diseases. In: Madron É. (Ed). Clinical Echocardiography of the Dog and Cat. St. Louis: Elsevier, pp.260-271
Noszczyk-Nowak A., Nowak M., Paslawska U., Cepiel, Alicja A., Janiszewski A., Staszczyk M. & Nicpon J. 2014. A retrospective study of cardiac hemangiosarcoma in dogs. Turkish Journal of Veterinary and Animal Sciences. 38(1): 77-81. DOI: 10.3906/vet-1301-42
Pennick D. & D'Anjou M.A. 2015. Liver. In: D'Anjou M.A & Pennick D. (Eds). Atlas of Small Animal Ultrassonography. 2nd edn. Danvers: Blackwell Publishing, pp.183-238.
Sartor R. & Mamprim M.J. 2014. Hipertensão portal em cães: fisiopatologia e diagnóstico. Veterinária e Zootecnia. 21(2): 215-228. Retrieved from: http://hdl.handle.net/11449/141267.
Treggiari E., Pedro B., Dukes‐McEwan J., Gelzer A.R. & Blackwood L. 2015. A descriptive review of cardiac tumours in dogs and cats. Veterinary and Comparative Oncology. 15(2): 273-288. DOI:10.1111/vco.12167
Ware W.A. & Hopper D.L. 1999. Cardiac tumors in dogs: 1982-1995. Journal of Veterinary Internal Medicine. 13(2): 95-103. DOI: 10.1111/j.1939-1676.1999.tb01136.x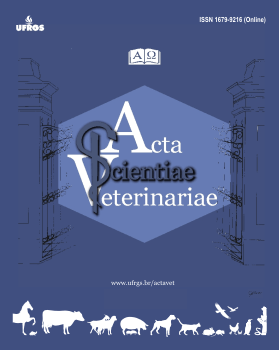 How to Cite
Smiderle, A. P., Endo, V. T., Almagro, L. D., Montagni, K. C. P., Panini, B. M., Paula, C. G., Viott, A. de M., & Jojima, F. S. (2021). Cardiac Tamponade Secondary to Hemangiosarcoma in a Dog. Acta Scientiae Veterinariae, 49. https://doi.org/10.22456/1679-9216.112393
License
This journal provides open access to all of its content on the principle that making research freely available to the public supports a greater global exchange of knowledge. Such access is associated with increased readership and increased citation of an author's work. For more information on this approach, see the Public Knowledge Project and Directory of Open Access Journals.
We define open access journals as journals that use a funding model that does not charge readers or their institutions for access. From the BOAI definition of "open access" we take the right of users to "read, download, copy, distribute, print, search, or link to the full texts of these articles" as mandatory for a journal to be included in the directory.
La Red y Portal Iberoamericano de Revistas Científicas de Veterinaria de Libre Acceso reúne a las principales publicaciones científicas editadas en España, Portugal, Latino América y otros países del ámbito latino