Clinical and Complementary Diagnosis of Sinus Neoplasia in Horses
Abstract
Background: Sinus neoplasms are reported as low frequency in horses. Its clinical characteristics are often nonspecific, depend on complementary methods for diagnosis, and when diagnosed, generally they are already advanced, limiting therapeutic possibilities. The objective of this case series was to detail clinical aspects and complementary exams for sinus neoplasms for early diagnosis, comparing them with the literature.
Cases: Four horses were treated at the College of Veterinary Medicine and Animal Science of the University of São Paulo, with different clinical signs and previous diagnoses, which when evaluated by respiratory endoscopy, radiography, oral cavity evaluation and histopathological exams, revealed the diagnosis of anaplastic carcinoma, poorly differentiated carcinoma, ossifying fibroma and lymphoma. Previous diagnosis, based mainly on clinical signs, were sinusitis secondary to apical infection, ethmoidal hematoma, sinus cyst and sinusitis secondary to periapical disease. The cases of anaplastic carcinoma (case 1) and lymphoma (case 4) presented with an advanced degree of the disease with involvement and destruction of paranasal structures and adjacent tissues, in addition to a poor general condition, which made surgical treatment impossible and led to euthanasia. In these cases, previous treatment was made to apical infection and periodontal disease with secondary sinusitis, but negative evolution led to suspicion of neoplasia, confirmed by histopathological exam of incisional biopsy of the mass in oral cavity. Benign ossifying fibroma (case 3) presented with progressive respiratory difficulty due to occlusion of the lumen of some nasal meatus and radiographic signs of invasion and deformation of the adjacent bones, it was submitted for surgical excision and there was no recurrence until hospital discharge. The poorly differentiated carcinoma (case 2) was a multilobulate neoformation in the ethmoidal region, similar to ethmoid hematoma in endoscopic and radiographic evaluation, it was submitted for excision and two sessions of electrochemotherapy with bleomycin, associated with administration of piroxicam, which obtained a good result until the period of 1 year after discharge.
Discussion: It was found that many characteristics are common with these types of neoplasms, and the clinical signs, such as nasal secretions, airway obstruction, increased facial volume, severe alterations in oral cavity, although unspecific, suggest the differential diagnosis for neoplasms. It is important to differentiate from other diseases noting the evolution and growth of these tumors, like in cases 1 and 4, especially the growth to internal tissues, using complementary methods described here, like endoscopic and radiographic examination. Late identification or even manipulation of neoplasms, without proper diagnosis, leads to a few prognoses regarding life. When it is possible to perform surgical excision, complementary methods are important to guide the procedure, and definitive diagnosis is made through histopathologic exam and some need immunohistochemistry analysis. Cases 2 and 3 had surgical access, were submitted to excision and treatment with good results, both with close monitoring in first months and prolonged quality of life. These results highlight the importance of complementary methods for early diagnosis, correct intervention and monitoring of evolution.
Keywords: sinus neoplasia, paranasal sinus, tumor, head, horses.
Downloads
Download data is not yet available.
References
Aleman M. & Watson J.L. 2015. Lymphoma in horses. In: Smith B.P. (Ed). Large animal internal medicine. 5th edn. St. Louis: Elsevier, pp.1073-1075.
Brunner C.H.M. 2015. Avaliação do comportamento vascular do tumor de Ehrlich na forma sólida em camundongos submetidos à eletroquimioterapia com bleomicina. 75f. São Paulo, SP. Tese (Doutorado em Anatomia dos Animais Domésticos e Silvestres) – Programa de Pós-Graduação da Faculdade de Medicina Veterinária e Zootecnia, Universidade de São Paulo.
Dixon P.M. & Head K.W. 1999. Equine nasal and paranasal sinus tumours: Part 2: A contribution of 28 case reports. Veterinary Journal. 157(3): 279-294.
Dixon P.M., Parkin T.D., Collins N., Hawkes C., Townsend N., Tremaine W.H., Fisher G., Ealey R. & Barakzai S.Z. 2012. Equine paranasal sinus disease: A long-term study of 200 cases (1997-2009): Treatments and long-term results of treatments. Equine Veterinary Journal. 44(3): 272-276.
Dixon P.M., Parkin T.D., Collins N., Hawkes C., Townsend N.B., Fisher G., Ealey R. & Barakzai S.Z. 2011. Historical and clinical features of 200 cases of equine sinus disease. Veterinary Record. 169(17): 439.
Durham A.C., Pillitteri C.A., Myint M.S. & Valli V.E. 2012. Two Hundred Three Cases of Equine Lymphoma Classified According to the World Health Organization (WHO) Classification Criteria. Veterinary Pathology. 50(1): 86-93.
Gerard M., Pruitt A. & Thrall D.E. 2010. Radiation therapy communication: Nasal passage and paranasal sinus lymphoma in a pony. Veterinary Radiology and Ultrasound. 51(1): 97-101.
Hanna A., Stieger-Vanegas S.M., Heidel J.R., Esser M., Schlipf J. & Mecham J. 2015. Nasal adenocarcinoma in a horse with metastasis to lung, liver, and bone and review of metastasis in nine horses with sinonasal tumors. Case Reports in Veterinary Medicine. 2015(4): 1-6. DOI: 10.1155/2015/845870.
Hart S.K. & Sullins K.E. 2011. Evaluation of a novel postoperative treatment for sinonasal disease in the horse (1996-2007). Equine Veterinary Journal. 43(1): 24-29.
Head K.W. & Dixon P.M. 1999. Equine nasal and paranasal sinus tumours. Part 1: Review of the literature and tumour classification. Veterinary Journal. 157(3): 261-279.
Hepburn R.J. & Furr M.O. 2004. Sinonasal Adenocarcinoma Causing Central Nervous System Disease in a Horse. Journal of Veterinary Internal Medicine. 18(1): 125-131.
Janvier V., Evrard L., Cerri S., Gougnard A. & Busoni V. 2016. Ultrasonographic findings in 13 horses with lymphoma. 57(1): 65-74.
Knottenbelt D.C. & Kelly D.F. 2011. Oral and dental tumors. In: Easley J., Dixon P.M. & Schumacher J. (Eds). Equine Dentistry. 3rd edn. Edinburgh: Elsevier, pp.149-181.
Knottenbelt D.C., Patterson-kane J.C. & Snalune K.L. 2015. Squamous cell carcinoma. In: Clinical Equine Oncology. Edinburgh: Elsevier Ltd, pp. 220-236.
Kodaira K., Muranaka M., Naito Y., Ode H., Oku K., Nukada T. & Katayama Y. 2010. Histopathological characteristics of an ossifying fibroma formed in the maxilla of a racehorse. Journal of Equine Science. 21(1): 7-10.
Kowalczyk L., Boehler A., Brunthaler R., Rathmanner M. & Rijkenhuizen A.B.M. 2011. Squamous cell carcinoma of the paranasal sinuses in two horses. Equine Veterinary Education. 23(9): 435-440.
Łopuszyński W., Bulak K., Komsta R., Twardowski P. & Kusy R. 2018. Thyroid Metastases From Sinonasal Squamous Cell Carcinoma of a Horse - A Case Report and Literature Review. Journal of Equine Veterinary Science. 67: 31-36.
Mair T.S. & Couto C.G. 2006. The use of cytotoxic drugs in equine practice. Equine Veterinary Education. 18(3): 149-156.
Moore A.S., Beam S.L., Rassnick K.M. & Provost P. 2003. Long-term control of mucocutaneous squamous cell carcinoma and metastases in a horse using piroxicam. Equine Veterinary Journal. 35(7): 715-718.
Orsini J.A., Baird D.K. & Ruggles A.J. 2004. Radiotherapy of a recurrent ossifying fibroma in the paranasal sinuses of a horse. Journal of the American Veterinary Medical Association. 224(9): 1483-1486.
Pease A.P. 2013. The equine head. In: Thrall D.E. (Ed). Textbook of Veterinary Diagnostic Radiology. 6th edn. St. Louis: Elsevier, pp.153-171.
Sano Y., Okamoto M., Ootsuka Y., Matsuda K., Yusa S. & Taniyama H. 2017. Blindness associated with nasal/paranasal lymphoma in a stallion. Journal of Veterinary Medical Science. 79(3): 579-583.
Scarratt W.K. & Crisman M.V. 1998. Neoplasia of the respiratory tract. Veterinary Clinics of North America: Equine Practice. 14(3): 451-473.
Taintor J. & Schleis S. 2011. Equine lymphoma. Equine Veterinary Education. 23(4): 205-213.
Tremaine W.H. & Dixon P.M. 2001. A long-term study of 277 cases of equine sinonasal disease. Part 1: Details of horses, historical, clinical and ancillary diagnostic findings. Equine Veterinary Journal. 33(3): 274-282.
Weaver M.P., Dobson J.M. & Lane J.G. 1996. Treatment of intranasal lymphoma in a horse by radiotherapy. Equine Veterinary Journal. 28(3): 245-248.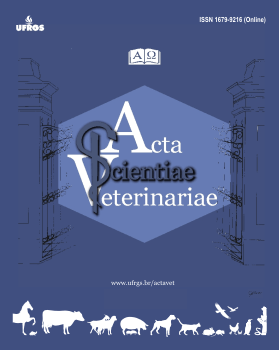 How to Cite
Akutagawa, T. Y. M., Strefezzi, R. de F., Belli, C. B., Baccarin, R. Y. A., da Silva, L. C. L. C., de Zoppa, A. L. do V., Spagnolo, J. D., & Corrêa, R. R. (2021). Clinical and Complementary Diagnosis of Sinus Neoplasia in Horses. Acta Scientiae Veterinariae, 49. https://doi.org/10.22456/1679-9216.112304
License
This journal provides open access to all of its content on the principle that making research freely available to the public supports a greater global exchange of knowledge. Such access is associated with increased readership and increased citation of an author's work. For more information on this approach, see the Public Knowledge Project and Directory of Open Access Journals.
We define open access journals as journals that use a funding model that does not charge readers or their institutions for access. From the BOAI definition of "open access" we take the right of users to "read, download, copy, distribute, print, search, or link to the full texts of these articles" as mandatory for a journal to be included in the directory.
La Red y Portal Iberoamericano de Revistas Científicas de Veterinaria de Libre Acceso reúne a las principales publicaciones científicas editadas en España, Portugal, Latino América y otros países del ámbito latino