Craniomandibular Osteopathy in Mixed Breed Dogs
Abstract
Background: Craniomandibular osteopathy (CMO) is a degenerative, osteopetrotic, and self-limiting bone disease that is rare in the canine species. The most affected bones and joints are the branches of the mandible, tympanic bulla, and temporomandibular joint (TMJ) with generalized thickening of the bone trabeculae, increased lines of bone cementation, and bone proliferation. The aim of the present study was to evaluate 2 cases of CMO in mixed-breed dogs belonging to the same litter sent to the Laboratório Regional de Diagnóstico, Faculdade de Veterinária, Universidade Federal de Pelotas (LRD / FV / UFPel).
Cases: Three canines (mixed-breed, 2 female and 1 male) belonging to the same litter presented at eight months of age with increases in volume and pain in the face, difficulties in moving the jaw, anorexia, and sialorrhea. The 2 female dogs were euthanized and sent to LRD / FV / UFPel for necropsy. The animals underwent radiography of the left and right lateral and dorsoventral lateral projections in the imaging sector of the Hospital de Clínicas Veterinária (HCV) at UFPel. During the necropsy, fragments of organs from the abdominal and thoracic cavities, as well as the central nervous system and head bones, were collected and fixed in 10% buffered formalin. The tissue samples were cleaved, processed routinely, embedded in paraffin, cut into sections of 3 µm thickness, and stained using hematoxylin and eosin (HE). The bone fragments were decalcified in a 50/50 solution of 8% hydrochloric acid and 8% formic acid and subsequently cleaved and stained with HE. The head and jaw of one of the animals was dissected and subjected to maceration in water at room temperature. Radiographic examination of the two remaining animals showed irregular and exuberant bone proliferation in the mandible and temporomandibular region. In the tympanic bullae, occipital bone, and zygomatic process, thickening of the structures was observed with increased opacity. On necropsy, the animals were cachectic with marked muscle atrophy and increased volume of the mandibular branches and head bones, in addition to marked edema in the adjacent subcutaneous tissue. The regional lymph nodes were enlarged, and in one of the animals, bilateral lesions in the femurs were also observed. In the head subjected to biological maceration, areas of bone proliferation and rarefaction were observed, with increased volume and destruction of the TMJ. On histopathological evaluation of the ventral portion of the mandibular bodies, a network of bony trabeculae was observed, composed of a chondroid matrix with different degrees of mineralization. The cortical portion of the bones exhibited loss of lamellar compactness, with greater spread of the bone trabeculae. The bone trabeculae were perpendicular to the long axis of the cortical of the mandible and were distributed in the medullary spaces, presenting some dense foci of inflammatory infiltrates composed predominantly of neutrophils, lymphocytes, and plasma cells.
Discussion: The breeds most predisposed to developing CMO are the West Highland White Terrier and Scottish Terrier; however, the disease has also been described in other non-Terriers. Nevertheless, there are no descriptions in the literature of mixed-breed animals (SRD), with this report being the first of CMO in SRD dogs. The bones most frequently affected in CMO are those of the head. In Terrier dogs, the TMJ is also affected. In the cases of this study, severe CMO occurred, affecting both the head bones and TMJ, and in 1 of the animals, it also affected the femurs. Although CMO has not previously been reported in SRD dogs, the condition can seriously affect these animals, and differential diagnosis should always be made.
Keywords: degenerative bone disease, bone proliferation, lion jaw, TMJ.
Título: Osteopatia craniomandibular em cães sem raça definida
Descritores: doença óssea degenerativa, proliferação óssea, mandíbula de leão, ATM.
Downloads
Download data is not yet available.
References
Alexander J.W. 1983. Selected Skeletal Dysplasias: Craniomandibular Osteopathy, Multiple Cartilaginous Exostoses, and Hypertrophic Osteodystrophy. Veterinary Clinics of North America: Small Animal Practice. 13(1): 55-70. DOI: 10.1016 / s0195-5616 (83) 50004-1.
Alexander J.W. & Kallfelz F.A. 1975. A case of craniomandibular osteopathy in a Labrador Retriever. Journal of the American Animal Hospital Association. 70: 560-563.
Coelho N.D.G.D., Pinto P.C.O., Barbosa B.C., Alves F.S., Rosa D.B.D.S.K., Souza A.D.C.F. & Torres R.C.S. 2018. Osteopatia craniomandibular canina: Revisão. PUBVET. 12(7): 1-8. DOI: 10.31533/pubvet.v12n7a132.1-8.
Craig L.E., Dittmer K.E. & Thompson K.E. 2016. Bones and Joints. In: Jubb K.V.F., Kennedy P.C. & Palmer N.C. (Eds). Pathology of Domestic Animals. 6th edn. Philadelphia: Elsevier, pp.16-163.
Franch J., Cesari J.R. & Font J. 1998. Craniomandibular osteopathy in two Pyrenean mountain dogs. Veterinary Record. 142(17): 455-459. DOI: 10.1136 / vr.142.17.455.
Huchkowsky S.L. 2002. Craniomandibular osteopathy in a bullmastiff. Canadian Veterinary Journal. 43(11): 883-885.
Macedo A.S., Casagrande A.J., Friesen R. & Minto B.W. 2015. Craniomandibular Osteopathy in a West Highland White Terrier. Acta Scientiae Veterinariae. 43(1): 78.
Matiasovic M., Caine A., Scarpante E. & Cherubini G.B. 2016. Imaging Diagnosis – Magnetic Resonance Imaging Features of Craniomandibular Osteopathy in an Airedale Terrier. Veterinary Radiology & Ultrasound. 57(3): 27-29. DOI: 10.1111 / vru.12304.
Padgett A.G. & Mostosky U.V. 1986. Animal Model: The Mode of Inheritance of Craniomandibular Osteopathy in West Highland White Terrier Dogs. American Journal of Medical Genetics. 25(1): 9-13. DOI: 10.1002 / ajmg.1320250103.
Pool R.R. & Leighton R.L. 1969. Craniomandibular osteopathy in a dog. Journal of the American Veterinary Medical Association. 154(6): 657-660.
Ratterree W.O., Glassman M.M., Driskell E.A. & Having M.E. 2011. Craniomandibular Osteopathy with a Unique Neurological Manifestation in a Young Akita. Journal of the American Animal Hospital Association. 47(1): 7-12. DOI: 10.5326 / JAAHA-MS-5464.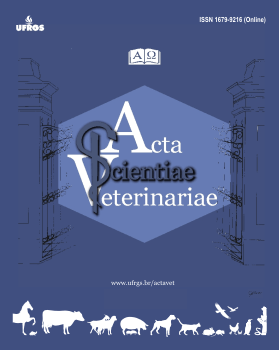 How to Cite
Alberti, T. dos S., Brunner, C. B., Venâncio, F. da R., dos Santos, T. C., Faccini, L. S., Farias, J. L., & Bonel, J. (2021). Craniomandibular Osteopathy in Mixed Breed Dogs. Acta Scientiae Veterinariae, 49. https://doi.org/10.22456/1679-9216.110999
License
This journal provides open access to all of its content on the principle that making research freely available to the public supports a greater global exchange of knowledge. Such access is associated with increased readership and increased citation of an author's work. For more information on this approach, see the Public Knowledge Project and Directory of Open Access Journals.
We define open access journals as journals that use a funding model that does not charge readers or their institutions for access. From the BOAI definition of "open access" we take the right of users to "read, download, copy, distribute, print, search, or link to the full texts of these articles" as mandatory for a journal to be included in the directory.
La Red y Portal Iberoamericano de Revistas Científicas de Veterinaria de Libre Acceso reúne a las principales publicaciones científicas editadas en España, Portugal, Latino América y otros países del ámbito latino