Corrective Surgery for Palpebral Coloboma in a Feline Using the Technique of Transposition of the Lip Commissure
Abstract
Background: Eyelid coloboma is considered a disease caused by failure in eye development during the first semester of pregnancy. In felines, its prevalence occurs in the upper eyelids, temporal region, and bilaterally. Coloboma, whether to a large or small extent, can lead to keratoconjunctivitis sicca and trichiasis, situations that can give rise to secondary ulcerative keratitis. The only corrective method is blepharoplasty. The current work aims to report the case of corrective surgery for eyelid coloboma in a feline with a successful postoperative period, in order to corroborate the effectiveness of the technique. We also report a finding of persistent pupillary membrane.

Case: A 7-month-old male feline, no defined breed, was analyzed with a purulent mucus secretion and signs of discomfort in the right eye. After the ophthalmic screening, the presence of a coloboma was identified, which occupied approximately 50% of the size of the upper eyelid, in the temporal-dorsal region of the right eye. The cat had already undergone an enucleation of the left eye due to a perforation arising from ulcerative keratitis. Together with coloboma, the presence of blepharospasm, trichiasis, keratoconjunctivitis sicca, and secondary ulcerative keratitis were diagnosed. The presence of persistent pupillary membrane was also observed, a rare condition in the feline species. To confirm the ulcer, the fluorescein test was applied and treatment with antibiotic eye drops and lacrimomimetics (tear film replacements) drops was administered until the day of surgery, one week later. Concomitant with the institution of treatment prior to surgery, blood was collected for complementary pre-surgical tests such as blood count and biochemistry, which demonstrated satisfactory results. Corrective surgery was then instituted by the technique of transposing the labial commissure, described in 2010, which consists of replacing the colobomatous tissue with a flap from the oral region. To ensure quality in the postoperative period, the use of the Elizabethan collar, oral antibiotics, analgesics, anti-inflammatory drugs, and cleaning with 0.9% saline solution around the sutures were prescribed. The first return appointment occurred on the day after the operation and further appointments were made weekly for one month. As the animal did not present any complications in the healing process, the spacing between the follow-up appointments was increased. After 2 months, the animal demonstrated a palpebral reflex and a pleasant appearance.

Discussion: The results were similar to those described by the author of the technique, as there was no recurrence of hair in contact with the cornea, the flap mucosa became efficient in terms of the quality in lubricating the fibrous tunic, and an appearance acceptable to the owner was achieved. It is also reported that, different from previous studies, the technique was able to correct palpebral coloboma without any complications during the post-surgical process. In all previously published works, some type of setback was reported, such as dehiscence of the suture of the oral region, dehiscence of the transposed suture, superficial necrosis of the flap, deformation of facial folds, excessive graft retraction, and return of trichiasis in the pre-existing medial region. It is inferred, then, that the use of this technique for correction of eyelid coloboma longer than 1/3 should be indicated.
Downloads
Download data is not yet available.
References
Galimberti G., Ferrario D., Casabona G.R. & Molinari L. 2013. Utilidade do retalho de avanço e rotação para fechamento de defeitos cutâneos na região malar. Surgical & Cosmetic Dermatology. 5(1): 76-79.
Galeno L.S., Medeiros B.L.N., Albuquerque J.J.S., Carvalho S.M.R., Freitas M.V.M. & Silva F.L. 2019. Correção de coloboma palpebral em um felino por meio da técnica de transposição da comissura labial - Relato de caso. Brazilian Journal of Animal and Environmental Research. 2(5): 1495-1500.
Gelatt K.N. 2014. Feline Ophthalmology. In: Essentials of Veterinary Ophthalmology. 3rd edn. Ames: Wiley-Blackwell, pp.379-417.
Hedler D.L., Martins A.B.S., Pereira A.C., Stevanato G.A., Frasson M.T., Coelho G.B.C., Quarterone C. & Huppes R.R. 2017. Tratamento das complicações pós-cirúrgicas após ressecção de mastocitoma e reconstrução com retalho da prega axilar em cão: relato de caso. Almanaque de Medicina Veterinária e Zootecnia. 3(1): 22-25.
Herrera D.H. 2008. Oftalmologia no Gato. In: Oftalmologia Clínica em Animais de Companhia. São Paulo: MedVet, pp.237-263.
Laus J.L. 2009. Tópico em Oftalmologia dos felinos. In: Oftalmologia Clínica e Cirúrgica em Cães e em Gatos. São Paulo: Roca, pp.191-225.
Lembi I.C. & Alvim F.A.S. 2018. Técnicas de reparo das lesões cutâneas em animais de companhia - revisão de literatura. Ciência Veterinária UniFil. 1(3): 11-32.
Lopes M.A.I. 2016. Abordagem e maneio médico-cirúrgico de feridas abertas em cães e gatos: caracterização etiológica e estudo de padrões traumáticos. 120f. Lisboa, Portugal. Dissertação (Mestrado Integrado em Medicina Veterinária) - Programa de Pós-graduação em Medicina Veterinária, Universidade de Lisboa.
Maciel C.E.S., Ribeiro A.P.R., Ruiz T., Schroder D.C., Cruz T.P.P.S., Dower N.M.B., Monteiro G.B. & Madruga G.M. 2016. Descrição clínico-cirúrgica de quatro casos de transposição da comissura labial para correção de coloboma palpebral em gatos. Acta Scientiae Veterinariae. 44(Suppl 1): 1-6.
Moreira M.V.L. 2016. Frequência e aspectos patológicos das doenças oculares em animais. 86f. Belo Horizonte, MG. Dissertação (Mestrado em Ciência Animal) - Programa de Pós- Graduação em Ciência Animal, Universidade Federal de Minas Gerais.
Slatter D. 2005. Pálpebras. In: Fundamentos de Oftalmologia Veterinária. 3.ed. São Paulo: Roca, pp.159-220.
Whittaker C.J., Wilkie D.A., Simpson D.J., Deykin A., Smith J.S. & Robinson C.L. 2010. Lip commissure to eyelid transposition for repair of feline eyelid agenesis. Veterinary Ophthalmology. 13(3): 173-178.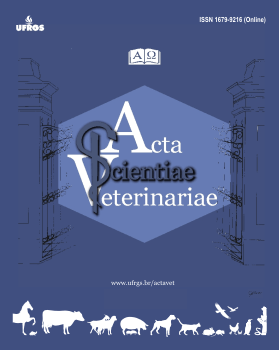 How to Cite
Girondi, G. B., Krebs, C. O. E., Farencena, F. I., & Corrêa, L. F. D. (2021). Corrective Surgery for Palpebral Coloboma in a Feline Using the Technique of Transposition of the Lip Commissure. Acta Scientiae Veterinariae, 49. https://doi.org/10.22456/1679-9216.110681
License
This journal provides open access to all of its content on the principle that making research freely available to the public supports a greater global exchange of knowledge. Such access is associated with increased readership and increased citation of an author's work. For more information on this approach, see the Public Knowledge Project and Directory of Open Access Journals.
We define open access journals as journals that use a funding model that does not charge readers or their institutions for access. From the BOAI definition of "open access" we take the right of users to "read, download, copy, distribute, print, search, or link to the full texts of these articles" as mandatory for a journal to be included in the directory.
La Red y Portal Iberoamericano de Revistas Científicas de Veterinaria de Libre Acceso reúne a las principales publicaciones científicas editadas en España, Portugal, Latino América y otros países del ámbito latino