Extramedullary Plasmacytoma of the Third Eyelid in a Cat
Abstract
Background: Extramedullary plasmacytoma is a neoplasm originating from plasmacytes with benign behavior, although it can present malignant characteristics such as local invasion and metastases in some cases. Primary extramedullary plasmacytoma in the third eyelid is rare in humans and animals and has not yet been described in cats. Thus, the goal of the present study is to describe the cytological and histopathological findings of an extramedullary plasmacytoma in a cat's third eyelid.

Case: A 5-year-old female feline patient with a history of ocular alteration for approximately 30 days was referred to the ophthalmology service. Upon ophthalmic examination of the left eye, an increase in volume with tissue proliferation was identified in the third eyelid's conjunctiva. A collection of material for cytopathological examination was performed. Numerous plasmocytes and atypical lymphocytes with anisocytosis and anisokaryosis were observed, with a possible neoplastic injury being suggested and referred to the patient for surgical removal of the third eyelid. In the histopathological analysis, it was possible to observe several plasma cells and vascular neoformation along the entire conjunctive margin below the epithelium. The glands, serous and mucous, present in the fragment, revealed areas of intervening plasmacytic infiltrate and a large area close to the hyaline cartilage containing intense plasmacytic inflammatory infiltrate with rare neutrophils and macrophages. There was also a structural breakdown of glandular components and lymphocyte cells with mitosis figures and discrete cellular pleomorphism.

Discussion: Plasmacytoma is a rare neoplasm in both dogs and cats. The anatomical regions most frequently affected are the digits, lips, and pinna. Concerning the 3rd eyelid tumor involvement, numerous types of neoplasms have been reported in dogs in the veterinary literature, including transmissible venereal tumor, squamous cell carcinoma, and melanocytoma melanoma, lymphoma, plasmacytoma, hemangioma, hemangiosarcoma, mastocytoma, and myoepithelioma. In cats, the third eyelid is the third site most affected by primary tumors. Adult and elderly animals are the most affected; however, an extramedullary plasmacytoma (PEM) has been reported in an eight-month-old male cat's skeletal muscle. Plasmacytoma aspirates, like other round cells, tend to be highly cellular, the cell morphology has a plasmacytoid aspect, resembling mature cells, the cytoplasm is intensely basophilic, and the round nucleus with an eccentric disposition has thin chromatin and indistinct nucleolus. Binucleate and multinucleate cells are common, and the absence of lymphoglandular corpuscles helps differentiate extramedullary plasmacytoma from lymphomas. Histologically, PEM is similar in dogs, humans, and felines, and variations in mature and immature plasma cells can be seen. The diagnosis of extramedullary plasmacytoma is fundamentally histological, and immunohistochemical analysis can also be performed. Surgical excision with safety margins is the primary type of treatment for neoplasms in the 3rd eyelid, being considered an effective method, as seen in this report, during the patient's follow-up for 13 months, no recurrence or metastasis of the neoplasm was seen. When signs of malignant neoplasms are found, it is recommended to evaluate the indication for chemotherapy before surgery and monitor the case after treatment due to recurrence risk.
Downloads
Download data is not yet available.
References
Abreu C.B., Nogueira R.B., Oliveira L.E.D., Paiva F.D., Lacreta Junior A.C.C. & Seixas J.N. 2016. Mieloma Múltiplo em Cão. Acta Scientiae Veterinariae. 44: 1-5.
Aquino S.M. 2007. Management of eyelid neoplasms in the dog and cat. Clinical Techniques in Small Animal Practice. 22(2): 46-54.
Dantas A.V.E., Carneiro S.C.M.C., Brito E.S.A., Costa A.P.A., Moura V.M.B.D., Carvalho R.O.A. & Lima A.M.V. 2018. Hemangiossarcoma de terceira pálpebra em uma cadela da raça boxer - relato de caso. Arquivos de Ciência Veterinária e Zoologia da UNIPAR. 20(1): 43-46.
Gentile M.C., Vigo R.R., Basso T.O. & Fantl D. 2010. Compromiso orbitario en mieloma múltiple. Oftalmología Clínica y Experimental. 3(4): 151-154.
Giraldo C.M., López C.V. & Carmona J.U. 2012. Plasmocitoma extramedular nasal en un perro. Revista MVZ. 17(3): 3243-3247.
Gorenstein T.G., Jark P.C., Feliciano M.A.R., Sueiro F.A.R., Anai L.A., Fenerich M., Senhorello I.L.S., Rodrigues B.C. & Tinucci-Costa M. 2016. Extramedullary plasmacytoma in the penile bulb of a dog: case report. Arquivo Brasileiro de Medicina Veterinária e Zootecnia. 68(2): 292-298.
Guijarro I.G., González L.D., Acevedo N.R. & Pallas E.P. 2011. Plasmocitoma extramedular de laringe. A propósito de un caso. Acta Otorrinolaringológica Española. 62(4): 320-322.
Hanna F. 2005. Multiple myelomas in cats. Journal of Feline Medicine and Surgery. 7(5): 275-287.
Hesse K.L., Fredo, G., Guimarães L.L.B., Reis M.O., Pigatto J.A.T., Pavarini S.P., Driemeier D. & Sonne L. 2015. Neoplasmas oculares e de anexos em cães e gatos no Rio Grande do Sul: 265 casos (2009 -2014). Pesquisa Veterinária Brasileira. 35(1): 49-54.
Maganhoto A.P.S., Correia S. & Pasquarelli Neto R.I. 2018. Plasmocitoma intraconal e infiltração uveal em paciente portadora de mieloma múltiplo. Revista Brasileira de Oftalmologia. 77(1): 43-6.
Martins D.B., Rossato C.K., Silva S.L., Almeida S.S.N. & Ribeiro L.S. 2017. Fine needle aspiration cytology in feline skeletal muscle as a diagnostic tool for extramedullary plasmacytoma. Arquivo Brasileiro de Medicina Veterinária e Zootecnia. 69(3): 587-592.
Meinkoth J.H., Cowell R.L. & Tyler R.D. 2009. Tipos celulares e critérios de malignidade. In: Cowell R.L., Tyler R.D., Meinkoth J.H. & DeNicola D.B. (Eds). Diagnóstico Citológico e Hematologia de Cães e Gatos. 3.ed. São Paulo: MedVet, pp.20-46.
Peleteiro M.C., Marcos R., Santos M., Correia J., Pissara H. & Carvalho T. 2011. Pele, seus anexos e tecido subcutâneo. In: Atlas de Citologia Veterinária. Porto: Copyright, pp.45-100.
Perlmann E., Dagli M.L.Z., Martins M.C., Siqueira S.A.C. & Barros P.S.M. 2009. Extramedullary plasmacytoma of the third eyelid gland in a dog. Veterinary Ophthalmology. 12(2): 102-105.
Picinin C.N.B., Ziegler S.J., Ulsenheimer B.C., Shiffer J.L.L. & Pereira R.C.F. 2020. Suspeita de carcinoma de células escamosas de terceira pálpebra em vaca holandesa: relato de caso. Pubvet. 14(5): 1-6.
Pinho A.R., Pinho E.A., Alessandri E.F. & Pereira L.S. 2009. Tumor orbitário como primeira manifestação clínica de mieloma múltiplo: relato de caso. Arquivo Brasileiro de Oftalmologia. 72(1): 106-108.
Redaelli R., Albuquerque L., Cavalcanti R.L., Rodarte A.C., Gomes C., Frazen A.A., Driemeir D. & Pigatto J.A.T. 2007. Hemangiossarcoma de terceira pálpebra em um cão. Acta Scientiae Veterinariae. 35: 642-643.
Roels S. & Ducatelle R. 1998. Malignant Melanoma of the Nictitating Membrane in a Cat (Felis vulgaris). Journal Comparative Pathology. 119(2):189-193.
Santos R.S., Luz C.C., Rocha V.M., Larangeira D.F. & Barrouin-Melo S.M. 2017. Mieloma múltiplo em cão com apresentação clínica atípica de paralisia facial bilateral: relato de caso. Arquivo Brasileiro de Medicina Veterinária e Zootecnia. 69(5): 1225-1230.
Silva C.C., Lara K., Andrade A.C., Francisco G.L. & Guedes R.L. 2017. Plasmocitoma extramedular em região perineal de cão – relato de caso. Revista Eletrônica Biociências, Biotecnologia e Saúde. 10(19): 129-131.
Tyler R.D., Cowell R.L. & Meinkoth J.H. 2009. Lesões cutâneas e subcutáneas. In: Cowell R.L., Tyler R.D., Meinkoth J.H. & DeNicola D.B. (Eds). Diagnóstico Citológico e Hematologia de Cães e Gatos. 3.ed. São Paulo: MedVet, pp.78-111.
Vasconcellos M. & Vidal L.W.M. 2014. Mandibulectomia rostral bilateral em cão portador de plasmocitoma extramedular oral: relato de caso. Pubvet. 8(12): 1416-1550.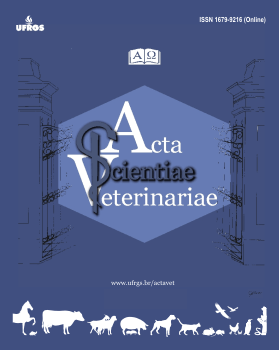 How to Cite
Alves, A. de D. F., Brito, F. L. da C., Pereira, M. de F., & da Silva Junior, V. A. (2021). Extramedullary Plasmacytoma of the Third Eyelid in a Cat. Acta Scientiae Veterinariae, 49. https://doi.org/10.22456/1679-9216.110056
License
This journal provides open access to all of its content on the principle that making research freely available to the public supports a greater global exchange of knowledge. Such access is associated with increased readership and increased citation of an author's work. For more information on this approach, see the Public Knowledge Project and Directory of Open Access Journals.
We define open access journals as journals that use a funding model that does not charge readers or their institutions for access. From the BOAI definition of "open access" we take the right of users to "read, download, copy, distribute, print, search, or link to the full texts of these articles" as mandatory for a journal to be included in the directory.
La Red y Portal Iberoamericano de Revistas Científicas de Veterinaria de Libre Acceso reúne a las principales publicaciones científicas editadas en España, Portugal, Latino América y otros países del ámbito latino