Peritonitis and Necrotizing Hepatitis in Ara ararauna Caused by a Foreign Body
Abstract
Background: The ingestion of foreign bodies in parrots has already been described and associated with the curious behavior of the birds or with stressful conditions. Foreign bodies in the gastrointestinal tract are usually diagnosed through clinical signs, laboratory tests, and radiographic findings in the historical data. Foreign bodies are usually metallic and can lodge in any segment of the gastrointestinal tract, commonly found in the proventricle and gizzard. This study investigated a case of necrotizing hepatitis due to a foreign body in Ara ararauna (Linnaeus, 1758).
Case: An approximately 9-month-old specimen of caninde macaw, had sudden death and was referred for autopsy. The macroscopic examination revealed a fibrous, thick, reddish membrane involving the left hepatic lobe and partially the gizzard in continuity with the peritoneum. Inside the capsule, the liver had a friable and necrotic appearance and the gizzard had a focal perforation area containing a foreign body (gavage probe). We performed the histopathological examination of the liver and gizzard and observed that the membrane surrounding the liver and partially the gizzard had a chronic inflammatory process with a marked proliferation of fibrous tissue and fibrin deposition. The hepatic parenchyma of the left lobe showed diffuse and marked necrosis, with signs of ischemic necrosis. In the region of transmural perforation of the gizzard, the mucosa showed a focal area of extensive necrosis accompanied by the presence of intralesional bacteria. The lesions observed are attributed to the perforation of the organs by the foreign body. It is not known whether the bird ingested the object accidently during food handling as a young or due to the curious behavior of the bird or even the stress it may have been exposed to. The post-mortem examination revealed localized peritonitis and encapsulating necrotizing hepatitis, focally extensive and accentuated, associated with foreign body perforation.
Discussion: The curious habit of parrots, can provide the ingestion of foreign bodies, in which they lodge in the gastrointestinal tract. Generally, the clinical signs are nonspecific, however, proventricular impaction, stasis and even perforations in the mucosa of organs can be observed. In the present study, we suspect that the Caninde macaw accidentally ingested a gavage probe during feeding management as a young. This object lodged in the bird's ventricle, perforating the organ and reaching the liver, due to intimate contact with the gizzard, providing a picture of ventriculitis and necrotizing hepatitis. Necrotizing hepatitis due to foreign body has been reported in the literature due to ingestion of perforating foreign body with lesion in the left ventricle and lobe, however we have no knowledge of reports with the presence of a capsule involving the left hepatic lobe, similar to a capsule like this, we understand that our report is the first description of encapsulating necrotizing hepatitis in birds. We believe that this capsule of connective tissue was formed, due to the inflammatory process in the peritoneal cavity, in birds the deposition of fibrin can form a structure similar to a capsule, in order to trap cells and the agent responsible for inflammation, preventing septicemia. Transmural perforation in the gizzard, observed in this case, allowed bacterial translocation that may have contributed to the worsening of the chronic condition and death due to the accumulation of toxins or bacterial translocation of the gastric tract, leading to liver infection and sepsis. We concluded that the presence of the perforating foreign body was responsible for the peritonitis and encapsulating necrotizing hepatitis in Ara ararauna.
Downloads
Download data is not yet available.
References
Adamcak A., Hess L.R. & Quesenberry K.E. 2000. Intestinal string foreign body in an adult Umbrella Cockatoo (Cacatua alba). Journal Avian Medicine and Surgery. 14(4): 257-263.
Adamamma-Moraitou K.K., Prassinos N.N., Patsikas M.N., Psychas V., Tsioli B. & Rallis T.T. 2004. Sclerosing encapsulating peritonitis in a dog with leishmaniasis. Journal of Small Animal Practice. 45(2): 117-121.
Barnes H.J. & Fletcher O.J. 2016. Hemic system. In: Abdul-Aziz T., Fletcher O.J. & Barnes H.J. (Eds). Avian Histopathology. 4th edn. Jacksonville: American Association of Avian Pathologists, pp.1-16.
Bartoli C.R. & Godleski J.J. 2010. Blood Flow in the Foreign-Body Capsules Surrounding Surgically Implanted Subcutaneous Devices. Journal of Surgical Research. 158(1): 147-154.
Champour M. & Ojrati N. 2014. Ventriculotomy for the removal of a foreign body in a common myna (Acridotheres tristis): a case report. Veterinarni Medicina. 59(6): 319-323.
Doneley B. 2010. Avian medicine and surgery in practice. In: Avian Medicine and Surgery in Practice: Companion and Aviary Birds. 2nd edn. Boca Raton: CRC Press, pp.156-172.
Hayati F., Lakzian A., Shariati E., Bakhtiari J., Sayyah N., Masoudifard M. & Vakili T. 2011. Surgical removal of a ventricular foreign body from a common myna (Acridotheres tristis): a case report. Veterinarni Medicina. 56(22): 97-100.
Hoefer H. & Levitan D. 2013. Clinical Reports Perforating Foreign Body in the Ventriculus of an Umbrella Cockatoo (Cacatua alba). Avian Medicine and Surgery. 27(2): 128-135.
Huchzermeyer F.W. & Cooper J.E. 2000. Short communications: Fibriscess, not abscess, resulting from a localised inflammatory response to infection in reptiles and birds. Veterinary Record. 147(18): 515-517.
Instituto Ambiental do Paraná (IAP). 2015. Portaria IAP nº 173, de 02 de setembro de 2015.
Instituto Ambiental do Paraná (IAP). 2015. Portaria IAP nº 246 de 17 de dezembro de 2015.
International Union for Conservation of Nature and Natural Resources (IUCN). 2018. Red List of Threatened Species, IUCN- Bird Life International Ara ararauna. The IUCN Red List of Threatened Species.
Jcullen J.M. & Stalker M.J. 2007. Liver and biliary system. In: Maxie M.G. (Ed). Jubb, Kennedy & Palmer's Pathology of Domestic Animals Vol. 2. 6th edn. Philadelphia: Elsevier, pp.238-334.
Lopes P.C., Adelman J., Wingfield J.C. & Bentley G.E. 2012. Social context modulates sickness behavior. Behavioral Ecology and Sociobiology. 66: 1421-1428.
Marietto G.G. & Andreatti Filho R. 2006. Doenças do Sistema Digestório das Aves (Revisão Bibliográfica). Nosso Clínico. 9: 46-56.
Shivaprasad H.L. 2002. Pathology of birds - an overview. In: Proceedings of C.L. Davis Foundation Conference on Gross Morbid Anatomy of Animals, AFIP, The Royal College of Pathologists (Washington, DC). pp.1-48.
Tannoury J.N. & Abboud B.N. 2012. Idiopathic sclerosing encapsulating peritonitis: Abdominal cocoon. World Journal of Gastroenterology. 8(17): 1999-2004.
Taylor W.M. 2016. Pleura, pericardium, and peritoneum: The coelomic cavities of birds and their relationship to the lung–air sac system. In: Speer B.L. (Ed). Current Therapy in Avian Medicine and Surgery. Oakley: Elsevier, pp.345-362.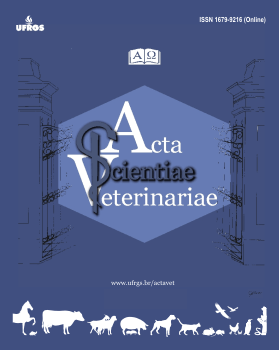 How to Cite
Justino, L., Menck-Costa, M. F., Xavier, A. A. C., Souza, M. de, Santos, B. Q. dos, Bracarense, A. P. F. R. L., & Baptista, A. A. S. (2021). Peritonitis and Necrotizing Hepatitis in Ara ararauna Caused by a Foreign Body. Acta Scientiae Veterinariae, 49. https://doi.org/10.22456/1679-9216.109806
License
This journal provides open access to all of its content on the principle that making research freely available to the public supports a greater global exchange of knowledge. Such access is associated with increased readership and increased citation of an author's work. For more information on this approach, see the Public Knowledge Project and Directory of Open Access Journals.
We define open access journals as journals that use a funding model that does not charge readers or their institutions for access. From the BOAI definition of "open access" we take the right of users to "read, download, copy, distribute, print, search, or link to the full texts of these articles" as mandatory for a journal to be included in the directory.
La Red y Portal Iberoamericano de Revistas Científicas de Veterinaria de Libre Acceso reúne a las principales publicaciones científicas editadas en España, Portugal, Latino América y otros países del ámbito latino