Otitis Media and Internal with Brainstem Extension in a French Bulldog
Abstract
Background: Otitis is a frequent condition in dogs, with a multifactorial etiology covering primary causes, predisposing and perpetuating factors. It is characterized by an inflammatory process of structures that make up the auditory system, with prevalence data ranging from 15 to 20%, which can occur in any age group and without sex predisposition. According to the location, it can be classified as uni or bilateral, affecting the outer, middle and / or inner ear, the latter two being associated with neurological changes such as vestibulopathy, facial nerve paresis and Horner's syndrome. The morbidity and mortality of otitis media and internal may increase with delay in diagnosis, resulting in delay in the correct treatment, and the extension to brainstem is described in felines and considered rare in dogs. The present study aims to report an atypical case of otitis media and internal, with extension to the brain parenchyma in a brachycephalic dog.
Case: A 3-year-old bitch French Bulldog canine was seen, weighing 12 kg, with a history of vomiting, apathy, nystagmus, ataxia and acute evolution hemiparesis. As a result of adoption, it was not known about the animal's morbid past. On special physical and clinical examination, depressed mental status, changes in postural reactions, nostril stenosis with unilateral mucopurulent nasal discharge, corneal ulcer, palpebral and labial ptosis, absence of eyelid reflex and spontaneous strabismus were observed, all of these findings observed on the left side of the face. No signs of otitis external to otoscopy were found. The clinical signs found characterize left facial nerve paresis and peripheral and central vestibulopathy. Otitis media / internal and meningoencephalitis were suspected. Hemogram, serum biochemistry (glucose, urea, creatinine, alanine aminotransferase, total proteins, albumin, globulin, alkaline phosphatase, gamma glutamyltransferase, phosphorus, total bilirubin, cholesterol and total calcium), urinalysis, rapid tests for erlichiosis, anaplasms , borreliosis, heartworm, distemper and leishmaniasis, CSF analysis, neurological panel performed by PCR (Polymerase Chain Reaction) that tested the animal for Bartonellosis, Lyme Disease (Borrelia burgdorferi), Blastomyces dermatitidis, Cryptococcus sp., Virus West Nile, Distemper, Toxoplasmosis, Neosporose and Coccidioides sp. using conjunctival swab, whole blood, urine and CSF samples. The samples were negative for all of these tests. As an image exam, brain magnetic resonance was performed. In the latter, otitis media and left internal was observed with extension of the lesion to the brain parenchyma. CSF analysis showed cytological changes compatible with a non-suppurative inflammatory process, mild pleocytosis with predominantly mononuclear leukocyte infiltrate. As a form of treatment, antibiotic therapy and total ablation of the auditory canal with lateral bulectomy were performed, showing good results with reduced clinical symptoms.

Discussion: It is concluded that although the diagnosis of otitis media and internal with extension to brainstem is more common in cats, it should be included as a differential for central vestibular disorders in dogs, and that the diagnosis together with early and effective treatment are important, since that the evolution of the infection to the central nervous system represents a risk to the patient.

Keywords: vestibulopathy, meningoencephalitis, brachycephalic.

Descritores: vestibulopatia, meningoencefalite, braquicefálico.
Título: Otite média e interna com extensão para tronco encefálico em cão buldogue francês
Downloads
Download data is not yet available.
References
Bajwa J. 2019. Canine otitis externa - Treatment and complications. The Canadian Veterinary Journal. 60(1): 97-99.
Bongartz U., Nessler J., Maiolini A., Stein V.M., Tipold A. & Bathen‐Nöthen A. 2019. Vestibular disease in dogs: association between neurological examination, MRI lesion localisation and outcome. Journal of Small Animal Practice. 61(1): 57-63.
Chrisman C.L. 1992. Cerebrospinal Fluid Analysis. Veterinary Clinics of North America: Small Animal Practice. 22(4): 781-810.
Cunha F.M., Coutinho S.D., Matera A., Fiorio W.A.B., Ramos M.C.C. & Silveira L.M.G. 2003. Avaliação clínica e citológica do conduto auditivo externo de cães com otite. Revista de Educação Continuada em Medicina Veterinária e Zootecnia do CRMV-SP. 6(1): 7-15.
Garosi L.S., Dennis R., Penderis J., Lamb C.R., Targett M.P., Cappello R. & Delauche A.J. 2001. Results of magnetic resonance imaging in dogs with vestibular disorders: 85 cases (1996-1999). Journal of the American Veterinary Medical Association. 218(3): 385-391.
Garosi L.S., Lowrie M.L. & Swinbourne N.F. 2012. Neurological Manifestations of Ear Disease in Dogs and Cats. Veterinary Clinics of North America: Small Animal Practic. 42(6): 1143-1160.
Gotthelf L. 2004. N. Diagnosis and treatment of otitis media in dogs and cats. Veterinary Clinics of North America: Small Animal Practice. 34(2): 469-487.
Grace S.F. 2011. Otitis Media and Interna. In: Norsworthy G.D. (Ed). The Feline Patient. 4th edn. Ames: Blackwell, pp.374-376.
Martin P., Costa R.C. & Daniels J.B. 2011. Presumptive meningoencephalitis secondary to extension of otitis media/interna caused by Streptococcus equi subspecies zooepidemicus in a cat. Journal of Feline Medicine & Surgery. 13(8): 606-609.
Moore S.A., Bentley R.T., Carrera-Justiz S., Foss K.D., Costa R.C. & Cook L.B. 2018. Clinical features and short-term outcome of presumptive intracranial complications associated with otitis media/interna: a multi-center retrospective study of 19 cats (2009–2017). Journal of Feline Medicine and Surgery. 21(2): 148-155.
Njaa B.L., Cole L.K. & Tabacca N. 2012. Practical Otic Anatomy and Physiology of the Dog and Cat. Veterinary Clinics: Small Animal Practice. 42: 1109-1126.
Oliveira L.C., Brilhante R.S.N., Cunha A.M.S. & Carvalho C.B.M. 2006. Perfil de isolamento microbiano em cães com otite média e externa associadas. Arquivo Brasileiro de Medicina Veterinária e Zootecnia. 58(6): 1009-1017.
Oliveira L.C., Medeiros C.M.O., Silva I.N.G., Monteiro A.J., Leite C.A.L. & Carvalho C.B.M. 2005. Susceptibilidade a antimicrobianos de bactérias isoladas de otite externa em cães. Arquivo Brasileiro de Medicina Veterinária e Zootecnia. 57(3): 405-408.
Oliveira V.B., Ribeiro M.G., Almeida A.C.S., Paes A.C., Condas L.A.Z., Lara G.H.B., Franco M.M.J., Fernandes M.C. & Listoni F.J.P. 2012. Etiologia, perfil de sensibilidade aos antimicrobianos e aspectos epidemiológicos na otite canina: estudo retrospectivo de 616 casos. Semina: Ciências Agrárias. 33(6): 2367-2374.
Owen M.C., Lamb C.R., Lu D. & Targett M.P. 2004. Material in the middle ear of dogs having magnetic resonance imaging for investigation of neurologic signs. Veterinary Radiology Ultrasound. 45(2): 149-155.
Perry L.R., MacLennan B., Korven R. & Rawlings T.A. 2017. Epidemiological study of dogs with otitis externa in Cape Breton, Nova Scotia. The Canadian Veterinary Journal. 58(2): 168-174.
Radulescu S.M., Humm K., Eramanis L.M., Volk H.A., Church D.B., Brodbelt D. & O'Neill D.G. 2020. Vestibular disease in dogs under UK primary veterinary care: Epidemiology and clinical management. Journal of Veterinary Internal Medicine. 34: 1993-2004.
Rossmeisl Jr. J.H. 2010. Vestibular Disease in Dogs and Cats. Veterinary Clinics of North America: Small Animal Practice. 40(1): 81-100.
Salgüero R., Herrtage M., Holmes M., Mannion P. & Ladlow J. 2016. Comparison between computed tomographic characteristics of the middle ear in nonbrachycephalic and brachycephalic dogs with obstructive airway syndrome. Veterinary Radiology & Ultrasound. 57(2): 137-143.
Spangler E. & Dewey C. 2000. Meningoencephalitis secondary to bacterial otitis media/interna in a dog. Journal of the American Animal Hospital Association. 36(3): 239-243.
Sturges B.K., Dickinson P.J., Kortz G.D., Berry W.L., Vernau K.M., Wisner E.R. & LeCouteur R.A. 2006. Clinical Signs, Magnetic Resonance Imaging Features, and Outcome After Surgical and Medical Treatment of Otogenic Intracranial Infection in 11 Cats and 4 Dogs. Journal of Veterinary Internal Medicine. 20(3): 648-656.
Troxel M.T., Drobatz K.J. & Vite C.H. 2005. Signs of neurologic dysfunction in dogs with central versus peripheral vestibular disease. Journal of the American Veterinary Medical Association. 227(4): 570-574.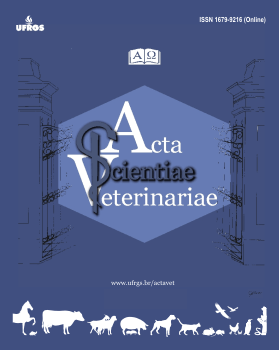 How to Cite
Lopes, M. G., Soares, F. de O., Alves, E. G. L., & Rosado, I. R. (2021). Otitis Media and Internal with Brainstem Extension in a French Bulldog. Acta Scientiae Veterinariae, 49. https://doi.org/10.22456/1679-9216.109615
License
This journal provides open access to all of its content on the principle that making research freely available to the public supports a greater global exchange of knowledge. Such access is associated with increased readership and increased citation of an author's work. For more information on this approach, see the Public Knowledge Project and Directory of Open Access Journals.
We define open access journals as journals that use a funding model that does not charge readers or their institutions for access. From the BOAI definition of "open access" we take the right of users to "read, download, copy, distribute, print, search, or link to the full texts of these articles" as mandatory for a journal to be included in the directory.
La Red y Portal Iberoamericano de Revistas Científicas de Veterinaria de Libre Acceso reúne a las principales publicaciones científicas editadas en España, Portugal, Latino América y otros países del ámbito latino