Intravascular Lymphoma in Canine - Clinical, Pathological and Immunohistochemical Aspects
Abstract
Background: Intravascular lymphoma (IL) is a rare disease characterized by presence of neoplastic lymphocytes in the lumen of blood vessels. Any tissue can be affected; however, the most frequently compromised areas of the body are the skin and the central nervous system (CNS). The clinical signs and macroscopic alterations caused by IL are nonspecific and are usually secondary to a continuous proliferative disorder, which leads to occlusion of the blood vessels with consequent thrombosis, hemorrhage and infarction. The objective of this work is to report a case of IL in a dog.
Case: An 8-year-old male Rottweiler dog was referred to the Veterinary Hospital of the Federal University of Paraná with a history of cerebellar ataxia that had not improved after treatment. At the neurological examination, cerebellar ataxia and deficit of nasal reflex were detected. A complete blood count showed presence of slight anemia (4.8 million red blood cells/mm3; normal ranges= 5.5-8.5 million/mm3) and thrombocytopenia (176.000/mm3; normal ranges= 250.000-500.000/mm3). Biochemical tests revealed a small increase in alanine aminotransferase (42 IU/L; normal ranges= 14-38 IU/L) and a slight decrease in alkaline phosphatase (49 IU/L; normal ranges= 90-170 IU/L). The cerebrospinal fluid (CSF) exhibited an increased protein concentration (147.3 mg/dL; normal ranges= 18-44 mg/dL) and pleocytosis (8 cells/µL; normal ranges= up to 5 cells/µL). No alterations were observed at radiographic and ultrasonographic exams. A clinical treatment was prescribed; however, in view of the worsening of the clinical signs, euthanasia was performed, and the body was submitted to a Laboratory of Pathology. At necropsy, moderate multifocal ulcers were observed in the oral cavity and ventral side of the tongue; moderately infarcted areas were detected in the spleen. Additional alterations such as fatty liver degeneration, glomerulonephritis, and pulmonary edema were also observed. Consequently, fragments from various tissues were collected, fixed in 10% formaldehyde, and processed for paraffin embedding and microtomy. Sections with a thickness of 5 µm were cut, and stained with hematoxylin and eosin. Microscopically, the cerebral cortex exhibited a marked number of round neoplastic cells with well-defined edges and scant cytoplasm filling the vascular lumen. Similar cells were observed in the lumen of the blood vessels in the cerebellum, spinal cord, liver, lungs, kidneys, and mucocutaneous junction. The cerebellum, mucocutaneous junction, and kidneys were submitted to immunohistochemical evaluation. The results were consistent with T cell lymphoma in the telencephalon, in the mucocutaneous junction, and in the cerebellum; however, the neoplastic cells observed in the kidneys were not positively stained by the antibodies used.
Discussion: Since, in this neoplasia, there is no formation of solid tumors as in other lymphomas, the diagnosis is more difficult both clinically and macroscopically, and hence a combination of immunohistochemistry and microscopy are indispensable. Immunohistochemistry for detection of the markers CD3, CD45RA, CD20, PAX5 and CD79a was essential to determine the cell type especially in the mucocutaneous junction, telencephalon, and cerebellum. Absence of staining for any of these markers on the neoplastic cells in the kidneys may be associated with a high degree of cellular undifferentiation, which worsens the prognosis. This case report highlights the importance of the combination of histopathological and immunohistochemical examinations with laboratory tests and the clinical picture of the animal for the diagnosis of this neoplasia, which can be difficult to identify.
Downloads
Download data is not yet available.
References
Amorim R.L., Torres Neto R. & Kiupel M. 2016. Imuno-histoquímica no diagnóstico oncológico. In: Daleck C.R. & Nardi A. (Eds). Oncologia em Cães e Gatos. 2.ed. Rio de Janeiro: Roca, pp.133-146.
Arnn E.T., Yam L.T. & Li C.Y.1983. Systemic angioendotheliomatosis presenting with hemolytic anemia. American Journal of Clinical Pathology. 80(2): 246-251. DOI: 10.1093/ajcp/80.2.246.
Bush W., Throop J. L., Mcamanus P.M., Kapatkin A.M., Vite C.H. & Van Winkle J. 2003. Intravascular lympoma involving the central and peripheral nervous systems in a dog. Journal of the American Animal Hospital Association. 39(1): 90-96. DOI: 10.5326/0390090.
Cobcrof R. 1999. Images in haematology: Diagnosis of angiotropic large B-cell lymphoma from a peripheral blood film. British Journal of Hematology. 104(3): 429-429. DOI: 10.1046/j.1365-2141.1999.104003429.x.
Cullen C.L., Caswell J.L. & Grahn B.H. 2000. Intravascular lymphoma presenting as bilateral panophthalmitis and retinal detachment in a dog. Journal of the American Animal Hospital Association. 36(4): 337-342. DOI: 10.5326/15473317-36-4-337.
Gupta A.K., Lipa M. & Haberman H.F. 1986. Proliferating angioendotheliomatosis: Case with long survival and review of literature. Archives of Dermatology. 122(3): 314-319. DOI: 10.1001/archderm.1986.01660150092023.
Jacobs R.M., Messick J.B. & Valli V.E. 2002. Tumors of the Hemolymphatic System. In: Meuten D.J. (Ed). Tumors in Domestic animals. 4th edn. Ames: Iowa State Press, pp.119-198.
Kumar N., Keegan B.M., Rodriguez F.J., Hammack J.E. & Kantarci O.H. 2011. Intravascular lymphoma presenting as a longitudinally-extensive myelitis: Diagnostic challenges and etiologic clues. Journal of the Neurological Sciences. 303(1-2): 146-149. DOI: 10.1016/j.jns.2010.12.016.
Lane L.V., Allison R.W., Rizzi T.R., Stern A.W., Snider T.A., Moore P.F & Vernau W. 2012. Canine intravascular lymphoma with over leukemia. Veterinary Clinical Pathology. 41(1): 84-91. DOI: 10.1111/j.1939-165x.2011.00399.x.
Luna G.L. 1968. Manual of Histologic Staining Methods of the Armed Forces Institute of Pathology. 3rd edn. London: Mcgraw Hill Book Co., 258p.
Machado G.F., Castro M.B., Melo G.D., Ferreira W.L., Aylon E.G. & Alessi A.C. 2011. Intravascular lymphomatosis in the central nervous system of dogs: immunohistochemical investigation in two cases. Brazilian Journal of Veterinary Pathology. 4(1): 47-51.
Moore P.F. 2014. A Review of Histiocytic Diseases of Dogs and Cats. Veterinary Pathology. 51(1): 167-184. DOI: 10.1177/0300985813510413.
Oliveira L.B., Nóbrega J., Amorim R.L., Sant'ana F.J.F. & Reis Junior J.L. 2015. Linfoma Intravascular de células T em cão. Veterinária e Zootecnia. 22(4): 575-579.
Ridge L. & Swinney G. 2004. Angiotrophic Intravascular lymphosarcoma presenting as bi-cavity effusion in a dog. Australian Veterinary Journal. 82(10): 616-618. DOI: 10.1111/j.1751-0813.2004.tb12604.x.
Steinberg H. 1996. Multisystem angiotropic lymphoma (malignant angioendotheliomatosis) involving the humerus in a dog. Journal of Veterinary Diagnostic Investigation. 8(4): 502-505. DOI: 10.1177/104063879600800422.
Summers B.A. & Delahunta A. 1985. Cerebral angioendotheliomatosis in a dog. Acta Neuropathologhica. 68(1): 10-14. DOI: 10.1007/bf00688949.
Valli V.E., Myint M.S., Barthel A., Bienzle D., Caswell J., Colbatzky F., Durhan A., Ehrhart E.J., Johnson Y., Jones C., Kiupel M., Labelle P., Lester S., Miller M., Moore P., Moroff S., Roccabianca P., Ramos-Vara J., Ross A., Scase T., Tvedten H. & Vernau W. 2011. Classification of canine malignant lymphomas according to the World Health Organization criteria. Veterinary Pathology. 48(1): 198-211. DOI: 10.1177/0300985810379428.
Valli V.E., Kass, P.H., Myint M.S. & Scott F. 2013. Canine lymphomas: association of classification type, disease stage, tumor subtype, mitotic rate, and treatment with survival. Veterinary Pathology. 50(5): 738-748. DOI: 10.1177/0300985813478210.
Wick M.R., Banks P.M. & Mcdonald T.J. 1981. Angioendotheliomatosis of the nose with fatal systemic dissemination. Cancer. 48 (11): 2510-2517. DOI: 10.1002/1097-0142(19811201)48:11<2510::aid-cncr2820481128>3.0.co;2-v.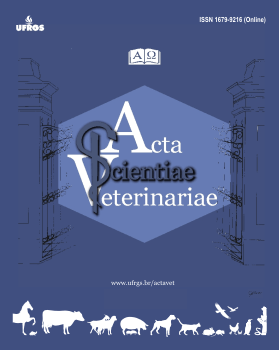 How to Cite
Krasinski Cestari, F., de Matos, M. R., Gonçalves dos Santos, J., de Carvalho, G. F., Pase Montagnini, K. C., Hamamura, M., da Cunha, O., & de Marco Viott, A. (2021). Intravascular Lymphoma in Canine - Clinical, Pathological and Immunohistochemical Aspects. Acta Scientiae Veterinariae, 49. https://doi.org/10.22456/1679-9216.108580
License
This journal provides open access to all of its content on the principle that making research freely available to the public supports a greater global exchange of knowledge. Such access is associated with increased readership and increased citation of an author's work. For more information on this approach, see the Public Knowledge Project and Directory of Open Access Journals.
We define open access journals as journals that use a funding model that does not charge readers or their institutions for access. From the BOAI definition of "open access" we take the right of users to "read, download, copy, distribute, print, search, or link to the full texts of these articles" as mandatory for a journal to be included in the directory.
La Red y Portal Iberoamericano de Revistas Científicas de Veterinaria de Libre Acceso reúne a las principales publicaciones científicas editadas en España, Portugal, Latino América y otros países del ámbito latino