Cervical Spinal Cord Surgical Stabilization in a Sheep
Abstract
Background: Trauma is the main cause of spinal fractures and dislocations in humans and large animals. Clinical signs present with acute onset and vary according to the location and severity of the spinal cord injury. The treatment of fractures in large animals depends on economic value, cost of procedures, prognosis, location and type of fracture. However, although spinal fractures in large animals are not uncommon, the literature about their clinical aspects and treatment is scanty. Therefore, the purpose of this report is to describe a surgical stabilization of atlantoaxial subluxation, fracture of the third cervical vertebra and C2-C3 subluxation.
Case: An approximately 2-year-old Île-de-France sheep, weighing 101 kg, with a history of cervical trauma and non-ambulatory tetraparesis was treated at the Veterinary Hospital of the Institution (UNIPAMPA). During physical examination, the animal presented good general physical condition and heart rate, respiratory rate and temperature was according to physiological parameters for the species. The animal remained in lateral decubitus, with minimal head and limb movements, and exhibited deep pain sensitivity. Clinical treatment with dexamethasone, limb physiotherapy and change in lateral decubitus position were employed, but failed to improve the animal's condition. After five days of unresponsive to clinical treatment, the patient was referred to the neurology department, where it underwent neurological examination and radiographic examination of the cervical region was performed under general anesthesia. The radiographic examination revealed atlantoaxial subluxation, by displacement of the odontoid process into the vertebral canal, fracture of the third cervical vertebra and C2-C3 vertebral subluxation. The surgical planning aimed cervical vertebral instability repair using atlantoaxial arthrodesis associated the stabilization of C1-C2 and C2-C3 vertebrae with Schanz pins and bone cement, due facility and versatility this association. The postoperative radiographic examination showed incomplete insertion of the Schanz pin into the left Atlas wing and a cervical collar was recommended. The clinical evaluation was performed daily, and after 23 days of surgery the animal could crawl in lateral decubitus besides assisted walking ability. However, the animal died 36 days after surgery due to severe dyspnea. A necropsy revealed pulmonary edema and hepatic lipidosis, besides hepatic septic thrombus. Moreover, the vertebral canal of C1-C2 and C2-C3 segments stayed realigned and stabilized, without spinal cord injury and trachea compression.
Discussion: Non-ambulatory tetraparesis, and minimal head and limb movements confirm severe spinal cord injury. The failure of clinical treatment, craniocervical instability in C1-C2 and C2-C3 and the high economic and genetic value of patients was definite for the surgical indication, besides reserved prognosis. The surgical treatment aim is recovery motor function from spinal cord decompression, vertebral canal realignment and the stabilization of vertebral instability. The cervical collar was placed on the patient after the surgery was intended to prevent rotation of the atlantoaxial joint, aiding vertebral stability. It is believed that the recovery of large animals with spinal cord injuries like in this case report is slower due to their heavy weight and the difficulty in managing such patients. This case report confirms that the techniques employed here achieved the proposed objectives of spinal canal alignment and spinal stabilization, showing improvement of clinical signs and recovery of the animal's limb and neck movements.
Downloads
Download data is not yet available.
References
Anderson D.E. & St. Jean G. 2008. Management of fractures in field settings. Veterinary Clinics of North America: Food Animal Practice. 24(3): 567-582.
Beckmann D.V., Mazzanti A., Santini G., Santos R.P., Festugato R., Pelizzari C.R., Polidoro D. & Baumhardt R. 2010. Subluxação atlantoaxial em 14 cães (2003-2008). Pesquisa Veterinária Brasileira. 30(2): 172-176.
Bergman R. 2000. Spinal cord injury. Veterinary Medicine. 95(11): 845.
Borges A.S., Silva D.P.G., Gonçalves R.C., Chiacchioi S.B., Amorim R.M., Kuchembuck M.R.G., Vulcano L.C., Bandarra E.P. & Lopes R.S. 2003. Fraturas vertebrais em grandes animais: estudo retrospectivo de 39 casos (1987-2002). Arquivo Brasileiro de Medicina Veterinária e Zootecnia. 55(2): 127-132.
Cardoso F.M., Pedroso P.M.C., Santo A.S., Vilanova M.S., Driemeier D. & Schmidt V. 2009. Lesão medular associada ao manejo incorreto de caprino. Acta Scientiae Veterinariae. 37(2): 187-189.
Dewey C.W. & Da Costa R.C. 2015. Practical Guide to Canine and Feline Neurology. 3rd edn. Hoboken: Wiley-Blackwell, 688p.
Fecteau G. & Sweeney R.W. 2009. Ataxia and gait anomalies. In: Anderson D.E. & Rings M. (Eds). Food Animal Practice. 5th edn. St. Louis: Saunders Elsevier, pp.290-295.
Festugatto R., Mazzanti A., Raiser A.G., Pelizzari C., Beckmann D.V., Silva F.S.B., Santos R.R. & Polidoro D. 2009. Modificação da técnica de abordagem ventral à articulação atlantoxial sem a secção do músculo esternotireóideo. Ciência Rural. 39(4): 1239-1242.
Fossum T.W. 2014. Cirurgia de Pequenos Animais. Rio de Janeiro: Elsevier, 1640p.
Havig M.E., Cornell K.K., Hawthorne J.C., McDonnell J.J. & Selcer B.A. 2005. Evaluation of nonsurgical treatment of atlantoaxial subluxation in dogs: 19 cases (1992-2001). Journal American Veterinary Medical Association. 227(2): 257-262.
Jeffery N.D. 2010. Vertebral Fracture and Luxation in Small Animals. Veterinary Clinics of North America: Small Animal Practice. 40(5): 809-820.
Lahunta A. & Divers T.J. 2008. Neurologic Diseases. In: Divers T.J. & Peek S.F. (Eds). Rebhun's Diseases of Dairy Cattle. 2nd edn. St. Louis: Saunders Elsevier, pp.504-560.
Machen M.R., Waldridge B.M., Cebra C., Cebra M., Belknap E.B., Williamson L.H. & Pugh D.G. 2004. Enfermidades do sistema nervoso. In: Pugh D.G. (Ed). Clínica de Ovinos e Caprinos. São Paulo: Roca, pp.311-352.
Radostits O.M., Gay C.C., Blood D.C. & Hinchcliff K.W. 2002. Clínica Veterinária: Um Tratado de Doenças dos Bovinos, Ovinos, Suínos, Caprinos e Equinos. 9.ed. Rio de Janeiro: Guanabara Koogan, 1772p.
Thomas W.B. 2011. Trauma of the Spinal Column and Cord. Merck Manual. [Fonte: <http://www.merckmanuals.com/vet/index.html>].
Weh M. & Kraus K.H. 2012. Spinal fractures and luxations. In: Tobias K.M. & Johnston S.A. (Eds). Veterinary Surgery Small Animals. St. Louis: Saunders Elsevier, pp.487-503.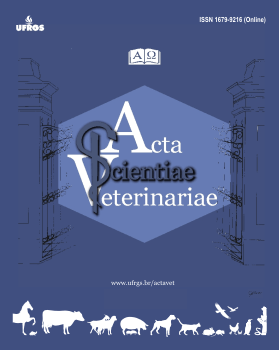 How to Cite
Lugoch, G., Góss, G. C., Viana, D. A. M., Oliveira, M. T., dos Anjos, B. L., Mazzanti, A., & Beckmann, D. V. (2021). Cervical Spinal Cord Surgical Stabilization in a Sheep. Acta Scientiae Veterinariae, 49. https://doi.org/10.22456/1679-9216.108515
License
This journal provides open access to all of its content on the principle that making research freely available to the public supports a greater global exchange of knowledge. Such access is associated with increased readership and increased citation of an author's work. For more information on this approach, see the Public Knowledge Project and Directory of Open Access Journals.
We define open access journals as journals that use a funding model that does not charge readers or their institutions for access. From the BOAI definition of "open access" we take the right of users to "read, download, copy, distribute, print, search, or link to the full texts of these articles" as mandatory for a journal to be included in the directory.
La Red y Portal Iberoamericano de Revistas Científicas de Veterinaria de Libre Acceso reúne a las principales publicaciones científicas editadas en España, Portugal, Latino América y otros países del ámbito latino